Liquor Locker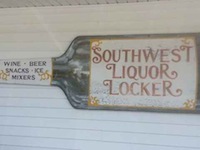 PLACE INFO
Type:
Store
11 Seal Cove Rd
Southwest Harbor
,
Maine
, 04679-4632
United States
(207) 244-3788 |
map
liquorlockermdi.com
Notes:
No notes at this time.
Added by BeerAdvocate on 06-24-2005
Ratings: 12 | Reviews: 10
Reviews by bennybrew:
3.8
/5
rDev
-9.3%
the liquor locker is the best we got. and they try hard to get beers but the distributors don't like sending beer so far away.
they have a good selection of beers from here (lots of bar harbor and atlantic) and from away (as we say here). dogfish head, smutty, imports (esp german). they always are after the special releases for me (although not terribly successful, but not for a lack of trying).
most beer is out but there are 2 coolers, one for sixers and one for singles.
they have a beer guy and he knows his stuff. the owner is pretty smart too. prices are pretty good i think, for a small store.
also wine and liquors.
639 characters
More User Reviews:
4.14
/5
rDev
-1.2%
vibe: 4 | quality: 4 | service: 4.5 | selection: 4
Great place to find while on vacation. Well worth the drive from whatever part of the island you're staying on. Best craft store I've found on my 5 trips to Acadia, thanks to BA!
Tyler was super nice, friendly staff, overall a very cool place. I stocked up on the New England locals for my return trip home.
307 characters
4.18
/5
rDev
-0.2%
vibe: 3 | quality: 4.5 | service: 3.75 | selection: 4.75
For a small town and a small retail space shared with wine and liquor they have an AMAZING selection of beers, many of them hard to find. Tyler, the owner, is a beer geek and if he's not to busy he is a wealth of info. His employee, Patrick is knowledgeable as well. Great place to visit and it's easy to highly recommend it.
329 characters

4.75
/5
rDev
+13.4%
vibe: 4.75 | quality: 4.75 | service: 4.75 | selection: 4.75
4.94
/5
rDev
+17.9%
vibe: 4.5 | quality: 5 | service: 5 | selection: 5
I usually go to the gas station down the road from the campground to get beer, but after finding this place I'll never go anywhere else. We happened to stop by just by chance and pulled over to check it out. It's located behind a coffee shop and doesn't look like much from the outside, but just wait until you step inside. We managed to come during a free beer tasting, where the owner (or other person who works there?) sampled six or so beers for us to try. His knowledge is incredible! He knows about every single beer in there (which is impressive, considering their huge selection). He's so helpful - you can tell he truly loves his job and is passionate about the beer he sells. I've never met someone so knowledgable about beer before or a store so welcoming. If you're camping anywhere on Mount Desert Island, make sure you check this place out!
854 characters
4.6
/5
rDev
+9.8%
vibe: 4.5 | quality: 4.5 | service: 4.75 | selection: 4.75 | food: 4.25
Awesome Selection, is the Best place in SWH to get awesome drinks and snacks its a MUST VISIT!!!!
Tom Johnson is the owner and the wine expert. Tom's son Tyler is the beer expert. Tyler loves beer. He loves to sample new beers, compare beers and help people pick out new beers that suit their tastes.
300 characters

4.83
/5
rDev
+15.3%
vibe: 4.25 | quality: 4.75 | service: 5 | selection: 5
Recently camped the Seawall campsite of Acadia National Park and discovered this gem while getting a coffee at the also excellent coffee house out front. Went in looking for tequila for my wife, of which they had a pretty poor selection. That is probably because they had to make room for all the BEER! Holy moly does this little store pack in the beer. They had everything I wanted and they TRADE! I brought a 6pack of Jai Alai from Tampa with me and the guy on duty (never asked his name, not very gentlemanly of me) bartered a deal for some very impressive local beer (three day old Can't Dog DIPA from Marshall Wharf and Ellen's Coffee Stout from Atlantic Brewing Co.).
Needless to say, they had everything I was looking for and more. I picked up some excellent suggestions as well as some local seasonal releases that I was very excited to find. So do yourself a huge favor and stop by this little Island gem. You'll definitely be happy you did while sitting by your campfire in one of the most beautiful places in the northeast.
1,036 characters
4.15
/5
rDev
-1%
Recently discovered Liquor Locker. It is the best beer place on Mount Desert Island, by a healthy margin. The space is inauspicious-looking, to say the least, but hidden gems await. The selection is impressive, particularly for Maine beer (Allagash! Tons of Allagash!) but also for Belgians and other imports, and national micros. It's all crammed into a tiny space, so organization is not so hot. You just have to browse, and constantly come across stuff you didn't expect to find. I've heard that one of the staff members is a good beer guy, but I haven't met him yet-- the guy I've had is not especially friendly or talkative.... Worth a drive if you're anywhere on the Island.
680 characters

4.5
/5
rDev
+7.4%
Each year we travel from South Carolina to Mt. Desert Island to spend a few weeks in the cool north. Our first day routine is always the same, Thurston's in Bernard for lobster rolls and a draught of Real Ale from Atlantic Brewing, then to Rich's Lobster Pound in Bass Harbor for lobsters for dinner and then on to The Liquor Locker in Southwest Harbor for the best beer selection we have found in Down East Maine.
Tom Johnson is the owner and the wine expert. Tom's son Tyler is the beer expert. Tyler loves beer. He loves to sample new beers, compare beers and help people pick out new beers that suit their tastes. Tyler always has selections from all the Northeastern Craft Brewers, Smutty Nose, Geary's, Gritty McDuff's, Harpoon, etc. as well as the complete offerings from the Island breweries, Atlantic and Bar Harbor Brewing. In addition you will find beers from Belgium, Germany, England and the rest of the world.
Our major problem at the Liquor Locker is always selection. We have so many favorites and yet want to try all the new offerings. Fortunately Tyler has an extensive single bottle selection in the cooler in the back and he is very tolerant about splitting up a six pack if a particular beer is not available as a single.
If you are on Mt. Desert Island, take a trip to Southwest Harbor and the Liquor Locker, the scenery is great and the beer is worth the trip.
1,386 characters
4.3
/5
rDev
+2.6%
I always stop here on my way out of town the few times a year I visit and each time this store keeps getting better and better. This has long been my spot to stock up on Cadillac Mtn. Stout and other Maine essentials, but the selection seems more diverse with every visit. There always seems to be "hidden gem" to be found there as well. I picked up a Dark Horizon 1st Edition this past weekend. The staff (owner?) is very nice and both helpful and knowledgeable. It is easy to tell when a proprietor takes pride in his beer section, and this one's got it. Don't miss it if you are staying anywhere on MDI.
606 characters
3.85
/5
rDev
-8.1%
Mount Desert Isle's premier beer store, nestled in a small strip of stores, is an oasis of micro's in a somewhat barren land.
We had stumbled upon Liquor Locker in passing, looking like your typical corner liquor store on the outside.
Hit a right when you come in the door and check out the warm stuff on the shelves as well as the coolers.
All the standard Maine micros, plus Smuttys, Dogfish, Magic Hat, (even picked up a Humdinger Braggot), and Belgians.
Plenty of empty case boxes to help keep your beers from mingling with your lobstas.
Good stop, yessa.
564 characters
Liquor Locker in Southwest Harbor, ME
4.19
out of
5
based on
12
ratings.