The Lebanon Brew Shop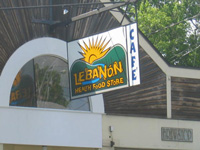 PLACE INFO
Type:
Store, Homebrew Store
90 Hanover St
Lebanon
,
New Hampshire
, 03766-1038
United States
(603) 448-3700 |
map
www.lebanonbrewshop.com
Notes:
No notes at this time.
Added by kaszeta on 06-24-2005
Reviews: 11 | Ratings: 14
Reviews by eLMsITYbUM:

2.5
/5
rDev
-31.1%
Lebanon Health food is the ONLY place in the area as previously stated. They are good in a pinch, when you need the basics. They offer most of the equipment that you will need to brew, including ale pales, carboys, brushes, sanitation suplies, airlocks, water additives, et cetera and on occasion wort chillers as well as bottling supplies and oak barrels. They do not have kegs or any kegging equipment, burners and at times they have "run out" of the above mentioned regular brew gear.
The selection is decent. They have several easy malt extract kits available. They also stock a good variety of grains which are sold by the pound, they have a grain mill to crack it up for you as well. Malt extract syrup is also available in a decent variety. They sell a few hop selections, in whole leaf, plugs and pellets which are only sold in limited amounts due to the hop shortage. A plethora of yeast is available, to fit most anything you can brew up. They are happy to special order anything you need as well. The Lebanon Health Food store purchases in bulk and generally pass that savings onto the consumer.
The staff doesn't really know much about homebrewing at all. They have a person who works at the store like one or two days a week, that is in charge of that section. I have never seen or spoken with him, so I wouldn't ask any questions. The staff however are nice enough when I cash out.
Overall: In a pinch or if you only need basics, then this is a good stop. If you're in search of answers or knowledge, I'd drive to Winooski or N. Hampton for a tie in trip to those locations.
★
1,597 characters
More User Reviews:

3.96
/5
rDev
+9.1%
vibe: 4.25 | quality: 4 | service: 3.75 | selection: 4
4.57
/5
rDev
+25.9%
vibe: 4.5 | quality: 4.5 | service: 4.75 | selection: 4.5
I have only recently started shopping here but I enjoy the selection here. They tend to have most common grains in stock (though I would like to see Victory added). The liquid yeast selection is a bit weak but it's hard to blame them, there seems to be a low turnover. Nice selection of dry yeasts, though, which I tend to go with for convenience and price.
The hops selection has be slowly expanding with a good selection of the common European and American hops. Recently they have had a good amount of centennial, citra, simcoe and amarillo in stock which is also nice. They have had 2oz limits / customer on centennial and citra due to high demand and limited availability. I appreciate that; spreading the wealth is always nice.
The prices tend to be really reasonable. Hops are a bit expensive but they are about on par with what you would pay buying online in 1oz increments. With shipping, it might be cheaper here than online for a lot of varieties. It would be cool to see some of the more heavily used hops in 8 oz or 1 lb packages to save some cash. I would like to be able to buy things like cascade or fuggles in bulk. (edit 2016: last time I stopped in they had 1lb sacks of last year's crop of centennial for 19.50, pretty good deal)
I haven't had the chance to talk too much to the beer guy about brewing much but I have heard he knows his stuff.
They also have a nice selection of craft bottles and cans. They are pricy, but you can find some neat harder to find stuff here.
Updating for 2016: Since my last review the brew shop here has undergone a pretty significant overhaul. They seem to have more employees knowledgeable about homebrewing, and they have greatly expanded their selection of specialty malts, hop varieties and yeast strains. They are super friendly - highly recommend this brew store, even if it is one of the only options near this area.
★
1,883 characters

4
/5
rDev
+10.2%
LHFS has an awesome selection of pellet hops and specialty malts. White labs yeast is hit or miss depending on how recently they've received a shipment.
I'm glad they have switched to vacuum sealed 1oz packages of hops. (A previous reviewer mentioned the old bulk bottles, but those have since gone away.)
Their stock of equipment and supplies seems to be increasing slowly but steadily. It's good to see new things arriving over time; even when it's small stuff it's encouraging to see progress in a positive direction, signs of more to come (so I hope).
For my own needs, I do only all-grain so it would be great if they would stock full sacks of grain (ex. the basic 50/55lbs of 2-row pale malt). And keg supplies. I currently have to get these things elsewhere and that means taking a trip outside of the area.
Prices are very reasonable. The guy to talk to is Radley (Rad), he's quite knowledgeable and helpful.
★
922 characters
4.15
/5
rDev
+14.3%
Hops and grains are priced quite well, but the selection liquid yeast cultures is lacking. The major gripe I have is that I brew all-grain and the grain mill is set up so inconveniently that grinding six and a half pounds of grain was a two person effort and caused a few minor injuries. The selection of equipment is impressive for such a small store. There are helpful doohickies available there which I've been unable to find at the exceptional and vastly larger Vermont Homebrew Supply.
The best thing about this shop, however has to be Rad. He is knowledgeable and quite personable. I really appreciate being remembered and treated as respectfully as I am when dealing with him. With a few minor tweaks this place could be an exceptional LHBS. Currently it has a pretty good selection with better than average service.
★
824 characters
3.85
/5
rDev
+6.1%
Last beer stop yesterday on our way back home from NH. Stopped here not expecting much and was pleasantly surprised.
The beer section is pretty much only 2 racks but what they had was pretty good. There were 7 different beers from both Manchester & White Birch as well as a few 4-packs of Unibroue, some Sam Adams, Harpoon, McNeill's, Smuttynose, Allagash and Wolavers to name a few. Though the selection was not extensive, they seemed to have only good stuff. All killer no filler as they say. Service was nice but seemed uninformed though i usually prefer to shop without intrusions.
Definitely worth the 2 minute detour if nothing than for some White Birch.
★
662 characters
3.55
/5
rDev
-2.2%
After living in Salt Lake City for 2 years and buying homebrew supplies there, I was pleased to find that the prices at Lebanon Health Foods to be much better. As others have stated, this is a health food store with a homebrew section. They have a reasonable selection of grains--everything you would need for all of the basic styles. If you are looking for an obscure adjunct they might not have it. I needed Sinemar extract or carafa special II and I'll have to order it. They have a ton of chemicals for water and all of the most popular hops at great prices. The prices here are great, in my opinion.
The staff there is are a few people who tend to the registers/stock shelves and one guy who used to work in a brewery in the UK. He is knowledgeable and can help you out if you need it. There are plenty of extract and PM kits there and several starter kits. I have brewed 9 all grain batches in two months and they have had all the ingredients I have needed.
The only downside is that there isn't knowledgeable staff working the homebrew section all the time. When the 2-Row bucket gets emptied when the head guy isn't working, it doesn't get filled until he comes back. With that said, I haven't been there when they have been out of anything I have needed. They also have a very good selection of regional microbrews and hold tastings every now and again.
★
1,364 characters
4
/5
rDev
+10.2%
I finally had to review this store, since it is not only a staple of the upper valley now but also because Rad, their beer buyer and homebrew savant, is a good dude.
I'd been coming to this store for a few years for homebrew supplies. Our homebrew club had meetings here for a good long while too. Management changed and things went south for a little while but now Rad's there making the beer-minded stuff in the store click.
Ok, so the homebrew supply selection is pretty darn good. the best within a 1.5 hour drive, that's for sure. whole wall of specialty malts, multiple fridges full of hops and yeast, any actual gear you could want, and a brand new nice barley crusher. Stock is generally pretty full and if you want some random lacto wyeast pack or one pound of hugh baird or whatever, Rad will order it for you.
Recently, the store starting selling beer as well. The selection is not as big as other stores nearby like the coop or Bev King, but the quality of the selection stands out, as well as the knowledge of the product. Smutty big beers (about 3 or 4 right now), Otter Creek Imperial series, Manchester brewing, Wolaver's, and others line a few shelves.
Anyways, ask for Rad if you're there. He's the beer guy. The rest of the employees are extremely friendly, but generally local young folk who tend to the whole store and registers and don't specifically know much about beer.
★
1,398 characters
3.85
/5
rDev
+6.1%
This is the place in the UV to go for homebrew supplies and they have a rapidly-expanding selection of this category. Their beers have in the past been mostly organic, though now they're getting in a bigger selection of local craft brews and some big names (even with little review cards under them if you don't recognize them! But no big new-to-NH epiphanies yet) along with great local fruit wines, cider and lately sake.
The rest of the store is your basic health food store with a lot of supplements, natural foods and household products, and a cafe with deliciously healthy menu options. Too bad they don't sell a cold brew with lunch!
★
641 characters

3.85
/5
rDev
+6.1%
This has been my go to place for home brew supplies in the Upper Valley ever since I got into brewing my own beer. They have a good selection of grains (counted 24 different bins last time I was there), good variety of hops and both liquid yeast (Wyeast and White Labs) and dry yeast.
Most of the other basics such as dry and liquid malts, bottles, 3-6 gallon glass and plastic carboys, etc, are all there. Plus they do a nice job of carrying some extras like oak chips, Belgian candi sugars and various liquid flavor additives to name a few. I haven't really explored what else they have in that area.
The staff are always friendly and the guy who runs the home brew section of the store is always helpful and usually has a couple of good suggestions if you're trying to construct a new recipe.
Also, the store is starting to branch out with their bottled beer selection and is now carrying a nice supply of craft beers. The majority of the selection is fairly local, but the non-local selection appears to be increasing as well.
All in all, this is the best place to go in the Upper Valley for home brew supplies. I've always been able to find what I'm looking for, and if not, the home brew guy usually suggests some good alternatives or is willing to put something on the order sheet for me.
★
1,301 characters
2.7
/5
rDev
-25.6%
As stated above this is pretty much the only show in town in the Upper Valley area. It is a health food store that has dedicated half an aisle to brewing supplies thus you are pretty much on your own, I have never been in there when anyone with any knowledge of brewing has. The have bulk liquid extract for pretty cheap, actually a really good deal and the grain prices are pretty inexpensive as well. Unfortunately, their turnover of grains is probably pretty slow and often they are out of a major type like maris otter or pale 2 row. The selection of grain is mediocre with the typical base grains, various crystal, choco and roasted barley but not much more. Generally they have what you need to get the job done for the most basic beer styles. Their hops selection is pretty good. Once again they buy in bulk and sell for close to bulk prices. Hops are in large bottles in the fridge and you simply take what you need. Then there is the yeast and this is the major problem I have with this store. They simply don't have any kind of selection. For the past 8 months or so I have not seen any of the classics 1056, 1098, 1084 or any other. All they seem to have is german wheat ale yeast, literally and maybe a czech pils. As for dry they have some coopers and some fermentsi but even there all they have is the belgian ale version.
After going there for years I have finally started driving the 1.5 hours up to Winooski Vermont to go to the Vermont Homebrew supply store. I do occasionally pop in for emergency supplies. Unfortunately, as many homebrewers can understand, yeast is often an emergency supply, hence I now keep a few packets of SafAle in the fridge at all times.
★
1,683 characters
3.35
/5
rDev
-7.7%
Since Seven Barrels stopped carrying homebrew supplies, Lebanon Health Food is pretty much the only homebrew store serving the Upper Valley region of VT/NH.
Despite the relatively small homebrew community in this part of the state, the Health Food store has a reasonably good selection, with a good overall selection of malt extract, whole grains (and a mill you can borrow), yeast, and basic equipment and supplies. It's a reliable enough supply that I don't have to worry about running out of anything, on the occasions I've been missing homebrew supplies they've always had what I've needed. Despite the relatively small community here, they also manage decent turnover on supplies (I've never had stale extract there, and the yeast has always been recent as well).
The "staff" is essentially one guy, who only works in the store part-time, so if he's not there it's essentially a self-serve operation. But if you're there when he is, he's very knowledgable and helpful, with good advice, a thick binder of tried-and-true recipes, and always willing to answer questions, tweak recipes, etc.
Prices are very decent as well, usually within a few percent of the major mailorder places (and, with no sales tax here, that often beats mailorder w/shipping). So they've gotten a fair bit of business from me in basic supplies and in the occasional piece of upgrade equipment.
So, overall, a good local homebrew store, with the caveat that if you're new to the hobby, you should probably go on a weekend when the homebrew guy is around, since most of the rest of the staff has little or no idea about homebrew. Aside from that, it's a good resource (and the best around the area).
★
1,689 characters
The Lebanon Brew Shop in Lebanon, NH
3.63
out of
5
based on
14
ratings.