Cardullo's Gourmet Shoppe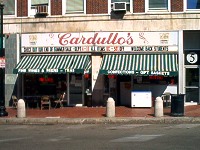 PLACE INFO
Type:
Store
6 Brattle St
Cambridge
,
Massachusetts
, 02138-3711
United States
(617) 491-8888 |
map
cardullos.com
Notes:
No notes at this time.
Added by Todd on 06-27-2005
Ratings: 10 | Reviews: 8
Reviews by albern:
3.5
/5
rDev
-3%
Once upon a time, this place was right up there with the Wursthaus, across the street, as a place to go for fine German beers and other sundry items European. The Wursthaus is a memory, replaced by Abercrombie (if that is how you spell it), and Cardullo's is long in the tooth. It's expensive, they have a few decent, although pricey, beers in the coolers in the back. This may be your best bet in Harvard square since the pretty good liquor store in Harvard Square on JFK Street was torn down to make way for some office building. Cardullo's is probably one of the few remaining vestiges of the old Harvard Square, it has nice curios, expensive delicacies, some decent beers, albeit pricey. What more can I say. Take the T to Davis Square which is hipper and definitely has a better package store in Elm Street Liquors.
820 characters
More User Reviews:
3.2
/5
rDev
-11.4%
vibe: 3.75 | quality: 3.75 | service: 3.5 | selection: 2
4.35
/5
rDev
+20.5%
Well I'm happy to say Cardullo's has taken the turnaround and seems on it's way to be a frequent stop of mine. I had been in there many times over the last 9 months of living in the area and have always been very disappointed - until today. The shelves were full of reasonable selections, and their prices (which in my memory previously had been ridiculous) today were all very reasonable.
The guy at the deli complimented my nugget nectar t shirt, and the wine/beer girl (recently hired, evidently.. and the cause of the big change) was very helpful, putting me on an email list, asking for suggestions, and obviously making a great effort on behalf of beer.
While the place is quite small and therefore selection is limited, there was a good variety of interesting american and import beers and good six packs. obviously focused almost exclusively on good micros and higher-class imports.
easily the best place in harvard square (not sure of any competition, actually.. unless c'est bon has seriously stepped up their selection) and will probably be my frequent stop of convenience. maybe not worth searching out specifically, but definitely nice if you're in the area.
1,176 characters
3.1
/5
rDev
-14.1%
Cardullo's is a cozy little market filled with fine European gourmet everything - cheese, cholocate, cookies, wines and beers. On a normal day, the spirits are found filling half a dozen coolers as well as wine racks and high shelving. The wine selection seems to be fairly high-end and the beer selection matches. Offerings are mostly european imports and seem to be high end choices as well. Duval, Chimay and Rochefort are usually on hand (I didn't pay particular attention). However, on this particular day, the coolers were nearly empty, 1 bottle of this, 3 bottles of that, but mostly empty space. When I inquired, I was told that Cardullo's has inventory issues and often finds themselves almost completely dry. The service was, however, very courteous. A man who helped me explained the situation, offered to hold bottles for me and offered suggestions on when they might restock.
It's unfortunate that Cardullo's has these stocking issues as the quality of their beers is good. Worth checking out if you're in the Harvard Sq. area, but hit or miss on quantity and exact selection. Nice service and location, be sure to check through the other aisles for some gourmet fineries.
1,186 characters
3.85
/5
rDev
+6.6%
I've walked by Cardullo's hundreds of times, but I had never before noticed their beer selection. Was walking by today while showing an out-of-town relative around, and we stopped in to take a look.
The first thing you notice while walking by is the beer display in the window. All quality imported beers; I remember seeing several German Oktoberfests on display. The store is small and packed with high-end imported foods. Beer is separated into domestics and imports. Domestics included Brooklyn, Magic Hat, and a few others. A decent selection but nothing to write home about. The imported selection, on the other hand, was very impressive. For Belgians, they had Westmalle, Chimay, Rochefort, and Saison Dupont, among others. Also many nice Germans, though I can't remember specifics. All the beers are refridgerated.
I have to say, I was very impressed with their imported beers. If you're in Harvard Square, this is a great place to pick up some Belgian or German brews.
982 characters
3.55
/5
rDev
-1.7%
Nice little place nestled right into Harvard Sq. across from Dewey, Cheatem, and Howe Law firm (love that name!). Small little store jam packed to the gills with stuff from "other places". Lots of other delights, including a small deli counter with tasty sandwiches. Teas, olive, vinegar, condiments, and other little food nicknacks not sold at your local Shaws. Good selection of beer and wine stacked high above the fridgerators. Not a huge quantity, but quality is what counts at Cardullo's. Breweries represented include: Rapscallion, Wachusett, Unibroue, Cantillion, Rogue, Sam Smith, Young's, and I believe Stone (but I could have imagined that).
Good little place if your in Harvard Sq. and want an imported beer. Service was average and value was reasonable. They don't take credit cards unless you purchase $20 or more, so buy a bunch of stuff if you're using plastic. If its during the summer or fall, the Sox will always be on the large screen tv in the window. If you're lucky (which never is the case), you may be able to snag the chairs in front and watch an inning or two.
1,091 characters
3.5
/5
rDev
-3%
During a fall stroll in Harvard Square, I decided to stop by Cardullo's. This place could not be any easier to find. Located right in the center of the square, you will notice the old looking Cardullo's sign high above.
As you enter, two things become very clear. This place is busy with customers and it's small. There are tight rows packed with solid gourmet and specialty items. The store is a classic specialty location offering quality chocolate, cheeses, coffee, tea, oil, vinegars, hot sauces and champagne. The tea selection is noteworthy.
The beer selection is located toward the left section of the store. It's an above average offering with some nice import choices. Quantity of choices may be lacking, but the quality is there. Unfortunately, I didn't notice any beers at room temp, all beers appear to be located in the coolers. Highlights include Aventinus, Aventinus Weizen-Eisbock, Ayinger Celebrator Doppelbock, Lindemans, Cantillon and Samuel Smith's. I also noticed some solid American beers from Magic Hat, Rapscallion and the Rogue 22 oz bombers of Shakespeare Stout & Brutal Bitter.
With the holidays coming, this is a nice place for some quality gifts. One of your best choices if in Harvard Square and wanting some favorable imports.
1,267 characters
3.6
/5
rDev
-0.3%
I really like Cardullo's for a number of reasons, including great sandwiches and quality food products. Their beer, like their food, is chosen for its quality. Rochefort, Cantillon (including our lovely $47 bottle), Celebrator, Aventinues, etc. Pretty good stuff. The selection is quite small and the bottles are all kinda strewn all over the place. No nice lines of beers. It's like going to Nordstrom Rack instead of Nordstrom. Personally, I dont like bargain shopping, especially when the price is the same. In any case, the beers are good, but I worry a bit that they just kind of sit there. The bottles just seems old. In any case, there isnt really anywhere else in Harvard square to grab some beer, so if you have to buy there, or you want a nice libation to go with a sandwich of theirs, go for it. But dont go out of your way.
835 characters
3.7
/5
rDev
+2.5%
Cardullo's is a Harvard Square institution. Located in the heart of the square it's right next to the Coop and greenhouse coffee shop. Seriously, if you can't find this place when you enter Harvard square you're probably blind.
For the most part Cardullo's is a gourmet food shop. A cramped little H shaped store with high ceilings: they have a nice assortment of fine cheeses, meats, tea & coffee, artesianal foods, hot sauces, chocolates, jams, caviar, wine, champagne, etc. Basically lots of funky gourmet foods. They also have a deli where they make fresh deli sandwiches, wraps, etc.
The beer selection isn't huge but it focuses entirely on craft and import beers. German, English and Belgians mostly. Nothing overly fancy, just the standards. As for American crafts they have a smaller selection, Rogue bombers, some other more common locals, and for some reason they always seem to have Rapscallion 4 packs. The also have a % discount when you buy a minimum numbers of beer or wine.
I like Cardullo's because they have probably the best selection of loose leaf tea in Boston (beer and quality tea nerds unite). But whenever I'm in there I'm always impressed by the beer selection. It fits right in with their artsy/gourmet theme of the store, and although it's not worth going out of your way for, it's a great quick stop for quality beer if you're in Harvard Square.
1,396 characters
Cardullo's Gourmet Shoppe in Cambridge, MA
3.61
out of
5
based on
10
ratings.