Geno's Wine & Spirits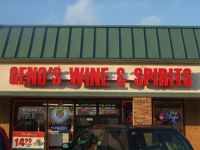 PLACE INFO
Type:
Store
300 S McLean Blvd
Ste P
Elgin
,
Illinois
, 60123-1023
United States
(847) 695-6688 |
map
genosfinewine.com
Notes:
No notes at this time.
Added by BeerAdvocate on 06-27-2005
Reviews: 14 | Ratings: 22
5
/5
rDev
+18.5%
vibe: 5 | quality: 5 | service: 5 | selection: 5
Top notch! Prior to today aside from the occasional weekday 6er of anti-hero from the grocery store all my beer splurges were done at binnys. Went to Genos today and it's my new goto. Best part is its right in the neighborhood. I used to have to stop at binnys on the way home from work or trek to Schaumburg but now that I've found Genos my purchases will be done there. Great selection and prices, I won't post prices but I'll say I got one of my few regular beers there for less than I pay at at the chain stores. Craft section is almost as big as the big boys and what they've cut out is the stuff your not buying anyways. Awesome local business right in my backyard. Kept seeing Geno check in and review on untapped and finally found on BA that he had a liquor store, went today for the first time and even my girlfriend whose not huge into beers was blown away by their selection(although it may have been the Xmas beer display that sold her). Quite a few of the reviews mention the neighborhood, for those not from Elgin don't let that deter you the neighborhood is fine and it's in a strip mall so check them out of your in the area.
1,141 characters
4.87
/5
rDev
+15.4%
vibe: 4.5 | quality: 5 | service: 5 | selection: 4.75
Geno's is a go to spot, although not in the best of neighborhoods. The last time i went there i parked right in front of the store and some moronic looking teenager that looked like Colin Kaepernick (SF 49ers QB) was sticking his head out of his Mommy's van window and acting like some wannabe gang banger. I knew i should have just moved my truck. When i got back to my truck, there was a milk shake thrown all over the side.
As for the service and selection, its is second to none. The owners are awesome and very sociable. All are very educated and carry a spectacular selection... i will continue to go to Geno's for beer, i will just be more cautious about who i park next to in the future.
They do a great job and appreciate their customers without a doubt.
766 characters

5
/5
rDev
+18.5%
vibe: 5 | quality: 5 | service: 5 | selection: 5
Went to this store after reading the reviews posted here and it truly does not disappoint. Have been back a few times within the last couple of months. This will be the first place I stop from now on whenever I am looking for anything. The owners are fantastic and exceptionally knowledgeable about all of their products. Spent about an hour chatting with Geno about everything beer related and he is truly a class act. He made some great recommendations about breweries to look out for during a vacation that I am taking. Geno is unbelievably knowledgeable about the craft beer industry and is more than willing to spend time talking with his customers. I would highly recommend anyone even remotely close to Elgin stopping in and talking with Geno because I have not met anyone more knowledgeable about the industry and each and every beer he sells. This is absolutely a must stop. The selection and service here is the best around.
934 characters
5
/5
rDev
+18.5%
vibe: 5 | quality: 5 | service: 5 | selection: 5
MAN! I went in this place one time before and I was just getting some shots of Jameson but I had no freaking idea they had a great selection of craft brews. This is hands down the best place in town and probably even 10 miles to get a great selection of craft brews. I popped my head in to grab a bottle of vodka but Geno was there and talked my head off about craft brews. He is very passionate and excited about beer. I will definately be coming here more often and encouraging others to do so as well. Geno was very excited about there being a website coming up soon so I'll be on the lookout for that.
I went in to buy a bottle of vodka but I also ended up buying a Fullers Vintage Ale 2005. I was suprised and delighted to see they had quite a few.
This place is aces in my book.
Update 12/23/2011: It's 3 years later and it's really only gotten better. Lil' Geno knows his beer and he's able to procure the best stuff. Let me tell you a little story. I went in here to get Dogfish Head's 120 Minute IPA (Geno got the only case for miles around) and I left with an old friend... a 2005 Fuller's Vintage Ale! I couldn't believe it, the one beer I had all those years ago! Apparently, Geno forgot he had a few left and it just so happened to catch my eye as I was leaving. Hopefully, it hasn't oxidized, but either way that is an amazing coincidence. I've finally convinced my friends to start drinking craft beer and they've been frequenting Geno's as well. It's a Christmas miracle!
1,491 characters
4.88
/5
rDev
+15.6%
vibe: 4 | quality: 5 | service: 5 | selection: 5
I had to make a whirlwind trip to Illinois with my father to help him move my grandmother to Omaha. While I wasn't going to have time to go to any beer bars, I could not leave the state with out hitting a beer store to bring home some great craft beers from the area that we can't get in Omaha. Grandma was living in Sleepy Hollow, IL and so on the drive there I used a map and BA to try and figure out where I wanted to try and stop to procure my "goods". After also asking my facebook friends if anyone had any recommendations, and reading the BA reviews I had 2 places in mind, one in DeKalb, and Geno's in Elgin... both had good BA reviews, and both were close to the highway taking as we would be leaving town, but only Geno's came with facebook recommendation as well!
As I entered the store I was greeted by the guy behind the counter (who turned out to be Geno's Dad) and asked if I needed any help. I told him I was on a beer mission to bring back some beers we don't get in Nebraska. It was clearly noticeable that this was a full service liquor store stocking wines, spirits, macro beers as well as an obvious selection of Craft Beer and Imports! The Craft Beer was clearly a focal point as it occupied the main isle as you walked strait into the store towards the back and the beer cooler doors (mostly with common macro, micro and imports). However, I could immediately tell this was also a craft beer store by the floor stacks, display racks of bombers and "one off" beers, and seasonals as well.
Right away I got on the phone with my Beer Corner USA co-worker, and Beertopia store manager Aaron, and started telling him what I was looking at. I felt like a kind in a candy store ON Christmas!! To my left there was a great selection of German and Belgian beers (many I had never seen) as well as English, Polish, Czech, Asian and others imports, along with some Craft Beers that must not have fit on the right side of the isle. Oh my God! The right side of the isle! Here was the American Craft Beer selection I was hoping to find. There was the "usual" beers one would expect to find in the area; Founder's, Bell's, Two Brother's, New Holland, Great Lake's among others. There were breweries I could get in Nebraska like Boulevard, North Coast, Sprecher and Great Divide as well as breweries we USED to be able to get here like Avery and Left Hand. There were breweries I wasn't thinking to look for in this area like Stone and Lost Abbey... I would have had to take notes to remember all the great American Craft Breweries that were stocked!
As I was rattling off brewery names another person came up and asked if I needed any help, and I told him I was from Nebraska and looking for beers I could not get back home. He introduced himself to me as the owner, Geno. As I kept rattling off beers over the phone, Geno began to point out different one off's and rare beers he had, all coming with great rapid fire reviews and suggestions. I could have spent ALL day in this store talking beer with Geno, but I was pressed for time trying to make it out of town and beat the rush hour traffic.
Just when I thought I had seen it all, Geno takes me back into his "beer cave" if you will, where he had some MORE rare one offs and limited beers! Man does this guy know and LOVE his beer!
When all was said and done I had almost $200.00 of beers, and not what I thought I was coming for! I thought I would have grabbed a bunch of 6pks of beers I can't get back home, and ended up leaving with bombers and 750's of really rare beer and seasonal that I was so excited to get to try! My "score" included; 6pk of Bell's Oktoberfest (2), 6pk of Great Lake's Oktoberfest (2), a 6pk of New Holland's Ichabod Pumpkin Ale, a 4pk of Barley Island's Beastie Barrel Stout, bombers of New Holland Hop Juice double IPA (2), Beerhive Triple (1), Rye Hatter rye pale ale (3), Green Flash's Double Stout (2), Stone's Belgo Anise Imperial Russian Stout (2), and 750's of Founder's 2011 Blushing Monk (2)!
As I was leaving Geno was excited to hear about where I was a bartender (Crescent Moon Ale House, Huber Haus German Bier Hall, and Max & Joe's Belgian Tavern) and that Arron and I did beer reviews on the Beer Corner USA YouTube channel for our "Beer's of the Week". Geno told me he reviewed all his beers on his facebook page and encouraged me to add him and "like" the store when I got a chance. Before we were back on the highway Geno had found and friended me himself!
All I can say is this store had an AMAZING selection of Craft Beer and the owner Geno was great to talk to about beer! He is truly passionate about his beer! If you find yourself in the area, or wanna make a little detour as you're driving to Chicago, take the Illinois east-west Toll Road #88 right after you cross into Illinois on I-80... WELL worth the stop plus its a nice drive with tons less traffic!
4,879 characters

4.72
/5
rDev
+11.8%
vibe: 5 | quality: 5 | service: 5 | selection: 4
This is my go to beer place. I found it by looking on this website. I have since gone to another liquor store maybe once. Geno is an awesome guy who will go out of his way to help you if you ASK. He is careful not to influence what you buy, but ask his opinion and he has great memory for what each beer he has had. He is also constantly letting me know when things are coming in so I can be sure to get them before they sell out.
The amount of beer they have in such a small store is amazing. It is too bad most people that are in there come in for icehouse, tecate, etc. He has a great selection of Stone, lagunitas, smuttynose, allegash, hoppin frog, DFH, and the list goes on and on.
The prices are a little on the steep side, but I am more than willing to pay because of the great service and convenient location.
820 characters

4.4
/5
rDev
+4.3%
Was directed here by a friend and decided to check it out. To be honest, I didn't have too heavy of an expectation but when I got in there to see what they had I was impressed. The selection is small but what the selection IS, is what the great part is. They had stuff I've been looking for here and there and some pretty rare picks.
I put 3.5 for selection because the selection is quite small, but there should be additional points for the fact that its a powerful selection.
The staff is really friendly and Geno is very knowledgable about beers and can talk beer until the week ends. I'll definitely be coming back and looking forward to what gems pop up in this place.
It clearly shows the quality, not quantity aspect of craft beers and the choices out there.
Awesome.
778 characters

4.15
/5
rDev
-1.7%
This place was a diamond in the rough!
I went in here a few times, but never really looked at the beer selection until this visit. Great Selection in such a small place with alot of rarer/retired offerings I have not seen anywhere else in the area. The staff was not necessarily helpful, but friendly nonetheless. Lots of recent releases. Snagged some FFF arctic panzer wolf and some Stone collabs. A few other items were tempting, but I look forward to see how their inventory changes with each visit.
I will be coming back here for sure
538 characters
4.65
/5
rDev
+10.2%
I am a Hop Head and from Appleton Wisconsin, just south of Green Bay]. When ever I am in Elgin, I stop in.
They do have a great selection of IPA's both six packs as well as 22oz.
Walked in looking for one that I have not had and found six. Took three home with me! My total count of IPA's is 115 in the 18 months.
Many great Micro's and lots of help from the owners. Many six packs as well as build your own.
Mom even called her son to help me.
It is in a interesting area but it is close to Highway 20. So easy in and out!
John Peterson
Appleton, Wi
557 characters
5
/5
rDev
+18.5%
All the reviews ring true. Location and spot are a bit suspect, but once you find it and go in all doubts are erased. Selection is top notch. Beers include handy review that helps focus your attention on best selection for your preference. Wide variety with top tier beers available.
Staff is friendly and knowledgeable.
Prices may be a little high but given selection I doubt it. For a store like this I would drive many miles out of my way to buy here. Several of beers in stock were limited release.
Don't live in the area of store, unfortunately, but highly recommend it.
581 characters
3.58
/5
rDev
-15.2%
vibe: 3 | quality: 3.5 | service: 3 | selection: 4.5
The area had me skeptical of the place, kind of a low-rent strip mall on the desolate side of the suburban wasteland. Didn't meet Geno on my visit here, but there were some thuggish yet friendly guys at the register. Classic "don't judge a book..." type of place.
Micros were center-stage once past the door, which was a promising sign. Founders Breakfast Stout was displayed on a barrel-shaped shelf, and some other cases on the floor. Craft beer is a clear priority, based on the layout of the store, and the numerous descriptive tags under many beers on the shelves. There was a Southern Tier island rack loaded with tons of bombers. Further down a bigger center island was chock full of limited Allagash 750's and FFF bombers. On the right side micro shelf, DFH, Dark Horse, Goose, Capital, America's, Founders, and many more.
On the left, long shelves filled with many import singles. All kinds of English (Fullers Vintage '05), Polish (Okocim Palone), German (Schneider, old Mahr's Weisse), and some Belgians (Rochefort 8, Lindemans). For the area this was a staggering selection. Not quite to Binny's /Sam's magnitude, but still an extensive selection. Not much craft in the coolers, mostly swill in the back coolers under some wooden shingles. A couple upright coolers held a few random imports. Veering off to the right from the coolers, it was a no man's land, save for a lonely rack of old singles containing autographed pizza beers and last years pumpkin beer. Caveat emptor on certain shelf items, there was some dusty stuff. The micros seemed to move faster than imports.
Pricing on some things was pretty high, Matilda for $13 for example, and Kapsreiter Landbier for $7.29...a German Helles probably years old. Take the McLean exit off highway 20, take a left past the first light at the strip mall, it's halfway down.
Edit: Kinda smells like BS with all the random reviews mentioning staff by name... >_> ...and the guy working here was banned after a homophobic forum rant, so there's also that.
2,019 characters
4.5
/5
rDev
+6.6%
People were right when they said this place does not look like a destination for beer. Its out of the way, hard to find and the front of the store is coverd in Miller and Corona adverts. Inside is sort of like a bait and switch if you came in to pick up a case of Miller Lites. You have to pass through an extensive selection of micros and imports before you and reach the swill that is stashed in the coolers. Pretty decent selection for a store this size, they seemed to have an affinity for America's Brewing Company for some reason as six pack after six pack lined the floor in this place. Anyways, pretty much any bomber Southern Tier puts out can be found here as well as a pretty decent Belgain and mildly decent German selection. The domestic micros were pretty much standard for the area with an exception or two, Palo Santo Marron was here and I haven't seen it anywhere else in the area. A great great great spot to stop if you happen to live in Elgin, but if you live in the city or surrounding suburbs there are beer stores just like this one, if not better if you look hard enough.
If Geno (the owner's son, and I guess the guy the place is named after) is in, you will know it, he will talk to you forever about craft beer, you might have to try hard to get a word in but he will tell you what's fresh, what's been selling and what's been sitting on the shelves for a while, sounds like he singlehandedly built up the beer selection in this store and given the strange location of this place I am beginning to make more sense of this, that is to say, he's young (22) he likes craft beer and his dad owns the place so he gets to decide what goes on the shelves. He's a HUGE dogfish fan so you will see a lot of limited releases from them in this store. He will also put an order in for you if you ask, though you probably won't have to because he'll be the one talking. Very knowledgeable and will talk to you about craft forever if you have the time. Glad I came back here, a must if you are tired of the chain stores and the lack of customer service.
2,067 characters
3.85
/5
rDev
-8.8%
Stopped in yesterday as I was in town in nearby Dundee. Some of the brews had been there for a bit, while others were very new. I guess a bit caveat emptor is in need here. From the looks of the neighborhood, seemed pretty shocked at the setup.
Entire half of the store is made up of mostly singles of internationals available for making build your own sixers. Had the Bells, Founders, and regional IL brews I was searching for. Was hoping for a wider selection of those, but went home satisfied nonetheless.
Service was some guy just out of high school. Didn't seem to know what was really going on. Given that I had a good idea of what I needed anyway, not really required.
Overall: Didn't seem to be a great selection out in these parts, worth stopping by if you are desperate.
790 characters
4
/5
rDev
-5.2%
This place is tucked back in a little strip mal by a big Elgin Fresh Market so when you see the Taco Bell turn in to the parking lot. This little store front has BMC neon and taped up posters advertising specials in the front windows. I wasn't expecting much but when I walked in there was a long, long isle full of craft beer that ran the whole way down the store to the coolers in the back.
They had some nice selections from around Europe and the Mid-West was well represented also. They had big hand written labels of what was new and what was on-sale. There were trying to clear out the last remaining Sierra Nevada Celebration Ale 6-packs so they had them marked down. As I worked my way back to the cooler the room opened up to the right where all the wine was on display. They had 6 coolers of beer with about 2 1/2 doors of craft 6-packs. There was a sign that said cases were in the back so I imagine they had more BMC back there.
This was an impressive place that I never would have stopped at based just on the stores appearance from the street. It is well worth a stop if you live in this area. Especially if you want to try different beers or get some of the more popular new releases from the Midwest.
1,224 characters
Geno's Wine & Spirits in Elgin, IL
4.22
out of
5
based on
22
ratings.