The Drafting Room Taproom and Grille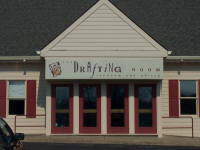 PLACE INFO
Type:
Bar, Eatery
635 N Pottstown Pike
Exton
,
Pennsylvania
, 19341-1677
United States
(610) 363-0521 |
map
draftingroom.com
Notes:
No notes at this time.
Added by BeerAdvocate
Ratings: 71 | Reviews: 60
4.38
/5
rDev 0%
vibe: 4.5 | quality: 4.5 | service: 4 | selection: 4.5 | food: 4.5
This is currently my favorite place to have a pint. Each month they have a few examples of a specific style on tap, as well as a few other "random" brews (typically seasonals), and of course "the usuals". The bottle selection is certainly ample, although I would prefer they had larger selection of beers brewed in the Tri-State area. It seems to mostly consist of Belgians, along with a patchy representation of stuff from the western US. Not that this is a bad thing. When asking to look at the bottled beer menu don't forget to ask for the Big Beer List. It usually has 5-7 higher alcohol beers not listed on the regular menu. There is limited seating in the bar area that could be increased with better use of space, but most nights there's plenty of seating available due to small crowds...a big plus in my book. Beer is not the Drafting Room's only attraction, the food is superb and a semi-good deal. Last time I was there, they had ostrich on the menu. I would have tried it if I wasn't a poor college student. Ostrich ain't cheap.
1,039 characters

4.1
/5
rDev
-6.4%
vibe: 3.5 | quality: 4.5 | service: 4 | selection: 4 | food: 4
The drafting room is a nice little bar in the Philadelphia suberb of exton, PA. The atmosphere is very sports-bar-like, making this place a great place to catch the big game. The quality of the beers seems to be very good, as they have tapping dates for kegs *and* casks on their menu. The service was fast, friendly, and attentive, but nothing mind-blowing. The selection was nice, but can be boring. About 14 beers on tap, with 5 "usual suspects" as they put it, lindemans framboise, 1 or 2 Belgian-style ales, and 6 or so local micros. They have a "beer style of the month" listed on their menu, and this month it was Belgian style ales. However, all this meant was that 2 or 3 belgian-style ales were on tap, one being Flying fish grand cru, and the other being the already mentioned Lindemans! I opted for a fresh(ish) cask hop devil, and a pint of good ole' Sierra Nevada Harvest. Both were good pours that arrived in nice shape. The food was decent, and well priced. Erica and I opted for a Belgian beer (which beer!?) and cheese fondue that consisted of melted swiss, provelone, and mozzarella. Twas good, but the bread it came with was a *bit* too hard for my liking and the fondue was *very* rich.
Bottom line: A great place to catch the game (awesome Monday night and pint night beer specials are here), and a few fresh brews.
1,341 characters

4.65
/5
rDev
+6.2%
vibe: 4 | quality: 5 | service: 4.5 | selection: 4.5 | food: 5
The Drafting Room is the bar that helped me to realize what my preferences in beer are, with its rotating monthly "Featured drafts" and a friendly and knowledgable staff. Their food is also excellent and they have a monday night "Mug Night" special where you buy a $5 mug at any time (which you bring home at the end of each visit) and receive $3 drafts (as opposed to the normal $4) on monday nights. They have a pretty good selection of micros and belgians on bottle as well as draft, with a rotating monthly beer style as i noted earlier. Their website is also great and up to date on what is on tap at the time. Try the Belgian Beer Fondue, its great! http://www.draftingroom.com
683 characters
4.58
/5
rDev
+4.6%
vibe: 4 | quality: 4.5 | service: 4.5 | selection: 5 | food: 4.5
Visited here last night while traveling on business. What a great place. The selection was very good with many drafts (I think a total of 14 or 15), the service also real good and the bartender actually knew about the beers. The other standout was the food. The mussels were fabulous (and you can get them bottomless --all you can eat) and my Angus Strip was perfectly cooked and seasoned. It is apparent they focus as much on the food here as the brew. In addition, all of the workers were friendly and seemed to enjoy working with each other. I will definitely get back there again!!
585 characters
4
/5
rDev
-8.7%
vibe: 4 | quality: 4 | service: 4 | selection: 4 | food: 4
TDR in Exton is a great place to enjoy a brew and eat some quality food. The beer menu constantly shanges for draft selections. The management has been doing a "beer Stye of the Month" and apparently has been well received. Draft styles and choices are diverse and tend to be more regionally available but also include brews from Europe.
Sunday Brunch buffet is a very good value for the money. Includes eggs to order, carving station, cold shrimp and smoked seafood.
There is a regular bottle line up and the Big 3 are available for the non-initiated. Could be a great palce to bring your friends that want to learn more about good beer and pairing brews with food.
675 characters
4.18
/5
rDev
-4.6%
vibe: 4 | quality: 4 | service: 4 | selection: 4.5 | food: 4.5
The Drafting Room is an excellent place to spend the night. They have great dinners and their selection of beer is wonderful. I would reccommend reservations on most nights for dinner because it does get very crowded. The have a good selection of beers on tap that usually include some local brews from places like Victory and the Sly Fox. Their bottle list is also impressive boasting some Trappists like Achel, Westmalle Tripel, and Westvleteren 8 and various local micros. It's not the selection that they have at Monk's, but very few places can compare to that.
565 characters
4.58
/5
rDev
+4.6%
vibe: 4 | quality: 4.5 | service: 4.5 | selection: 5 | food: 4.5
Had been wanting to go for some time now, but its over an hour from my house. So on they way back from Gettysburg with my wife, I figured why not a better time. Right off the PA turnpike on rte.100 north. In a little strip center, was very crowded on a sat. evening. I had always know about the beer selection, but didn't know what to expect with the food, but was very impressed. The beer selection is 5 star all the way. The beer menu was very impressive. 12 drafts,1 on cask, and another 60 or so in bottle. This night, it was Victory Hop Devil on the engine. The menu described all of the beers on draft, with great detail. A wide variety, from Dogfish Head 90 min. IPA to some blueberry ale my wife had(actually very good). I highly recommend this place to anyone in search of both great food, and even better beer.
820 characters
4.4
/5
rDev
+0.5%
vibe: 4 | quality: 4.5 | service: 5 | selection: 4 | food: 4
I have now been to the Drafting Room in Exton 3 times and have thoroughly enjoyed each visit. It is clean, quiet and nicely laid-out with a (albiet small) bar room seperate from the mostly family dining crowd.
Atmosphere is hard to judge in the afternoon with a sparse population of bar-goers... but a later evening trip assured me that this is a great place to take a seat, munch on some wonderful (and free) garlic/cheese pretzels available in the bar section, and begin making your beverage selections from the extensive list.
Being a hophead myself, I was happy to see an extensive selection of IPA's and the such, including: Anderson Valley Hop Ottin', Lost Coast Indica Pale Ale, Mad River Jamica Red Ale, Rogue I2PA, Three Floyds Alpha King, Tuppers Hop Pocket, Victory Hop Devil, Weyerbacher Hop Infusion, and Yards IPA (just to name a few)!
The bartender (the same woman who is there on every visit) has extensive knowledge of the beers and was happily making suggestions and providing plenty of good information on the freshness of the beer, etc. Just exceptional service.
The food is bar food... but quite tasty and a cut above most others. This place pulls a big crowd for the food alone in the afternoons (and heck, even a big Mothers Day crowd).
Another huge + for this place is that if you plan on visiting Victory Brewing, this is only a few miles away and quite a simple drive.
I will return!
1,433 characters
4.18
/5
rDev
-4.6%
vibe: 3 | quality: 4.5 | service: 4 | selection: 4.5 | food: 4
Came to town to visit Victory, but we were too tired to make the trip from our hotel after traveling all day. So we decided to try this place - having heard about it but never been there. A happy choice. A great selection of beers on tap that we had never tried before, including a hoppy Fancy Pants Pale and the Weyerbacher Quad! Hop Devil on cask! And a tasty Black Sun Stout. For very little effort, we had a great evening, good food (a great dessert selection) and even the Flyers on the tube. Definitely a comebacker.
522 characters
4.15
/5
rDev
-5.3%
vibe: 3 | quality: 4 | service: 4.5 | selection: 4.5 | food: 4
I have to say I'm biased towards this place. This is where I learned good beer. A rather large selection of bottled beers, and not too bad with the draft list either. They always have about 7 or 8 pretty standard beers on tap, such as Bass, Guinness, and Harp, but then they have another 7 or 8 that change constantly. This keeps the selection fresh, with something new being tapped every few days. The atmosphere is definitely yuppyish, and my friends and I do not fit this mold (being a bunch of scruffy long hairs.) Despite this, the staff is very helpful and friendly, and someone usually knows something about whats on tap. The food is pretty good, with decent lunch deals, but its the half price drafts from 4-6 weekdays that I love. If you are around the area, make sure to give this place a try; its pretty much the only bar in the area with a decent selection. Being 15 mins from Victory and Iron Hill West Chester is a bonus too.
939 characters
4.28
/5
rDev
-2.3%
vibe: 4 | quality: 4.5 | service: 4 | selection: 4.5 | food: 4
This place has a relatively small bar area and a larger room for the restaurant. The food is pretty good, leaning a bit towards fancy-shmancy. It can get pretty crowded on Friday nights. The crowd is usually predominately 30's and older.
As far as beer selection goes, it is rather good. I think they try to get a cross section of beers from several countries and American regions. Check the homepage link for a breakdown of what's currently available on tap and in bottles. Malt Advocate's John Hansell hosts whiskey tastings (and possibly beer, not really sure) from time to time and Victory Brewing is a couple miles down the road, so they always have fresh Victory products including Cask conditioned HopDevil. Tap rotation is very good and seems to be constantly changing. Always good micros from around the country.
824 characters
The Drafting Room Taproom and Grille in Exton, PA
4.38
out of
5
based on
71
ratings.