T's Liquors & Convenience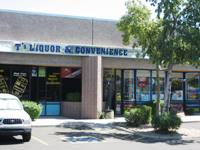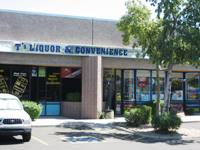 Store
1301 E University Dr
Tempe
,
Arizona
, 85281-8405
United States
(480) 774-2569 |
map
Notes:
Reviews by nleaders:
More User Reviews:
1
/5
rDev
-73.6%
vibe: 1 | quality: 1 | service: 1 | selection: 1
They dont support local breweries. Old snacks with expired dates. Its a dump, out dated. Slow store in a hidden location. Staff and owners are very rude. No local brands
171 characters
4.13
/5
rDev
+9%
vibe: 3 | quality: 3.5 | service: 4.75 | selection: 4.75
3.71
/5
rDev
-2.1%
vibe: 3 | quality: 3.5 | service: 4 | selection: 4
We stopped in here on our first night in Tempe, Arizona after finishing the last leg of our road trip. We selected it solely on location, as it shared a parking lot with our hotel, having no prior knowledge that it was a well-regarded bottle shop here on BeerAdvocate. All we were hoping for was something quick and easy, anything with a little hops in it, so we were pleasantly surprised to explore an unexpectedly large collection.
You enter the main store, tucked in a strip mall next to a hydroponics store, and immediately happen upon the checkout counter. To the left beyond this is their liquor selection, but the entire right half of the store seems dedicated to beer. The back and right walls of the store are beer coolers, housing both BMC and a wide variety of craft heavily influenced by the four corners. The back wall has a parallel-facing, double-sided cooler (think grocery store frozen food aisle), but this stand-alone cooler was empty and shut off on both sides of it. Shelved beer was located in this region, stretching back towards the front of the store. There were four total shelves, but none of them were being used to capacity. Milk crates of dusty offerings from California to Germany were strewn about the floor. Aside and between these were loose bottles, with no organization whatsoever, all with a fine silken layer of dust atop them.
Despite this difficulty in perusing their selection, we were able to leave happily with a bottle of Enjoy After, fresh cans of Modus Hoperandi, and a variety of canned Upslope brews. There was one employee while we were there, and he was friendly, but not craft-centrically helpful. He joked about the haphazard selection, exclaiming "If you find it, you keep it!!" We've ended up going back here almost every night to resupply, and each has been a similarly pleasant experience. If you happen to be in the area, it is worth a quick little stop.
1,932 characters

3.21
/5
rDev
-15.3%
vibe: 3.75 | quality: 2.5 | service: 2.5 | selection: 4.5

3.95
/5
rDev
+4.2%
T's is just a short jaunt from my apartment, so I always try to stop by at least once a week to pick up some new brews. The floor's usually cluttered with unopened boxes of bottles, but the selection's pretty similar to other quality stores in the city.
They also usually have some of the better deals and discounts. Two-for-one deals are constant and fluctuating, and they offer 10 percent off each case you buy.
The staff is pretty knowledgeable about the beer selection, which is good. More importantly, though, they're always willing to search out a beer or stock something they don't have if you ask for it. Whenever I call in and ask about a beer, I always get a call back, which is a rarity.
702 characters

4.15
/5
rDev
+9.5%
Right down the street from Four Peaks, this liquor store rests in an unassuming strip mall. Nothing notable or special about the outside. You would have no idea that there is such a wonderful beer selection inside.
The inside has about 1/3 of the store devoted to individual (mostly) bomber bottles of beer first organized by country and in the case of the US by state. A wide variety of several hundred varieties. The staff was helpful and knowledgable about their inventory and quizzed me about the beers I was buying at the register. OK I was a little annoyed about the quiz but at least they knew what they were talking about. The place has several beers in coolers along the walls as well.
The prices were reasonable and probably a little cheaper than other regional stores. I would recommend this little diamond in the rough for people in Tempe looking to bulk up their drinking resumes.
896 characters
4.2
/5
rDev
+10.8%
I went in here today looking for The Abyss, and found it. Very good sized selection of craft beer, not as vast as Sun Devil or Tops, but pretty damn good. Seems to lean towards 22-ounce and notas much in the way of 12-ounce bottles. Shelves organized by state and country. Aisles piled high with boxes, even harder to navigate than Tops, if you can believe that. Some aisles were completely blocked with boxes. But they weren't dusty, either. Definitely check the place out if you're seeking good stuff.
503 characters
4.21
/5
rDev
+11.1%
vibe: 3.5 | quality: 4 | service: 4.5 | selection: 4.5
Luggage space being limited, I knew I had one chance to bottle shop during my trip to the Phoenix area. Had read reviews/advice recommending nearby Tops or Sun Devil (in neighboring Mesa), but I liked the sound of T's based on prior Beerflys; also liked the proximity to Four Peaks as I was without a car - relying on light rail, buses, and my feet to get around.
Located in a completely forgettable strip mall near the E University/Dorsey intersection, T's from the outside looks like any run-of-the-mill convenience store, one that caters solely to the macro-leanings of a typical collegiate beer chugger. Garish advertising covers the front windows, hyping mass-marketed domestics and well-known imports, kegs, etc. One step inside, however, and the beer heavens part...an excellent bottle collection filling cooler upon cooler upon cooler (I lost count somewhere in the mid-20's). All singles are refrigerated and priced on the cap. Everything is neatly arranged based on brewery locale (state, country) and represented plenty of West Coast breweries, Southwest/Mountain locals and the whole of Europe, with interesting Asian, Australian and South American brews as well.
I first stopped in before my lunch at Four Peaks, just to browse. Brett (maybe the 'young guy' referred to in a couple other reviews?) was behind the counter and eyed me as I stopped at each case. I met him at the register and chatted a few minutes, mentioning I was visiting from Oregon and needed some recommendations on good/interesting local brews (my primary objective). I said I'd be back after lunch and he promised to help me if he could.
When I returned two hours later, the store was just as empty as before and Brett was able to walk with me to point out some favorites. He seemed to have a good 'beer-savvy', claiming to have tried about 300 in just over a year of employment there. Though I wasn't shopping for imports in particular, the fact that he pointed to two great baltic porters as personal likes (Carnegie Stark-porter and Sinebrychoff) proved his knowledge for me. Based on recommendations and my own curiosity, I wound up snagging about 8 bottles/1 can that were unknown (to me) local-ish brews I couldn't find in Oregon. Among them: an Agave Wheat from Breckenridge, a Porter from Santa Fe, a Steam Engine from Durango's Steamworks, a bomber of Cordillera Blanca from Sonoran, a couple Four Peaks brews and (couldn't resist) the notoriously diabolical Cave Creek Chili Beer.
My tab was just over $20, so I hardly dented their bottom line, but prices were very fair (generally $1.49-1.79 for singles, discounted as mixed sixers). I noticed a few older seasonals - some holiday beers, even a few pumpkin/autumnal ales from last fall - which made me wonder a little about turnover. Regardless, my experience was excellent: if I was a local, I could see being a regular customer based on the extensive selection and friendly service. Recommended.
2,950 characters
4.15
/5
rDev
+9.5%
FIrst off, this store is a LOT cleaner than the other good beer stores in the area. That may not matter to some of you, but to me it really does. No dust caked on any beer in this store...
Selection is pretty good, they usually have some things that the other major beer stores in the area do not have, and they are missing some things that the other stores do have. The seem to get a lot of the limited Stone releases...
I go there at night, when the younger guy is working. He is very friendly and know his $hit about beer. Nice guy!
537 characters

4.15
/5
rDev
+9.5%
Clean, well-lit, with a great beer selection. That's about all you can ask for.
Good array of beers. Strangely, they have beers that Top's doesn't and vice versa. Seems like any distributor that is already going to one would go to the other. Makes me check the labels for dates even more than I normally do.
The workers are pleasant if usually not up on their beers. It's a trade off: they do know what's in the back, but not if it's good or not.
Most of what's there is solid, and I'm impressed with their organization, especially viz a viz Top's, which is broken down very broadly by country of origin but is definitely tough to navigate. Fewer bottles but easier to find.
680 characters

4.35
/5
rDev
+14.8%
[Edit]: Visited again on 4/19, though I have been many times between the original review and now. The selection has always been phenomenal. Everything from Belgians to American micros are available in the 11 or 12 coolers or on the shelves. The quality is the biggest improvement I've noticed. Everything was very clean this time and well organized. Some beers to make note of, Jolly Pumpkin La Roja & Oro De Calabaza, many bottles of Stone IRS, even well after the release period, and plenty of Oaked Arrogant Bastard. The service is great when a certain guy works. He was there tonight and I always have a conversation about beer with him. The only time I've had bad service is when these two Indian guys were working. They didn't know a thing about beer and didn't offer any help, which I didn't mind, but if it was my first time there, I would have liked to been approached. I can now say this place is much better than Tops in every category, yet still can't come near Sun Devil Liquors.
[End Edit]
This is definitely a hidden gold mine in the Phoenix area. It's literally 1 minute from campus, right down E. University before McClintock on Dorsey.
Organized and properly arranged, meaning what belongs in the coolers is in there and what belongs on the shelf is on there. About 10 coolers or so of brews. The few times I've been there, the same guy has been working, and he's very knowledgeable and very helpful, but whenever he isn't in, service is pretty bad. I will definitely be going back in the future, although it can get a little pricey.
Most of the beers are priced well but a 4-pack of Old Rasputin RIS was $11 at one time. It was $7 back in MA, which was funny to me. I have been there recently and the price is back down again, so it must have been bad timing. Compared to Tops, I say you can't go wrong with either because they're 3 or 4 minutes apart, but come here for the good service, a relatively clean store (compared to Tops it's clean), and a lot of beer in coolers.
There needs to be more reviews of T's so people will become more aware of the great store that it really is.
2,120 characters
4.15
/5
rDev
+9.5%
Q- right around the corner form four peaks so i thought i'd stop in. I'd say bout half cooler and half shelf for beer. Damn good selection. Saw some brews here i didnt see at any other location. I picked up an avery mephistopheles' stout for $7.
S- guy behind the counter said hi when i came in, and answered any question i asked. definetly knew what he was talking about.
S- good selection, not as big as sun devil or tops, but solid and i saw brews here i didnt see at the other too.
All in all, i cant really say tops is better, or sun devil is the best, or t's is the best, they all have good selection and by going to all three i seem to find what i'm looking for. So i'll continue to do so when i make my way to arizona every couple months.
755 characters
T's Liquors & Convenience in Tempe, AZ
Place rating:
3.79
out of
5
with
13
ratings