The Wine Emporium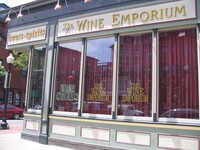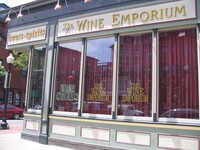 Store
607 Tremont St
Boston
,
Massachusetts
, 02118-1719
United States
(617) 262-0379 |
map
thewineemporiumboston.com
Notes:
Recent ratings and reviews.
| Log in to view more ratings + sorting options.
Reviewed by EspressoGuy from Canada (BC)
3.6
/5
rDev
-4.8%
vibe: 3 | quality: 4 | service: 3 | selection: 4
Very good selection. Prices are a little high. Especially nice to find a selection of Pretty Things' Once Upon A time old beers. Wish I had bought more. I'd probably give a higher mark for service if their beer manager was around. Other staff was fine.
Apr 20, 2013

Reviewed by brokensail from California
3.64
/5
rDev
-3.7%
vibe: 3.5 | quality: 3.5 | service: 3.5 | selection: 4
Was down the street at Picco and saw this place as we were walking around.

A nice selection of bottles from the East Coast, though I must say, I was surprised by the amount of things that I can get back home.

I wanted to buy a bunch of stuff, but the prices certainly prevented me from doing so (as well as having to carry it while walking). They also don't allow you to break up sixers, which is kind of a bummer. But, I still ended up buying a handful of items that I can't get back home.

I didn't have too much interaction with the staff, but they seemed helpful enough.
Oct 06, 2011

Reviewed by rowingbrewer from Massachusetts
4.65
/5
rDev
+23%
I found out about the wine emporium a few months back while searching BA for good beer stores in boston. I was a little slow in making my way to the store since it is so far from where i work down town. It was a post by Nate the beer manager regarding NEBCO Imperial Stout Troopers being available at the store. I got to the store and was pretty impressed by their selection. they have a lot of six packs as well as a good selection of bombers and 750's, with a good amount kept in the cooler. the store does focus on wine, but they have an amazing beer selection in spite of that fact. I reserved the IST and when I went in Nate the beer manager was more than willing to shoot the shit about beer and make suggestions. Also id=f you purchase 6 bottles you get 20% off. thats freaking amazing. it brought the stout troopers down to like 13.25 and the black ops i got down to 20. all in all great service great selection and great prices. check it out you won't be dissapointed
Dec 31, 2010
Reviewed by jgasparine from Maryland
3.55
/5
rDev
-6.1%
Stumbled in here after the Night of the Barrels 2010. The beer selection is hit-or-miss. They stock all the standard macros they need to stay in business, and they have made some space for some world-class craft beers... but this craft selection is spotty.

Saw some DFH World Wide Stout, but no other DFH specialty beers. Saw a Lost Abbey Saison, but no other Lost Abbey beers. A couple of other little gems sprinkled here and there, but you had to hunt them down.

Props for having some of those gems in the first place, but they could certainly round-out that selection of craft beer a bit more.

Worth stopping by if you're in the mood for treasure hunting.
Feb 22, 2010

Reviewed by morebeergood from Massachusetts
3.65
/5
rDev
-3.4%
On the way to a friend's home in the South End, I stopped in here on Friday because I saw on the BA calendar that they were having a Smuttynose tasting. It's all wine and liquor up front, with the beer situated at the back of the store. There were four Smutty beers to taste, so cheers to them. The store itself, while it does not have the largest selection in Boston, does have a load of quality beers. There were actually a few bombers and six packs that you normally don't see in other stores, which helps to makes your store stand out. One beer that I purchased was a 22oz bottle of Chupacabras Pale Ale from Mexico for under $5. One of the beer managers here, BA trumpetego, was a really nice guy and spent some time to tell me about the store's selection and upcoming beers that will make an appearance. It's good to shop at a store in the South End that focuses on craft beer.
Feb 01, 2010
Reviewed by SpeedwayJim from New York
3.3
/5
rDev
-12.7%
There seems to be no dedicated beer stores in Boston as every relatively well reviewed place is a beer area in a wine store... this one isn't any different.

Quality of there selection here is very good. Beer is kept dark and refrigerated but its odd as they store their 750ml and bombers at an angle just like their wine... weird.

Service was average. This is a wine store and they don't really keep up to date in terms of information about their beer selection. However, they're always willing to help and provide good customer service.

Selection here is a bit suspect. They have an OK selection of 750ml and bombers. However, a good portion of their fridge is dedicated to macros and locals. Not that that's a bad thing, but comparatively to a couple of other places (Wine Gallery), they could diversify.

Prices here are average and on par with most places in Boston.
Oct 18, 2009
Reviewed by fredandboboflo from New York
3.4
/5
rDev
-10.1%
Nice little spot I stumbled upon waiting for EBF V NOTB to begin. Very small area for beer, but they make great use of it with a wide variety of selections from St. Bernardus to Lost Abbey to Victory to Stone, etc. I didn't even realize it at the time, but after reading the below reviews, the prices are definitely the best I've ever seen. Service...much more geared toward the wine...if you like wine, go downstairs and you can sample wines with cheese and have a grand old time. If, as being a ba would indicate, you're there for the beer, don't expect much more then a gruff reading of your final tab.
Feb 18, 2008
Reviewed by clickpush from Pennsylvania
3.55
/5
rDev
-6.1%
Stumbled upon this place while walking around looking for art galleries. Having no luck finding art, I decided beer was the next best option (only because of the moment - normally beer's the first best option). I was pleasantly surprised with the selection, and the prices were excellent. Not only was everything moderately well priced, but there were several sale items (and not just shit) that were 20% off. Picked up a couple bottles - they have a small selection of single 12oz bottles, I'm assuming from ruined 6-packs, that were well priced. Selection comprised mostly of north-east micros, and some WI and CO. The Southampton Grand Cru there was $2 less (at $10) than what I paid early in the day at Bauer. No aid whatsoever inside the store, just a cashier waiting to call "Next in line?!". He was friendly though, not at all adverse to checking the prices of unmarked bottles, and the whole experience was favorable and worth repeating.
Oct 07, 2006
Reviewed by bjohnson from Massachusetts
4
/5
rDev
+5.8%
Stopped in on my way to dinner tonight. Didn't even know this little place existed. At first I was a little frightened by the cops standing inside, but no worries, they're here to protect and serve!

Pretty decent beer selection for such a small place. About three coolers devoted specifically to the craft selection in a completely different location than the macro stuff, which I found appealing. Labels I remeber included:
Clipper City, Paper City, Southampton, Thomas Hooker, Cisco, Otter Creek, Brooklyn, Blue Point, Geary's, Victory, Wachusett, Houblon Chouffe Dobbelen IPA, Dupont Saison, Tuckerman, Smuttynose, Allagash, Tremont, Flying Dog, and Ipswich. Almost forgot about Emma's favorites--Lindemann's and Rapscallion. She was happy!

Don't forget about the cold bombers around the corner! Mostly the same stuff as in front on the floor (Chimay, Ommegang, Duvel). Very decent prices with the Southampton Grand Cru 25oz'er only $9.95 and Double Wit $4.25. I was thoroughly impressed.

Employees were decent. It was kind of busy when I strolled in so they couldn't really help, but they were nice at the checkout! Probably one of the better places in the Southend for beer. Check it out if you can.
Jul 26, 2006
The Wine Emporium in Boston, MA
Place rating:
3.78
out of
5
with
13
ratings