Sav-Mor Liquors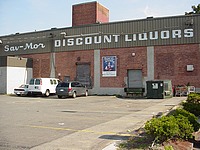 PLACE INFO
Type:
Store
15 McGrath Hwy
Somerville
,
Massachusetts
, 02143-4210
United States
(617) 628-6444 |
map
savmorspirits.com
Notes:
No notes at this time.
Added by GolgiIPAratus on 07-04-2005
Ratings: 11 | Reviews: 9
Reviews by taez555:
1.75
/5
rDev
-40.3%
Located directly across the street from the Twin City shopping Plaza right on the Cambridge/Somerville line. The store itself is a dingy, dusty, warehouse style store. HIgh ceilings and rows that are created by the liquor itself.
Selection is surprising good. 6 packs, singles and bombers of just about every macro, micro and craft you could want. American Craft, Belgian, English, German, etc. Just about every style and every beer. They also have an amazing selection of those gift packs that include a glass.
Quality is where this place gets it's lowest score. Most of the bottles are dusty and past their prime. If you make sure to read the labels you can find the newer stuff, but it's really hit or miss.
My wife's a nurse so I stop in here once in while when she's shopping at the Work-N-Gear next door. The selection always blows me away, but quality.... well... caveat empter.
- Dec '06 update. I've given this place more than enough chances. I stopped in here the other day, picked up 3 bottles and really should have checked the dates. One bottle was 2 years past it's expiration date and the rest were skunked. On top of that, I waited in line for 10 minutes to pay while the cashier gave another employee an employee discount on cigarettes. Let's just say, I'm never coming back here again.
1,317 characters
More User Reviews:

3.34
/5
rDev
+14%
vibe: 2.75 | quality: 3.5 | service: 3.25 | selection: 3.5

2.67
/5
rDev
-8.9%
vibe: 2.75 | quality: 2.5 | service: 2 | selection: 3.5
3.84
/5
rDev
+31.1%
vibe: 3.75 | quality: 4.25 | service: 3 | selection: 4.25
I stumbled upon this place while out getting groceries and decided to give it a try. Seeing as how most of the reviews are >1 year old I thought I'd also shed some light on the current situation of the place. I was actually overwhelmed by their selection, especially when compared to other area stores! In a short discussion with one of the employees I learned that they've recently started stocking up on craft beer, both local and less so, with a total of 300+ unique beers as of today. The person I was talking to told me that within the last week they've added 15 beers alone. The collection was rather expansive and definitely worth taking a look at. The prices were on par with what I'd expect, nothing incredible but by no means awful.
742 characters

2.79
/5
rDev
-4.8%
vibe: 1.75 | quality: 3.25 | service: 2 | selection: 3.5
The only store in the area sits in a warehouse. The interior is as unvarnished as the exterior plus the content is rather disorganized. Most of the cooler is taken up by BMC and macro imports. One door is dedicated to crafts--same as malternatives. The selection is uneven at best. Some breweries appear to be well represented--Clown Shoes, for example, had more variety than I've seen anywhere, including both Dragons and both "Mexican" beers. Others were significantly shortchanged. Being in Somerville, one might have expected Slumbrew to get a bit more love--no such luck. The age of some of the beers is significantly in question. Flower Power was less than two weeks from expiration date, a few were well past (one of the singles was dated 2/19/13. The craft/import area is rather large--one whole row, plus a separate area for organic offerings and two more small stacks in opposite corners (one was a rather large stack of Harpoon Leviathans, including three from older releases). But very little is chilled, most beers are missing any kind of price tags and the prices are ridiculously high even for Massachusetts--many were $1-2 more than the same beers in downtown stores that are already priced higher than average. There is also a small "make your own six-pack" area, but it warns "Each beer is individually priced" with not one of them carrying an actual price sticker. To make things worse, all but 4 of them were BMC+Sam Adams and Guinness (the 2/19/13 beer was found in the same bin). In general, stay away from the green stickers--most are monstrously old and only a handful are actually discounted (and other than the Leviathan Quad, they are not meant to age). Some good prices on liquor, but if you go there for beer, learn to live with disappointment. To top things off, the warehouse is not properly air-conditioned, so the temperature is way too high. Service is practically nonexistent--the staff knows nothing about beer beyond which ones come in cases of 30 and, aside from friendly old ladies at the register, most are not helpful. Not likely to go back, despite the selection (and $16+ for Porcupine Dragon is not an enticement, even if it is hard to find). The store needs a beer manager or a new owner.
PS: Continues the pattern of stores with "Discount" in the name being severely overpriced.
2,324 characters
3.3
/5
rDev
+12.6%
vibe: 3 | quality: 3.5 | service: 2.5 | selection: 4
I went into here one Sunday afternoon when I was in search of package stores that had a goo craft selection. I was striking out with the stores closest to me so I had to branch out a little farther. Sav-More is a little far for me to regularly make it out to but this place has a great selection. There is a wide variety of American craft beers as well as a large number of imports that I have seen before and some I only know by reputation. I had passed one or two employees that seemed to be doing other things and not very helpful but the woman at the checkout counter was very friendly and helpful and I was pleased to have stopped in. I will be keeping this place in mind for future restocking of my cellar.
712 characters
2.15
/5
rDev
-26.6%
Sav-Mor is located in a rough stretch of the McGrath Highway in East Cambridge/Somerville. Its a tightly packed warehouse style place that reeks of spilled booze and broken dreams...
Well I wouldn't recommend this place for picking up beer, selection is spotty and out of code beers can dominate the racks for anything specialty. The store is pretty dirty and the cans from the shelves (like a Dale's Pale Ale) are often just as dirty. You can get anything they have elsewhere and I'm not sure how much "Mor" you're saving by shopping here. I'd pass for sure.
560 characters
3.05
/5
rDev
+4.1%
Warehouse-style with the beer way in the back. Their selection is all over the place & was pleasantly suprised to see beers i had not seen in others stores in the ares. Abita Purple Haze, Dogfish Pumkin & Smuttynose Pumpkin are some that i hadn't seen elsewhere. I have 2 gripes though about this place:
1) i don't know if they received a new shipment, but walking space was minimal.
2) If you come here, check the dates! I saw some bottles 2-3 years expired, last year's seasonals, etc. I did not buy anything if it didn't have a date on it.
One thing i really liked, you can break a case, something no other beer stores in Boston area would let me do (except Trader Joe's). That's how i was able to take 1 bottle of Pumkin Ale out of a 12-pack. I wouldn't go out of my way though for this place.
800 characters

3.65
/5
rDev
+24.6%
Stopped by here the other day to get some beer for a post-work gathering -- only chosen because it happened to be the closest package store to work. Sketchy outside; you're basically parking in a loading dock. I wasn't expecting much here, but was pleasantly surprised by the selection.
The aisles are packed in tight, and you have to navigate them to get to the back, where the beer is located. But once you get there, you'll find they have a good selection of Dogfish Head, Stone, Samuel Smith, Victory, and many others. They have beers organized by country of origin... and have the full repertoire of Belhaven Ales (my favorite).
The atmosphere is definitely "dingy warehouse", but the selection makes it worth it.
724 characters
2.75
/5
rDev
-6.1%
Kind of a surprise. Stopped on the way home for a cheap bottle of wine or two after dinner in the North End and discovered a surprising selection of decent beer. A lot of the local and regional beers one would think but what impressed me was the imports. They had a few Belgians I have never seen before at other places more known for the Belgians. The feel to the place is definitely a warehose. I had to squeeze myself down some makeshift aisles to get at a few rows of beer. However, a big ciriticism of the place was the quality. Most everything was covered in a fine layer of dust and of the six bottles I decided to purchase I put back because they were months past their "Best By" date. The service was non-existent. We were there for 30 minutes and no one even came to look at us. I would consider stopping by again just to take a look at the imports, but definitely with a careful eye.
894 characters
3.7
/5
rDev
+26.3%
This is a very unassuming place on a spot along McGrath Highway in a part of Somerville some might have expected isn't even Somerville. It's right across from the newly renovated Shaw's Supermarket and the McDonald's at Twin City Plaza. It's in a brick warehouse looking building shared with a repro-graphics outlet and a Work'n Gear store. You may have seen it and you may have not.
Well, take a stop in. I can't sit here and tell you the age of each shelved brew or how well kept they are, but they have a much bigger selection of craft brews, both American and abroad, than I'd ever had imagined when I first walked in a year or more ago. They carry most styles from breweries like Victory, Dogfish Head, Stoudt's, Rogue's, Stone, Chimay, Unibroue, Ommegang, Flying Dog, Boulder and many, many more Scottish, English, German and other Euro and Asian offereings in singles or sixers. They also have plenty of local fair, Smuttynose, Harpoon's, Wachusett, Ipswich, Stone Cat, Berkshire, Newport Storm, Geary's etc., etc., etc....
Of course, the Corona/Bud/Michelob crowd will find this to be a wonderland as well. Also a large selection of hard alcohols of the clear & brown varieties and an OK wine section. They even have a locked case with boxed bottles of Johnny Walker Blue, Remy Martin XO and the like, if you're looking for such fare.
Like I said, this place has a warehouse bottle distribution center air about it, but you go in and head to the back-left and you'll be surprised at the piles of cases and stacked shelves of quality beers. There are plenty in the cooler on the back wall as well. I can't speak technically about quality of storage or shelf life, but I've been coming here for a while now and I've had very little if any complaints about freshness or taste of my purchases. The store workers are typical, not craft beer lovers or overly knowledgable by any means, but not rude either.
1,920 characters
Sav-Mor Liquors in Somerville, MA
2.93
out of
5
based on
11
ratings.