Woody's Grill And Tap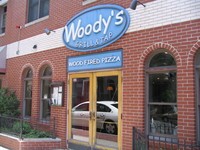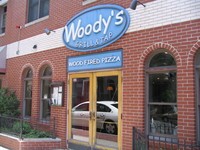 PLACE INFO
Type:
Bar, Eatery
58 Hemenway Street
Boston
,
Massachusetts
, 02115
United States
(617) 375-9663 |
map
Notes:
No notes at this time.
Added by Sycodrummer on 07-04-2005
PLACE STATS
Reviews:

10

Ratings:

pDev:

14.97%
HISTOGRAM
View: Place Reviews
Ratings: 13 | Reviews: 10
Reviews by Freshie:

3.65
/5
rDev
-2.4%
vibe: 4 | quality: 3.5 | service: 3.5 | selection: 3.5 | food: 4.5
Located on Hemenway Steet between the Symphony area of Hunnigton, and the Fens.
Nice unassuming location. Neighborhood feel.
The place has a nice long wooden bar, with exposed kitchen area, with some wood fires for the pizza. Plenty of seating, and one of cleanest bathrooms I have seen in Boston.
Went there to meet a friend who was in town from Seattle, and we all had a spectacular time. Very good pizza, with many gourmet styles to choose from, plus the ability to build your own from their list of great fresh toppings.
Very decent tap selection for a seemingly casual pizza parlor. Harpoon, Guiness, SA Boston Lager, SA Ocktoberfest, A CBC Seasonal, DFH 60 minute, Stella, and some more local slections.
The food was great, the beer was great, and flowing, nothing crazy. Just a good place to catch up with some friends and relax.
852 characters
More User Reviews:

4.18
/5
rDev
+11.8%
vibe: 4 | quality: 4 | service: 4.25 | selection: 4.25 | food: 4.5



3.38
/5
rDev
-9.6%
vibe: 4 | quality: 3 | service: 4.5 | selection: 2 | food: 4.5
Go for the beer, leave unhappy. Go for the food, service, and beer, leave pleased.
I needed to grab something to eat within walking distance of my hotel (Hilton Back Bay) last time I was in town. I wanted to go somewhere that the food and beer were both good. I needed a place that took credit cards. Three out of four. It is a short walk from the area, where there are surprisingly few decent beer joints (Bukowski's and Lower Depths are both in the area but are cash only). While the atmosphere was standard neighborhood bar, the clientele were colorful and the bartender made me feel like a regular. (I sat at the bar, so he was my server, too). The burger I order was very good, fresh, tasty, and not overcooked. Unfortunately, the beer selection was limited to mostly standard crafts (Sam Adams, Harpoon IPA, Guinness, etc.) plus one or two non standard offerings. That said, the food and atmosphere would make it worth a second trip.
940 characters

3.1
/5
rDev
-17.1%
vibe: 3 | quality: 3 | service: 2.5 | selection: 3.5 | food: 4
Stopped by here for some late night pizza last Friday. I've read about this place, so I figured it would be worth a shot to swing by. It was voted Best Pizza for 2007 in Boston Magazine. Pretty crowded on a Friday night, so grabbed two seats at the bar. It was a cold night, but let me tell you, if you sit at the bar, be prepared to sweat. With that open faced oven blasting at 600F, I could feel my forehead baking. But it was nice change from the 25 degree weather outside. There is a nice selection of beers here, very East Coast centric. They had Sam, Harpoon, DFH, Allagash, Smutty, Cambridge, BBC, and Ipswich. Stick with the tap list, as the bottle lineup looked weak. I ordered an Ipswich Ale and my wife a CBC Big Man Ale. Both our pint glasses felt like they had pizza dough baked onto the outside (yuck). The bartender seemed a bit preoccupied to help us most of the time, as he was too busy with the customers he knew on a first name basis. When we finally did get our food, it was awesome. On top of the nice radiant heat from the oven, you can watch the guy make your pizza right in front of you. We ordered a mushroom/onion/tomato pizza. It tasted great, and it was only $13. The second round of Allagash Whites came in no-so-crusty glasses. For a pizza place, the food is great and the tap list is pretty good. An excellent combination.
1,353 characters
4.05
/5
rDev
+8.3%
vibe: 4 | quality: 4 | service: 4 | selection: 4 | food: 4.5
Although more known for it's pizza, which is pretty darned good, but they usually have a nice little beer selection as well. I've been there a few times now, and everything has been great each time, very consistent. The beer menu is not large, but it is pretty good. they always seem to have a Berkshire and Cambridge brew on tap as well as Sam, and other locals. Plus some other nice offerings like Smuttynose and Dogfishhead and think even Magic Hat. It is a nice place to take the significant other for an evening out.
521 characters
3.83
/5
rDev
+2.4%
vibe: 3.5 | quality: 4 | service: 4 | selection: 3.5 | food: 4
Woody's takes the dubious honor of being the closest BeerFly establishment to my hostel. After tasting beer at the Harpoon Brewery, me and few other folks from my hostel hit this place up for dinner. It looks a lot like a standard bar and grill restaurant. We sat down and glanced at our menus, noticed 60 Minute IPA was on draft, so I ordered a pint of that. The beer selection has mostly regionals on draft, with about half the bottle selection towards craft brews (the other half was mass-produced beer). Our server was helpful and the food arrived at a good pace. Their chicken sausage pizza went well with my beer. Prices are a little better than average. The selection isn't wonderful compared to other Boston establishments, but that's no reason to not visit this place.
777 characters

4.05
/5
rDev
+8.3%
vibe: 4.5 | quality: 4 | service: 4 | selection: 4 | food: 4
I'm surprised the scores arent higher for this place. I loved it. Its just a quaint little neighborhood bar/pizza place in the heart of Northeastern on Hemenway street--only about a block or so from Mass ave.
The beer selections were definitely pretty good as they had one from CBC which always earns a big plus in my book, a couple from BBC (Berkshire) and there was some Smuttynose, I think they also had a Tuckermans and/or a Cape Ann offering. I thought for a not so huge selection of beers, their draft choices were quite good. So good in fact that I didnt even look at the bottled offerings. I got a pizza and it was great. The service was friendly,attentive and professional. I met some regulars so it quite a friendly place as well. I was told that it is not as good if it gets overcrowded but that wasnt the case while I was there.
A great neighborhood beer bar with a nice emphasis on local craft beer and excellent wood oven pizza being prepared right in front of you. I am definitely looking forward to returning for a 2nd visit real soon.
1,058 characters

3.55
/5
rDev
-5.1%
vibe: 4.5 | quality: 4 | service: 2.5 | selection: 3.5 | food: 4
Great atmosphere - soft lighting, some cool art, and the delightful smell of a wood fire. Very cozy. Never seems to get too loud either. The menu contains probably the best selection of homemade, brick-oven pizzas in the neighborhood. Occasionally I seem to get a sub-par pie, but not too often.
The service is the only thing I've ever really had a problem with. Sometimes the servers can be a little unattentive. I was also turned away once with a temporary Mass. ID, and they weren't very polite about it.
The beer is mainly what I come here for. This is the only place in the neighborhood with Sierra Nevada Pale Ale on tap (one of my personal faves). Also available on tap is Sam Adams (Lager & Seasonal), Harpoon (IPA & UFO), Dogfish Head 60 Minute IPA, Newcastle, Magic Hat #9, Stella Artois, Ipswich, Tremont...that's all I can seem to remember. I'm certain they've got that macrobrew stuff too, but I didn't bother to check. Everything seems to run about 3.75-4.00 a glass. They also carry some decent wines (Beringer is the house, I think) but no liquor. Prices are moderate.
A great place to grab a couple decent brews and a solid pizza or burger without breaking the bank. Don't expect to be blown away by anything though.
1,243 characters
3.75
/5
rDev
+0.3%
vibe: 4 | quality: 4 | service: 3.5 | selection: 3.5 | food: 4
Ah Woody's--right around the corner from work. Usually go here for lunch, mostly work outings and have only been one time after work. Pretty crowded for lunch with usually only one waitress working (the co-owner). Shes really nice and always has a smile on her face, which is surprising considering she never stops running around. Normal pub fare with a sandwiches, apps, soups, salads, etc.
The fireplace behind the bar lends to the atmosphere as it gives off warmth and the great smell of a campfire. There are about 4 high tables in the bar with a couple of TV's. The bar is pretty long, maybe 12 chairs, L shaped. A bunch of tables on the "restaurant" side.
Usually on tap include Dogfish, Ipswich, Stella, Harpoon, some Sam varieties, and Tremont. The pizza is excellent--I would suggest it! Good place when the the students aren't around but I bet it gets pretty full when their in school. Reasonably priced and clean!
932 characters
2.53
/5
rDev
-32.4%
vibe: 3 | quality: 1.5 | service: 2.5 | selection: 3 | food: 4
This place can have the best pizza in town. When they are on, they are second to none. But their consistency isn't perfect, and twice I have received a soggy pizza. Both of the soggy pizzas were with tomato sauce. Their sauceless pizzas are much better. If it wasn't for my soggy pizza experience, I would claim that they are better than Penguin in the Pizza making department, but the soggy pizzas prohibit that claim. They have half-decent selection of beer, but my problem is with their quality. Not all of the beers that I have had at this place were contaminated, but most of them were. I will point out that the Dogfish Head 60-minute that I had there was great. But, I have had contaminated Tremont, Ipswich, and Harpoon IPAs, and my friend Rouzbeh had a bad UFO, and even a badly contaminated Guinness. Because of my bad experiences, I do not drink the beer on tap there anymore, but they do have a few in the bottles. If you must have a draft beer, I recommend trying a wee before committing to a whole pint. Sitting near that pizza oven and watching the guy make pizzas is amusing in the winter, but for the obvious reason, not in the summer. I thought the place was classier before they painted the Red Sox crap on the wall.
1,235 characters
3.55
/5
rDev
-5.1%
vibe: 3.5 | quality: 2.5 | service: 4 | selection: 4 | food: 4.5
---
Edit as of 8/22/05
---
Went into Woody's for just a quick beer. While sitting at the bar (which overlooks a part of the kitchen) saw two mice running around the place. Now, I know its Hemenway St. and there a lots of mice there, but that's not exactly what I want to see in the kitchem of the place I'm about it eat from. Quality points get knocked down a few pegs for that. (4.0 down to 2.5)
___
Woody's is just a small place that can be easily missed on Hemenway Street in Boston, but it is a decent find and one of the places to offer a better selection in the nearby area.
A small establishment divided into a dining room holding maybe 40 people at most, a bar, and a section with some pub tables, the bar is rather dark but has that warm wood burning stove in winter time inviting atmosphere. Not much adorns the walls, but the best word to discribe it would probably be "cozy."
Woody's specialized in wood oven pizza and it's very good stuff. Thin crust with about 25 different topping cobinations to choose from and your basic large pie (16 inches) going for just under $10.00. The menu also offers other selections and a small variety of Italian entrees and salads and some good appetizers as well.
Service is prompt and food waiting time has never been more than about 15 minutes for me.
Now as for the beer...
For a very small place Woody's offer a nice selection of micro brew classics and local favorites. The tap list includes: SNPA, DFH 60min., Newcastle, Tremont Ale, Ipswich Ale, Magic Hat #9, Harpoon UFO, Bass, Guinness, and others. In the bottle, notables include: Ipswich Dark Ale, DFH Raison D'Etre, Blue Moon, and some others.
All in all, Woody's is a nice spot to stop in and have at least enough of a selection to keep you happy for a little while. It's certainly not going to break any records, but the food is good, and the beer selection better than average.
1,913 characters
Woody's Grill And Tap in Boston, MA
Place rating:
3.74
out of
5
with
13
ratings