Castle Rock Irish Red Ale
| Upland Brewing Company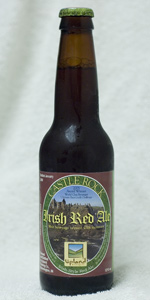 BEER INFO
Brewed by:
Upland Brewing Company
Indiana
,
United States
uplandbeer.com
Style:
Irish Red Ale
Alcohol by volume (ABV):
not listed
Availability:
Limited (brewed once)
Notes / Commercial Description:
No notes at this time.
Added by BitteBier on 02-13-2006
This beer is retired; no longer brewed.
Ratings: 7 | Reviews: 7
Reviews by karengarys:

4.05
/5
rDev
+15.7%
look: 4 | smell: 4 | taste: 4 | feel: 4.5 | overall: 4
This pours rich deep red with a hint of brown. My slow pour leaves little head. There are some particles floating around in there...
It smells a bit sweet in a dark sort of way.
taste is malty, sweet, a bit dry. No pine flavor, but a bit more of a dry bitterness.
Mouthfeel is quite creamy. the pillow of fizz lasts throughout the drink.
The finish is really good - at the end of the drink there is a hoppy dryness that really cleans the pallette, leaving no aftertaste at all.
The body is not whimpy - though not heavy there is some substance there.
This is a really good refreshing brew. I recommend it highly.
631 characters
More User Reviews:
4
/5
rDev
+14.3%
look: 4 | smell: 4 | taste: 4 | feel: 4 | overall: 4
A pleasant little surpise from Upland here. Pours into a glass a clear red mahogany with a modest beige head. Good retention and some patchy lacing.
Aroma is on the malty side, with toffee and caramel malts. A hint of spicy hop in the background.
Medium body with an ideal moderate carbonation.
Taste opens with a molasses presence, complimented by some toffee and caramel. Spicy hops sneak in with some balancing bitterness. Finishes smooth and even with a slight dryness.
Very well done for the style. An excellent rendition of a subtle style. My favorite brew from Upland.
587 characters
2.16
/5
rDev
-38.3%
look: 4 | smell: 3 | taste: 1.5 | feel: 2 | overall: 2
Holy cherry cough-syrup batman! This brew is thick, thick, thick. Drinking it reminded me of friends drinking 'Tussin to get high.
This beer is loaded with complex sugars . . . so many that it has started to look less and less like a beer and more-and-more like a sorbital solution!
And the taste is, well, not good. Artificial cherry predominates.
Man, the only reason I was able to choke this baby down is because I paid $6 for 17oz of it. Pouring beer down the drain is beer-abuse, but, uhgg, never again.
514 characters
3.22
/5
rDev
-8%
look: 3 | smell: 3.5 | taste: 3 | feel: 3 | overall: 3.5
For a Hoosier-brewer Irish Red, it wasn't bad. I enjoy my beers very cold, and this one was easy to drink. Once poured, it had a nice ambur color with a good head. The flavor was somewhat smokey, yet sweet (cherry?), and maybe a little light on the aftertaste for my personal preferences. A tweeking of the recipe might do it well. Still, a nice beer.
351 characters
3.48
/5
rDev
-0.6%
look: 3.5 | smell: 3 | taste: 3.5 | feel: 3.5 | overall: 4
Poured from 12oz bottle into Sammy Smith pint.
A - Dark amber and clear, shows its red tint when held up to the light. Light head that doesn't last long.
S - Pretty subdued. Caramelized and light roasted malt.
T - Same as above malt with a touch of sweetness, finishes with slight hop bitterness. The promise of molasses is evident in the malt flavor.
M - Tingly bit of carbonation on tongue, somewhat lifeless after that as carbo settles down. Drying finish due to light amount of hops.
D - This is true to style in that it is naturally drinkable, but a little bit light (I want to say watery but thats not the right word).
Note: This was slightly warmer than proper serving temp. when poured b/c I was eager to try it.
738 characters
3.92
/5
rDev
+12%
look: 3.5 | smell: 4 | taste: 4 | feel: 3.5 | overall: 4
A clear pour with an appropriately reddish, light amber color. The head is minimal despite a pretty aggressive pour, while a bit of persistent carbonation feeds a ring of ultrafine bubbles. The nose is inviting, with lightly roasted, strongly caramely aromas dominant. Milk chocolate notes are present as well. The chocolate flavors are even more prominent in the taste, which maintains nice character despite an unexpectedly light mouthfeel that actually is more crisp than watery. The soft sweetness of the malts is complemented by light hop bitterness that persists into a crisp, lasting finish. A nicely drinkable example of a nicely drinkable style.
654 characters
3.83
/5
rDev
+9.4%
look: 4 | smell: 3.5 | taste: 4 | feel: 3.5 | overall: 4
12 oz brown long neck bottle January 2006 bottled on date printed on label
Dark, coppery amber with biscuit colored small creamy head.
Caramel malty aroma with lightly floral citric hops mingling with the malt. Smell is subdued.
Light mouthfeel, with more carbonation "sparkle" than I expected. Decent fruity-malty flavor with a mild molasses undertone. There is some citrus-floral hops at the edge of the tongue. Finishes clean. Pleasing and refreshing with enough flavor to lift it above just good.
I could stand for this to be slightly bigger and with a tad less carbonation, but those are quibbles for what is a refreshing pleasant brew that would go fine with about any non-sushi meal.
702 characters
Castle Rock Irish Red Ale from Upland Brewing Company
3.5
out of
5
based on
7
ratings.