Campside
| Upland Brewing Company
BA SCORE
82
good
14
Reviews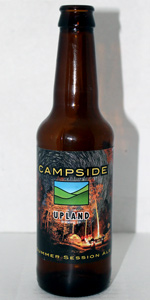 BEER INFO
Brewed by:
Upland Brewing Company
Indiana
,
United States
uplandbeer.com
Style:
American IPA
Alcohol by volume (ABV):
4.50%
Availability:
Summer
Notes / Commercial Description:
No notes at this time.
Added by BTFU on 06-01-2013
Reviews: 14 | Ratings: 139
3.56
/5
rDev 0%
look: 3.5 | smell: 3.75 | taste: 3.5 | feel: 3.5 | overall: 3.5
Solid enough little session IPA...Nice bright citrusy aroma with lemons, and tangerines.
Relatively balanced on the taste with a light crackery malt and citrus and tropical fruits...tough of pine on the finish.
Body fits the style. Not a super assertive take on the style but a nice enjoyable flavorful beer.
Best by Aug, 2016 on bottle.
348 characters
3.49
/5
rDev
-2%
look: 3.25 | smell: 3.5 | taste: 3.5 | feel: 3.5 | overall: 3.5
50 IBU Session IPA tasted in a Spiegelau IPA glass from a 1 pint can on August 22, 2015. Look is gold, not quite cloudy but not clear either, small head that dissipates fast, and some faint lacing. Smell is citrus fruit, pine, floral hops and honey. Taste is bitter citrus, pine, grass and some sweet honey notes. Feel is light with a crisp and somewhat bitter finish.
372 characters

3.25
/5
rDev
-8.7%
look: 3.25 | smell: 3.25 | taste: 3.25 | feel: 3.25 | overall: 3.25
Blah. These session IPAs are bland. They offer a hop profile, but lack the backbone of a good IPA. I realize that the brewers make sacrifices to limit abv, but I'm about to give up on this style.
195 characters
4.62
/5
rDev
+29.8%
look: 3.75 | smell: 4.75 | taste: 4.75 | feel: 4 | overall: 4.75
Really enjoyed this beer. Fruit, fruit, fruit. Extremely drinkable brew. At 4.5% I will probably be drinking this all summer. If you live in Indy and your store is out of Gumballhead, give this a try (give it a try regardless). Seriously you won't be disappointed.
269 characters
3.5
/5
rDev
-1.7%
A: Light gold/yellow, one finger loose head that dissipates quickly
S: Fruity, slightly hoppy, floral
T: Sharp bitterness, less sweetness than expected, light
M: Light, less full than traditional IPA
O: Decent session IPA. Not the complexity of flavor I'd hoped for, but a solid drinkable beer.
298 characters
3.75
/5
rDev
+5.3%
This pours a hazy light gold with a 1" head of foam, nice lacing left behind.
The smell is hoppy but I get more of a grainy sweet malt aroma.
The taste follows the nose and I have to say that this session IPA has more malt character than most I've tried. Either that's the way it was intended or the can I have is older than fresh.
On the heavy side of light bodied, nice carbonation, very good mouthfeel.
Big thanks to Trent for sending this my way!
456 characters

2.98
/5
rDev
-16.3%
look: 3 | smell: 2.5 | taste: 3.25 | feel: 3 | overall: 3
A: Hazy gold - about like a shandy. Little head and lacing retention.
S: Light floral hops and small amounts of citrus. Not a lot here.
T: lightly hopped for an IPA but still a hop presence. This is really more more of a wheat beer with a few more hops. Not bad but not sure where they were going.
M: about what I expected. Medium body and very fresh for a summer day
371 characters

3.19
/5
rDev
-10.4%
look: 4 | smell: 3 | taste: 3.25 | feel: 3.25 | overall: 3
A - Mildly cloudy. Golden yellow. Beautiful small bubbles. Very little pure white head that lingers extra long
S – fresh, hay type smell, like a farmhouse. The smell hides the bitterness within.
T – Great at first. Clean, soft, nicely bitter. I REALLY like whatever blend of hops is used here. Thin, and to my taste, a bit light on flavor. Very one dimensional. It has, in my mind, a poor aftertaste. Reminiscent of a strong barley wine, where the bitter gets thicker and builds rather than dissipate.
M – thick fluid, for a yellow beer. But still refreshing. Thicker than just a thirst quencher, with a very long finish.
Overall:
I didn't know this was an IPA when I bought it. Got a six pack on sale for 8.99. I expected a soft summer ale. Boy was I surprised. It's a great example of American IPA. Not my favorite style, but I appreciate how clean it is. It's bitter without being overpowering. It's thirst quenching without being watery.
It's a top quality product, though it's not my personal preference.
1,026 characters
3.78
/5
rDev
+6.2%
look: 4 | smell: 3.5 | taste: 4 | feel: 4 | overall: 3.5
12 ounce bottle into pint glass, bottled in 5/2013. Pours moderately hazy/cloudy golden straw color with a 1-2 finger dense white head with great retention, that reduces to a nice cap that lingers. Nice rings of soapy lacing clings down the glass, with a good amount of streaming carbonation retaining the head. Aromas of grapefruit, lemon zest, orange peel, apricot, floral, grass, herbal, bread, cracker, light honey, and floral earthiness. Nice and pleasant aromas with good balance of bright hop and malt notes; with decent strength. Taste of big grapefruit, orange peel, lemon zest, orange rind, floral, grass, pine, bread, cracker, light honey, and floral earthiness. Good amount of floral/pine bitterness on the finish; with lingering notes of grapefruit, orange/lemon zest, orange rind, floral, grass, pine, bread, cracker, light honey, and floral earthiness on the finish for a good bit. Very nice bright hop flavor balance with a light-moderate malt balance; with minimal cloying bitterness on the finish. Medium carbonation and light-medium bodied; with a smooth, crisp, and sticky mouthfeel that is nice. Alcohol is very well hidden with minimal warming present after the finish as expected of 4.5%. Overall this is a very good hoppy blonde ale. Good complexity of hop flavors with moderate malt balance; and very smooth and crisp to drink. A nicely enjoyable offering.
1,381 characters

3.23
/5
rDev
-9.3%
look: 3.5 | smell: 3.5 | taste: 3 | feel: 3.25 | overall: 3.25
Pours a slightly hazy lemony golden with a dense white head that slowly dissipates, leaving sheets of lacing.
Floral, slightly dank hops, lemony citrus, and musty, earthy notes form the initial aroma. There's a grainy character at the base, with faint pilsner crackery malt making an appearance.
Flavor is very citrus-forward, and bitter from the start, though a soapy kind of bitter that's fairly offputting. It lingers throughout. Lemon, grapefruit, and muted tangerine give the impression of sweet tarts, and underlie a soft bed grainy malt. The balance is bitter.
Body is moderate to a touch light, slightly slick, with moderate carbonation, substantial astringent harshness, and modest alcohol warmth.
Decent hop flavoring profile, with little malt presence, keeping it might. The bitterness is overwhelming and unpleasant. It lingers indefinitely.
857 characters

3.85
/5
rDev
+8.1%
look: 4 | smell: 4 | taste: 3.75 | feel: 3.5 | overall: 4
Poured from 12oz bottle into a pint glass.
Appearance: lightly cloudy yellow hue with a moderate effervescence and some floaties. Head is two fingers of frothy white foam. I think it's pretty attractive!
Smell: fruity, citrusy hops on a lightly malty base. There's mango and grapefruit in there; a nice tropical concoction. I find I quite like it.
Taste: hops are a lot more grapefruity in the flavor than in the aroma, and in general the tropical character is toned down. Malt is a little bit grainy, but I kind of like it. Refreshing.
Mouthfeel: medium-light body with an OK carbonation and a moderate creaminess. Not too bad.
Overall: a light, refreshing and tasty beer with a great aroma. I could drink plenty of this on a hot day.
740 characters

3.93
/5
rDev
+10.4%
look: 4 | smell: 4 | taste: 3.75 | feel: 3.75 | overall: 4.25
A-Semi-cloudy, some carbonation, two finger head.
S-Good deal of hops, lemon and citrus, some malt.
T-Balance is off, wheat/straw is competing with citrus/lemon flavors. Mild bitterness.
M-Light to medium bodied, dry crisp finish.
O-Not a great beer, but for a summer session ale, rather drinkable. Not the best summer sessional but worth a taste, which is more than can be said about most Upland beers.
407 characters

3.87
/5
rDev
+8.7%
look: 4 | smell: 3.75 | taste: 4 | feel: 3.75 | overall: 3.75
Pours a cloudy golden, with substantial head. Thick and beautiful lace.
Nose is pleasantly grainy with plenty of citrus notes. I get orange peel and spice as well.
Taste is also quite good -- very nice citrus hops presence, yet with a lighter, near-lager body. Perfectly light but flavorful session ale, and one I'd gladly enjoy again.
337 characters

4.02
/5
rDev
+12.9%
look: 3.5 | smell: 4 | taste: 4.25 | feel: 3 | overall: 4.25
A - It had an OK head and a yellow/gold cloudy body that looks similar to their flagship wheat ale but with more color.
S - Very fragrant which reflects the late-stage hopping of the brew.
T & M - There is some slight amount of malt underneath the refreshing blend of hops that contained some grapefruit/passion fruit notes and some more floral flavors as well.
O - It is a great summer session beer, but it could stand alone as a year-round brew as well.
464 characters
Campside from Upland Brewing Company
3.56
out of
5
based on
139
ratings.