Snab Pale Ale
| Stichting Noordhollandse Alternatieve Bierbrouwers (SNAB)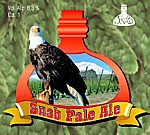 BEER INFO
Brewed by:
Stichting Noordhollandse Alternatieve Bierbrouwers (SNAB)
Netherlands
snab.nl
Style:
American Pale Ale (APA)
Alcohol by volume (ABV):
6.30%
Availability:
Year-round
Notes / Commercial Description:
No notes at this time.
Added by wl0307 on 07-08-2005
Reviews: 10 | Ratings: 20
3.48
/5
rDev
-14.1%
look: 4 | smell: 3.5 | taste: 3.5 | feel: 3 | overall: 3.5
This could be a winner, it has a leafy citrus bitterness to it, but an overcarbonation that subtracts from the enjoyment. Taste alone would make it an above average beer, with some orange,cascade, lots of malt. Cask would work. Orange tinge and good head with some lacing. Thanks Absumaster.
291 characters
4.07
/5
rDev
+0.5%
look: 3.75 | smell: 4.25 | taste: 4.25 | feel: 3.75 | overall: 3.75
On-tap at Café t' Arandsnest, Amsterdam, Netherlands
A: The beer is slightly hazy orange amber in color and has no visible carbonation. It poured with a finger high dense off white head that died down, leaving a thin layer covering the surface, a collar around the edge and lacing down the sides of the glass.
S: Moderate aromas of citrusy and grassy hops are present in the nose - grapefruit seems to stand out in particular.
T: Like the smell, the taste has flavors of orange and grapefruit citrus with a light to moderate amount of bitterness along with hints of underlying caramel malts.
M: It feels medium-bodied and slightly crisp on the palate and has a moderate amount of carbonation.
O: This is a very hop-forward APA with nice citrusy aromas and flavors, but is very drinkable because it isn't that bitter.
822 characters
3.95
/5
rDev
-2.5%
look: 4 | smell: 4 | taste: 4 | feel: 3.5 | overall: 4
A bottled-conditioned beer, with no BBE date printed on the bottle.
In a big tulip-shaped wine glass it pours dark ruby or reddish brown hue, with an initially foamy dark-yellowish head which vanishes in a minute, leaving somewhat sparse lace around the glass. The carbonation is just about right, not fizzy and not too flat.
Light caramel, orange-cake/marmalade-like sweet, zesty fruity aroma dominates the nose—-quite intense, but by no means complex.
On palate, very fruity flavour of pale malts at the front, immediately followed by mouth-wateringly dryish, zesty and aromatic hops (dry-hopped with cascade?), underlined by a small tinge of raisiny tart-sweetness at the back. The finish is quite satisfying, but the restrained bitterness is not quite commensurate with the lingering hoppiness at the back of the throat.
Overall it's a medium-bodied, medium-rich flavoured Pale Ale, with a very round mouthfeel on top of well-sustained fruity hoppyness on the palate. Although the nose and aftertaste need to be more complex to be a great beer, it's by all means a very delicious beer to enjoy on any occasion!
1,124 characters

4.26
/5
rDev
+5.2%
look: 4 | smell: 4.25 | taste: 4.25 | feel: 4 | overall: 4.5
Ok, after a whole day of home brewing and anxiously waiting for the bubbling to start, I am pouring this Dutch American Pale Ale into my Jopen Stemglass.
Nice not quite white coarse bubbled head of two fingers that reduces a rim to after a few minutes. It does leave some lacing though. Color is this beautiful copper to dark blonde that is typical for the style. Fine carbonation almost invisible in this slightly murky body, obviously unfiltered.
Smells of citric hops, a wonderful strong aroma that makes this style so great
Refreshing crisp and pleasant bitterness.
Very refreshing, medium body, foam is a bit coarse on the tongue.
Great drinkability and I probably wouldn't stop the whole evening if I had more than one bottle. This is exactly what the style is about. The only thing I could criticize is that it is not original in any way but rather tries to be the quintessential maybe a little less bitter to fit the local taste American Pale Ale. This is basically alright because to find example given a Sierra Nevada Pale Ale is difficult in the Netherlands. Furthermore, I would like to mention that I don't believe in shipping beer around the globe. Well done Noordhollandse Alternatieve Bierbrouwers. I wish my own beer will get somehow close.
1,262 characters
3.87
/5
rDev
-4.4%
look: 4 | smell: 4.5 | taste: 3.5 | feel: 3.5 | overall: 4
A clear brown, copper beer with a thick, creamy head.
Smell is very hoppy with clear Cascade whiffs, citric, resinous and piney. The malts are a little dextrinous and somewhat sweet. Nicely balanced.
Taste is mostly hoppy with a raw edge of the Cascade hops, which are a little resinous and very uniquely present. The malt base, so clear in the smell is not supporting the hoppiness as much as I would have liked. The body is quite thin and should give more balance to this hoppiness. The bitterness that I expected from the smell was not as high as some of it's US cousins. Drinkability is good and the beer is very fresh. Nevertheless, this is a very good attempt in making a Dutch interpretation of the style.
719 characters
4.18
/5
rDev
+3.2%
look: 4.5 | smell: 4 | taste: 4 | feel: 4.5 | overall: 4.5
This was tasty. I had it in Amsterdam at the all-Dutch beer bar. I forget the name, but it's on Beer Advocate.
Pours a golden amber with a pretty white and thick head. Smells of cascade. Big time. But the malt sneaks through, too for a nice balance. Tastes more well balanced than it smells. Sweet up front, mildly bitter at the end. Mouthfeel is creamy and smooth. A medium to thick body and great carbonation. Well balanced, and it screams 'drink me!'
454 characters
3.96
/5
rDev
-2.2%
look: 5 | smell: 4 | taste: 3.75 | feel: 4 | overall: 4
First of all: I love SNAB's labels on their bottles (not pictured here). Very belle epoque/Monty Pythonish. The beer itself looks nicely when poured: an orange amber colour with a thin steady head of foam that sticks to the glass. The smell is typically citric and flowery you expect of west coast hops. The taste was a bit blend at the first sips in my opinion, but grew on me when slowly approaching the bottom. Nice hints of grapefruit, well complemented by a pleasantly bitter aftertaste.
492 characters

4.22
/5
rDev
+4.2%
look: 4 | smell: 4.5 | taste: 4 | feel: 4 | overall: 4.5
I had this on tap at 't Arendsnest on 20.10.2007. Appearence was very nice; a slightly hazy copper brew with a good white head. Maybe a tinge of orange colour in the body. Smelled very inviting; delicious floral hops. Tasted a very nice pale ale with expected hops with a good refreshing bitterness to it. Alcohol content nicely subdued. This made for an impressive refreshing ale with a "sessionable" feel to it.
413 characters
4.54
/5
rDev
+12.1%
look: 4 | smell: 5 | taste: 4.5 | feel: 4 | overall: 4.5
Note: This review is mainly of the bottle but also contains opinions on the draft beer.
A: A deep copper colour - bright, but with some particles in suspension but no more than you normally find in a bottle conditioned beer. A lacy white head lasts well and coats the sides of the glass.
S: Strong citrus dominates. The bottled version is more subtle while the draft version smells like a glass of grapefruit juice. I assume some dry-hopping or perhaps a hopback is involved in extracting this much aroma from the Cascade hops used in this beer. Definitely one for the hopheads out there!
T: Again, the grapefruit flavour dominates this beer. The draft version has a slightly sweeter pink-grapefruit flavour while the bottled version is sharper but more subtle. The overall impression is a clean, well balanced pale-ale with strong Cascade hop flavour and aroma. Unfortunately it's hard to get hold of many American Pale-Ales here so it's difficult to be sure how well they've hit the style with this one but it certainly fits the style description well.
M: Plenty of body and carbonation. About right for the style. Chewy and satisfying.
D: Wow, this one is 6.3% and is more than drinkable enough to get you into trouble the next day.
If I ever get round to making a Top 10 list of beers I'm pretty sure this one will be on there.
1,338 characters

4.07
/5
rDev
+0.5%
look: 4 | smell: 4.5 | taste: 4 | feel: 3.5 | overall: 4
Had this one from a 33cl bottle.
A: Copper colored, bottle conditioned.
S: Aroma of grapefruit and pinnes, hoppy caracter (cascade?).
T. Very nice taste that balances malts with usa hops. A fruity caracter with hints of ripe juicy grapefruit. Not to heavy and therefor very drinkable.
285 characters
Snab Pale Ale from Stichting Noordhollandse Alternatieve Bierbrouwers (SNAB)
4.05
out of
5
based on
20
ratings.