Country Garden 6-Pack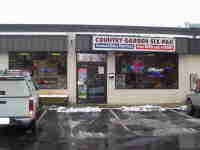 PLACE INFO
Type:
Eatery, Store
876 Manor St
Lancaster
,
Pennsylvania
, 17602
United States
(717) 295-7570 |
map
Notes:
No notes at this time.
Added by tgbljb on 07-08-2005
Ratings: 15 | Reviews: 11

3.64
/5
rDev
+9%
vibe: 3 | quality: 3.75 | service: 3.25 | selection: 4 | food: 4


3.9
/5
rDev
+16.8%
vibe: 3 | quality: 4.5 | service: 3 | selection: 4.5
Been going for years. They have been stepping their selection big time. They now have cigar city, ale smith, lost abbey just to name a few. This is the best selection in lancaster currently (which isn't hard to do in this town). Every time I go they have more 750's/bombers. The 6 pack selection is decent. The problem is shade balls that hangout their. Prices are a few $ then others. Overall this place is on the other side of town for me but I keep going back due to the best selection in lancaster.
502 characters
3.5
/5
rDev
+4.8%
Country garden is a small chinese food joint with a nice sized six pack selection. Nice variety of micros, macros and imports. A little pricey but that's par for the course in PA. Locals like LBC, Troegs, Stoudts, Victory, Philadelphia and Weyerbacher. Also micros like Sam Adams, Sierra Nevada, Rogue, Smuttynose, Great Divide, Oskar Blues, Brooklyn, Stone, 21st Amendment, DFH and Bell's. Bombers are available but are a bit pricey. Some from Samuel Smith, Ommegang, Rogue, Stone, Chimay, Troegs, etc. I've noticed the selection is getting better and more 4 packs are now available. If your in Lancaster, this is your best choice for takeout beer.
649 characters

3.8
/5
rDev
+13.8%
my home away from home. best place anywhere with less than a 30 min drive from my house. also great for me cause i only live three blocks away. the selection here is pretty good, a bit pricey but not too bad. be sure to check the dates on the bottles though. sometimes this can be an issue. of the three bottle shops i know of in my area, (here, subs & Six packs, brass rail) this place has the cheapest prices. Don't get me wrong i would much rather go to the brass rail, but a 30 minute drive compared to a 3 minute walk just isn't justified. don't like chinese food so i can't comment on that, and there's always some local drunks in the corner pounding coors light to add some excitement to your shopping experience. for me as close as it is to my house can't beat it.
772 characters
3.44
/5
rDev
+3%
vibe: 3 | quality: 3.25 | service: 3.25 | selection: 4 | food: 3.5
This place has a pretty good selection.Probably the best variety of imports in the area. There is a large selection of local micros, as well as a decent selection of imports. There is a solid variety of bombers and a few Belgiums. Unfortunatly the singles cooler carries only macros and the otherwise friendly staff would not allow me to break up any 6 packs.The Chinese food served here is of pretty good, although I would get it to go. There always seems to be a few drunken men drinking singles at the tables here. Overall probably the best variety of beers in the Lancaster area.
583 characters
2.75
/5
rDev
-17.7%
The selection in here is okay, offerings from Victory, Dogfish Head, Rogue, Brooklyn, Sierra Nevada, Ommegang, and a few others I can't recall. They have a decent selection of imports as well. Nothing rare or highly sought after, but a respectable variety none the less. The service is average, nobody bothers you until you get to the register. The prices aren't great, but given the limited options in the area, this might be as good as it gets.
WARNING: This is a place that you really have to watch the freshness dates. Plenty of seasonals from the previous year to be had, so be careful. If it doesn't have any freshness information, I'd leave it on the shelf.
665 characters
3.35
/5
rDev
+0.3%
I decided to check this place out after visiting another 6 pack shop in Lancaster on Queen street.
Country Garden is basically a mini-market as gottajiboo2 mentioned with plenty of coolers in the back for a quick six pack. They have plenty of BMC products thus the quality rating, but yopu can find some UK brands like Morland's Old speckled Hen, Old Suffolk, Tanner's Jack, Samuel Smith's products, Belhaven, and Blackthorne cider. They carry a lot of Rogue and a broad selection of locals like Victory, DFH, Stoudt's, and they have the 'craft' AB products also. Mostly a cross section of local w/ seasonal and Canadian imports w/ some west coast like Sierra Nevada and plenty of Mexican and South American macros.
The service is basically average w/ no reall interaction - you pick up a six and carry it to the register.
Pricing is pretty high and at least 50cents to $1 more than most places. You have to pay at least $9.50 for every craft sixer and up to 12 or 14dollars depending on what you get. The canadian macros- Labbatt, Molson, etc. are all %6.99-$8.00 whoah a bit steep especially conesidering a 4 pack of Samuel Smith Imperial Stout is $14. Rogues are about $7 and $14 for a DFH Black and Blue 750 ml isn't very reasonable if you ask me.
Overall I would stop here if pressed to find a fast six or a bomber, but the pricing is slightly high.
1,360 characters
3.3
/5
rDev
-1.2%
Hopefully things will change with the implementation of the new beer sales laws in PA, but unfortunately, this is currently the best place in Lancaster to get craft beers.
Granted, it's in an unfavorable part of town. And the clientele is a bit rough. It's a little pricey, but it can be, because the only other 6-pack or single-bottle craft beer seller is on the other side of town, and even pricier at that.
Don't get me wrong, the selection is pretty good. It's got the normal macros and imports, as well as some of the lesser knowns. Saranac and Rogue are well repped, as are locals like Victory, Troegs, Appalachian and LBC. Plenty of imports you don't see many places as well. Of course, they have the requisite macros and malternatives, which most of the clients seem to prefer. But they sell enough crafts to keep a good rotation going.
846 characters
3
/5
rDev
-10.2%
It's really a mini market with beer for the neighborhood locals
I usually swing in here from time time, if I'm on the way home from a movie in Lancaster City and pick up a six pack or a 750ml if it catches my eye. You can pick up something interesting here, but the selection is not huge and it's mostly main stream working man's beer. the beauty is you can buy a six pack or a bottle which is hard to find in Pennsylvania, because of the way PA Liquor laws are. hopefully they will change these laws someday.
510 characters
3.15
/5
rDev
-5.7%
Quality: Clean place with lots of cooler space for sixers and single 750s. They also have shelves for room temp. beer that includes seasonals and imports. They have a grill & fryer where they sell Chinese food. Lots of old Latino dudes hang out there at night and shoot the shit. Yappin' in espanol. My wife felt uncomfortable walking through the place while they gawked at her. I thought it was funny. I used to stop every night after work and buy a nice belgian 750.
Service: Good. The guy at the counter stopped carding me after a few times. Doesn't speak great english. Don't expect anyone to know anything about the beer.
Selection: Great for Lancaster, PA. They often get a few things that surprise me. Gulden Draak, Fuller's Vintage, Mad Elf, Chimays, Rogues, Some Lindeman's, Seasonals. Helps that I stop in often just to see what they get.
Value: Better than Subs & Six Packs (a couple miles away) which is their main singles competition. I would say it's on par with PA prices or even a little lower at times.
1,030 characters
3.35
/5
rDev
+0.3%
In Lancaster Pennsylvania there is no good place to buy good beer. This is however, one of the best place in the county (that I know of) but that is not necessarily saying much. I tend to drive from my house in Paradise, about 30 mins to a place called Subs and Six Packs on the other side of town or about 45 minutes to a place called Thirsty's Quick Stop in York to get good microbrews. However, if you are looking for something in Lancaster, Country Garden 6-Pack is one of only 3 options to buy 6-packs of craft beer. They do have a reasonable selection of Belgium beers and the only decent-ish selection of micro-brews around, (as limited as it maybe. So this is both a positive review (they are the best) and a realistic one, (look at the competition). My recommendation; find a town with a better selection of beer distributors. Hope this is helpful. Cheers!
865 characters
3.5
/5
rDev
+4.8%
Pennsylvania does not have much to offer in the purchase of beers. In order to get an acceptable price, you need to by a case, and theres nothing worse than being stuck with 23 bottles of something that you hate. So you need to visit a six-pack store to get smaller quantities. I have found this store to have the largest selection of belgiums and American microbrews in the area. The prices are expensive and you need to watch dates on the stock, but its not bad to visit if you want 1 750ml of something different. Their six-pack selection is fair (and expensive) , but thats how PA is.
588 characters
Country Garden 6-Pack in Lancaster, PA
3.34
out of
5
based on
15
ratings.