Porter
| Hargreaves Hill Brewing Company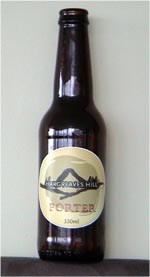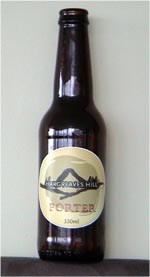 BEER INFO
Brewed by:
Hargreaves Hill Brewing Company
Australia
hargreaveshill.com.au
Style:
English Porter
Alcohol by volume (ABV):
4.90%
Availability:
Year-round
Notes / Commercial Description:
No notes at this time.
Added by jarmby1711 on 09-08-2005
HISTOGRAM
Ratings: 9 | Reviews: 9
Reviews by norwichboy:
2.95
/5
rDev
-3.6%
look: 3 | smell: 3 | taste: 3 | feel: 2.5 | overall: 3
Almost opaque dark brown with small beige head that quickly dissipates to a lace. Roasted malt smells with chocolate and toffee. The taste is more of dark fruit, with some coffee and a finish with some sourness alongside the expected sweet-bitter taste. A little fizzy. Overall it was a fairly mediocre interpretation of the style, and somewhat disappointing considering HH's excellent Pale Ale.
395 characters
More User Reviews:
2.58
/5
rDev
-15.7%
look: 3 | smell: 2.5 | taste: 2.5 | feel: 3 | overall: 2.5
Great colour. Deep black tea with a tan head. The aroma is pretty thin but a definite hit of Creosote. Taste is rather watery but with a similar Creosote bite and some sort of coffee and licorice mix. There's also a weird sourness as well and this makes it hard to pinpoint what's going on. Quite carbonated and a bit spritzy. Not a bad beer but pretty expensive in Oz compared to say a James Squire Porter which is much better and about $7/6 pack cheaper. I could have bought Meantime porter for the same price and got a much better beer.
539 characters
3.04
/5
rDev
-0.7%
look: 2.5 | smell: 3.5 | taste: 3 | feel: 2.5 | overall: 3
This pours dark brown with a reasonable beige head which drops away quickly.
A bit of malty dark chocolate on the nose.
Not impressed on the palate. A bit of chocolate but it is thin, bitter and astringent.
The carbonation is way to high for what I like in a porter.
269 characters
3.57
/5
rDev
+16.7%
look: 3.5 | smell: 4 | taste: 3.5 | feel: 3 | overall: 3.5
A: looked rich...appearance could have past as a stout except was a little too brown. couldnt see through, nice & heavy look, with an attractive 1 finger creamy & creamy coloured head. Head retention no good but fair lacing.
S: Coffee upfront, also some cocoa, Roasted malts, caramel, charcoal, dark chocolate & a fraction fruity...very smooth full aroma.
T: Dark Chocolate & some sour dark fruits, also some lolly bubblegum hints. Iron taste sensations (like blood). Roasted burnt notes, not as much coffee in taste compared to smell, & overall the taste lacked the aroma sadly. Had some bitterness but not overpowering...left some licorice on the palate, some nicotine sensations & like I have chewed on some wood.
M: A little watery, very carbonated, but did leave some coating across the palate.
D: This wasn't that bad, I could definately get a top up again, just didn't seem totally true to the porter style.
915 characters
3.29
/5
rDev
+7.5%
look: 2.5 | smell: 3.5 | taste: 3.5 | feel: 3 | overall: 3
Dark chocolate brown in color it has a non exsitent head with no lacing.
Roast, burnt, chocolate malt...all the hallmarks of an English Porter. A little subdued yet enticing enough.
Palate mimics the aroma with chocolate and toasty grain flavours dominating. Some sweetness gives way to some toasty burnt bitterness.
Whilst the flavours are good the palate feels a little thin on the ground and is not helped by an overly carbonated mouthfeel. I am sure this helps accentuate the roasted bitterness but doesn't help the overall balance of the beer.
Not a bad drop, but better English Porters out there.
607 characters
2.78
/5
rDev
-9.2%
look: 3.5 | smell: 3 | taste: 2.5 | feel: 3.5 | overall: 2.5
Appearance - Black, 1 finger of beige head, average retention.
Smell - Pretty weak. Not much of the usual roasty malt odour.
Taste - The roasted malts are there, but this lacks the sweet chocolate taste of the best Australian porters. This also has an unpleasant taste in the background that is hard to describe.
Mouthfeel - A little thin for a porter.
Drinkability - Below average.
Overall - There are quite a few great Australian porters (the best of the lot being the amazing original Colonial Gully Washer Winter Ale). Sadly, this isn't one of them.
558 characters
3.26
/5
rDev
+6.5%
look: 3 | smell: 4.5 | taste: 2.5 | feel: 3 | overall: 3.5
Dark caramel tan with a thin head. Unremarkable. Nose is very expressive and lifted with strong milk chocolate notes (maybe coco as well?); shows good intensity. Palate doesn't quite translate. Dry style, perhaps lacking some body, with hints of darker malts. Competent but lacks some excitement. A touch too much fizz.
321 characters
2.95
/5
rDev
-3.6%
look: 4 | smell: 4 | taste: 2.5 | feel: 2.5 | overall: 2.5
This beer is dark teak in colour with not much light penetration. The head is foamy and off white and grey in colour.
There is a smell thta is hard to pinpoint maybe a bit of licorice in there.It was a bit of an in between smell , didnt know whether I liked it or not. The label claims that East Golding Hops are used so could it be this.
The flavour was a disappointment. I really wanted to like this , as it is a local brew but I couldnt help but think of Medallion Cough Medicine from my childhood.
Overall it was a let down , but I will try 1 more and see if it can vary
577 characters
3.15
/5
rDev
+2.9%
look: 3.5 | smell: 3.5 | taste: 3 | feel: 3 | overall: 3
A - Very dark brown colour with a few centimetres of beige head that falls away quite quickly.
S - Roasted malt and bitter dark chocolate backed by some fruity esters.
T - WTF? Quite a sour bite up front backed up by some roasty chocolate notes. Now the sourness isn't that bar, just unexpected, but I don't think it's what the brewer was aiming for. If it was well then congrats and maybe mention it on the bottle.
M - Somewhat spritzy carbonation with a medium mouthfeel.
D - Alright but nothing special. Better porters out there.
536 characters
Porter from Hargreaves Hill Brewing Company
Beer rating:
3.06
out of
5
with
9
ratings