3 Schténg
| Brasserie Grain D'Orge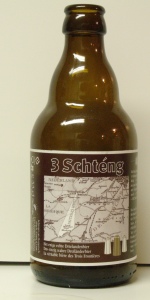 BEER INFO
Brewed by:
Brasserie Grain D'Orge
Belgium
grain-dorge.com
Style:
Belgian Dark Ale
Alcohol by volume (ABV):
6.00%
Availability:
Year-round
Notes / Commercial Description:
No notes at this time.
Added by TheLongBeachBum on 03-01-2005
Ratings: 8 | Reviews: 6
Reviews by benfons:
3.53
/5
rDev
+8.3%
look: 3.5 | smell: 3 | taste: 3.5 | feel: 4 | overall: 4
A: Reddish brown, with a nice head, wich dissappears rather fast
S: Tarty smells, some malts and quite a lot of citrus.
T: Sour at first, a hint of sweetness later. Also citrus and a hint of very bitter chocolate. Still slightly one dimensional. Reminds me a bit of Flemish Old Brown beers.
M/D Carbonation is fine, alcohol isn't really noticeable.
I have a feeling this beer should be classified as a flemish old brown.
425 characters
More User Reviews:
3.67
/5
rDev
+12.6%
look: 3.5 | smell: 4 | taste: 3.5 | feel: 4 | overall: 3.5
Thanks to hopdog for this...
Appears a murky brown with a small offwhite head and scattered lacing.
Smell is of cocoa, raisins, bubblegum, clove, and very yeasty. Smells like they used a mixed yeast of a Belgian and Bavarian variety.
Taste is of cocoa, raisins, bubblegum, and cloves...same as the aromas.
Mouthfeel is mildly sweet, sugary, and yeasty hanging around the palate.
382 characters
3.58
/5
rDev
+9.8%
look: 3.5 | smell: 3.5 | taste: 3.75 | feel: 3.25 | overall: 3.5
2.23
/5
rDev
-31.6%
look: 3 | smell: 2.5 | taste: 2 | feel: 2.5 | overall: 2
A murky brown beer with a thin, but creamy head.
Smell is slightly tart with a faint wet mop smell and very little other smells.
Taste of light caramel, light spicy and no bitterness present. There is a funny spiciness here that has a faint anise taste, which is a bit sharp and brings smelly socks to mind. Body is quite thin. I am not sure if this beer is supposed to taste like this, but I can't imagine it to be ment this way.
433 characters
3.7
/5
rDev
+13.5%
look: 4 | smell: 4 | taste: 3.5 | feel: 4 | overall: 3.5
BB dec-06, Good presentation with dark brown/almost black beercollor and nice and lasting yellowish head. Nose gives lots of carramellic maltarome, litle roast, candysugar, liquorice and good yeastfruit that has bannana and pear. Taste is full malty, litle carramellic and burnt and has good bitterness in aftertaste. Good carbonisation and balanced taste makes mouthfeel good. Drinkabillity is also good and recomendable but IMO nothing really special.
453 characters
2.16
/5
rDev
-33.7%
look: 2.5 | smell: 1.5 | taste: 2.5 | feel: 2.5 | overall: 2
Almost black in color, with a sticky, even if not really much, beige foam.
The smell is sweet, something like tropical fruit. Too sweet.
The taste, still sweet, it more acceptable than the smell. There is also some different note, like ash, smoke, cocoa in powder, roasted chocolate.
Light in body, aftertaste on the same way of the taste.
342 characters
3.67
/5
rDev
+12.6%
look: 3.5 | smell: 4 | taste: 3.5 | feel: 4 | overall: 3.5
Purchased at a good London offie, the Nelson Wines, South Wimbledon. BB OCT 2006, served lightly chilled in a large Burgundy bulb wine glass.
A: dark reddish brown hue, pretty cloudy; restrained off-white beer head slowly dissipating, on top of moderate carbonation.
S: an intense flow of perfumy fruit-esters--sweet citrus, mango, apricot, Chinese red-bean paste (usually more pronounced in pale ales) dominates, while the creamy dark malts, treacles, spices and exotic yeastiness stay behind. Quite pleasant, but nothing too complex here.
T: mildly sour-sweet dark/brown-sugary malts, ladden with licorice-like spice, prune-ish fruitiness, mashed boiled kidney beans, and relatively mild yeasty entry; a little bitter-sweet and burned-sugary in the end. The flavours come one-dimensional and the structure is not as evolving as I wish it to be, but all elements mingle rather well.
M&D: nice and soft carbonation causes a smooth mouthfeel throughout; medium-bodied for its overall moderate flavour. This is a soothing and easy-drinking dark ale; it's got quality but lacks complexity. An above-average treat.
1,116 characters
3 Schténg from Brasserie Grain D'Orge
3.26
out of
5
based on
8
ratings.