Queen 6-Pack Restaurant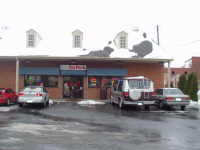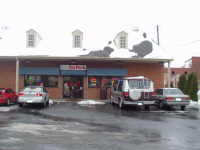 PLACE INFO
Type:
Eatery, Beer-to-go
24 West Clay St.
Lancaster
,
Pennsylvania
, 17603
United States
(717) 509-7007 |
map
Notes:
No notes at this time.
Added by woodychandler on 07-11-2005
Ratings: 9 | Reviews: 8
Reviews by JunkYardJake:
3.14
/5
rDev
-3.7%
vibe: 3 | quality: 3 | service: 3 | selection: 3.5
Pretty average six-pack joint. Not a great selection but not a terrible one either. A couple of good finds including 3 Unibroue brands and Troegs Flying Mouflan, nothing rare though. Some seasonals seemed a bit past their prime. Most notably, Nugget Nectar bombers, Brooklyn Winter and a few other winter releases. Other than that it seemed decent. Prices were about as expected and were in line with other shops in the area. The food menu is mostly fried foods and hot dogs. I didn't partake but the fried chicken looked good. I would say it's worth a stop from time to time.
576 characters
More User Reviews:

3.34
/5
rDev
+2.5%
vibe: 2 | quality: 4 | service: 2.5 | selection: 4
Classic asian six pack shop. There is some much rif raf in this place. Lucky if you make out not mugged, just kidding. Anyway you walk in and the beer is in the back. You have to walk by the tables of coors light drinking folks to get there. There selection is pretty good. One thing to look out for is the dates. This place has bad dating bottles. They carry some dogfish head, other PA locals. Prices are a bit high but that is how it is. Overall not great but it works in a pinch. The staff is very nice but knows nothing of there product.
542 characters
3.53
/5
rDev
+8.3%
vibe: 3 | quality: 3 | service: 4 | selection: 4 | food: 3.25
This store has good variety of imports as well as a decent selection of micro's and a small selection of Belgium's.Most of the local micros are here as well as a decent selection of imports. The singles cooler is mostly American macro's but there is always a few interesting beers there.
There are usually a number of older patrons drinking singles at the tables there. The staff is friendly enough but not knowledgeable about beer. The Chinese food served here is ok in a pinch but not worth the trip itself. Overall it is a fairly pleasent place to shop.
557 characters
2.75
/5
rDev
-15.6%
Sigh... there just isn't a good place to buy a six-pack in Lancaster county.
Many easily obtainable semi-local offerings to be had from Stoudts, Victory, Brooklyn, and Lancaster Brewing, plus the usual suspects, Rogue, Sierra Nevada, and Ommegang to be had here. Nobody's ever been friendly or mean on either of my visits, so I scored this place average for service. As with any place in PA, the prices are a bit salty if you don't go to a distributor.
WARNING: Watch your freshness dates very closely, plenty of out of season seasonals to be had here. I once even saw a six-pack of Vistory's Moonglow Weizenbock with best by date more than two years past.
658 characters

3.15
/5
rDev
-3.4%
I checked this place out last night since I was headed to a gathering and wanted a sixer. They had a pretty broad range of beer both ale and lager from the east coast and west for example Bigfoot Barleywine and Brooklyn Monster, Dofish Head, Rogue, Stoudt's, Victory and many other craft choices.
The selection is decent, but you get the feeling the B.M.C. crowd is catered to as the prices are slightly higher than average for most products by 50cents to a dollar. There was a line to wait in due to lottery customers, but the service was quick and friendly overall.
The quality of some products seemed questionable since the have seasonals from winter like Stoudt's winter and Brooklyn winter beside Summer ale and Prima pils. I don't think the inventory is rotated that frequently, but the six pack I bought tasted fresh so an average is the best I could give. I would probably return if I wanted to stop quick for something, but I would probably pick somewhere closer to home and with better deals first.
1,014 characters
3.35
/5
rDev
+2.8%
I made an unplanned stop in here today after a meeting. I was at in the area. I usually go to Country Garden 6-Packs and I heard negative things about Queen 6-Pack Restaurant. It was not as bad as I was told. Prices were what I'd expect. The micro-beer selection was slim, as I expected but they did have a line up of Brooklyn, Dogfish Head, Rouge, Victory and Lancaster Brewing Company beers. They had a few basic Belgians, Ommegang, Duvel etc. It is a Chinese restaurant as well. The Chinese food is average but good. The atmosphere feels a bit like you are in downtown Lancaster City, but then you are so... I'd suggest Country Garden 6-Packs over this but if you are close by, stop in. Its major advantage is its proximity to the train station and the baseball field.
---
EDIT
Although the selection of craft beer is not fantastic I found some unique imports here. Some German Hefe-Weizens including Erdinger hefe-wiezen and Franziskaner Hefe-weizen and Dunkel. Also some Chinese beers I haven't ever seen anywhere else, so that says something ...
---
Hope this is helpful.
Cheers!
1,096 characters
3.4
/5
rDev
+4.3%
Decided to visit on a aturday night to pick up something different to try. Their micro selection is limited for the most to domestics, with a few Canadian and German thrown in. As the previous reviewer noted their prices semmed a bit steep, but what do you expect in PA. They had several loose bottles of some imports that I paid an exorbitant price for , but they were something new to try. The owners seemed nice enough and were helpful. They did allow me to buy a single out of the cooler that was labelled for on-site comsumption only to take with me. I also think that Country Garden has a nicer selection, but at least this was worth a try.
646 characters

3.15
/5
rDev
-3.4%
The name comes from its location near the intersection of North Queen and East Clay Streets, in what is now being called Clay Terrace. The location is within four blocks of the Lancaster Amtrak station, as well as a block from the new Clipper Magazine Baseball Stadium. The designation as a restaurant comes from the fact that they serve a variety of fried foods, including chicken parts, egg rolls, french fries, and my favorite, butterfly shrimp. Food is served Sunday through Thursday from 11 am to 10 pm and on Friday and Saturday from 11 am to 11 pm (as long as they do not run out, which has been known to happen). Beer sales are conducted from 11 am to Midnight daily.
First off, this place is run by an Oriental family whose command of English is not great, so you have to be patient with them. They are always very leery of me when I have been in there taking notes for various reasons, including this review. Their sister location, Country Garden 6-Packs, is much more user friendly and has a wider selection, but this being Lancaster, this is one of the few places to get better beer w/o having to buy a case, and so it merits inclusion.
There is a small dining area to the left of the entryway and beyond that is a bank of six coolers along the left wall and another bank of six coolers along the back wall. The bulk of the (approximately) 180 different six-packs of micros and imports are in the left-hand coolers. The prices always seem a bit steep, but this being PA, we are limited in the number of places to purchase anything less than a case, and so we pay a price for convenience. I should also mention that they do not allow mixing of sixes, sorry.
You must bear in mind that this is LNC's equivalent of an urban area, so their clientele are not neccesarily into good beer. As such, the rest of the cooler space is dedicated to macros in six-pack cans and bottles as well as (gasp!) 40's.
Finally, there is a stand-alone cooler, off to the right of the counter, in which they keep a VERY limited number of singles. A sign on this cooler advises that that they are for consumption on premises only, but I'd bet that if you asked nicely, that they'd let you buy some to go. After all, there's no law against take-away singles ;=)
EDIT: Their selection of singles has grown, plus I am now their neighbor (right out my back door and across the parking lot), so they are much friendlier to me these days. Good food on the cheap, plus they are smoke-free.
2,477 characters
Queen 6-Pack Restaurant in Lancaster, PA
Place rating:
0
out of
100
with
9
ratings