Granite City Food & Brewery - East Wichita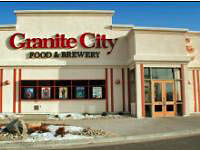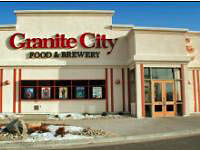 PLACE INFO
Type:
Brewery, Bar, Eatery, Beer-to-go
2244 N Webb Rd
Wichita
,
Kansas
, 67226-8102
United States
(316) 636-5050 |
map
gcfb.net
Notes:
No notes at this time.
Added by Quaffer on 07-13-2005
HISTOGRAM
Ratings: 12 | Reviews: 8
Reviews by zeff80:
3.55
/5
rDev
+8.2%
vibe: 3.5 | quality: 3.5 | service: 4 | selection: 3 | food: 4
This is an odd location. It's near a shopping area, but still a little far away and hidden. I can't imagine they get a lot of traffic from people that just happen to see it. Nice atmosphere inside. Tries to be upscale but also inviting and comfortable. The beers are okay. Nothing is fabulous or exciting. The service was very helpful and friendly. The selection was very limited. Just their 5 usual beers plus the Summer White. The food was really good. The Crispy Buffalo Chicken wrap was good. Love the fries, too. Not a great beer destination, but it's about all there is in Northeast Wichita.
597 characters
More User Reviews:

2.26
/5
rDev
-31.1%
vibe: 1.75 | quality: 1.5 | service: 2.75 | selection: 3 | food: 2
Why are you reading reviews of this on beer advocate? Anyone here should know their beers are junk. I have no clue how the rating is a 3.28 as of this time. It should be a 1.
174 characters
3.61
/5
rDev
+10.1%
vibe: 3.75 | quality: 3.5 | service: 3.75 | selection: 3.5 | food: 3.75




3.3
/5
rDev
+0.6%
vibe: 3.25 | quality: 2.75 | service: 4 | selection: 3 | food: 4
Beer is below average. I tasted almost every beer on tap and all were below average except for the Blueberry Ale and the Belgian Ale. Both of those were just barely above average. The Blueberry Ale may be the most unique. No blueberry taste. Actually a little on the sour side. Service was good. Our waitress and the bartender were very friendly. Food was an excellent value. Good, but certainly not gourment. There are better places to go in Wichita, but it was close to my hotel.
481 characters

2.3
/5
rDev
-29.9%
vibe: 4 | quality: 1 | service: 3 | selection: 3 | food: 1
I had one of the worst dining experiences of my life here. I ordered a steak medium rare, and it was bordering on medium well. I didn't send it back because I still enjoy a medium steak. Unfortunately, the steak was WAY over-salted.
The steak was on a bed of "crispy onion strings," which are room temperature fried, lightly battered onion strips. I sent them back because they were soggy from the steak juice and cold (I assumed they were supposed to be heated). The "fresh" ones they brought were no better, and had an almost rancid taste.
The broccoli and potato sides were quite good by comparison, but nothing spectacular.
I tried their IPA, which was unfortunately served in an ice-cold glass. I didn't send it back, but let it sit about 45 minutes before I even took a sip. It was pretty mild for an IPA, very drinkable once it warmed up.
I complained to my server, who ended up giving me my beer for free, after the manager refused to do anything. I will not be visiting this, or any of the Granite City locations again.
1,032 characters
2.25
/5
rDev
-31.4%
vibe: 4 | quality: 3 | service: 1 | selection: 2 | food: 2
I decided to check this out instead of going to River City Brewing and eating there and trying out one of there beers(boy should I have gone there instead). I went to the one on the east side.
Well we went early in the afternoon and the place looked good. Nice atmosphere and the place was dead, not busy at all. Well for it being dead the waiter took forever to show up and ask what we wanted to drink. The service was TERRIBLE, and that was when it was dead. I cant imagine how it would be when busy.
Out of the beers they had I chose the "Broad Axe Stout". This beer lacks A LOT in flavor. The price was ok, but still I was pissed off cause this beer really had no flavor to it(and it was suppose to be a stout). The food was sub-par and not great(neither is there selection)and pretty expensive.
Overall I'am in no mood to ever return to this place. I dont want to waste money trying there other beers. Damn, I should have just went to River City Brewing.
964 characters
3.8
/5
rDev
+15.9%
vibe: 4 | quality: 4 | service: 4 | selection: 3 | food: 4.5
Note: there are two Granite City's in Wichita. One on the east side at 21st and Webb, and the newer west location north of 21st on Maize. They can be reviewed together however, as they have the same beers, the same menu and prices, and service covers the same range of better than fair to very good. I suspect those in other cities are about the same too.
Granite City makes serviceable beers. Their Broad Axe Stout is sadly lacking in flavors and especially in smell, but I often order a big mug of this creamy easy-drinking beer anyway. Not great, but they've obviously aimed for mass appeal. The Brother Benedict's Bock is a little better beer but I often find myself disappointed with it (darker than maibock and very little noticeable hops but with some nice caramel maltiness)
The Duke of Wellington IPA is one-dimensional bitter hoppiness. Little floral, citrus or piney odor, and little hop character. Just bitterness. I love hops, but I avoid this one. I'm in no hurry to try the Northern Light.
Seasonals range from OK to very good. I liked the summer wheat beer, and the fall octoberfest. Not so much with the winter (scottish ale) offering or spring beer. Haven't had the Irish Ale yet - it should be coming out within a couple weeks if it hasn't already.
Service at the bar is usually good. They all are careful to ask your name, usually shake your hand, and are pretty decent about remembering customers and their favorites. Unfortunately they are too quick to grab a frosty mug for that stout, and the service in the restaurant section is a step below that in the bar, IMO.
Restaurant (no problem ordering food at the bar btw) is big and airy with an open kitchen. Atmosphere is clean and warm, and food is quite good. Most is a bit more upscale than typical pub fare, but they do a great job on the "bedda chedda bacon burger" nonetheless. Favorites would be the honey-rosemary filet and the london broil. Pretty good rotating menu of weekly specials and better than average desserts - some of which are HUGE.
If you like the place, be sure to become a "Mug Club" member. This costs $20 and is good forever, at all Granite City establishments. However it is half price ($10) on Monday's, and that 10 bucks includes your first beer. The real cost on Monday is therefore only $6.75, which makes it quite a good deal...if you plan to return!
Note that non-Mug Club members pay $3.99 for pints, while the members pay $3.25 for big mugs in the 23 oz range. Also, the card gives you 10% off of your food.
2,529 characters
3.85
/5
rDev
+17.4%
vibe: 3 | quality: 4.5 | service: 4 | selection: 3 | food: 4.5
This is a national chain that brews locally. They brew from wort shipped in from a central location but they have local control over the quality, and to some extent (I think) the recipes.
The food is outstanding, though I have only tried some samples of different dishes I was highly impressed.
I stuck with the dark pale ale with the healthy hop nose because it was the closest thing to an IPA/APA, the name of which I can't remember, but that beer was very good. The staff was extremely friendly. After introductions, the manager allowed several tastings from her private stash of bottles and was highly educated on Belgians and American ales, and fun and friendly to talk to.
It is a big, open restaurant with a secluded bar area. There are about 5 60" TV's playing various sports games at all times in the bar, but there is a bar policy that they never turn the sound on. The bar has stools and booths and a great atmosphere. The facility is out of the way, but worth a visit.
990 characters

3.48
/5
rDev
+6.1%
vibe: 3.5 | quality: 3 | service: 4 | selection: 3.5 | food: 3.5
This place represented a breakdown in both my map-reading ability as well as good coverage by local transit. It was located at the intersection of N. Webb Road and E. 21st Street N., which a local bus would get close to, but I would have to walk the remainder. In my misguided reading, I saw that the bus looped around before coming closest to the brewpub and that by walking from a nearby stop, I could shave twenty minutes off of my ride time. Wrong! I disembarked and set off walking on a ridiculously hot, humid day that left me a soaking, wringing wet by the time that I walked through their doors. Was I ready for a beer? Nope. A glass of water and a cool towel for my forehead, first. Gad, but that was a horrible mistake on my part, plus after leaving, I had to walk a good distance again. It just was not my day.
The building itself was immense, sitting just up from the aforementioned corner. As I passed through the vestibule, the maitre d' station was directly to the right and the stainless steel bar was straight ahead with a bank of booths along the right wall. The décor incorporated a bunch of light-colored granite stones, especially as pillars. Turning left from the m.d.s., the Fermentation Vessels were fully visible along the left wall and continuing left were the washrooms, followed by the kitchen. Up a short flight of stairs was the extensive restaurant area, filled with booths and tables. My waitress was bubbly and ebullient, but perhaps a bit over the top.
The sampler included their four flagship beers: Northern Light Lager; Brother Benedict's (Mai) Bock; Duke of Wellington (The Duke) Pale Ale; and Broad Axe Stout on Nitro; plus two blends – Northern Light & Brother Benedict and Northern Light & Duke. I have to say that Bro. Benedict was my favorite, with a rich, caramel flavor.
1,825 characters
Granite City Food & Brewery - East Wichita in Wichita, KS
Brewery rating:
3.31
out of
5
with
1,344
ratings