Kappy's Fine Wine & Spirits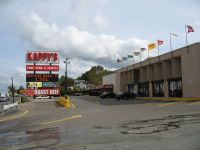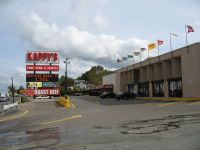 PLACE INFO
Type:
Store
325 Bennett Hwy
Malden
,
Massachusetts
, 02148
United States
(781) 321-1000 |
map
kappys.com
Notes:
No notes at this time.
Added by BeerAdvocate
PLACE STATS
Reviews:

12

Ratings:

pDev:

14.64%
HISTOGRAM
View: Place Reviews
Ratings: 13 | Reviews: 12
Reviews by bewareOFpenguin:
4.3
/5
rDev
+18.8%
05/27/04 update
with a heavy heart, I must report Kappy's has halved it's shelves of warm single beers. Many Belgiums, Porters, etc. are gone. They still have an excellent array, but not as extensive.
*sniff*
03/18/04 update
Last night, it was Saint Pat's day. I stopped here to pick up some "Irish" beer. Alone in the aisles, I was looking around when, what I first thought was an annoying worker, approached me.
Him: Need help?
me: no I'm fine, just picking up some Guinness for Saint Pats.
Him: Make sure it's in the can, the bottled stuff is from Toronto. You want the real McCoy, right?
me: Ahh yes. (my interest is peaked now) How about Murphy's?
Him: the cans are from Holland, although I think the red ale is from Ireland.
He was right. He was knowledgeable. He knew his beer. Not just Irish beer. He was PERFECT.
Excellent selection, as I have come to exspect from Kappy's. I used to think these places were the Macro Capitol of consumption, but now, count on them for good micro. Always has the good brews in stock, I never leave for dissappointment or want.
1,091 characters
More User Reviews:

2.94
/5
rDev
-18.8%
vibe: 2.5 | quality: 3 | service: 3 | selection: 3
I stopped by here today on my commute home for the convenience factor. This store is mostly wine and liquor with a rather small beer section, but the beer selection they had was surprising based on my experience at other Kappy's locations. They have all the standard macros, they also have a lot of stuff from the micros. Good selection of Sam Adams, and other New England region brews. Decent selection of imports with a good selection of Samuel Smith which I enjoy. I was also happy to see a box full of the latest issue of Beer Advocate magazine too. Service was non existent, but that wasn't a big deal for me. Overall not bad, and convenient for commuters heading to the north shore from Boston.
700 characters

3.7
/5
rDev
+2.2%
Located directly off of Route 1 Northbound from Boston to the North Shore area, this place is hard to miss. The establishment itself is in a grocery store-type establishment with most of the floor space dedicated to wine and liquor; however, the beer selection isn't half bad either. Upon entering the establishment, turn left to discover an aisle (front and back) of singles and craft six packs, which is about four shelves high. One side of the aisle is dedicated to regional and national micros with a six pack selection similar to the Kappy's of Peabody. The bomber selection; however, trumps the Peabody store in terms of quantity of offerings. On the other side of the four shelf aisle is the Belgian/import section. Unfortunately, nothing out of the ordinary here. Service is typical for a Kappy's branch (in my experience). I'd give this branch the nod, just barely,over the Danvers and Peabody stores, on account of a slightly better bomber selection. Nothing to go out of your way for, but if you're in the area looking for a six pack and a few bombers, this place will do just fine.
1,093 characters

4.05
/5
rDev
+11.9%
Stopped in on my way north from Logan. Pretty impressive. The primary shelves had a foreign side and a domestic side. The former had the usual Belgian, German, and English suspects. The domestic side had a lot of beers I can't find or get here in Maine. When I was there I think the holidays had depleted a lot of the selection. Nevertheless, there was Brooklyn, Stone, Lagunitas, Anchor, Bear, and North Coast well-represented, as well as a lot of New England selections. Also, what looked like a decent amount of beer by the case.
I'd make a trip back just to look around some more.
585 characters
4
/5
rDev
+10.5%
Update 08/2006
There is a new sheriff in town ... or I should say a new manager at this location. They have made some huge changes to the beer selection, similar to the Kappy's on Peabody, MA. Back to back shelves (four high) of a diverse selection ... imports on one side and domestic on the other. Most breweries are put next to each other which is cool as well. Good selection of domestic bombers and they are vigilant now about checking freshness dates. Prices are reasonable and the service is good as well ... if you are looking for something ask the manager cause he loves beer just as much as any BA.
If you are going north on Route 1 coming from Boston stop by and check them out ... you'll be quite impressed.
Update 07-19-2005
It seems they revamped their selection and have gone all out to aquire every single malternative in the world. Sad. The service is non-exsistant when it comes to beer, lots of old bottles (mostly old imports). They are pretty quick to get seasoanls but watch out that they are not last years batch. Latest find was 2004 Bigfoot, they have about 6-7 cases left. Heavy on imports but a solid selection of New England beers.
04-20-2002
Very good selection, they just went through and pulled most of the old beer out and put a ton of fresh beer in the past month. Very impressive import selection and they seem to have seasonals before anyone else.
1,398 characters
2.8
/5
rDev
-22.7%
Visited April '06.
Wow, this place has a lot of macros. Cases when you walk in, three aisles of cases stacked eye-high, more in the fridge. There are a few decent New England micros mixed in with the cases, and when I was there, there were a few cases of Duvel stacked on top of the Corona Light, next to the Tecate. A bit messy, with some supplies on the shelves and a spill in the back everyone was ignoring.
One shelf of craft singles. A few Belgians (Chimay, Affligem, L'Achouffe, Dupont), a few interesting foreign (Weihenstephaner, tons of Unibroue), some Berkshire and other New England, etc. Halfway decent, nothing spectacular. Above average store, especially for the area, but not worth going out of your way.
725 characters
3.8
/5
rDev
+5%
Of the four Kappy's stores near my apartment (yes, four!), this location is easily the best. Shelves are usually full of decent bombers to try, and looking through the six packs each time I've been, something usually sticks out. The beer selection is dominated by macros, and they definitely don't focus on getting great new beer selections in there l ike Bauers does, but I can say it's an above average liquor store. The reason I set this store apart from all others in my area is their helpfulness in getting any kegs I request. I inquired about Magic Hat Blind Faith, he had it the NEXT DAY! Not sure how he worked that, or if i want to know, but of the three stores I've ordered kegs from, this is the ONLY one not to dissapoint me. Any other kegerator owners, I recommend this Kappy's to you.
798 characters

2.75
/5
rDev
-24%
Big place, big sign on route 1 North. A lot of stuff at decent prices. A few workers wandering around might be able to answer questions if you have them. Slightly unorganized store, at least in the beer area. A few strange rows of beers, mostly by the 12-pack, and then a row of fridges. A lot of different beers, but mostly the wrong ones. You know, the imported pilsners that aren't even as good as US macro lagers, and are probably a year old. A bunch of the beers sit around for waaay too long. You will find a lot of out-of-code beer here. They have some rogues, some stone, some anchor, but alas, no readable dates. Had the Chimays, Unibroues, Mercury, Victory, Sam Smith, etc.
Basically I will only buy beer here if it has a freshness date on it or if it is bottle-conditioned. I suggest you do the same. If you don't like searching through sixers to find a fresh date, drive to one of the places in Boston.
917 characters
4.3
/5
rDev
+18.8%
excellent store. sort of hasrd for an out of towner to find but the selections was good. found lots of hard to find items. this place was packed so i ttake it that it's` reputation procedes it'sself. asked a police officer for directions, he imediatly knew what i was talking about and told me where it was. overall i was impressed, wish they had places like this where i live. service was good also, no long wait in line, most employess seemed helpful, saw lots of quality beverages as well as the cheap stuff, very well stocked, almost more beer than you can look at, i said almost.
584 characters
3.35
/5
rDev
-7.5%
Does anyone actually call this section of Route 1, the Bennett Highway?
Anyway, I stop at Kappy's at least 4 times a year on my way to Maine, NH, or Cape Ann. Stopping there used to be a real treat - a part of the trip to look forward to. Well, the magic is kind of wearing off. Each time I go there, it's a little more run-down looking, a little more disorganized, a lot dirtier and the beer selection is a bit less thrilling.
You can still usually find a few different beers to try, but you're just as likely to find the same beer you bought 4 months ago, only this time it's covered in dust. It saddens me to see beer being treated with such neglect. It's beer abuse, is what it is!!!
The aisles are all cramped with haphazardly placed boxes and cases of shit beer. I doubt anyone who works there would offer to help you find something, because even they would be hard pressed to know where things are.
I will still stop there in hopes that maybe someone will put a little more love into the beer section. They may need to change their name to Krappy's if they don't.
1,077 characters
3.85
/5
rDev
+6.4%
Definitely good but not excellent, which is a little less than I expected. Another liquor store where less that 1/4 of the store is about beer, and the best stuff seems to be all jammed together. While you will find interesting stuff, it may not be an enjoyable beer-shopping experience.
But since it is pretty big square-footage-wise, it can offer many different interesting choices beyond the Mass./Macro./Big-name-import range. Call me crazy or say this isn't the place for the sentiment, but why are there always 36 dusty bottles of bizarre flavors of cheap liqueur and 4 fresh bottles of gold-capped Harpoon rarities at places like this?
645 characters
4
/5
rDev
+10.5%
Wow, I'm actually quite impressed. I've been to a couple of other Kappy's and this is by far the best for beer. This place has a great selection of beer, both imported and domestic. Lots of stuff I've never heard of. Even the rare stuff was pretty new to the shelves, and was not expired. Everything was fresh. My one complaint is that the place is a little cluttered and disorganized. Plus, it takes some navigating to get to - being stuck between Revere and route 99 in Malden.
479 characters
Kappy's Fine Wine & Spirits in Malden, MA
Place rating:
3.62
out of
5
with
13
ratings