Hop On A Blonde
| Saugatuck Brewing Company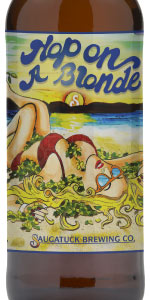 BEER INFO
Brewed by:
Saugatuck Brewing Company
Michigan
,
United States
saugatuckbrewing.com
Style:
American Pale Ale (APA)
Alcohol by volume (ABV):
5.00%
Availability:
Rotating
Notes / Commercial Description:
No notes at this time.
Added by TMoney2591 on 10-04-2013
Reviews: 6 | Ratings: 35
3.88
/5
rDev
+4.3%
look: 3.5 | smell: 3.5 | taste: 4 | feel: 4.25 | overall: 4
This "blonde" is a darker shade than I would think, yellow but on the deep end. It's got some chill haze all the way through. The white head is a small, sudsy one that displays moderate retention and keeps up a layer that stick heavy spotting to the glass.
This beer's aroma is hoppy, no fruity esters or grains like I get from most blondes. Pine, citrus, and flora, though it could be stronger. Pale ale?
Nothing prepares for the hops on the tongue. It's not massive, but only recently this would have been for what I'm now assuming is a strangely named pale ale. Hops take front and center with a good, strong floral, piney and citrus pith note and good balance from bready malts as well as a touch of zest.
The feel is simultaneously soft and firm, creamy and smoothly flowing while maintaining a medium body and strong crispness.
833 characters
3.88
/5
rDev
+4.3%
look: 4 | smell: 3.5 | taste: 4 | feel: 4 | overall: 4
12 ounce bottle into tulip glass; no bottle dating, but is a recent release. Pours moderately hazy golden orange color with a 1-2 finger dense and rocky off white head with good retention, that reduces to a small cap that lingers. Nice spotty soapy lacing clings around the glass. Aromas of grapefruit, tangerine, pineapple, lemon zest, orange peel, citrus rind, floral, grass, pine, light caramel, bread, and floral/grassy earthiness. Nice and pleasant aromas with good balance and complexity of citrus/pine hops and moderate pale malt sweetness; with solid strength. Taste of grapefruit, tangerine, pineapple, lemon zest, orange peel, citrus rind, floral, grass, pine, light caramel, bread, and floral/grassy earthiness. Good amount of pine/citrus rind bitterness on the finish; with lingering notes of grapefruit, tangerine, pineapple, lemon/orange zest, pine, light caramel, bread, and floral/grassy earthiness on the finish for a good bit. Very nice complexity and robustness of bright citrus/pine hops and moderate pale malt sweetness; with a great malt/bitterness balance and zero cloying flavors after the finish. Medium carbonation and body; with a very smooth, crisp, and fairly creamy/sticky mouthfeel that is nice. Alcohol is very well hidden with minimal warming present after the finish. Overall this was a very nice IPA style. All around good complexity and balance of bright citrus/pine hops and moderate pale malt sweetness; and very smooth and crisp to drink. A very enjoyable offering.
1,504 characters
3.78
/5
rDev
+1.6%
look: 3.75 | smell: 3.75 | taste: 3.75 | feel: 4 | overall: 3.75
This must be a bottle blonde (not a natural). She may look blonde, but she tastes a bit darker.
This is obviously a well made, carefully planned beer. It is an interesting experiement. It's a little dirty blonde in the glass, with lacing but not much head. The aroma is a bit hoppy. Some nice stank.
Taste wise, the hops profile is really big for the style (whatever that is). It sort of doesn't work, but if it weren't there, you would get tired or your blonde, so this one has some character. The aftertaste is a malty, hoppy blend that is very satisfying. And surprisingly so.
This experiment was a success. What you have is something very sessionable that isn't a poor excuse of the real thing, in fact it's a bit over the top. There have been other dirty blondes but this one is my favorite.
800 characters
3.69
/5
rDev
-0.8%
look: 3.75 | smell: 3.5 | taste: 3.75 | feel: 3.75 | overall: 3.75
12oz bottle, at 7.1% ABV, and part of the Saugatuck mixed-pack recently made available in Alberta. Cheeky as all get-out name and label imagery on this one, I'll tell you whut.
This beer pours a hazy, medium golden yellow colour, with one finger of wanly puffy, frothy, and mildly bubbly dirty white head, which leaves some random swaths of chunky lace around the glass as it slowly fades away.
It smells of musty orange and white grapefruit rind, a flinty chalkiness, crackery, and only slightly doughy pale malt, and further leafy wet pine cone hop esters. The taste is sharp citrusy (the same from the nose) and edgy pine and spruce tip bitters, grainy pale malt, a twinge of caramel sweetness, a receding wet stone path thing, and more leafy, floral, and faintly perfumed hops.
The carbonation is nicely fizzy at times, and gently frothy at others, the body a solid middleweight, and generally smooth, especially those moments when the hops aren't looking. It finishes trending dry, the lingering hop selection, crackery malt, and still dozy alcohol colluding as such.
A decent APA, the supposed 'blonde' characteristics mostly restrained to the label, as mentioned. Good and hoppy, with an elevated ABV that knows when to keep quiet, and just make everybody happy, so it's not particularly sessionable as a summery offering, but that's the price to be paid for this one.
1,383 characters

3.42
/5
rDev
-8.1%
look: 3.75 | smell: 3.5 | taste: 3.5 | feel: 3.5 | overall: 3
I picked up a bottle of Saugatuck's Hop on a Blonde last week for $2.29 at The Lager Mill. I've never had this beer before, but I'm fan of this brewery and I thought this was worth a try, so lets see how it goes. No visible bottling date. Poured from a brown 12oz bottle into a imperial pint glass.
A- The label looks nice, it goes well with the name and I think it's eye catching. It poured a nice golden yellow color that took on more of a golden amber color when held to the light with two fingers worth of creamy white head that died down to a thin ring that stayed till the end and it left some spotty and patchy lacing behind. This was a pretty nice looking beer, but I thought it was just a little dark for the style.
S- The aroma starts off with a a slightly higher amount of medium sweetness with the hops being the first to show up and they impart some nice fruity aromas with some citrus and citrus rind like aromas sticking out the most, but there's also a light berry and piney hop aroma showing up in the background. There's also some green onion like aromas that show up more as the beer warms. Up next comes a light creamy aroma that goes right into the malt which impart some sweet malt, pale malt and slightly grainy aromas with some doughy yeast seeming to show up in the background. This beer had a pretty nice aroma, but I could have gone with out the light green onion aspect.
T- The taste seems to be similar to the aroma and it starts off with a slightly higher amount of medium sweetness followed by the hops still being the first to show up, but this time no single hoppy aspect seems to stick out the most and they all seem to show up pretty evenly. Up next comes the malts which impart the same malty aspects that they did in the aroma, but this time they are lighter and that doesn't make this beer too balanced. On the finish comes a low amount of high bitterness that lingers for a little bit and it had a bitter, citrus rind, slight green onion and sweet malt like aftertaste. This was a nice tasting beer, but it wasn't as balanced as I would like and the hops seemed to dominate a little too much.
M- Not the smoothest, pretty crisp, a little oily, slightly sticky, medium bodied with a medium amount of carbonation. This beer had a nice mouthfeel, but I wish it was a little smoother and not oily.
Overall I thought this was a nice beer, but I didn't think that it was a great example of a Blonde Ale, the hops seemed to dominate this beer and when it came to the taste the malts barely came through and it would be hard to identify this as a Blonde Ale and this could easily pass as a pretty bitter IPA and I don't think anyone would question it. This beer didn't have the best drinkability, it wasn't too smooth, pretty crisp, a little oily, slightly sticky, not too filling and the taste didn't do the best job at holding my attention, I think one is enough for me since I don't have any urge to drink another one and I think the lack of balance would start to wear on me. What I like the most about this beer was the appearance and aroma, those were the highlights of this beer and the were both pretty nice. What I like the least about this beer was the balance and drinkability, they just weren't what I would expect from a Hoppy Blonde Ale and I wasn't a big fan of the green onion hops either. I wouldn't buy this beer again, I think I would just rather have a Blonde Ale or a straight up IPA. This is worth a try if you like hoppy beers, but I can't say I would recommend this as a good beer. All in all I was just a little disappointed in this beer, Saugatuck usually does a good job at making beers that live up to it's name, but they got a little carried with hops on this one and the Blonde Ale base ends up getting lost. This isn't close to my favorite Saugatuck beer or Blonde Ale. I appreciate the effort, but I think with just a little bit of work that this could be a pretty good beer, better luck next time guys.
3,972 characters

3.42
/5
rDev
-8.1%
look: 2.75 | smell: 2.5 | taste: 3.75 | feel: 3 | overall: 4.25
On my first taste I wasn't crazy about this beer. It was cloudy in my glass and poured out with a huge head. Very little aroma but was there was flowery mixed with citrus, so although there wasn't a lot of it the aroma was pleasent. My first drink felt thin. I liked the taste but didn't love it. However the next few drinks got better and by the end I kinda wanted another.
375 characters
Hop On A Blonde from Saugatuck Brewing Company
3.72
out of
5
based on
35
ratings.