Dismiss Notice
Dismiss Notice
Darker Than Your Soul
| Saugatuck Brewing Company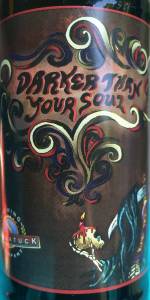 BEER INFO
Brewed by:
Saugatuck Brewing Company
Michigan
,
United States
|
website
Style:
American Stout
Alcohol by volume (ABV):
6.80%
Availability:
Fall
Notes / Commercial Description:
No notes at this time.
Added by bcuz7 on 03-28-2014
Reviews: 3 | Ratings: 64

3.98
/5
rDev
+3.4%
look: 4.75 | smell: 4.25 | taste: 3.75 | feel: 3.75 | overall: 4
Roast malt, dark cocoa, sweet molasses, and nutty, toasted notes underlie subtle tar and licorice in aroma. Molasses dominates.
Flavor reveals dark chocolate initially, becoming slightly sweet with caramel and molasses, and nutty, then alternating between nutty and slightly bitter roast malt into the dry, lightly charred, earthy finish.
Lacks the American hop character I typically associate with American stouts, in favor of more traditional malt dominance. Not overly roasty, and fairly complex. It's a little more char/bitter than I prefer, and a tiny acrid character surfaces, but a nice brew.
★
601 characters
4
/5
rDev
+3.9%
look: 4 | smell: 4 | taste: 4 | feel: 4 | overall: 4
12 ounce bottle into pint glass, no bottle dating. Pours fairly pitch black color with a 2 finger dense tan head with good retention, that reduces to a nice cap that lingers. Nice spotty soapy lacing clings on the glass. Aromas of big dark chocolate, cocoa, coffee, dark fudge, roasted malt, toast, dark bread, light char, light smoke, light herbal, and roasted earthiness. Very nice aromas with good balance and complexity of dark/roasted malt and light earthy hop notes; with good strength. Taste of big dark chocolate, cocoa, coffee, dark fudge, roasted malt, toast, dark bread, light char, light smoke, herbal, and roasted earthiness. Moderate amount of earthy hop/roasted bitterness on the finish; with lingering notes of dark chocolate, cocoa, coffee, dark fudge, roasted malt, toast, dark bread, light char/smoke, herbal, and roasted earthiness on the finish for a while. Damn nice robustness and complexity of dark/roasted malt and light-moderate earthy hop flavors; with a nice roast malt bitterness/sweetness balance and no cloying flavors after the finish. Medium carbonation and body; with a very smooth, moderately creamy, and lightly slick/chalky mouthfeel that is nice. Alcohol is well hidden with minimal warming present after the finish. Overall this is a damn nice stout! All around good complexity, balance, and robustness of dark/roasted malt and earthy hop flavors; and very smooth to drink. A very enjoyable offering.
★
1,439 characters

3.56
/5
rDev
-7.5%
look: 4 | smell: 3.5 | taste: 3.5 | feel: 3.75 | overall: 3.5
I picked up a four pack of a Saugatuck's Darker Than Your Soul last week at The Lager Mill. This beer just hit the shelfs and since I'm always down to try a new beer from Saugatuck I thought I would give it a try, so lets see how it goes goes. 2014 Vintage. Poured from a brown 12oz bottle into a imperial pint glass.
A- The label looks nice, it's got a nice dark look to it that goes good with the name and I think it's a little eye catching. It poured a very dark brown color that was almost on the border of being black and it didn't let any light come through with two fingers worth of pretty creamy slightly light colored mocha head that died down to a thin ring that stayed till the end and it left some spotty and patchy lacing behind. This was a pretty good looking beer, I have no complaints.
S- The aroma starts off with a slightly higher amount of medium sweetness followed by the dark roasted malts being the first to show up an they impart some roasted, sweet malt, light grainy, and chocolate like aromas with a slight bit of coffee showing up in the background. Up next I get this weird aroma that's a little on the lighter side and it reminds me a little of mothballs. but there's also a light creamy aroma showing up. This beer had a nice aroma, but I could go without that mothball like aspect.
T- The taste seems to be fairly similar to the aroma and it starts off with a medium amount of sweetness followed by the dark roasted malts still being the first to show up and they impart the same aspects that they did in the aroma. but this time they are a little lighter with the roasted malts and chocolate seeming to stick out the most. Up next comes a noticeable amount of hops that impart an earthy flavor and there's no mothball like aspect like there was in the aroma. On the finish there's a medium amount of bitterness that lingers slightly into the aftertaste along with some roasted malt, sweet malt and chocolate like flavors. This was a nice tasting American Stout, but I found myself wish it was a little more robust and a little less bitter.
M- Fairly smooth, clean, fairly crisp, on the slightly thicker side of being medium bodied with a medium amount of carbonation. The mouthfeel was pretty nice and it worked well with this beer.
Overall I thought this was a nice beer and an above average example of an American Stout, it had pretty much all the aspects that I look for in the style and proved to be a little hoppier than most in it's style and while that wasn't really a bad thing I found myself wishing the hops were toned down just a little to let more of those roasted malt aspects come through. This beer had decent drinkability, it was fairly smooth, clean, fairly crisp, slightly rich, not too filling and the taste did a decent job at holding my attention, I think one would be a good amount for me, I don't really have the urge to drink another one in a row and that might be because of the bitterness. I think this beer would be nice in the fall. What I liked the most about this beer was the appearance and mouthfeel, to me those two aspects worked the best with this beer and they were pretty much just what I would expect from the style. What I liked the least about this beer was that mothball aspect in the aroma ans that the hops were just a little to forward, I thought those were the two biggest issues with this beer. I don't think I would buy this beer again, I already have three left and I don't see myself rushing out to get more before it's all gone. I think it's worth a try, but I wouldn't recommend it as a great American Stout. All in all I thought this beer was fairly solid, but I think with a little work this could be a pretty good beer all around. It's not my favorite beer from Saugatuck or my favorite American Stout, but it's far from the worst in both those categories. I didn't hate this beer, but I didn't love it either, it was right in the middle.
★
3,929 characters
Darker Than Your Soul from Saugatuck Brewing Company
-
out of
100
based on
3
ratings.