Pier Cove Porter
| Saugatuck Brewing Company
BA SCORE
78
okay
35
Reviews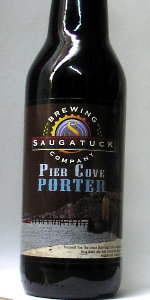 BEER INFO
Brewed by:
Saugatuck Brewing Company
Michigan
,
United States
saugatuckbrewing.com
Style:
American Porter
Alcohol by volume (ABV):
6.00%
Availability:
Year-round
Notes / Commercial Description:
No notes at this time.
Added by BierFan on 01-30-2010
Reviews: 35 | Ratings: 73

3.48
/5
rDev
+4.8%
look: 4 | smell: 3.5 | taste: 3.5 | feel: 3 | overall: 3.5
12oz bottle into a perfect pint glass. A big 2 fingers of foam swelled up and slowly dissipated, leaving behind a good amount of lace. The body appears dark brown, but when backlit, it is more ruby than brown.
Toasted grains, chocolate and wet coffee make up the nose. Typical smelling...
The taste is right with the nose...good flavors, roasted malts, coffee center and a burnt cocoa finish.
Light to medium bodied...a little watery, moderate carbonation.
Not sure why this has such low scores...there is nothing outstanding about this, but I would hardly rank it as low a BMC. Tasty and easy drinking, lacks complexity and bold flavors.
642 characters
2.68
/5
rDev
-19.3%
look: 2.5 | smell: 2 | taste: 3 | feel: 3.5 | overall: 2.5
12 oz bottle poured into a pint glass.
The beer pours a really nice dark brown to black, but has the most outrageous head that has ever existed. Once the head settles into a thick layer of sandy brown foam the beer looks delightful, but there is just far too much head from the pour...and I gave an extremely gentle pour.
Aroma is somewhat sour and rather metallic. There is some roasted malt also noticeable and perhaps grapes.
It takes a second for the flavor to arrive, but I get some roasted malt with grapes. It makes for an interesting flavor. Leaves a sour aftertaste.
Medium body with loads of carbonation.
Rather disappointing. Not one I shall be having again.
674 characters
2.7
/5
rDev
-18.7%
look: 4 | smell: 1.5 | taste: 3 | feel: 3 | overall: 3
Poured from a 12 ounce bottle into a tulip glass.
Appearance: Holy foam, Batman! Beer-to-head ratio is somewhere around 1:8, even on a truly gentle pour. Hmm...well, head dimples down around the edges in an entertaining fashion, giving me time to enjoy the beautiful ochre styrofoam-like wispy lacing on the edges of the glass. Beer itself is opaque-brown, with yellowish tints in the narrowest parts of the glass.
Smell: Sour, as in the scent of fermenting, rotting grapes. Some lemon flavor as well as a slightly off-putting alcoholic contingency. Not Saugatuck's finest hour.
Taste/Mouthfeel: Beer hits the tongue tartly. The malt is sweet and caramelly, and combined with the plum-type fruit sweetness and some citrus tang, it's not a bad brew. A little on the sweet'n'sour side for a porter (in my opinion), but I assume some of that comes from whatever type of barrel it was aged in.
Overall: Looks a lot better than it smells, and the taste falls somewhere between those categories. Won't buy this again (not my bag) but I'm not hatin' on the SBC. A decent beer, and most certainly worth a try.
1,105 characters
1.74
/5
rDev
-47.6%
look: 4 | smell: 2.5 | taste: 1 | feel: 1 | overall: 2
During a typical tilted glass pour into a pint glass, I noticed that this beer didn't just have a head, it had massive amounts of foam. So much so, in fact, that only about 4 oz. were in the glass before the head overflowed the glass on a very slow pour. This beer would be overly carbonated if it were soda pop.
T - Metallic and impalatable.
A - Once the foam disipated (20 minutes later) the color was a dark chocolate and looked good for a porter.
S - Malty and carbonated (that's the best way I can describe it)
D - Avoid at all costs. This beer is not even worth a try to see what it's like. I am dead set against dumping beer but this six pack will become drain fodder, unfortunately.
I was dissapointed in this beer as I never want to see an unsatisfactory beer from a microbrewery. I will try other beers from Saugatuck brewing even though I wouldn't recommend the Pier Cove Porter to anyone.
906 characters

3.38
/5
rDev
+1.8%
look: 3.5 | smell: 3 | taste: 3.5 | feel: 3.5 | overall: 3.5
Notes from summer 2010
Pours pitch black with one finger of quickly dissipating head that leaves no lacing behind.
Smell is of roasted malt with a slight smokiness. Overall, smell is pretty subtle.
Taste is similar to smell, primarily deep roasted malts, with some earthiness and slight smokiness as well. Not great, but okay.
Mouthfeel is medium w a nice carbonation level.
Drinkability is decent. Earthiness doesn't get overwhelming. Not a porter I'll be coming back to, but not bad.
490 characters
1.55
/5
rDev
-53.3%
look: 2 | smell: 2 | taste: 1.5 | feel: 1.5 | overall: 1
Presentation: 12 oz. bottle into a nonic. Thanks to beveritt's for procuring this.
A- Dark brown and essentially opaque. Pours with a massive explosion of light brown, slow to fade head, necessitating a prolonged, multi-stage pour....not a good start here.
S- Heavily metallic. Hints of a funky, sourness sneak past the metal. A feint wisp of malty sweetness is detected....not getting too excited about that first sip.
T- Disgusting, metallic, tongue coating bitterness is my reward for drawing from my glass. Some roasty notes...
M- Very high carbonation.
D- Terrible. Unable to finish even one...
Future outlook: An extremely poor effort here. Ranks alongside of the worst beers I've sampled to date in my many years on this earth. Not impressed with the other Saugatuck brew I tried either....probably a pass on anything of their's in the future, let alone this disgraceful metal-bomb.
897 characters

3.88
/5
rDev
+16.9%
look: 4 | smell: 3.5 | taste: 4 | feel: 4 | overall: 4
A smooth, khaki colored head with good retention and clinging lace covers the dense, dark brown beer poured into a pint glass.
The smell of roasted malts can be detected with a hint of hops.
Well carbonated and creamy in the mouth, the roasted malts predominate, with some vanilla coffee with a hint of sweetness and smoky hop bitters.
Good for a cold winter night with some roasted chestnuts by the open fire and a schnapps back.
434 characters

3.41
/5
rDev
+2.7%
look: 2.5 | smell: 4 | taste: 3.5 | feel: 3 | overall: 3
Poured into a Le Cheval Blanc pint glass.
Pours like a gusher. Four+ finger of foam on a very deep ruby beer. Very meringue-like head.
Aromas of yeast, slight roast character.
First sip is of light roast with some malt. No hops perceived. A little carbonic bite. A little too carbonated.
Mouthfeel is thin, not watery. Bite from carbonation. Only bitterness perceived is from roasted grains. The carbonic bite dominate. Carbonation is a little filling.
Drinkability is good, but I could do with less carbonation. This is a gassy beer.
540 characters
2.35
/5
rDev
-29.2%
look: 2.5 | smell: 2.5 | taste: 2.5 | feel: 1 | overall: 2.5
Presentation: Poured from a 12 oz brown bottle into a standard pint glass. Picked this up on a trip to Michigan. Label is dark in overall appearance and has a drawing if a pier extending out into Lake Michigan. No freshness date.
Appearance: After only a split second of pouring, the head on this extends to the top of glass, forcing me to stop pouring. This finally settles, allowing me to restart the pour, but this is definitely a sneak it down the side of the glass type beer. When all is said and down, I cam still left with a huge, pillowy light tan head. The beer itself is an extremely dark mahogany; dark enough to be opaque in the middle of the glass.
Smell: Slightly tangy, soured aroma upfront with undertones of roasted barley and chocolate malt. Slight metallic bite.
Taste: Mild roasted barley bitterness upfront, but fairly watered down. Overly roasted astringency lingers throughout. Slight hint of baker's cocoa.
Mouthfeel: Extremely overcarbonated, not just for this style , but for just about any beer. Their remains way too much dissolved CO2, such that as soon as you take a drink, it comes out of solution and ruins the mouthfeel.
Drinkability: Well, this one was a hot mess. About the only factors it got right were the color and some barley. Pass.
1,277 characters
3.7
/5
rDev
+11.4%
look: 4 | smell: 4 | taste: 3.5 | feel: 4 | overall: 3.5
22 oz. Picked up at Internationa Bev in GR.
Sturdy enough brown pour with a frothy finger of light tan head. Foam stuck around the entirety of the beer.
Roast malt, peat, dark chocolate, the usual suspects.
Taste has the roast malt and peat, but there was some strange banana going on, what yeast did they use? Molasses also keeping it a little sweet. Chocolate and roast finish up, but there is the banana lingering also.
Mouthfeel is good medium, not quite creamy with the carbonation. Coats the mouth well, and is not hard to put down really. Other than some off sweet notes and that banana, not bad for my first from this Brewer. I bet this is better on draft.
667 characters
3.35
/5
rDev
+0.9%
look: 3.5 | smell: 3.5 | taste: 3.5 | feel: 3 | overall: 3
Notes from 6/13/10
Pours pitch black with just a pinch of splotchy white head.
The smell is that of dark malts, molasses, and pine hops.
Chocolate malts with molasses fill the backbone of this beer. Add to it some roasted barley and a touch of anise. I'm a bit dissapointed in this beer after having the IPA.
Standard porter mouthfeel, medium with some hop bite.
Not the best porter I've ever had, but not the worst. Drink once and move on.
445 characters
3.91
/5
rDev
+17.8%
look: 4.5 | smell: 3.5 | taste: 4 | feel: 4 | overall: 4
Poured from a 22oz bottle into pint glass. Opaque dark chocolate in the center with thin dark chestnut brown at the edges. Nice thick tan head which lasts throughout. Good thick lacing. Roasted toffee caramel tones on the nose and taste is similar. Smoother porter than many I've had (in a good way). Easy drinkin for a porter. PS I think one of the few reviews here must have had a bad beer because nothing in it sounds like this beer.
436 characters
4.03
/5
rDev
+21.4%
look: 4.5 | smell: 4 | taste: 4 | feel: 4 | overall: 4
A- A dark, leathery brown with some light getting through at the edges. The mocha head is thick and creamy with decent retention.
S- Coffee with caramel cream in it and some smoke. Rather appealing.
T- Sweet coffee, chocolate, caramel, and some smoke. This is a bit different for the style, but it is very tasty. The sweetness is not as strong as I thought it would be based upon the aroma. Not to say that this is not rich and rewarding.
M- Smooth with a bit of a carbonation bite at the end.
D- A very well made porter. A little sweet and different for the style, but it works.
584 characters

2.68
/5
rDev
-19.3%
look: 3.5 | smell: 3 | taste: 2.5 | feel: 2.5 | overall: 2.5
22oz bomber from Tiffany's in Kalamazoo. I figured I'd take a shot on a $5.99 bomber from a brewery I've never trued. Bad idea, no clue if this was old stock, but it something must be amiss here.
Pour made a nice 2 finger head that dissipated into a nice white ring over the black body.
Smell is caramel, chocolate, and some bitterness.
Taste is where this takes a dive. There's a decent chocolate malt porter at first but a tart acrid taste takes over. Not an infection as much as just a disgusting mesh flavors. Not good.
Mouthfeel is too prickly carbed and very light. Not good.
Drinkability is sub-par. I'm struggling here just to drink enough to properly rate this.
Didn't have high hopes, but this didn't live up to even the experience I wanted - just to try a new beer from a new brewery. The rest of the bomber is going down the drain.
850 characters
4.22
/5
rDev
+27.1%
look: 4 | smell: 4.5 | taste: 4.5 | feel: 4 | overall: 3.5
Poured from a 22 ounce bottle into a pint glass. No freshness date.
Appearance: Tan head on a dark brown/black body. A little bit of lacing.
Smell: Roasty, toffee, caramel, and some faint hop spice. Smells very sweet and desert-like.
Taste: Roasty and chocolatey. More bitter than perhaps any other porter I've had before, but I really like this beer's bitterness. Finishes drier than the sweet smell made me believe it would be.
438 characters
Pier Cove Porter from Saugatuck Brewing Company
3.32
out of
5
based on
73
ratings.