Serrano Pepper Ale
| Saugatuck Brewing Company
BA SCORE
82
good
14
Reviews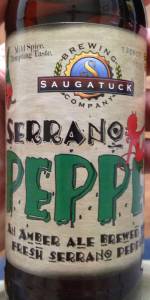 BEER INFO
Brewed by:
Saugatuck Brewing Company
Michigan
,
United States
saugatuckbrewing.com
Style:
Chile Beer
Alcohol by volume (ABV):
6.70%
Availability:
Rotating
Notes / Commercial Description:
No notes at this time.
Added by birchstick on 08-19-2012
Reviews: 14 | Ratings: 90

3.36
/5
rDev
-4.8%
look: 3 | smell: 3.25 | taste: 3.5 | feel: 3.5 | overall: 3.25
OK, my first pepper beer, didn't know what to expect. Poured a rusty orange very little head. Aroma is a bit sweet and malty, very light on the pepper. Taste is same, pleasant sweeter malt with only a hint of the pepper. The pepper shows up as its going down and leaves just a hint of the heat in your mouth. Kind of a nice feeling.
332 characters

4.31
/5
rDev
+22.1%
look: 4 | smell: 4.25 | taste: 4.5 | feel: 4 | overall: 4.25
This marks the end of my Saugatuck B.C. excursion as part of the Bottle Backlog divestment here at Chez Woody. I saved this one for last as spiced/Chile beers are a) not my forte and b) if it turns out to be a palate wrecker, I can take a break for restorative purposes.
From the bottle: "Illustrated by Colin Ofloy [-] CrocodilesOutLate.com". The new label (not pictured) is very cool with an outer space cowgirl a ridin' (sidesaddle) & a ropin' a jet-fueled pepper!
I got excited during the Pop!ping of the cap & gave it a heavy-handed pour. I got a beautiful pseudo-cascade that settled into two fingers of dense, foamy, rocky, tawny head with decent retention. I could already smell the pepper! Color was Deep Amber/Light Copper to Copper (SRM = > 13, < 17) with NE-quality clarity. Nose was definitely spicy, but I also felt like I smelled a light smokiness in there. I was suddenly transported to Uncle Billy's Brew & Que in Austin, TX on the occasion of my visit with The Chauffeur. Smoke, light spice & beer! Lifting it to my mouth, I got another whiff of spicy green vegetal matter and a touch of that smokiness. Mouthfeel was medium. The taste was peppery, but not so hot that I could not tolerate it (and I have a low threshold for such things). It had a really freshly-picked, earthiness to it that leant itself to that light smokiness that I noted on the nose. Finish was warm, not hot, peppery, smoky and dry. I envision cooking with this or drinking some while I cook or both. Something beefy in the crock pot on a slow simmer. Happy Thanksgiving as I look forward to turkey!
1,594 characters
2.75
/5
rDev
-22.1%
look: 2.75 | smell: 2.75 | taste: 2.75 | feel: 2.75 | overall: 2.75
Pours a deep mahogany with chestnut head. Looks promising. However it doesn't quite follow through. Sweet, roasty malt notes dominate the nose and flavor. Subtle pepper heat on the back end. Drinks like a strong ale or stout.
Overall, this one was pretty disappointing. In a Chile Beer, I expect the pepper to dominate the overall flavor profile, not the malt. It doesn't really have any redeeming qualities and is pretty hard to drink. OK effort.
449 characters
3.31
/5
rDev
-6.2%
look: 3 | smell: 3.25 | taste: 3.5 | feel: 3 | overall: 3.25
A: A deep copper color, little carbonation, poured into a a pint glass, small white head diffused into body of beer.
S: A mild malt smell, no discernible hop aroma, bit of pepper.
T: Malt does not have much body and then a hint of lemon flavor. A distinct pepper character overshadows the malt and the other characteristics of the beer. The spicy, herbal and vegetable flavors are unique but unique in an odd way, and not that pleasing to my pallet.
M: The assault of pepper masks the bread, biscuit and caramel character of the malt.
O: A unique taste profile but not one a gravitate to.
589 characters

3.03
/5
rDev
-14.2%
look: 3.5 | smell: 3 | taste: 3 | feel: 3 | overall: 3
12 oz. bottle, 130807 printed on the label. Gifted to me from the local bottle shop owner. 'Amber Ale brewed with fresh Serrano peppers'. 6.80% abv listed on the label. 'Brewer's Reserve Series'. Haven't had too much from Saugatuck, so I'm not entirely sure what to expect.
Poured into a clear balloon snifter.
A - It pours a murky cloudy orange body, with about two fingers of airy bubbly off-white head. Head falls away quickly and leaves no lacing.
S - Some pale bready caramel malt content, and subtle fresh vegetal peppers. Not noting any spice or heat character in the aroma, however.
T - Taste follows the nose: bready, malty, lightly fruity / citrusy, with some subtle vegetal peppery heat that builds as it drinks on. A mild fermented apple character
M - Mild pepper heat builds as it drinks on. Medium-low carb, not particularly easy-drinking.
Overall, an uninteresting example of the chile beer style. Perhaps this was an older bottle, and it developed some off flavors, but it's not one I'm particularly interesting in trying again. Forgettable, at best.
Saugatuck Serrano Pepper Ale -----3/5.
1,116 characters
3.52
/5
rDev
-0.3%
look: 4.25 | smell: 4 | taste: 3.25 | feel: 3 | overall: 3.5
Bottle date of 03/11/15 with an abv. of 6.8% and brewed with fresh Serrano peppers.
Look- Pours a cloudy pale orange color with a finger of white foam. Very pleasing in color.
Smell- Aroma is pure Serrano pepper juice.
Taste- Pretty much like the aroma and as advertised on the label. All Serrano pepper! A bit of an earthy taste at the end with a mint like flavor.
Feel- Spicy pepper juice with a bit of heat in the finish.
Overall- If Serrano peepers are your thing, this is the beer for you. I won't hold that against in my review too much, because it's as advertised. All said, it's just not my thing. I love peppers and all things spicy, but in a beer it's better when it's an accompaniment and not front and center. Just one mans opinion.
755 characters
3.78
/5
rDev
+7.1%
look: 4 | smell: 3.5 | taste: 4 | feel: 4 | overall: 3.5
12 ounce bottle into tulip glass, bottled on 9/4/2014. Pours lightly hazy/cloudy orange/amber color with a 1 finger dense light khaki head with good retention, that reduces to a thin spotty lacing cap that lingers. Slight spotty lacing clings on the glass, with some light streaming carbonation. Aromas of spicy/vegetal peppers, light caramel, toasted bread, herbal, grass, and herbal/pepper earthiness. Nice and pleasant aromas with good balance of serrano pepper and moderate bready malt notes; with solid strength. Taste of spicy/vegetal peppers, light caramel, toasted bread, herbal, grass, and herbal/pepper earthiness. A fair amount of pepper spiciness and light heat on the finish; with lingering notes of spicy pepper, light caramel, toasted bread, grass, and herbal/pepper earthiness on the finish for a short bit. Very nice robustness and balance of serrano peppers and moderate bready malt flavors; with a great malt/spiciness balance and zero cloying flavors after the finish. Has a fairly dry finish as well. Medium carbonation and body; with a very smooth, crisp, and slightly chalky mouthfeel that is nice. Alcohol is well hidden with minimal warming present after the finish. Overall this is a very good pepper amber ale. All around good balance and robustness of serrano peppers and moderate bready malt flavors; and very smooth and crisp to drink with the modest pepper spicing. A nicely enjoyable offering.
1,425 characters

3.44
/5
rDev
-2.5%
look: 3 | smell: 3.25 | taste: 3.5 | feel: 3.75 | overall: 3.5
Looks pretty average for the type of ale; Near-excellent clarity, and while it is "amber" in color, it is a little lighter, more like a bright copper. Minimal head, very little lacing, and just a light cap of pale tan head.
Nose is peppery and with just a minimal pale malt character -- no hops that I can readily discern.
Sweet and spicy on the first sip, with malt character picking up at the and as the bite of the pepper wears-off. Very much a mild and easy-going amber ale -- up to a point. There's some boozy-heat, too... Hop bitterness is minimal.
Proper carbonation for a brisk, palate-scrubbing mouthfeel, which greatly adds to the drinkability. I'd think that this one would be pretty good with food, too, wherever a bit of spice (a sweet pizza, for instance) was needed.
Not a bad beer for its type.
Date code: 0904.14 -- I take it that this was a reasonably fresh bottle? It's the new label, also.
926 characters
3.79
/5
rDev
+7.4%
look: 4 | smell: 3.75 | taste: 3.75 | feel: 3.5 | overall: 4
22oz bottle. Ah, Serrano peppers, my favourite homemade kung-pao ingredient, meets my favourite adult beverage. Aaaaaand, go!
This beer pours a hazy, dark bronzed amber hue, with one skinny finger of wan, bubbly, and barely foamy dirty white head, which leaves some low-lying coral reef lace around the glass as it evenly subsides.
It smells of oily, gritty, and certainly spicy green vegetal chili peppers, a bit of earthy yeast, hard to discern grainy pale and caramel malts, and a dry, unattached leafiness. The taste is once again led by a sharp, spicy, vegetal and acrid green pepper thing, which continues to easily overpower the base grainy, bready, and slightly caramelized malts, with anything else duly lost in the morass.
The carbonation is fairly intense, in a frothy and fizzy manner, with seems to only aggravate the pepper more, the body medium-light in weight, and tacitly smooth, given that you are ok with the guest ingredient's acerbity. It finishes quite dry, the malt having given up trying, while the spicy pepper quotient just keeps on traipsing along.
Well, this is exactly what it purports to be - a Serrano pepper-dosed ale, I can't front on that. All I can do is deal with the aftershocks, the detritus, and the mess that is my palate after making my way through it. Not overly spicy, but full and engaging in its spiciness, if that makes any sense.
1,386 characters

3.76
/5
rDev
+6.5%
look: 3.5 | smell: 3.75 | taste: 3.75 | feel: 4 | overall: 3.75
I picked up a bottle of Saugatuck Brewing Company's Serrano Pepper Ale last week for $2.29 at The Lager Mill. I've had this beer before, but it's been a couple years and since I spent most of the day harvesting Serrano peppers from my garden I thought this would be a fitting beer to have, so lets see how it goes. Bottled on 9/15/14. Poured from a brown 12oz bottle into a imperial pint glass.
A- The label looks good, I think it looks better than the original, it's got a nice design to it and I think it's eye catching. It poured a cloudy amber/orange color that took on a slightly more amber color when held to the light with a little over a fingers worth of creamy light tan head that died down to a thin ring that stayed till the end and it left a little bit of spotty lacing. This was a nice looking beer, but i wish it wasn't so cloudy.
S- The aroma starts off with a lower amount of sweetness with the Serrano pepper being the first to show up and it imparts a nice roasted pepper and vegetal aroma with a spicy aroma also showing. Up next comes the malts which impart a typical Red Ale flavor, but it's a little on the light side and the peppers seem to overpower the malts. This beer had a pretty nice aroma, the serrano's really stuck out, but I wish it was just a little more balanced.
T- The taste seems to be similar to the aroma and just a little more balanced, it starts off with a lower amount of sweetness with the red ale base being the first to show up and it imparts some typical malty red ale like flavors with just a little bit of doughy yeast coming through in the background. Up next comes the serrano's which are still the aspect that sticks out the most and it imparts lots of roasted hot peppers and a somewhat light vegetal flavor along with some heat that was just on the slightly lighter side of medium and it imparted a light burn in the back of my throat that wasn't too overpowering for me. On the finish there's pretty much no bitterness with some serrano peppers and vegetal flavors with some lingering heat showing up in the aftertaste. This was a pretty nice tasting beer that lived up to it's name, but the Amber Ale base wasn't that noticeable.
M- A little smooth, a little spicy, crisp, fairly dry, medium bodied with a medium amount of carbonation. This beer had a good mouthfeel that worked well with it.
Overall I thought this was a pretty nice beer, as for an Amber Ale I wouldn't say it's a great example, but for a pepper/spiced beer it's pretty good and it does a good job at showcasing the Serrano Peppers. This beer didn't have the best drinkability, it was a little smooth, a little spicy, crisp, fairly dry, not too filling and the taste did a nice job at holding my attention, but I know the heat would start to wear on me so one would be my limit and I think half the bottle would be the perfect amount for me. What I liked the most about this beer was the serrano pepper flavor, it was very nice and just what I expect from that type of pepper, it was spicy, but it wasn't too hot. What I liked the least about this beer was the balance, I wish the Amber Ale base stuck out a little more. I would buy this beer again, but only once in a while since it isn't the type of beer that I would drink often. I would recommend this to any pepper beer fan, it's got a good balance of spicy and pepper flavors. All in all I was happy with this beer and I thought it was very similar to how it was when I tried it on tap a couple years ago, but I think this one had just a little more heat than I remember. It isn't my favorite Saugatuck beer, but it is my favorite pepper beer since there's a lot of nice serrano flavors without too much overpowering heat. Good job guys, this was one nice Pepper beer, keep up the good and creative work.
3,814 characters
4.25
/5
rDev
+20.4%
This one surprised me. Good mouthfeel with a nice cloudy amber/red color. It's very easy drinking. Not overly spicy, but just a nice, even pepper flavor. It was great for a fall day on the deck after lunch. This would be good mixed into some hamburger and cooked on the grill with some pepperjack cheese.
304 characters
4.75
/5
rDev
+34.6%
Spice beers are not for everyone... This one drinks well.. With a pepper flavor at the end... Not too strong or overwhelming like many spiced beers.. Good with food..chili... Tailgating... Very enjoyable
203 characters
3.27
/5
rDev
-7.4%
look: 4.25 | smell: 4 | taste: 2.75 | feel: 3.5 | overall: 3
Bottle poured into a pokal.
Cool label art. Southwest style typeface and a sexy she-devil looking something like a reflective mudflap adornment.
A- 1-finger, dense, khaki head. Hazy, auburn body with medium-light carbonation. Awesome lacing left on the glass.
S- Lots of Serrano at first. Maybe it's the hops (90 IBUs), but it comes out smelling like fresh salsa with hints of fresh chopped cilantro.
T- Hmmm. Lots of moderately hot Serrano peppers. Maybe a bit one-dimensional. Not bad in the least, maybe just a little plain. One of the spicier beers I've had, as the heat seems to amp up late.
M- Medium-full body and moderate carbonation. Decent "burn" from the peppers.
O- I'd categorize this as a chili beer, rather than an amber ale. The peppers take center stage and overshadow other characteristics. The chili beers I enjoy most always include some other component (chocolate, herbs, fruit). While I can give a nod to the straight forward rendition, it's not my favorite. Kind of like a band where I don't care for the style, but I know they're good at what they're doing.
1,087 characters
3.52
/5
rDev
-0.3%
look: 3 | smell: 3.5 | taste: 3.5 | feel: 4 | overall: 3.5
Pours an amber orange color without much of a head on it. Nose is spicy Serrano peppers (fresh from St Croix) and some caramel malts. Taste is similar to the Jose. Starts off sweet citrus and a little bit of the pepper. This moves on to caramel malts and are overtaken by the spicy, fresh peppers. Ends with the fresh peppers...almost like having an amber ale and choosing it with a pepper. Mouth is creamy, full and a little spritzy. overall, this is a nice change up of a beer. The peppers add a nice element of flavor that isn't usually there. Recommended.
559 characters
Serrano Pepper Ale from Saugatuck Brewing Company
3.53
out of
5
based on
90
ratings.