Kip's Irish Pub And Restaurant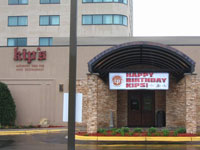 PLACE INFO
Type:
Bar, Eatery
9970 Wayzata Blvd
Saint Louis Park
,
Minnesota
, 55426-1008
United States
(952) 367-5070 |
map
kipspub.com
Notes:
No notes at this time.
Added by BeerAdvocate on 07-18-2005
Ratings: 5 | Reviews: 5
Reviews by bucko:
3.28
/5
rDev
+0.9%
vibe: 3 | quality: 3.5 | service: 3.5 | selection: 3 | food: 3
Kips is one of the many Irish-style bars in the Twin Cities and it definitely comes through in the decor... dark wood, brass, wooden cask tops, celtic art, etc. The outside isn't much to look at... typical to a hotel bar. Though I can't vouch for authenticity, they take the irish theme and run with it, offering some tasty Irish-style offerings as well as a variety of reasonably accessible Irish beers. The wait staff has always been good to me when I visit, whether it's a table for two or a group of 15. The beer selection is decent, though you won't find anything terribly unique here.
590 characters
More User Reviews:
3.45
/5
rDev
+6.2%
vibe: 3.75 | quality: 3.5 | service: 3.5 | selection: 3 | food: 4
I've got friends who really like Kip's, so I've been there a lot. Beer selection is fine although not outstanding. As an Irish pub, they have the usuals like Guinness, Smithwick's, etc. but also have several crafts or near-crafts on tap. Last time I was there they had New Belgium Snapshot, Leinie's Big Eddy RIS, Summit Frost Line Rye, and maybe some others. Nothing that made me go "wow!", but enough to keep me happy.
The beer is served too cold, though. So a little patience while it warms is needed.
The food is pretty good there. I'm particularly partial to the Guinness braised short ribs, but they have some good salads as well. (And will make any salad with spinach on request, one of my preferences)
All-in-all, not a 40 tap craft bar with every beer style under the sun, but good food and enough beer to be worthwhile. Worth checking out if you are in the west metro and looking for dinner.
904 characters

3.28
/5
rDev
+0.9%
vibe: 3 | quality: 3 | service: 4 | selection: 3
We bellied up to the bar after watching "Rise of the Silver Surfer" at the nearby theater (I needed at least one round after that train-wreck!) It was just hitting 11 and the bar was closing, but our bartender allowed us a round for last call, and I thanked him with a generous tip afterwards. The place was just about empty except for four men in pairs in the dining area and bar, as well as a coffee klatcsh (four ladies) on the patio, who were oblivious to Kip's early-ish closing time. It quickly became obvious that one of the gentlemen in the bar was a "100% Oirish" American, and my girlfriend -who spent eight months last year between Cork and Dublin- felt like having fun with him. This was a train-wreck in and of itself, watching a generally timid gal pull the leg of a young American man who's well into his pints of "the strong stuff -Guinness Draught!" (his words, no foolin'). It started out with the lad uttering the near-holy name of Flogging Molly, who my I and my gal must have seen twenty times between the two of us. From that point he proceded to drop the names of other Irish American mainstays and she continued to egg him on -- somehow he didn't know that Van Morrison was Irish (a Celtic culture newb?) and at one point I dropped the Boomtown Rats and nobody knew who the hell I was talking about! Fun times. And for what it's worth (there's alwasy one in every Irish Pub) he asked if the two of us were Irish, straight off the bat. Classic. He* went on to tell us that he was adopted, but how his adopted mother was a quarter Irish - how that makes him 100% Irish I still can't quite figure out.
I wanted to give this place a 2.5 for atmosphere but bumped it up to 3, as although it's a fairly sterile environment (as opposed to the "how do they remain open" Irish bars I've been to, with plenty of grime but much, much more character to their benefit) that is what plays these days, and frankly I prefer a Mock-Irish hotel bar to a Mock-Vegas one! Don't get me wrong, it's a nicely-decorated, even stylish place, but this is exactly the sort of out-of-the-box atmosphere I'd expect from a new "pub" in this era, and as such . . . average.
I can't speak to the quality of anything on the menu, as it was closing time and we'd just downed a tub of salty popcorn besides . . . but there was a "ten for $10" poster in the entryway that soundd promising: 10 lunchtime entrees available for $10 apiece, including beverage, tax,, and tip - I'd actually like to try that some afternoon! As far as Selection is concerned, there were plenty of nitro cans in the coolers, plenty of top shelf liqueurs, and even Saint Pauli Girl N.A. for whoever drinks that stuff. But I couldn't understand the benefit of having three draft towers which were identical: the place can't get that busy, and the same eight drafts can get old guick. I myself had a Finnegans, but forgot to ask for a shot of Powers, always a good combo.
The bartender, Chad, was a good sport; he'd worked at other Irish pubs in town and had an opinion or two about former employers; Irish pubs may be "quaint" and "twee", but they're also catty - who knew?
Two pints (Smithwick's and Finnegan's) ran $11.00, which is about average (cheaper that O'Donovans downtown). Without sounding uninformed, I'd rate Kip's is an average Irish pub, but with the number of better beer bars in town increasing, it doesn't quite amount to an "average" beer bar. Still, it was worth at least one visit.
* Bonus: the guy thought Brit's was an Irish pub and that Fish and Chips were a particularly Irish cuisine! Chad just shook his head: I bet he gets this sort of thing all the time ; )
3,664 characters
2.9
/5
rDev
-10.8%
vibe: 3 | quality: 3 | service: 2.5 | selection: 3.5 | food: 2
Okay, I'm a little jet lagged, but nothing was very special here. If you want a good beer, it will do. They have several taps and it's mostly mainstream good stuff. I had an extra pale ale that was a very good beer. The wings were not good at all. Just super fried little things with no flavor. The burger was good, but basic. Service was okay, just not attentive.
Two tv's with sports on.
Clean place.
Good beer.
If, like me, you are travelling and want a good beer, do it.
If you are going out of your way for a beer culture ... skip it.
547 characters
3.8
/5
rDev
+16.9%
vibe: 4 | quality: 4 | service: 3 | selection: 4 | food: 4.5
This place is the bar in a newly remodelled Marriot hotel, with a heavy Irish theme. They do not brew their own beer, but have several Irish brews on tap, and other bottled beers. On tap they have Guiness, Smithwicks, Harp, Boddington's Pub Ale, Strongbow cider, and the exception to the theme, Stella Artois. I'm not too sure of the complete bottled selection, but I know they have Murphy's Stout and the locally brewed Finnegans Irish Amber Ale (try a bottle, its very good!).
The atmosphere is nice, though it can get a little loud inside when they have live Irish music. They have a great outdoor seating area with tables and patio umbrellas for when the weather is nice.
The food is very good. We particularly like the Irish Spring Rolls appetizer. My wife likes the fish and chips. The only knock is that the service can be a little slow, especially if you are sitting outside.
They had an enormous grand opening party this summer, with free beer and food for four hours served under big tents in the parking lot. I think they had a lot more people than they expected, and people had to park far away, but it was a lot of fun.
All in all a pretty good place to go for beers and food after work. We've been several times, and will go again.
1,258 characters
Kip's Irish Pub And Restaurant in Saint Louis Park, MN
3.25
out of
5
based on
5
ratings.