Dismiss Notice
Extreme Beer Fest:Los Angeles
Join us December 9th in Los Angeles for the ultimate throwdown of craft beer creativity!
Learn more...
Dismiss Notice
Eugene City Brewery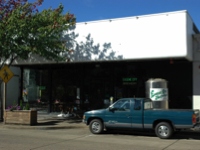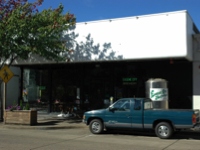 PLACE INFO
Type:
Brewery, Bar, Eatery, Beer-to-go
844 Olive St
Eugene
,
Oregon
, 97401
United States
(541) 345-4155
// CLOSED //
Notes:
No notes at this time.
Added by charlatan on 07-19-2005
HISTOGRAM
Ratings: 14 | Reviews: 11
Reviews by loren01:

3.55
/5
rDev
-8.3%
vibe: 3.5 | quality: 4.5 | service: 2 | selection: 4
Went here a while back while down in Eugene, I've been to many of the other Rogue places. I'm a sucker for Rogue beer...love the stuff so I'll go to any Rouge place if in the area. This bar seemed to be in a rougher area of downtown Eugene...tons of homeless people around when we walked down there. The brewery itself had many of the usual Rogue beers in addition to ones that I'd never heard of before. It took forever to get service here...had a sampler with an oyster stout/adam and eve (fig Belgian beer)/double chocolate stout and double mocha porter. All beers were excellent as usual. I was going to have another beer after my sampler but the bartender never came around, I had to go track him down to pay my tab. Nothing new though pretty much every Rogue place i've been the service sucks...good thing their beer is so damn tasty!!
841 characters
More User Reviews:


3.88
/5
rDev
+0.3%
vibe: 3.5 | quality: 3.5 | service: 4 | selection: 4.5 | food: 3.5
Located in downtown Eugene, ECB looks like a smallish cafe with a beer bar in the back. Once you walk in there is a considerable amount of beer brick a brack adorning the walls, and it's easy to tell pretty quickly that you're in a Rogue establishment (in case the beer selection isn't a sufficient tip off). There's definitely a very informal vibe to this place, and it struck me as a relaxing place to hang out with a beer or three.
On this particular day I think there were between 30 and 35 beers on tap, including 4 guest beers (much to my surprise, there was bud lite and coors lite on tap here). Otherwise, the selection was made up of beers from Rogue, Issaquah Rogue and on-site brewed beers (200 meter, 100 meter and the like). On this particular day I was pleasantly surprised to see the McRogue scotch ale on tap, a beer I had not seen in some time. Otherwise, I contented myself with a pint of the 200 meter IPA. While I'm not a huge fan of Rogue beers, I can generally find something I like at most Rogue facilities, given the large selection available. Service was decent I thought. The bartender was friendly and knowledgeable, though given the fact he was the only employee around this Sunday afternoon, service was a bit slow at times.
As for food, I got an order of the steamers. While tasty, it was also easily the most expensive order of steamed clams I've ever ordered. The modest size bowl of roughly 10 or 11 small clams came to $12, and I'm just glad I wasn't any hungrier.
Prices were the usual over the top Rogue outrageous. I think my 10 ounce goblet of McRogue was $5.75, while the 200 meter was in the $5.25 range. I was with a friend who ordered a mixed drink and a glass of frambois, and along with the clams I think the entire bill was in the low $40 range (before tip and that was with my Citizen Rogue discount). With prices like that, it felt as if I was back in DC or NYC.
This is an OK place, but I'm just not a big enough Rogue fan to want to come back here.
2,001 characters
4.45
/5
rDev
+15%
vibe: 4.5 | quality: 4.5 | service: 4 | selection: 5 | food: 4
My first trip to Eugene would not be right without a trip here, of course, to pay respect to the Rogue River brews that have always provided happiness in my life. It was not a disappointing experience. I'm typing this review out of memory and without notes with respect to my trip there 5 months ago, so details may be hazy here...
The brewpub is located in the heart of downtown Eugene and features a west facing patio for enjoying the twilight of the sunset with a fine crafted brew. The service had some hiccups due to shift changes, but the staff handled this very well and I ended up scoring the place well for it.
The beer selection was choice, as ECB have quite a few beers on tap. I think there were at least a dozen of the Rogue beers on tap, which is a good presence of beers available considering many brewcos have 6 or less in their pub. I do remember drinking the Double Dead Guy, Hazelnut Nectar, Shakespeare Stout, and I can't remember what else. I do remember having a wonderful time reflecting upon the many bottles and pints I have emptied in the past as I drink each beer.
I love the ambience here. Eugene apparently has a contingent of some left thinking folks, and there is a sort of 50s propaganda art that flows in the artwork seen throughout this place. It was home. I left ECB with a sense of fulfillment I haven't experienced in a first visit to a brewery pub in a long time. I strongly recommend any I-5 traveler to stop in for a few.
1,464 characters
3.66
/5
rDev
-5.4%
vibe: 3.5 | quality: 4 | service: 2.5 | selection: 4.5
A Rogue outpost in Eugene. Business storefront with a shady overhand and sidewalk seating.
Menu is the standard Rogue one, maybe a change or two that I didn't catch. We just did drinks here, specifically the Tracktown series of brews that are brewed onsite.
We sat outside with our pup, and the views are pretty much of traffic and public parking across the street, oh well. Good people watching I guess.
Staff is friendly and beer-knowledgable, but in classic Rogue fashion are slow and oblivious to your presence. I've had to track down waiters numerous times at various Rogue locations. THis was on different.
618 characters
4.35
/5
rDev
+12.4%
vibe: 4 | quality: 4.5 | service: 4 | selection: 5 | food: 3.5
Pub crawling in the NW is so different than anywhere else in my opinion. Reason- there is ambieance and character that lack at the other locations I have visited in California, Nevada, Arizona, Colorado etc.
That said I love this place. The last review was something like (I'd rather go here than Steelhead) I'm sorry but Steelhead produces great beer and food. I like Eugene City brewery because it is a NW brewpub. Steelhead is not.
Comparisson aside this is the second time I have been here. First time was almost 2 years ago. Nothing has changed, this place was great the first time and this time.
Service was really good, selection as far as brew goes is stunning 30+ taps. Food has been good both times as well.
Parking isn't good but isn't bad either, just make sure you pay.
794 characters
4.33
/5
rDev
+11.9%
vibe: 4 | quality: 4.5 | service: 4 | selection: 4.5 | food: 4.5
This is my favorite place to eat in Eugene. The food is great and the selection of Rogue is second only to the real brewery in Newport. (Sometimes they have a better selection since the brewery in Newport puts itself last after all its other places)
I usually go during the week for an early dinner so it has never been too crowded while I was there (it picks up as I am leaving) and the service has always been good. Even my picky non-drinking Grandmother loves the place.
They are more than happy to let you sample pretty much any beer you want before making up your mind. The food is very good, although it can be a little spendy, but not too, too bad.
Like all other places in Eugene this place is smoke free. They are family friendly here also. Kid's meals are served on Rogue frisbee's which my son seems to enjoy.
They also have a great deal of Rogue for sale. 6 packs, bombers, growlers and they'll let you bring in just about any jug and fill it at the bar for you to take home.
I would rather go here than the Steelhead anyday.
1,042 characters
4.13
/5
rDev
+6.7%
vibe: 4 | quality: 4 | service: 4.5 | selection: 4 | food: 4
I have been back here at least 10 times. I continue to enjoy the beer, patrons, food & service. Great place!!
**Orignal Review***
I stopped by during my latest visit to Eugene. Am I glad I did!
This is not a real fancy place, but it is dedicated to good beer. There is some sidewalk seating in front and a deck out back. The bar seats about a dozen and there is a nice long elevated table right near the bar for large groups. I'm guessing the restaurant area seats about 50.
They have 36 taps including the largest selection of Rogues this Midwesterner has ever seen. About 8 of the non-Rogues are brewed on site. They also have a few well-chosen guest taps.
The staff was incredibly friendly, had great beer knowledge and was very free with samples. If you as much as mention a certain beer, they throw a sample in front of you. Great service!
I thought the food was pretty tasty. They incorporate beer in a bunch of the offerings and also use Rogue cheeses, rums, etc to add flavor to the food.
This is a friendly and laid back place that seems to reflect the personality of this nice town. I will be back!
1,121 characters
4.35
/5
rDev
+12.4%
vibe: 4 | quality: 4.5 | service: 5 | selection: 4 | food: 3.5
Eugene City Brewery
The atmosphere of the place can vary a great deal depending on the night you go. For example, if you go during the day or on a random weeknight, you can have a quiet dinner and a lot of attention from the waitrons. However, if you go on Friday night, you'll be in a packed bar and be playing trivia. Both are a great time - depends on what you're in the mood for. They have a great selection - usually over 15 beers to choose from on tap. Many of them are Rogue products, because this is a Rogue Brewery satellite location. They also have all the Tracktown products. The menu is exactly the same as the Rogue brew pub menu in Newport, and is typical brew-pub fare. They rotate their selections on a regular basis, so there's always something new to choose from. My service has always been great and my waiter always is very knowledgeable about the beers and quick to offer insight and information.
918 characters
2.85
/5
rDev
-26.4%
vibe: 4 | quality: 3 | service: 2 | selection: 3 | food: 3
This place started out as the West Brother's BBQ and Brewery back almost 12 years ago. It changed hands for while and about two years ago became the Eugene City Brewery from Rogue. I was, at first, excited to see this happen, as Eugene has lost a few of my favorite breweries in the last few years (Wild Duck, Fields to name a few), and figured Rogue would turn it around. I was not impressed.
They started off on the wrong foot by charging $4 a pint. Ouch. $3 is about as much as I think you can reasonably charge for a pint in Eugene. Then the food was just okay and the service was bad. It wasn't even busy and we had to fight to get served. Rogue is one of my favorite breweries in Oregon, but don't go to this one while your'e in Eugene. Check out High Street or Steelhead instead and drive the two hours to Newport on the coast to taste Rogue's fine brews.
866 characters
3.28
/5
rDev
-15.2%
vibe: 3 | quality: 3.5 | service: 2.5 | selection: 4 | food: 3
With the recent demise of the West Brothers brewing operation, Rogue Ales stepped in to acquire this small, centrally located brewpub in downtown Eugene. The literature professes Eugene City Brewery to have been established in 1866, but this link to the past is a bit contrived. It is now the sixth outpost of the Rogue Nation and a great place to stock up on Rogue ales to go.
I've visited Eugene City on several occasions to find just a handful of customers in the house, even as neighboring bars and restaurants were packed. Here's a place with great beer just walking distance from a major university and they're not drawing much business. What gives? Well, aside from the great Rogue beers on tap (brewed in Newport) it's hard to define a central draw. For one thing, the Rogue ales tend to be relatively expensive. They're worth the money in my opinion, but may be a tough sell in a college town. Then there's the food menu, which I believe is identical to Rogue's other outposts and is rather uninspired.
But I found the Eugene City house beers, brewed in the basement brewhouse, of mixed quality. Some were truly outstanding – the cask-conditioned blend of Natty Red and Tracktown IPA comes to mine. Others had clearly expired in the tap lines. And I've known the service to oscillate between spirited and painfully inattentive. On one occasion my plate of food sat for seven or eight minutes (no exaggeration) on the order-up counter before I was finally able to call it to the waitress's attention. They never heard the order-up bell or thought to check.
Eugene City can't draw on its food menu as nearby Steelhead does, and can't deliver on the college town cheap beer imperative. It would seem to be stuck in a perilous chasm in between. Some of the house beers are deserving of greater attention. But the lack of local support here is telling. Let's hope this circumstance can turn around before Eugene City goes the way of its predecessor.
1,978 characters
4.13
/5
rDev
+6.7%
vibe: 3 | quality: 4.5 | service: 4 | selection: 4.5 | food: 3.5
I understand that this establishment has bounced through a number of owners and names in the recent past. It is now a Rogue pub, and as such is very similar to the one Portland, and has a very similar atmosphere: lots of wood seating, spacious and a little too jock-friendly for my liking. It's not cosy, but not unpleasant.
As well as a similar range of Rogue beers to the ones on offer in Portland (I'm not sure which of these if any are brewed on the premises) and Rogue bottles to go, there are four Eugene City beers which are brewed on the premises. I tried the IPA (unfortunately I don't remember the name, but it had something to do with the Oregon Ducks (a local college thing: this is a quintessential big college town like Ann Arbor)) and was impressed with it, as I unsurprisingly was with the Rogue beers I tried.
The service was great. Our server (who may well have been the manager) was interested to see me taking notes, and offered us a few free samples. He was keen to talk about the beer.
As in the Portland pub (and the supermarket) the beer (including the Eugene City brews) comes at a premium, but all in all it's probably worth it.
Their fries were good, but I guess that it isn't a great indicator of the quality of their food since even I can make good fries!
1,296 characters
Eugene City Brewery in Eugene, OR
Brewery rating:
3.88
out of
5
with
172
ratings