Old Man Rafferty's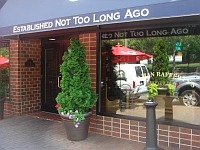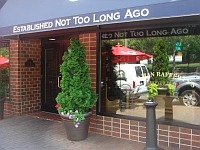 PLACE INFO
Type:
Bar, Eatery
106 Albany St
New Brunswick
,
New Jersey
, 08901-2106
United States
(732) 846-6153 |
map
oldmanraffertys.com
Notes:
No notes at this time.
Added by BeerAdvocate
PLACE STATS
Reviews:

10

Ratings:

pDev:

9.02%
HISTOGRAM
View: Place Reviews
Ratings: 15 | Reviews: 10

3.71
/5
rDev
+1.4%
vibe: 3.75 | quality: 3.75 | service: 3.75 | selection: 3.5 | food: 4
This is a well-known and popular restaurant in downtown New Brunswick. The food is solid but not spectacular. The craft beer selection is typical of a restaurant. One or two good choices but mostly macro brews.
213 characters
3.69
/5
rDev
+0.8%
vibe: 3.75 | quality: 3.75 | service: 3.75 | selection: 3.5 | food: 3.75




3.45
/5
rDev
-5.7%
vibe: 3 | quality: 4 | service: 3.5 | selection: 2.5 | food: 4.5
I visited right after Pitt's close loss to Rutgers on 17 November 2007 and a family was waiting outside as we approaches, plus the view through the windowfront along Albany Street was less than promising. My buddy really wanted to come in, so we pressed on, through the glass- paned vestibule and up to the m.d.s., just inside the door. When I inquired about a table for two, I was doubtful, but we were immediately shown to a table in front of a wooden bookcase near the entrance to O.M.R.'s Gourmet Shoppe. Further aft, past the m.d.s., was a sea of restaurant tables and chairs. Off to the left was a set of steps leading up to the bar area.
Our server was not terribly well versed on beer, so I kept him busy. I inquired as to a draught that they had listed, but which had since gone off, then had him quantify precisely what constituted "Flying Fish Seasonal Offerings". I went with the FFBC XPA, but he brought it sans glass! Fuksake, do I look like a BT baby at my age?!? A colleague of his was kind enough to bring me a pint glass.
The upshot: Neither the draft (poor) nor the BT (decent but not great) selection were enough to qualify this place as BA-worthy under current standards. That said, I was not the one to add if, nor was I the first to review it, so why quibble? Their food was excellent and that may be enough for some. Plus, ambiance, service, selection, presentation, and quality were all 1000 times better than Bennigan's, where I ate the night before due to time and geographical constraints.
1,519 characters

4.08
/5
rDev
+11.5%
vibe: 4 | quality: 4.5 | service: 4.5 | selection: 3 | food: 4.5
Being a former Rutgers of New Brunswick student, I had the opportunity to go out here to grab a bite and have an afternoon drink with my father while visiting the campus... located in the middle of a college town, the place has a down-home atmosphere that hosts lots of regulars along with a sizable college crowd, as well as some business people that come in from the many different corporations that surround the vicinity... The quality of the food and drinks were really good, a lot of dishes to choose from and a decent number of staple samples on tap... Service was really good... our server was very attentive and conscientious to our needs... Food was really good... had a burger and fries and was impressed with the overall quality... the only downside was that the place was a bit pricey, which I thought was odd for an establishment being centrally located in a young college town like New Brunswick...
912 characters
3.95
/5
rDev
+7.9%
vibe: 3 | quality: 4 | service: 3 | selection: 5 | food: 4.5
Good choice more so based on the food than the beer. Once in a blue moon, they will surprise you with some good tap selections or some different seasonals but usually the run of the mill stuff. Better off beering it at Old Bay, Harvest Moon or Stuff yer Face. They do have a decent bottle selection but dont expect the servers to know much about this- but again, its not a beer bar so expectations should be mild.
My favorite approach is to have a couple easy drinking beers here with dinner (this place has an enormous menu with good sandwiches and seafood specials) and roll down the hill to Old Bay for some good session beers on tap.
The selection of food here is phenomenal and Ive developed my favorites over time. The quality of the food is usually very good and the service is hit or miss. Some times they are just overcrowded and confused, and the place is large but can really stuff you in like sardines.
Dont forget to hit the dessert shop on your way to Harvest Moon or Old Bay on the way out.
1,009 characters
3.43
/5
rDev
-6.3%
vibe: 3.5 | quality: 3.5 | service: 3 | selection: 3.5 | food: 4
Old Man Rafferty's is a destination for college students in search of a decent meal or a place to bring their parents when they visit. Upscale and far more interesting menu than an Applebee's, but I can see a slight resemblance. Food is always great, but priced somewhere between reasonable and pricey. Service is hit or miss and there is often a wait to get a table. My biggest complaint is the tight feel of the entire restaurant. It always feels like I'm eating with the table next to me because they have them crammed in there. A 15% reduction in the number of tables would be great, but there a business and it's tough as it is to find a seat quickly.
This isn't really a beer destination, but they do have Duvel, Sam Smith, Lindeman's, Purple Haze and SNPA available in bottles. Nothing exciting on tap. Recommended for a lunch, but too crowded and busy for dinner. I prefer Harvest Moon and Old Bay for more exciting beer choices. One thing to note are the amazing cakes and pies made at the restaurant, which like the Tomato Basil, should not be missed!
1,063 characters

3.48
/5
rDev
-4.9%
vibe: 3 | quality: 4 | service: 4 | selection: 2.5 | food: 3.5
Swung in here the other night for a nice little dinner with the ol ball and chain. Pretty decent waiting list but because we were just two we only had to wait about 10 min. Atmosphere is ok....more of a restuarant than a bar imo....Food selection and quality wad good...i got a steak and it was pretty good...the misses got steak and shrimp and the shrimp were delicious....beer selection was about par....nothing exciting on tap and i saw some sam smith bottles along with a duvel and chimay...so they had some nice stuff the compliment the food but not worth going specifically for the beer...like the other review say just go around the corner
646 characters
3.05
/5
rDev
-16.7%
vibe: 3.5 | quality: 3 | service: 3.5 | selection: 2.5 | food: 3
This is local hangout that is big with many Rutgers students. I think it is a higher priced version of Bennigans. The food is good, but I don't think the beer selection is anything special. With Harvest Moon practically across the street, there is no need to go here in my mind. Harvets Moon beers are quite good, and the food is better. It does get quite crowded if you want to go where everyone goes and is not a bad place to eat , but there are better out there. I don't really consider this much of a beer destination.
522 characters

3.43
/5
rDev
-6.3%
vibe: 3.5 | quality: 3.5 | service: 3 | selection: 3.5 | food: 4
I've been going to Rafferty's for years since it is close to work and it is one of seveal restaurants we frequent that are slightly better than the Friday's, Applebees, and Bennigans in the area. The place is always crowded, and they have a policy of not giving you a table until your entire party arrives (which I don't like).
I think the place has stumbled a bit when they expanded the dining area, creating some 25 new tables. It has gotten back to the same levels pre-expansion. Service is all over the board, sometimes good other times so-so. The food is good, and I have never been disappointed on that front. They have a decent beer selection, but on average not pushing any boundries beyond the larger micros.
Parking is difficult, especially on a Friday at lunch. If parking deck around the corner is full, you'll be walking more than a few blocks (if you find a parking spot). When I am in New Brunswick for beer, I head to the Old Bay. But if you want SNPA and a burger, OMR is fine.
1,000 characters
3.7
/5
rDev
+1.1%
vibe: 3.5 | quality: 4 | service: 3 | selection: 4 | food: 4
Good but not great. There is always a wait to get into this place since it is pretty much the only decent middle of the road restaurant in this college town. Selection is good, but not nearly as diverse as it should be considering the beer list size. It definately does cater to the college crowd's tastes, which is should because after all it is a business. I've never had enything to eat there that I didn't like. The menu items range from sandwiches to quasi-Italian. As someone before me had said, the tomato basil soup is not to be missed. The service is kinda flaky and what you would expect from some crappy chain place like Friday's or Applebee's. Beerwise, you'd be much happier around the corner at The Old Bay or Harvest Moon.
737 characters
4.5
/5
rDev
+23%
vibe: 4.5 | quality: 4.5 | service: 4.5 | selection: 4.5
There's a very special place in my heart for Old Man Rafferty's. It was there my pastor and I celebrated the success of an emergency 5-hour operation that saved my wife's life.
To be honest, all we drank was Sam Adams (probably far more than we should have, but hey...we were entitled) and I remember the bar and eating area as being very, very crowded. There was a lot of hubbub in the place, so don't expect solitude when you visit. It's definitely a happenin' place.
What struck me was that the place was as crowded than the Harvest Moon Brewpub--a pretty good place in its own right back then--right around the corner.
The bartenders and waitresses were extremely friendly (or so it seemed to these eyes which were looking through distorted lenses that night).
I'd sure go back again, and by gum, I'm going to do it next week. I owe Old Man Rafferty big time.
I'm bringing the missus, and I hope we can find a parking space close by. That area gets pretty crowded.
983 characters
Old Man Rafferty's in New Brunswick, NJ
Place rating:
3.66
out of
5
with
15
ratings