Ambree
| Brasserie Moulin D'Ascq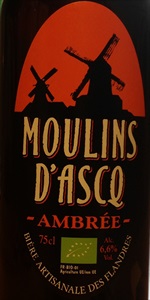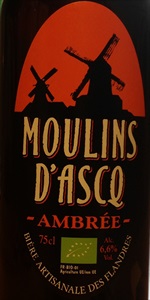 BEER INFO
Brewed by:
Brasserie Moulin D'Ascq
France
lerelaisinternet.com
Style:
Belgian Pale Ale
Alcohol by volume (ABV):
6.60%
Availability:
Year-round
Notes / Commercial Description:
No notes at this time.
Added by BlackHaddock on 10-26-2007
HISTOGRAM
Ratings: 13 | Reviews: 7



3.52
/5
rDev
-7.9%
look: 4.25 | smell: 3.5 | taste: 3.5 | feel: 3.75 | overall: 3.25
750 mL corked and caged bottle best before November 2014, lot # 8013. Served in a Karmeliet tulip.
Looking at previous reviews it seems this beer gets reviewed every 2 years. So I'm holding to tradition.
Appearance: Cloudy orange amber. Big rocky persistent head. Big sheets and strands of persistent lacing.
Smell: Yeasty, with some fruity esters. Some sweet sugary notes at the end as the beer warmed up.
Taste: Malt sweetness up front, then some fruity esters followed by a sharp bitter transition. The hops at the end remind me of a mix of English bittering hops and German style noble hops. Herbal and sharp bitterness is a good way to describe the finish.
Mouthfeel: Airy, a little bit sticky, and a thin creamy thickness.
Overall / Drinkability: Not the best Belgian pale ale I've ever had. I suspect too much yeast came along for the ride during the pour, but translating the French on the bottle makes it clear that this is an unfiltered unpasturized beer - so the sediment is part of the experience I suppose. That being said, all those wonderful flavors you get from a Belgian yeast seem lost here, and instead you get strong bitter hop flavors countering a delicate malt and fruity ester flavor. A bit unbalanced in my opinion. I'm finding I don't want another. Interesting French take on a Belgian style, but something has been lost in translation.
1,372 characters

3.58
/5
rDev
-6.3%
look: 4 | smell: 3.5 | taste: 3.5 | feel: 4 | overall: 3.5
Served in a pint glass from a 330ml bottle. Pours a thick, cloudy amber color with a nicely thick head. Carbonation is quite visible in midst of the cloudiness, which tangles around the various floaties within the glass. In my opinion (and experience of trying northernmost French beers) this is how ideal ambrées should look. For this matter, I'd sooner consider this a bière de garde than a Belgian-style pale ale, but it can go both ways with the brewery's proximity to Belgium.
Smell manages to be quite interesting. Malty and biscuity, yet other unique aromas preserver as well. There's a clear sweetness due to the alcohol, but I'm also catching caramel malts with honey-drenched and nougat aromas. Not much stinging hoppiness in the beer, but it remains curious and inviting.
As I perhaps expected, this beer is about as creamy as many dubbels that I've had - and also nearly as alcoholic. But, there are no flavors here that necessarily overpower each other. Upon several more tastes (and allowing the beer to warm up), I picked up tasty notes of melons and apricots. The caramel-tasting malts are indeed scrumptious as well. Its yeasty flavor makes it a very comforting beer.
As far as I'm concerned, this beer wins in terms of mouthfeel and drinkability. This is because of how easy this is to drink. There's no dryness to speak of, but no water-like texture as well, possibly due to the great creamy malts that this beer holds. The slightly high ABV manages to slightly warm the throat up a bit. A little too much carbonation throws the characteristics off a bit, but the malts are too flavorful to ignore.
Really good stuff - am looking forward to exploring more French beers of this style.
1,708 characters
3.81
/5
rDev
-0.3%
look: 4.25 | smell: 3.75 | taste: 3.75 | feel: 4 | overall: 3.75
Hedging on the rustic and toastier end of the spectrum from the typical blond, fruity and floral versions- Ambree is a dry and earthy taste that sings to all-things Belgium.
Its mid-amber color is everything that's advertised in the beer's branding. With a snow globe of yeast swirling about, the ale is obviously hazy with a casual glow coming from behind. Its strong effervescence causes its foam to nearly topple the glass. But with patience, a rocky ivory head builds and clings to the glass with intricate lacing patterns as the beer fades.
Bright and acidic to the nose, the beer kicks off with a strong wine-like presence with notes of white grapes and lemons. But its backbone is its underpinnings of bread and crust and light caramel. Pecans and light fig notes reinforce an earthy but fruity tone.
Its savory and toasty sweetness starts off honey-like but quickly turns bready and delicately yeasty just as the fruit and spice settles in. Going nutty and crusted, its middle palate brings red apples, dates, light cherries and pommegranite with its under-ripened charm and its vinous acidity. A spicier counterpart is subtler and is lightly of rye, peppercorn and nutmeg-like. Diving into finish, its lasting impressions are of rose wine, mulled spice and pleasantly grassy hop bitterness.
Mid-light on the palate, the ale's effervescence easily pushes the already dry and toasted malts from the mouth to achieve refreshment and drinkability early on. But as the ale takes on a quick finish, its malt sweetness easily dissolves and its carbonation dries the taste for a deliciously and delicate texture that's akin to sparkling wine.
This is an effortless beer as a stand-alone ale or as a complement to a wide arrange of foods, especially of the saucier and fatty French succulent fare. Everything from potato to sharp greens, to rich meats, and to earthy sea foods- this ale is a no-loose choice.
1,913 characters

3.86
/5
rDev
+1%
look: 4.25 | smell: 3.75 | taste: 3.75 | feel: 4 | overall: 4
Enjoyed from the bottle in a snifter. This nice little French ale pours a lightly hazy rustic orange with a sizable white head of dissipating foam that forms a thick fluffy layer and ring with nice lacing. Nose of earthy yeast, moderate fruit notes, caramel notes, lemon zest, and some mineral notes. Flavors follow the nose with caramel malt flavors to the front, mild stone fruit flavors of peach to the middle, then marrying with a mild lemon zest that fades to a earthy yeast flavor that finishes moderately dry. Medium mouth feel with nice carbonation. SOLID. A treat from France.
Cheers
599 characters
3.97
/5
rDev
+3.9%
look: 3.5 | smell: 4 | taste: 4 | feel: 4 | overall: 4
Poured from 33cl bottle into an oversized wine glass. Large head dissipates quickly, with a bit of lacing.
Color in the middle of the spectrum for the sytle, unfiltered. Lovely nose, grassy and floral. There is a pleasant light hop bitterness, especially in the finish. I notice a little bit of spiciness and malt sweetness, though its really hard to pin down the flavors. Orange peel, maybe? Licorice? Very good balance in the taste, if subtle. The beer rolls around in the mouth nicely, avoiding the watery body that some ambers have.
I'm impressed with the beer. It's not just an organic beer made to fill a niche market, it's a quality beer made with organic ingredients.
677 characters
4
/5
rDev
+4.7%
look: 4 | smell: 4 | taste: 4 | feel: 4 | overall: 4
This was the third bottle in my collection of beers from this brewery and also the third bottle in a French beer tasting evening I had earlier in the week.
A cork and caged 75cl brown bottle best before July 2008, drank in Oct 2007.
Poured into my Hogaarden Grand Cru glass (twice).
The first pour gave a lovely clear, golden coloured beer with a small white head. I allowed the sediment to fall into my second pour, which produced a murkey darker yellow/orange looking liquid that had a grubby cream head.
The two glasses obviously gave me two vastly different tastes and it was like having two different beers, I liked them both. The clean taste of the first beer was so refreshing and the meatier second pour had such a depth of body it was great too.
This breweries beers are all good, the beers are flavoursome and well made, this beer is a fine exmple of a Flanders amber beer.
898 characters


4.03
/5
rDev
+5.5%
look: 4 | smell: 4 | taste: 4 | feel: 4.25 | overall: 4
750ml. Picked up at Grapevine. Slightly cloudy dark gold pour, plenty of carbonation throughout. 3 fingers of white head recedes a bit, just a bit sticks to the glass.
Aroma, Yeasty, grainy and light fruity esters. Some citrus zest and herbal hop notes.
Taste, Light caramel, some stone fruit. Yeast comes through after. Citrus and more herbal hop bitterness, in the mildly dry finish.
Between light and medium body, proper level of carbonation. No alcohol presence, highly drinkable.
A real nice rounded beverage.
517 characters
4.13
/5
rDev
+8.1%
look: 4 | smell: 4 | taste: 4.25 | feel: 4.25 | overall: 4
4.74
/5
rDev
+24.1%
look: 4.5 | smell: 4.75 | taste: 4.75 | feel: 4.75 | overall: 4.75
Ambree from Brasserie Moulin D'Ascq
Beer rating:
3.82
out of
5
with
13
ratings