McK's Tavern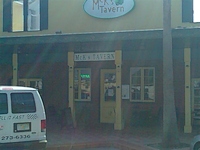 PLACE INFO
Type:
Bar, Eatery
218 S Beach St
Daytona Beach
,
Florida
, 32114-4404
United States
(386) 238-3321 |
map
Notes:
No notes at this time.
Added by BeerAdvocate on 07-24-2005
Ratings: 13 | Reviews: 9
Reviews by cratez:

4.28
/5
rDev
+1.2%
vibe: 4 | quality: 4.5 | service: 3.5 | selection: 5 | food: 4
My girl and I stopped in here for lunch & drinks on a recent trip to Daytona.
Atmosphere is typical Irish pub with dark wooden tables and chairs all throughout the establishment and a dimly lit ambience (even during the day). The long, old fashioned bar probably seats 25 people. Bartenders are a friendly, chatty bunch, as they were engaging several patrons on the finer details of various craft beers during our visit.
Our waitress on the other hand was less-than-enthusiastic. It seemed like she was having a rough day and wasn't afraid to let the customers know about it. But our food and drinks arrived promptly and she was quick to fetch us some extra condiments and napkins when we asked for them.
The beer selection is quite impressive. I ordered a pint of Stone Smoked Porter and Terrapin Wake-N-Bake Oatmeal Coffee Stout, and noticed around 33 other, mostly craft taps from Cigar City, Victory, Sam Adams, Brooklyn, Blue Point, and Sierra Nevada.
My understanding is that the bottle list includes everything on the menu - which was slightly out of date when we came - as well as all of the beers sold at Bottle Caps next door. So between the menu and the beer store, the micro bottles likely total 200 or more. In light of this, patrons who are interested in drinking bottles at McK's should peruse the store before ordering at the bar, as the beer menu excludes many of the bottles that are available for purchase.
For food we split a delicious chicken salad sandwich and a bowl of spicy southwestern chicken soup. Both dishes tasted excellent and came in generous portions at good value.
Overall, I can see why this place is considered the best beer bar in the city. It has the largest and highest quality beer selection with bartenders who really care about the products they're serving. Although our waitress could have done a much better job, I'll definitely be returning here on future trips to Daytona.
1,931 characters
More User Reviews:
3.97
/5
rDev
-6.1%
vibe: 3.75 | quality: 4 | service: 4 | selection: 4
4.64
/5
rDev
+9.7%
vibe: 4.5 | quality: 4.5 | service: 4.5 | selection: 5
Agree with all the reviews. This is a great craft beer bar.
Two points worth noting:
- Happy hour ($1 off beer)
- no WIFI.
123 characters
3.55
/5
rDev
-16.1%
vibe: 3 | quality: 4 | service: 3 | selection: 4 | food: 3
In town for the Daytona 24 hours. Looked at the reviews and seemed like one of the best in the area. It was very busy night and all tables were full. It took a long time for a server even to come over to us. The waitress gave us a beer menu and all of the seasonal beers said ask us whats available. When another person came over to see if we needed drinks we asked what the seasonal was. There was no beer menu and he asked what style that we liked. I told him I liked a lot of different styles. I asked about Cigar City, Founders and Bells. He said that the had Two Hearted on Furkin. (the Two Heared on Furkin was served in chilled glass, so was everything else....) I took that and then the waitress came back later and I asked for the seasonals again. She said there was a lot and went to write them all down and came back. 2nd beer was a Seventh Sun Belgium Strong Ale followed by Founders Breakfast Stout.
Overall I believe this is a very good beer bar. I believe they were under staffed because of the race in town. You think they would have a sheet to print out that had the current beer offerings. Food was very good for pub food. They could take it to the next level if they improve staff knowledge and timeliness.
1,227 characters

4.53
/5
rDev
+7.1%
vibe: 4 | quality: 4.5 | service: 4.5 | selection: 5 | food: 4
Went here for a weeknight dinner while on vacation. The place was almost empty at 6-7pm.
The only patrons were at the bar. We hoped that wasn't a sign of things to come...
Our server was prompt and on point. The food was all hot and quickly delivered to us.
Reuben, potato cakes, HUGE cheeseburger and couple kids meals were most of our order.
There were 40+ taps and 100+ bottles that were a very solid selection.
Not sure why the place was empty but me and my family enjoyed our meal and my beers here. We will return again.
Also visit Bottle Caps in the adjoining store next door for To Go bottles as they have a nice selection.
636 characters

4.5
/5
rDev
+6.4%
vibe: 4.5 | quality: 4.5 | service: 4.5 | selection: 4.5 | food: 4.5
The wife and I go to McKs a couple times a month as we live close by. We always try something different from the menu everytime we go. The weekly specials on Saturday night are pretty good and tastee deals. Last night the chef did a fantastic job with a pan seared Mahi Mahi in Tuscan white wine sauce served over carrots,red onions and celery. It was the best thing I have eaten their so far.I washed this delicious meal down with a couple of DFH Chicory Stouts.The waitress then informed us of the other restaurant that they own called Windy City had Liquid Bliss and Wake n Bake on tap their.It was just 2 buildings to the south and a great way to end the night out.Great job gang.
684 characters

4.33
/5
rDev
+2.4%
vibe: 4.5 | quality: 4.5 | service: 4 | selection: 4.5 | food: 4
Visiting family in Daytona Beach, and went to this place based on reviews in BA. Definitely a good choice.
Long, narrow, a little dark. Brick and wood, a pub-style atmosphere. Booths and tables on one side, a long bar on the other. The bar looked like it could seat 40 people. There were some high tops in the bar area, as well as the ubiquitous TVs. We were there on a Wednesday at lunch, and the place was pretty busy. I can only imagine what a busy weekend night would be like.
There were 42 beers on tap and at least 150 bottles. A nice mix of domestics and foreigns, and a good number of regional beers. My wife and I had Cigar City's Jai Alai IPA, one of my favorite IPAs. First time for my wife, and she loved it.
We had a split opinion on the food. We're vegan, so there's always some difficulty in ordering. I had the chicken, black bean, pepper, onion (sans chicken) over salad greens, and it was excellent. Nicely spiced, went well with the IPA. My wife was less impressed with the veggie burger.
Service was efficient.
Thoroughly enjoyed our time at McK's. If my sister and brother in law go back to Daytona next year, and they invite us down, I'll go back to McK's in a heartbeat.
1,198 characters
4.78
/5
rDev
+13%
vibe: 4.5 | quality: 5 | service: 5 | selection: 4.5 | food: 4.5
At the suggestion of the staff at the attached Bottle Caps bottle shop, I stopped in for a few hours and enjoyed some beers and dinner. Arrived about 5:30, stayed until about 10. It was a Wednesday and was pretty dead for most of the time that I was there, but the bartender (Piet) was friendly, chatty, and super knowledgeable about beer. Definitely has a chill, Irish Pub vibe and I liked it a lot.
Tons of great beer on tap. I tried a bunch of beers for the first time: Cigar City Jai Alai, Rogue OREgasmic Ale, Murphy's Red, DFH Palo Santo Marron and Cigar City Florida Cracker White Ale. Murphy's was the underperformer of the group, but that's ok. I paired it with a ridiculously delicious Guinness Stew (made with veal!) that had some real peppery kick, so the subtlety of the Red was appreciated compared to the other beers I tried. If you get the stew, make SURE to go with the bread bowl.
All in all, it was an awesome bar experience. Highly recommend it, and I will definitely be going back next time I'm in town. Maybe I'll even get lucky and show up when they decide to tap the keg of DFH 120 the bartender said they were saving in the back for a special occasion!
1,179 characters

4.35
/5
rDev
+2.8%
vibe: 5 | quality: 4 | service: 5 | selection: 4 | food: 4
If you are in the Daytona Beach area and want to drink good beer, you will not find a place with a selection that rivals McKs.
The atmosphere is great because the bar itself is large, and is never overcrowded. A group of buddies can go to this place any night of the week and find a good place to sit.
The selection is pretty usual. It has a lot of rare beers, but besides seasonals, there are few surprises.
The food is great.
My biggest complaint is that this place has the best selection in town (store or bar), BUT it does not have a license for people to carry out. There have been times that I saw a beer I liked but didn't want to attempt to drink it there because of a high ABV or because I've already had a few, but they won't let you buy one and take it home. I realize many bars are like this in Florida, but I feel this bar having such a large selection should find away to get the license to sell take out beer.
930 characters
4.43
/5
rDev
+4.7%
vibe: 4.5 | quality: 4.5 | service: 4.5 | selection: 4 | food: 5
I decided to try this place out thanks to Thunderballs suggestion. Atmosphere was adequate. Great location as well. David seemed to be quite knowledgable about his beers. Suggested that I try a few new ones. Prices were fair, although originally being from the west coast, it gripes my ass to pay a higher price for Stone products. Service was fast and friendly, and food was delicious (I suggest Shepards Pie). Selection was quite impressive for the location. They also have a good beer guide with a list of all the beers, and a little bit of info about them. All in all it was a great place to take a few friends that enjoy craft beer. My only complaint is that I just missed out on their shipment of Sublimely Self Righteous ale. Damn!
**Update** The Leprechaun Dip is Fucking Outstanding!
792 characters
3.78
/5
rDev
-10.6%
vibe: 3 | quality: 4 | service: 2.5 | selection: 5 | food: 4
Prior to arriving in the Daytona Beach area, I checked out the local places here on BA. This one sounded good.
The atmosphere is a split between sports bar and pub with the bar area heavily weighted towards sports. Plenty of beer signs and soccer jerseys. 1/2 dozen TV's over the bar with 4 others throughout the place.
The important stuff: Beer. The beer menu states 160 bottles and 34 draughts. Drafts are listed by name with state and ABV plus a brief description. Mostly US brews, megas and regionals with some Irish, English and Germans. Bottles are listed by style (with a description of the style) then by country with ABV & size, some 22 oz., most 12oz.
Service was a little slow at 5:40 p.m. Saturday 11/14/09. Only 2 servers covering 15 tables and booths. Waitress apologized and I was not the only one waiting. I'm giving them the benefit of the doubt here and guessing they were just understaffed. Very friendly regardless.
Outdoor sidewalk seating is available. Booths are huge, will seat six. Two dartboards in back.
The blackened Gorgonzola burger with fries came hot and well presented, had a very good flavor to it though it was not juicy at all. The Guinness stew looked phenomenal!
Even if you're not drinking, I would consider this place. (So very much better than the other place I stopped, Tir Na Nog. I couldn't find Robbie O'Connell's even with the GPS.)
1,384 characters
McK's Tavern in Daytona Beach, FL
4.23
out of
5
based on
13
ratings.