Emelisse Blond
| Bierbrouwerij Grand-Café Emelisse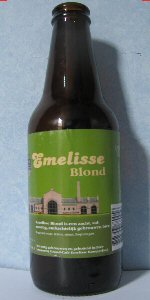 BEER INFO
Brewed by:
Bierbrouwerij Grand-Café Emelisse
Netherlands
emelisse.nl
Style:
Belgian Pale Ale
Alcohol by volume (ABV):
7.50%
Availability:
Year-round
Notes / Commercial Description:
No notes at this time.
Added by Absumaster on 05-29-2009
Reviews: 11 | Ratings: 27
4.5
/5
rDev
+20.3%
look: 4 | smell: 4 | taste: 5 | feel: 4 | overall: 4.5
I had this beer on tap at In de Wildeman in Amsterdam (which is an awesome bar and a must visit if you are in Amsterdam). It honestly is one of the best blonds I have ever tasted, hence the 5 rating on the taste. If you have tasted Emelisse beers, you know they are really rich and full of taste and depth. This blond is no exception, absolutely spot on.
Numbers above speak for themselves. A great blond for a summer day or an evening drink. One of my favorite blonds to date.
478 characters

4.05
/5
rDev
+8.3%
look: 3.5 | smell: 3.5 | taste: 4.5 | feel: 4 | overall: 4
Nice clear amber color, not much of a head at all, but there's some nice big bubbles floating around.
Smell is light and fresh, malty, slightly grassy, some sweet touches of caramel. It's all a bit faint though.
Taste starts with some nice malts, bready, some fruits (apricots, later on grapefruits and light banana touches) then bitterness kicks in. Nice combination of yeast and hops, unexpectedly bitter for a blond. Aftertase has the hops, light grapefruits and a slightly metallic touch that doesn't bother me.
Mouth is medium with just the right amount of carbonation.
Overall this is a really good blond. There's a lot going on, and I really love how the beer is complex, fresh and drinkable. It might be a bit bitter for some, but I quite enjoy that.
766 characters

4
/5
rDev
+7%
look: 4 | smell: 4 | taste: 4 | feel: 4 | overall: 4
We had a grand beertasting a few days ago thanks to Mar02x. A new BA member with a great mind on beer.
This was the second bottle we started with.
Poured in a mormal winelike glass. A very darkyellow colour with soem nice carbonation. One finger broken white head. This beer doesn't taste like a blond beer because of the floral hops. Some light peachflavor in the mouth. Good beer!
385 characters
3.87
/5
rDev
+3.5%
look: 4 | smell: 4.5 | taste: 3.5 | feel: 3.5 | overall: 4
This was the second beer we started with at a beer-tasting at my place.
A – Bright dark yellow/ fluid with a thin head.
S – Smell of hops, lots fruits and citrus. Very promising.
T – Lots of fruits and surely peaches. Hop is present but beautifully balanced with the other flavours.
M – Nice good feeling
O – A good blond with a very nice and pleasant smell. You want to take a swig right away. The taste is good but doesn't live up to the expectation of the smell.
482 characters

3.75
/5
rDev
+0.3%
look: 3.75 | smell: 3.75 | taste: 3.75 | feel: 3.75 | overall: 3.75
Clear amber colour with a 3-4 finger head that won't last too long. Smells like fresh-cut grass and some Belgian yeast, along with feint bitter hops. The taste is a bit more intense (read: hoppy) than what you'd expect from the smell, with nice citrus and tropical fruit notes on top of a sweet malty base.
306 characters
3.74
/5
rDev 0%
look: 4 | smell: 3.75 | taste: 3.75 | feel: 3.5 | overall: 3.75
A fine beer, but from the look and taste of it i think it's more of an IPA than a belgian pale ale. A not that bitter one, so it might be a good starter for people who want to try this style for the first time. Nelson Sauvin prevalent in both smell and aftertaste. The alcohol keeps itself well hidden.
302 characters
3.62
/5
rDev
-3.2%
look: 3.5 | smell: 4 | taste: 3.5 | feel: 3.5 | overall: 3.5
Thanks to bu11zeye for sharing this bottle.
The beer pours a slightly hazy orange color with a white head. The aroma is strong flowers and citrus. This is a very nice smelling beer. The flavor is not quite as good as the aroma. I get notes of grass, flowers, bready malt and some medium hop bitterness. Medium mouthfeel and medium carbonation.
344 characters
3.55
/5
rDev
-5.1%
look: 3 | smell: 3 | taste: 4 | feel: 3.5 | overall: 3.5
An orange, amber colored beer with a thin, almost non-existant head.
Smell is a bit dextrinous and bready. Not too much going on. A little spicy, maybe some coriander or just the yeast profile. This could be the Belgian Ardennes smell.
Taste is a bit rough. The bitterness seems a bit out of balance with the rest of the beer. I like the level of bitterness, which is above average. There is little malt to balance this bitterness. The beer has some light caramalt and biscuity malt, but I feel it is not enough for balance. The yeast adds a solventy taste with ripe banana. Mouthfeel is sticky, not sweet and drinkability is OK.
637 characters
3.36
/5
rDev
-10.2%
look: 4 | smell: 3 | taste: 3.5 | feel: 4 | overall: 3
The beer is hazy amber, an off-white head, good lacing and good curtains.
Smelling of cereals, lemon and green grass.
Sweet toffee, lemon and grape, some spices and an alkaloid bitterness.
Medium carbonation, sticky and a bit coarse, a good body.
Feels like an APA with spices.
281 characters

3.28
/5
rDev
-12.3%
look: 4 | smell: 3.5 | taste: 3 | feel: 3 | overall: 3.5
A: Almost completely clear beer with a big head.
S: This beer has the smells of lemon and grapefruit.
T: The taste of lemon is nice but unfortunately I taste some plastic or something?.
M: Very much foam, and feeling quite drinkable.
O: This is not really my beer, slightly sour and a bitter aftertaste. Maybe I need to try this beer another time?
351 characters
3
/5
rDev
-19.8%
A: hazy, light tan, thick foam leaving lace
S: belgian yeasty
T: muddled fruit (banana, pear) then sudden attack of bitterness, then some caramel sweetness. bitterness and sweetness seem to stick on tongue. then bitterness goes down the throat. i can trace the taste path.
M: little bit sticky for belgian blond. i was told this is like american style pale ale. may be this is along that line, but leaning towards unbalanced IPA
O: a bit too bitter for my taste and cloying (bitterness and caramel)
506 characters
Emelisse Blond from Bierbrouwerij Grand-Café Emelisse
3.74
out of
5
based on
27
ratings.