Dismiss Notice
Emelisse Winterbier 2009
| Bierbrouwerij Grand-Café Emelisse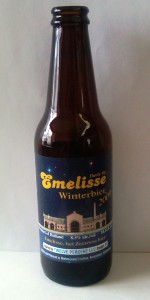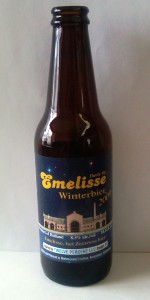 BEER INFO
Brewed by:
Bierbrouwerij Grand-Café Emelisse
Netherlands
emelisse.nl
Style:
Belgian Strong Dark Ale
Alcohol by volume (ABV):
8.50%
Availability:
Winter
Notes / Commercial Description:
No notes at this time.
Added by John_M on 02-05-2010
This beer is retired; no longer brewed.
HISTOGRAM
Ratings: 10 | Reviews: 9

2.95
/5
rDev
-18.3%
look: 3 | smell: 3 | taste: 3 | feel: 3.5 | overall: 2.5
Appearance: Pours out a medium brown body, fairly good clarity, with a few stray suds that vacant quickly.
Smell: Slightly sweet-scented, toasty malts treading towards a faint papery accent with low, vague hints of fruit, spice, and herb.
Taste: Toasty malts, a little graininess, and a touch of dark, raw sugars leaning sweet (just barely). A little herbal twang of gentian. Lightly fruity. Hint of cardboard. Sweetish, toasty finish -- there's just very little going on here, unfortunately.
Mouthfeel: Medium-plus body. Lowly carbonation.
Overall: Kinda bland, it's one of those lamentable beers that leave no lasting impression whatsoever, a beer where I'll come across this rating sometime down the road and go "huh? I had that beer?" So, lemme just give a shout-out to Future ChainGangGuy: Hi, man, from 2012!
818 characters
3.2
/5
rDev
-11.4%
look: 3 | smell: 3 | taste: 3.5 | feel: 3 | overall: 3
Poured 330ml bottle to Duvel glass. Scary miniscule hiss when bottle's opened. Yields a cloudy dark amber body. Opaque yet attractive color. Tiny head recedes to almost no lacing despite hefty pour. Aroma is faint. Some cola aromas. Maybe a bit of oxidation. Watered down caramel? Strawberry rhubarb... Flavor has similar cola intonations. A bit thin bodied but has a nice lingering spiciness.
393 characters

3.53
/5
rDev
-2.2%
look: 4 | smell: 3.5 | taste: 3.5 | feel: 2.5 | overall: 4
Pours a raisin brown color with nearly no head, and no lacing
Smell of raisin, figs, brown sugar, slightly barlewine-esqe in aroma with the sweetness rounding it out.
Taste of light clove, brown sugar , cinnamon and a good malt flavor mixture. Taste is very similar to a barleywine in style as well as a brown ale with a light spicing. Very low carbonation , nearly flat and a light mouthfeel. Not my favorite of the style and not bad but not really take a whole lot of time to seek out again.
495 characters
3.56
/5
rDev
-1.4%
look: 4 | smell: 3 | taste: 3.5 | feel: 4 | overall: 4
Thanks to bu11zeye for sharing this bottle. 2009 vintage.
Served from an oddly-sized 10.14 ounce bottle. The beer pours an amber color with a white head. The aroma is extremely malty. I get a lot of toffee and caramel, along with some bready malt. The flavor is a little bit different. I get a lot of toffee and caramel, but I also get some grassy notes from the hops and an assorted mix of spices. I also get some brown sugar notes which lead to the beer being very sweet. The flavor is definitely more complex and better than the aroma. Medium mouthfeel and medium carbonation.
581 characters
3.9
/5
rDev
+8%
look: 3.5 | smell: 3.5 | taste: 4 | feel: 4.5 | overall: 4
Aromas of lots of dark fruit on the nose with some prune and raisin most prominent, dark caramel, brown sugar, molasses, and a touch of winter spice. The yeast adds notes of Belgian cloves as well which adds that all familiar odor.
The taste is very dark and malty with rich flavors of prune and raisin, brown sugar and molasses. There is a definitive Belgian yeasty profile on the subtler side but absolutely provides some fruity esters and clove spice, vanilla and cinnamon aftertaste with a mild bitterness.
Medium body with solid mouthfeel throughout. Drinks a little higher in ABV than I would expect from an 8.5% Belgian offering ( I have consumed 11% of higher which have gone down faster). Regardless the flavors are absolutely out of this world and balanced. A little pricey for an 11 oz brew, but I can't argue because it is superb. I have the Imperial Stout aging right now, can't wait until I breakdown and throw it in the chiller.
945 characters

3.58
/5
rDev
-0.8%
look: 4 | smell: 3.5 | taste: 3.5 | feel: 4 | overall: 3.5
On tap at the Bilbo Baggins Stilwater/12% Imports dinner on Friday November 12, 2010. Vintage was not specified so I'll assume it's the beer that's already listed and not something new. Served in a wine glass.
Pours garnet with a bit of a brownish hue. There is an off white head and some slight lacing. The nose brings caramel and sweet malt with some cherry and fig notes along with a bit of spice.
The flavor is light cherry and earth with some spicing. Almost a bit of rye with some light booze. There's a little bit of orange marmalade in there as well. Light to medium body with slight oxidation and a few notes of sherry. The carbonation is pretty light but somewhat prickly. A pretty nice winter brew that takes things in a slightly-different direction.
764 characters
3.81
/5
rDev
+5.5%
look: 4 | smell: 3 | taste: 4 | feel: 3.5 | overall: 4.5
A: It poured dark amber in color with a small amount of bubbles in the head that quickly vanished. Some yeast particles are visible at the bottom of the glass.
S: There is a faint aroma of sweetness in the nose.
T: The taste has lots of fruity flavors of prunes and raisins; there is some sweetness in the overall taste. No traces of alcohol are detectable.
M: It feels medium-bodied on the palate and very smooth. There isn't that much carbonation.
D: This beer goes down very easily because the alcohol is well masked.
520 characters
4
/5
rDev
+10.8%
look: 4 | smell: 4 | taste: 4 | feel: 4 | overall: 4
a: served in a small, long-stemmed chalice, the beer is a dark nutty brown in color with a low head
s: lots of dark tree fruit on the nose - prune and raisin most prominent, dark caramel and molasses, a touch of winter spice and a mild hop nose
m: medium bodied with a lighter carbonation
t: darkly malty and rich with flavors of prune and raisin, brown sugar and molasses, yeasty profile on the subtler side but providing some esters and spice, vanilla and cinnamon aftertaste, lightly hopped with a mild bitterness
d: very enjoyable and certainly easy to drink
draft at Max's, Baltimore
593 characters
3.85
/5
rDev
+6.6%
look: 3.5 | smell: 3.5 | taste: 4 | feel: 4 | overall: 4
On tap at Max's today.
The beer pours a reddish, tawny brown color with OK head retention and lacing. The nose is hard to describe; maybe sweet malt mixed with spruce tips. Something along those lines would be my guess. The flavor profile is much more enjoyable, with something of a chocolate turkish toffee flavor, coupled with some underlying spice. The beer is no more then moderately sweet, with a light to medium bodied mouthfeel. Drinkability is OK, with the aloohol level well disguised.
While a bit one dimensional (at least on the palate), this is still a pleasant, enjoyable, easy to appreciate beer.
617 characters
Emelisse Winterbier 2009 from Bierbrouwerij Grand-Café Emelisse
Beer rating:
3.61
out of
5
with
10
ratings