Emelisse TIPA
| Bierbrouwerij Grand-Café Emelisse
BA SCORE
84
good
31
Reviews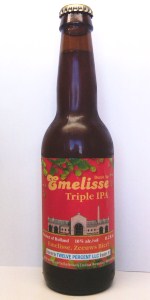 BEER INFO
Brewed by:
Bierbrouwerij Grand-Café Emelisse
Netherlands
emelisse.nl
Style:
American Double / Imperial IPA
Alcohol by volume (ABV):
10.00%
Availability:
Rotating
Notes / Commercial Description:
Formerly Emelisse Triple IPA
Added by Brabander on 09-26-2010
Reviews: 31 | Ratings: 70

4
/5
rDev
+7.2%
look: 4 | smell: 4 | taste: 4 | feel: 4 | overall: 4
Just found stacks of beer reviews/notes from my last trip to Holland and Belgium (September 2010). They're brief and scattered, and far less descriptive than my normal reviews, but I think it does well enough to give one a good idea of what to expect from a particular brew.
Poured into a long stemmed wine glass from the tap at BeerTemple in Amsterdam. The bartender that evening told me it's brewed with only Cascade and Amarillo hops.
A: Golden copper, decent head and thick lace.
S: Similar to a Cali DIPA - spicy resinous hop that is balanced well with a good dose of sweet malt, clean finish and surprisingly no booze.
T: Classic Cali DIPA flavor - very well balanced with sweet bready malt, but the hop dominates with a major bight and lingering bitterness throughout, and just a hint of hot booze at the very end. One of the better Euro IPA's i've tried.
M: Medium bodied, light carbonation, with a creamy finish.
D Extremely easy drinker for the style - I knocked back a few in a single sitting no problem, but be careful - these guys will sneak up on you at 10%.
★
1,080 characters
4.2
/5
rDev
+12.6%
look: 4 | smell: 4 | taste: 4.5 | feel: 4 | overall: 4
33 cl. bottle, bb june 2013. I guess it's a very recent bottling.
Tripel IPA.
Smell is actually very delicate. It's like IPA, obviously, but not extreme dominant like most IPA's.
Taste is more like the real stuff. Very bitter, spicy bite.
The alcohol is not given a chance, except to warm your inside slowly. Very nice experience, as usual.
Good beer. Perhaps a bit over the top.
★
382 characters

3.45
/5
rDev
-7.5%
look: 3 | smell: 3 | taste: 3.5 | feel: 4.5 | overall: 3.5
33cl bottle poured into a tulip glass.
If ever there was an unfiltered beer, it is this one. Upon opening the bottle, there was a thick wad of gooey sediment clinging to the top of the bottle. (though natural, tremendously unattractive!) This pours like a rich, fresh pressed apple cider: cloudy and hazy brown.
The nose is oddly underwhelming with bits of honey and hops. Not nearly as much of a hoppy nose as I was expecting considering the insane amount of hops actually in the beer.
The mouth is very, very bitter with a fermented-apple like bite to it. But once past the initial kick, I am able to perceive a reasonable balance between the bitterness and a floral hop sweetness. There is lots of honey in the mouth as well, and at times it reminds me of a honey mead.
Overall, tremendously interesting and unique, but not something I necessarily enjoyed drinking. Glad to have had, probably won't have another.
★
919 characters
3.85
/5
rDev
+3.2%
look: 3.5 | smell: 3.5 | taste: 4 | feel: 4 | overall: 4
In the glass, this beer is a wonderful mess: when taken as a whole, it's imperfections reflect a human hand at work and signal potential good things to come. Its muddy amber body is crowned with a preposterously rocky head that creates some nice lacing on the glass and, inevitably, on your face.
The smell is surprisingly malty. Lots of sweet flan and caramel, reflecting the profile of an English Barleywine. As far as the hops go, there is plenty of pineapple and mango to go around, but very little of the bracing pine that you might expect.
The taste follows suit: much like a good Barleywine. Bready malt complements the caramel backbone while the fruit salad provides an additional sweet emphasis. A strong bitter finish with a bit of pine in the background keeps the sweetness in check. Overall this is a very pleasant beer although it strays from the category in noticeable ways. If you like a sweet malt skeleton to your IPAs, you should find that this beer hits the spot.
★
985 characters
3.26
/5
rDev
-12.6%
look: 4 | smell: 3 | taste: 3 | feel: 4 | overall: 3.5
Picked this up at a store in Brooklyn, NY. Pours a cloudy orange colour with thin white head. Some lacing on the glass. Smell is a little bit odd, not very hoppy for a beer that is labelled a triple IPA, though some hops are there. Some sweet malt flavour. Flavour is more bitter than the hop aroma would imply. Medium bodied.
★
326 characters
3.27
/5
rDev
-12.3%
look: 4 | smell: 2 | taste: 3.5 | feel: 3.5 | overall: 4
Ken's bottle. Peachy coloured body with a big white head, leaves significant lace. A wierd vegetable smell, a little like eggs. A good bitterness, though vegetable notes. Some carbonation in the finish.The finish is very long. This is big and hoppy.
★
249 characters
4.17
/5
rDev
+11.8%
look: 3.5 | smell: 4 | taste: 4.5 | feel: 4 | overall: 4
On tap at Max's.
The beer pours and orange amber color with fairly good head retention and lacing. The nose is all IPA goodness, though along with the pepper and citrus, there's also something of a lavendar/sandlewood aroma and some light brown sugar. It's pretty nice. On the palate, this beer is impressive. The beer is hugely bitter, with just enough sweet malt to balance it and keep it from being too much. This IPA is very much on the dry side, which I appreciate, and I'm impressed by how well the beer carries its alcohol. There's a touch of noticeable alcohol in the long, dry, bitter finish, but there's no way I would guess this was a 10% abv. beer. Mouthfeel is medium bodied at the most, and drinkability is not bad at all. As noted already, the alcohol is very well integrated into the flavor profile, and this delicious, well made IPA is a pleasure to drink.
Have not been all that impressed with what I've had in the past from Emelisse, but this is pretty tasty.
★
981 characters

4.2
/5
rDev
+12.6%
look: 4 | smell: 4 | taste: 4 | feel: 4 | overall: 5
Emelisse Triple IPA on tap at Max's (of course) in B'more, MD, served in a standard pint.
Appearance: Sunrise over New Delhi, cloudy polluted morning. The hazy orange glow after a nuclear fallout. No head, almost no carbonation or lacing. Feels like a cask, or a first pour at Max's (sometimes it happens, the keg needs to flow for a couple of pints before settling into "the perfect pour").
Smell: Citrus all over, in juice and puree. Reminds me of Lagunitas Hop Stoopid and Maximus on cask, incredibly citrus-y, almost too much so. Some booze comes through in the nose as well. Also sugary sweetness, like a well-made dessert, and a strange tad of herbal tea with raspberry essence (in nose only, briefly).
Taste: Thin in the beginning, then some bitterness. But really, where are the hops? This is a like boozed-up glass of juice. Some banana and pineapple at the end, sweetness. More of a West Coast IPA.
Mouthfeel: Great balance, goes down well. Low carbonation and body, though (again, it might be the tap). Not too sweet, not too bitter, but too citrus-y. Nicely done anyway, perhaps more bubbles needed.
Drinkability: Great! This is the beer's winning aspect. It is 10%, but feels like 6% or 7%. Immensely drinkable. Not boozy at all, tasty, flavorful.
I miss some carbonation, body and hops, but still- this is a winner. Hardly a "Triple IPA", though. Why are brewers going for that? Double ain't enough anymore?
★
1,430 characters
3.9
/5
rDev
+4.6%
look: 4 | smell: 4 | taste: 4 | feel: 4 | overall: 3.5
A: The beer is copper in color and very cloudy so you can't see through it. It poured with a finger high beige head that quickly died down and left lacy patterns of bubbles floating on the surface.
S: There are moderate aromas of grapefruit hops in the nose.
T: From start to finish, there's a strong amount of bitterness in the overall taste, yet this is balanced enough by the underlying malts so it isn't completely overpowering. There are flavors of grapefruits and hints of apples, malty sweetness and yeast.
M: It feels medium-bodied and very thick on the palate with a moderate amount of carbonation. The finish is rather dry and also has some warming from the alcohol.
D: The alcohol is well hidden from the smell and taste so drinking this beer isn't too difficult as long as you can handle the strong amount of bitterness. This is definitely a beer that should be sipped given its strength.
★
900 characters
3.78
/5
rDev
+1.3%
look: 4 | smell: 3.5 | taste: 4 | feel: 4 | overall: 3.5
Poured into my Brasserie de la Senne tulip a deep orange amber umber with a nice two finger cream head. Decent retention and lacing.
Malty as well as some earthy hop coming through...a different nose to the double for sure.
A good triple IPA with some deep citrus flavours: orange and orange rind, grapefruit, as well pretty clear biscuity malt undertone. Nicely hopped but the sweet malt and hoppy bitterness are somewhat balanced out. Very smooth for such a strong ABV.
★
473 characters

4.45
/5
rDev
+19.3%
look: 4.5 | smell: 4.5 | taste: 4.5 | feel: 4 | overall: 4.5
This beer was on tap at the Molen Borefts festival last weekend. After i had numerous stouts on the festival i wanted something completely different. This triple IPA was very different.
Poured in a De Molen tasting glass the beers looked smashing. A nice and big broken white head and a cloudy golden fluid. Intense bitterness with some grapefruit and other fruits.
Glad i tasted this one.
★
395 characters
Emelisse TIPA from Bierbrouwerij Grand-Café Emelisse
3.73
out of
5
based on
70
ratings.