Emelisse Black IPA
| Bierbrouwerij Grand-Café Emelisse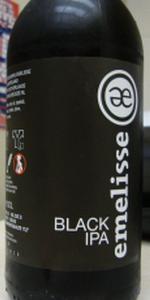 BEER INFO
Brewed by:
Bierbrouwerij Grand-Café Emelisse
Netherlands
emelisse.nl
Style:
American Black Ale
Alcohol by volume (ABV):
8.00%
Availability:
Year-round
Notes / Commercial Description:
No notes at this time.
Added by metter98 on 10-02-2011
Reviews: 37 | Ratings: 94

3.12
/5
rDev
-18.1%
look: 3 | smell: 3.5 | taste: 3 | feel: 3 | overall: 3
Poured this 33 cL brown bottle into a Sam Adams glass. Best before end: 06 13 lot A. The body was a muddy dark brown with reddish highlights when held up to the light. The khaki head was small.
The smell was metallic and nutty like a porter. Fresh baked soda bread.
The taste was roasted char, light but lingering bitterness. Underlying fruitiness. Again, more like a porter than an IPA. Well masked alcohol.
The mouthfeel was creamy and smooth. Modest carbonation and rather dense. Tasted pretty good but the letters I. P. A. should not be used to describe this one.
571 characters

3.97
/5
rDev
+4.2%
look: 3.5 | smell: 4 | taste: 4 | feel: 4 | overall: 4
A: This is a dark black beer with a minimal head.
S: The smell of liquorice and salmiac.
T: The taste is bitter and some light sour.
M: Good carbonation and a delicious sparkle on the tongue.
O: Easily drinkable, with a nice long bitter aftertaste.
252 characters

4.24
/5
rDev
+11.3%
look: 5 | smell: 3.5 | taste: 4.5 | feel: 4 | overall: 4.5
330ml bottle. ½ Pint glass. Enjoyed on dec´11. Black color. Beige,small size bubbled, crown. Good retention & spotty sides. Hints of chocolate, pine, bitter hops & toasted malts to the nose. Flavors as expected from the aromas. Pleasant malty palate despite sharp bitterness. Full body, medium carbonation. Subtle coffee finish. Resiny aftertaste.
349 characters

4.25
/5
rDev
+11.5%
look: 4 | smell: 4 | taste: 4.5 | feel: 4.5 | overall: 4
Picked this up at my favorite beer store in Belgium, Dranken Geers. Really dark brown, nearly black pour with nice one finger caramel colored head with good retention and great lacing. Complex nose that starts off with a lot of roasted malt, but quickly opens up to nice resiny, piney hops with hints of caramel and chocolate. The taste is complex as well but very nicely balanced. Lots of burnt toast and coffee that plays nicely with the piney, resiny, slightly citrusy hops. Also getting hints of dark chocolate and cocoa. The mouthfeel is thick, chewy, and oily, with a great bittersweet finish. I'm a huge Black IPA guy and this is definitely a standout in the style. Not quite in the Sublimely category, but very close...
727 characters

3.75
/5
rDev
-1.6%
look: 3 | smell: 3 | taste: 4.5 | feel: 3.5 | overall: 3.5
Bought in the Netherlands in January 2012.
Black with some brown color on the edges. Very little head on top of it. The little head it has, it is brown in color. The aroma is dominated by grilled bread. Its the only thing I notice in the nose. Taste is very intense compared to the aroma. Well balanced. It starts with chocolate and then the bitterness takes all the place. Nice taste. Dry finish. Medium body. The alcohol is well hidden.
A nice black IPA that could also be a stout... only lacks in the body for a stout.
523 characters

4
/5
rDev
+5%
look: 4 | smell: 4 | taste: 4 | feel: 4 | overall: 4
Pours a deep amber to black in color with a light tan head. In the aroma, pine like hops and a small caramel like roast. In the taste, pine hops with a caramel and chocolate like roast. A small hop bite and medium to lighter bodied mouthfeel, with a semi dry pine hop in the aftertaste. Nice hop presence with a small roast, quite drinkable.
341 characters
3.58
/5
rDev
-6%
look: 4 | smell: 3.5 | taste: 3.5 | feel: 4 | overall: 3.5
This was a really interesting beer. And, I enjoyed it very much. But it is not an IPA. The hops component is very muted; so much so that this beer should probably be classified as a porter. The malt and creaminess are very pronounced. Thick, fruity, chocolatey...all there and all good. This is my second offering from this brewery and I've been impressed. I hope I can have the chance to try some more.
403 characters

3.91
/5
rDev
+2.6%
look: 4.5 | smell: 3.5 | taste: 4 | feel: 4 | overall: 4
I got this beer in a kind of trade with Mark, Mar02x. Mark is really fond of Emelisse beers and he hopes i am getting the same feeling. With this beer Emelisse made a good one!
Poured in my Struise glass this beer looks very nice. A very deep darkbrown/red fluid with a three to four finger head. Some lacing.
Smell of young coffee but i think it's more the burned malts i am smelling together with some nice boozyness.
Taste is good, very drinkable. The bozyness comes back in the taste but in a very pleasant way. Not much carbonation in the mouth.
553 characters

3.89
/5
rDev
+2.1%
look: 3 | smell: 4 | taste: 4 | feel: 3.5 | overall: 4
A – Dark chestnut brown. Loose bubble structure. Low retention and lace.
S – Crispy booze, char, and a bright herbal hop. Honey sweetness. Hazelnuts.
T – Booze slips in early and hangs on throughout the profile. Soft char throughout, with a coffee, cocoa and lightly burnt toast.
M – Medium light body. Boozy-roast finish.
333 characters
4.2
/5
rDev
+10.2%
look: 4 | smell: 4 | taste: 4.5 | feel: 4 | overall: 4
A - A good looking beer, nice dark brown/red in color and a beige head that slowly retracts, with lots of foam remnants sticking to the glass. Looks inviting.
S - Fresh pine like hops with a strong citrus smell. The smell promises a real bitter ale.
T - Wow! this is another fantastic creation from Kees Bubbermans. I thought this would be again to strong in taste, but no, it's balanced really well. I feel all ready lucky to have another three bottles in the garage. The beer has a good strong fresh hoppy taste but not to overpowering. There is a little sweetness upfront and some malt tones are coming through as well.
M - Medium carbonated with (of course) a bitter finish.
O - A very good IPA, worth trying.
718 characters
3.97
/5
rDev
+4.2%
look: 3.5 | smell: 4 | taste: 4 | feel: 4 | overall: 4
11.2 ounce bottle, label says best before end 06/2013, Lot A. Served in a pint glass, the beer pours very dark brown with a small tan head that didn't stick around for long. There's a small amount of lacing left behind on the glass. The brew smells like roasted malt, bittersweet chocolate, coffee and some light citrusy hops. It tastes like roasted malt, bittersweet chocolate, citrusy hops, coffee and some licorice. Mouthfeel/body is medium, it's a bit slick and has moderate carbonation. I think it's a good beer overall, even though I think it's more of a hoppy porter than a black IPA (not that I'm complaining). The hops aren't overpowering, but there's still enough hops to make this interesting. Even though it was $4.99 a bottle, I think it's worth a try.
765 characters
3.88
/5
rDev
+1.8%
look: 4 | smell: 3.5 | taste: 4 | feel: 4 | overall: 4
A: The beer is very dark amber (close to near black) in color and has a slight amount of bitterness. It poured with a quarter finger high creamy tan head that died down, leaving a film of bubbles on the surface and a thick ring of bubbles around the edge of the glass..
S: There are aromas of chocolate and roasted malts in the nose along with hints of citrus and pine resin hops.
T: The overall taste is very similar to the smell with flavors of roasted malts and notes of chocolate and hints of licorice. The hops contribute a light to moderate amount of bitterness, which particularly stands out in the finish.
M: It feels medium-bodied and rather smooth on the palate with some crispness and a moderate amount of carbonation. There is dryness in the finish.
O: The beer is rather interesting for the style because its smoothness and roasted, chocolaty flavors share some similarities with a porter. It is rather easy to drink and has no traces of alcohol in the smell or taste.
985 characters
Emelisse Black IPA from Bierbrouwerij Grand-Café Emelisse
3.81
out of
5
based on
94
ratings.