Emelisse Winterbier
| Bierbrouwerij Grand-Café Emelisse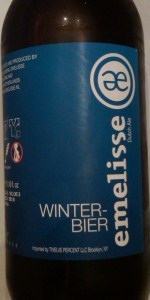 BEER INFO
Brewed by:
Bierbrouwerij Grand-Café Emelisse
Netherlands
emelisse.nl
Style:
Winter Warmer
Alcohol by volume (ABV):
9.00%
Availability:
Winter
Notes / Commercial Description:
No notes at this time.
Added by Mar02x on 11-30-2011
Reviews: 11 | Ratings: 33

3.24
/5
rDev
-16.9%
look: 3 | smell: 4 | taste: 3 | feel: 3 | overall: 3
A: Amber colored beer, slightly cloudy with a minimal head.
S: Raisins, grapefruit and a little bit sweet.
T: Slightly bitter on what soft.
M: Low carbonation with a slightly bitter aftertaste.
O: Fairly drinkable. Have the suspicion that this was a bad version, will try again.
282 characters

3.52
/5
rDev
-9.7%
look: 3 | smell: 3.5 | taste: 3.5 | feel: 4 | overall: 3.5
A: Poured from a bottle to a pint glass. Had a copper color and a hazy consistency. Some sediment. There was a small amount of head that quickly dissipated. Below average lacing.
S: A subtle aroma of malt, fruit, and something sweet and sugary.
T: Tasted of caramel, malt, and some kind of fruit (plums, maybe?). It's a little thin in the finish, in spite of itself. Alcohol is somewhat noticeable.
M: A good amount of carbonation with a dry finish. Medium-bodied.
O: Not a terrible beer, but certainly not a memorable one.
528 characters

3.77
/5
rDev
-3.3%
look: 3.5 | smell: 4 | taste: 3.75 | feel: 3.5 | overall: 3.75
a - poured a one finger thick, creamy tan head into a tulip glass that left a thin ring of lace throughout. the body was a slightly hazy, dark brown.
s - toast and cinnamon with a hint of fruit.
t - dark fruits, bready.
m - slick and slightly thin.
o - good beer but nothing really jumped out and grabbed me.
308 characters

3.89
/5
rDev
-0.3%
look: 4 | smell: 4.25 | taste: 3.75 | feel: 3.75 | overall: 3.75
A-dark brown with very little head that left very little lacing on the glass
S-plum, toast, malt and a slight alcohol smell
T-sweet caramel at first sip with a hop aftertaste that fades to a malt finish and a good warming at the finish
M-medium body with very little carbonation
O-the beer was a good good beer
310 characters

3.9
/5
rDev 0%
look: 4 | smell: 4 | taste: 3.75 | feel: 4 | overall: 4
Poured a dark brown body with minor lace after a two-finger head. At first I get hints of cinnamon and nutmeg in the aroma, then some more sugary sweetness, and the there seems to be minor bitter (citric like) hops and a touch of roasted malts. The beer is medium bodied, slightly chewey and bready, has some sweetness and touches of dark fruits like figs or raisins. In addition there is balance from some dry, roasted malts that, coupled with the barely noticeable ABV, provide a dry, warming finish.
502 characters
3.96
/5
rDev
+1.5%
look: 4 | smell: 3 | taste: 4.5 | feel: 4 | overall: 4
A - A strange beer, the color is brown and hazy, but the head is not coming up. It appears just a second and than it's gone sooner for ever.
S - A smell of an old brown ale, and that is something I don't wanna smell.
T - Gorgeous! Fantastic! & Different I called the style winter warmer because that's what the bottle mentions. The style however is more like a crossing between the black IPA and Double. Very drinkable but you still want to sip this stuff. Very excellent done.
There's a little sweetness up front and than comes the fruity and citrus like hops and after that comes the bitterness. Not so much that is blows you of your socks, but still it is present.
M - A soft to medium carbonation that goes excellent with the taste. A bitter finish of course like a Emelisse beer should.
O - A great beer, something totally different between the other winter beers. I can certainly recommend it.
904 characters

4
/5
rDev
+2.6%
look: 4 | smell: 4 | taste: 4 | feel: 4 | overall: 4
Poured into a tulip glass a murky roasted chesnut brown with a thinner but well sustained tannish colored head atop.Brown sugar,roast,and alcohol dipped fruit in the nose,the alcohol is prevelent.Fruity on the palate with brown sugar sweetness rounded out nicely with drying somewhat earthy finish with the alcohol actually held in check pretty well.A solid winter ale,it's warming and quite easy going down for its size.
421 characters
4.06
/5
rDev
+4.1%
look: 4 | smell: 4.25 | taste: 4 | feel: 4 | overall: 4
Powerful, complex and jam-packed with richness- at least early one. But closing with remarkable drinkability means that this ale accomplishes quite a bit on its quick journey across the palate.
Emelisse Winter Ale kicks off with a rich brown hue that casts low-lights of garnet and crimson through its mild haze. A rich and lathery head caps the beer in nearly mousse-like appearances. Its creamy froth retains the session confidently and trails with broken strands of lace in its wake.
Boastful aromas are rich with light molasses and toffee but folds in savor notes of port wine and sherry as the nose takes on fruitier proportions. Lightly spicy and full with a tingle of alcohol, the counterpart to rich aromatics is pepper and rum. Its the beer's sweet and savory combination that mesmerizes the olfactory senses with ease.
And that delicious melange of robust sweetness, candied fruitiness and savory aged port flavors coat the mouth with sultry "meaty-salty" character. Light vinous almost red wine flavors are alive with blackberry, plumb, prune, raisin and blackcurrant in the middle palate before tapering off with the confectioner's taste of pulled candy and fruit-laced powdered sugar. Slim woodish bitterness and alcohol warmth play out on the finish like mulled spice rum.
Fuller impressions take hold on the palate as the beer's richness is creamy, decadent and weighted on the tongue. But after its carbonation releases and the bulk of its residual sweetness fades, the ale drifts seamlessly into a semi-sweet finish of hard candy and wine-like acidity.
Caught somewhere between English Barleywine and Belgian Strong Dark Ale, the beer is simply the best of both worlds but without letting its sweetness drag it down. Its simply a stand-up beer with some of the more savory intangibles that are sorely lacking in malt-focused ales. Its balance is sublime and lush- meant for after dinner snacking with pungent blue cheese and stuffed dates in accompaniment.
1,978 characters
4.12
/5
rDev
+5.6%
look: 3.5 | smell: 4 | taste: 4 | feel: 4.5 | overall: 4.5
A: The beer is clear dark brownish amber and poured with a thin head that died down and left delicate lacing covering the surface.
S: There are light aromas of dark fruits and malts in the nose.
T: The overall taste is rather malty and has notes of dark fruits. There are some slight hints of sweetness.
M: It feels medium-bodied and very smooth on the palate with a bit of thickness and also has a low amount of carbonation. A bit of warming from the alcohol is noticeable.
O: Despite its strength, no traces of alcohol are present in the taste.
546 characters

4.17
/5
rDev
+6.9%
look: 3.5 | smell: 4 | taste: 4.5 | feel: 4 | overall: 4
Poured into a Gulden Draak tulip. Pours a dark mahogany brown amber with considerable dark floating particles; I poured the entire bottle, so must have poured some sediment. Thin medium tan head which dissipated quickly, leaving a ring around the glass, light lacing. Aroma is light; dark fruit, caramel malt and light spicing. Flavor is very subtle, sweet malt, dark fruit and brown sugar. Light hops. Finishes malty and sweet. No evidence of the spices noted in the aroma in the flavor. Medium bodied with a suggestion of creaminess. A very interesting take on a winter warmer. Although the flavor is somewhat mild, it is not watered down, unassuming but complex enough to be interesting. I really enjoyed this. I'm increasingly impressed with Emelisse.
755 characters

4.22
/5
rDev
+8.2%
look: 3.5 | smell: 4 | taste: 4.5 | feel: 4.5 | overall: 4
I got this bottle last week from Mark, Mar02x. Thanks for this bottle Mark, i know how you like Emelisse and with this beer i know why.
Out of the beerfridge i let the beer warm up a bit, Too cold is nog good for this kind of beer.
Poured in my Struise glass off course. Deepdarkbrown fluid with a broken white three finger head. No carbonation and little lacing.
The smell is inviting, not too strong, i sense some caramel and some butter. Soft with a medium full body, not too complex but that is what this beer is all about i think. Sugar makes the beer nicer, the alcohol is really well hidden.
Taste is very good, one of the better beers i had untill now from Emelisse. You can drink this one all night...(but then the 9 ABV will hit you!)
748 characters
Emelisse Winterbier from Bierbrouwerij Grand-Café Emelisse
3.9
out of
5
based on
33
ratings.