Emelisse Imperial Russian Stout - Ardbeg Barrel Aged
| Bierbrouwerij Grand-Café Emelisse
BA SCORE
81
good
13
Reviews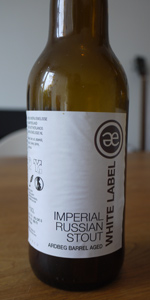 BEER INFO
Brewed by:
Bierbrouwerij Grand-Café Emelisse
Netherlands
emelisse.nl
Style:
Russian Imperial Stout
Alcohol by volume (ABV):
11.00%
Availability:
Limited (brewed once)
Notes / Commercial Description:
No notes at this time.
Added by DARIVA on 03-26-2012
This beer is retired; no longer brewed.
Reviews: 13 | Ratings: 34

1.22
/5
rDev
-64.5%
look: 3 | smell: 1 | taste: 1 | feel: 2 | overall: 1
Black color beer. Very dark. No head. Quite ordinary look IMO. The aroma is pretty intense and it isn't very good. I don't like it. Again in the mouth, it's quite intense and not good. High alcohol presence... It's burning my throat. Drain pour... Sorry too extreme for me I guess or a bad beer.
295 characters

2.03
/5
rDev
-41%
look: 1 | smell: 3 | taste: 1.5 | feel: 2.5 | overall: 2
Bought a bottle for 5 euro's at slijterij Spraakwater in Breda. I'm digging the label, looks pretty good.
Appereance: Pours a pitch black liquid with no head or carbonation, kinda worrying.
S: Peaty, strong alcohol, reminds me of wood being treated with chemicals. I don't know if I should find this appealing or not.
T: Smoke and peat right upfront. A huge bourbon aftertaste, the alcohol taste is way too present in this beer.
M: Silky and smooth but quite heavy on the tongue, no carbonation at all.
O: Well, the barrel-aged IRS was a good idea but it's poorly executioned. It's almost like drinking a really light and cheap whiskey.
644 characters

2.07
/5
rDev
-39.8%
look: 3.5 | smell: 1.5 | taste: 2 | feel: 2 | overall: 2.5
Wow! This is probably one of the worst beers i have ever tasted from Kees Bubberman!
A week ago the son of one of my cousins came to my place for a few beers and this was one of the bottles he brought with him.
When the bottle was opened there was a strange smell coming out of the bottle. Like Kees had laft some cleaning fluid in the bottle before filling it.
Because i think something was terribly wrong with this beer i will have to drink it again in the future to see if this was an incident or not.
Almost no head and no carbonation. Very dark fluid.
561 characters
2.61
/5
rDev
-24.1%
look: 4 | smell: 3 | taste: 2 | feel: 3.5 | overall: 2.5
Lots of fluffy cocoa head over black body. Straight methylate nose, like being back in the nurses' office in primary school.
Tobacco and ash kill all the stout flavors leaving a bit of soil and scat.
Ash and bandaid finish. Medium to full, smooth, a bit of chew.
Peat bomb! Like drinking a cigar. I don't know if it's what it should be, but it's undrinkable.
361 characters
3.24
/5
rDev
-5.8%
look: 2.5 | smell: 3.5 | taste: 3.5 | feel: 2.5 | overall: 3
Got this one at the liquor store down the road. Glad to see these guys in town now. Cheers!
From a bottle into a snifter
Best Before June 2015
Lot A
EBU: 75
APPEARANCE: Pours a thicker black and yields a delayed, cascading, small tan head. Head quickly fades to a faint wisp and a bubbly ring. Black body with no carbonation evident. A ring remains until the end with touches of lacing down the glass, but it does finish relatively flat looking.
SMELL: Lots of bold peat aromas. Some smoky aromas with dark chocolate in there as well. Peatty and earthy stuff.
TASTE: Peat flavors and some roasted and smoky malts up front, then some dark chocoalte and bitter coffee at the swallow. Bold finish with nice peat flavors that balance nicely with the roasted malt, bitter dark chocolate and coffee flavors. Some minor booze as well. More balanced than the nose had advertised.
PALATE: Very mild levels of carbonation. Almost flat. Syrupy and smooth going down, with a mouth-coating and oily finish. A touch too flat; needed some more carbonation here.
OVERALL: The look and feel didn't work out on this one, but the ideas are there. This is a solid effort that turned out tasty and aromatic, but the details were lots. I hope to see another batch of this come out in the future at some point.
1,297 characters
3.75
/5
rDev
+9%
look: 3.75 | smell: 4.25 | taste: 4 | feel: 2 | overall: 3.5
Recently stumbled across my notes from The Festival 2012. Lets do this!
A - Poured a nice thick oily black with a very thin tan head that fades rather quickly to leave super fine wisps. Definitely looks like a high ABV stout.
S - Lots of strong peat aromas, smoke, dark chocolate. Definitely Ardbeg.
T - Taste is delicious, good peat, smokey malts, dark chocolate. The peat is balanced nicely here, it is not overpowering. I do get a faint tinge of brine though.
M - Mouthfeel is easily the worst part of the beer. No carbonation here, just smooth but syrupy.
O - Overall, a solid offering from Emelisse. Wouldn't mind having a bottle of this in my cellar.
661 characters

3.9
/5
rDev
+13.4%
Pours pitch black, at first seems without any head, but in a few seconds half a finger of a nice mocha head bubbles up, quickly turning into a thin layer on the surface and a small bubbly lace afterwards.
Peat pummels the nose, along with a warm Scotch whiskey vapor. Vanilla and chocolate underneath, smoked malts, faint dried dark fruit character, but the peat dominates entirely.
Taste brings some balance. At first peat dominates the palate, making you strain looking for some other flavors, but they pop up in the next sip, gaining ground bit by bit. A juicy dark fruit zing along with the rich whiskey from the start, like alcohol-drenched raisins. A bit of creamy chocolate, with some faint licorice and nicely paired with some woody vanilla. Smoked roasted malts are the second most obvious here, with salty dark bread that's been kept a bit too much in the oven. A black coffee splash shares the finish with dry wood chips, warm booze and a big peaty band-aid note.
Oily, rather light body, low carbonation. Aftertaste filled with peat, smoke, lingering burnt malt, coffee dregs and scotch alcohol. This last one tends to pile up, along with the peat, a bit too much even for my taste (and i love peaty beers), each new sip feeling more and more like a small whiskey shot.
Never had Ardbeg, but it seems it imprinted A LOT on this imperial stout, covering up lots of the other tasty stuff. I enjoyed it, tho it seemed a bit too rough at times. And i still have a bit less than half a bottle to go through. God help me.
1,528 characters

3.91
/5
rDev
+13.7%
look: 4 | smell: 4.25 | taste: 4 | feel: 3.5 | overall: 3.5
On-tap at Proeflokaal Arendsnest, in Amsterdam.
Of all the barrel-aged beers I've tried, Emelisse Imperial Russian Stout (Ardbeg) is the first and only thus far to have sea water in its aroma. The auras of the scotch and the wood, sure those are transposed easily enough, but briny ocean spray? Impressive. Naturally, smoky and peaty notes abound as well. If you've had anything from Islay you're already familiar with this bouquet.
This jet-black beer has a prevalent 90% cocoa flavour that tastes as dark as the appearance. Though bitter chocolate dominates, coffee is noted too. There is also a markedly sweet hazelnut character just beneath the surface that serves to soften the intimidating scotch flavour. Make no mistake, however, the barrel bent this beer over and had its way with it.
The reviews from draught (like this one is) are significantly higher than those from bottle. My belief is that the keg makes for a better mouthfeel by providing adequate carbonation; my sample was fairly thin but just dense enough to keep the rich, malty flavours from drowning in a pool of medicinal, iodine-infused alcohol. I imagine this could become solvent-y and cloying; even fans of smoky, peaty scotch wouldn't enjoy it macerated in a malty syrup.
It's easy to understand both the terribly low and tremendously high reviews for this beer, and the obvious reason for the discrepancy between them. It won't be everyone's cup of tea; ultra peaty, smoky scotch is an acquired taste and is absolutely required to enjoy this beer (which is aged in the barrels of one of the most notoriously peaty, smoky scotches around).
I don't think you need me to tell you whether the Ardbeg Emelisse is something you'd enjoy. But for whatever it's worth, I love and prefer Islay scotches (as well as Russian Imperial Stouts) but wasn't enthralled with this offering. I found the intensity of the alcohol to be a bit problematic and the scotch and stout flavours to not fully meld. Still, it was (slowly) enjoyed.
2,005 characters
4.12
/5
rDev
+19.8%
look: 3 | smell: 3.5 | taste: 4.5 | feel: 4 | overall: 4.5
Hardly any sound of carbonation when opening the bottle. Pouring the bottle in the glass shows no head at all. It pours a pitch black beer.
Smell is very peaty, with notes of earth and iodine. This smell is so overpowering, I can't pick up anything else from the smell.
Taste is strong whisky-like. The peaty flavors are very bold and very present. Again the iodine taste is very present and even has a minerallic taste. The roasted flavors usually present in an RIS are low, the beer doesn't appear to be very roasted at all. The mouthfeel of the beer is sticky on the lips. Bitterness seems low, but somewhere halfway down the glass the beer presents a roasty and hoppy bitterness. I am amazed on how much taste is achieved from the barrel. Too bad for the low/no carbonation.
781 characters

4.21
/5
rDev
+22.4%
look: 4 | smell: 4.25 | taste: 4.25 | feel: 4 | overall: 4.25
On draft at Churchkey in D.C.
The beer is black with a thin beige head. The aroma brings a grandiose serving of Ardbeg. For you single malt scotch aficionados, especially those who favor those great whiskeys from Islay, you will likely enjoy this. Those less inclined to sip a peaty scotch on a rainy night may find this offering harsh and offensive.
The flavor offers notes of chocolate, oak, vanilla, peat, smoke. A young Ardbeg character really dominates every aspect of the beer.
Some searing alcohol heat in the finish with lingering sea salt and maritime character, medium to full bodied, fairly viscous.
I really enjoyed this, though this is certainly not for everybody.
683 characters
4.3
/5
rDev
+25%
look: 4 | smell: 4.5 | taste: 4.25 | feel: 4.25 | overall: 4.25
On draft at Tørst.
The look and the mouthfeel are high quality -- smooth and lightly creamy, not watery at all. Not sure how much to credit the brewer and how much to credit Tørst's insane draft system there.
Smells like a malty, peaty heaven. Taste is slight roasty stout qualities which are then edged out by the heavy peat, a little smoke, and a touch of bandaid from the Ardbeg barrels.
Excellent beer. Crazy smooth for 11%. Seemed to nail what the brewer was aiming for. I'm guessing the low reviews are due to a big difference between draft and bottle, or else they're just not Ardbeg/Islay whisky fans.
614 characters

4.31
/5
rDev
+25.3%
look: 3 | smell: 4.5 | taste: 4.5 | feel: 3.5 | overall: 4.5
A: Very dark beer that has the appearance of non-carbonated cola, there is therefore no head on.
S: Ardberg, salty and smoky.
T: Ardberg, salty and smoky. Also biter light and slightly sweet.
M: Nice bitter aftertaste, little tingling and even slightly syrupy.
O: His appearance, press the score but this is really a class beer. A Arberg whiskey lovers will appreciate this well, I myself am a whiskey lover and Ardberg whiskey is for me over the top, but in this context great, it tastes more ...
509 characters

4.47
/5
rDev
+29.9%
look: 4 | smell: 4.5 | taste: 4.5 | feel: 4.5 | overall: 4.5
Thanks to De Bierkoning in Amsterdam for this beer.
A The beer pours dark and thick with no foam.
S A strong barrel smell with liquor notes with malts which is very nice.
T A big beer taste with a liquor flavor which is nice for a big russian imperial stout.
M A great mouthfeel of big flavor, thick and tasty.
O An awesome beet. I will be getting more of this brew. Nice job.
381 characters
Emelisse Imperial Russian Stout - Ardbeg Barrel Aged from Bierbrouwerij Grand-Café Emelisse
3.44
out of
5
based on
34
ratings.