Emelisse Imperial Russian Stout - Sorachi Ace Single Hop
| Bierbrouwerij Grand-Café Emelisse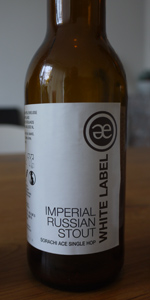 BEER INFO
Brewed by:
Bierbrouwerij Grand-Café Emelisse
Netherlands
emelisse.nl
Style:
Russian Imperial Stout
Alcohol by volume (ABV):
11.00%
Availability:
Limited (brewed once)
Notes / Commercial Description:
No notes at this time.
Added by DARIVA on 04-09-2012
This beer is retired; no longer brewed.
Reviews: 13 | Ratings: 30

4.56
/5
rDev
+11.8%
look: 4.25 | smell: 4.5 | taste: 4.75 | feel: 4.25 | overall: 4.5
Picked this up at the Emelisse brewery during ZeeBra Fest. Pitch black pour with a creamy one finger caramel-colored head with good retention and great lacing. The nose is roasty and smokey with hints of burnt toast, cocoa, espresso, chocolate fudge, and the distinct Sorachi Ace hops. The taste is rich and bold with a ton of chocolate fudge along with hints of cocoa, espresso, dark chocolate, subtle smoke, and a good amount of hops on the finish. The mouthfeel is thick, creamy, and mouth-coating with some prickly carbonation and a nice dry, bitter finish. The 11% ABV was not in play as this was incredibly drinkable. Overall, this was a pleasant surprise. With the Sorachi Ace hops mentioned in the name, I almost expected it to be more of a Black IPA. Although the hops were very prevalent, this was one hell of a rich and chocolaty stout. Very impressive! Kicking myself for only picking up two of them...
914 characters

4.5
/5
rDev
+10.3%
look: 4.5 | smell: 4.5 | taste: 4.5 | feel: 4.5 | overall: 4.5
33cl bottle - best before 12/15, hence 3 months off the mark. Mahogany pour, with a thin and fine-grained beige head that is slow to rise to the surface. Smells of roasted malts, a bit of smoke, dark chocolate, cocoa, sour cherries and a bit of bourbon, as well as some bubblegum-like smell that can only be the Sorachi Ace. The taste follows the same notes, big on coffee and dark chocolate. Super smooth texture with a chocolate bitter aftertaste.
449 characters

4.5
/5
rDev
+10.3%
look: 4.5 | smell: 4.5 | taste: 4.5 | feel: 4.5 | overall: 4.5
Damn...this is one heavy I.R. stout! I promised Kees Bubberman, the owner and head brewer i would buy me a bottle and try it. Here you go Kees...
Poured in my small Struise tasting glass this beer shows itself very nice. Pitch black fluid and a lightbrown head. Smell of coffee and the sorachi hops.
This is a pretty balanced beer where the sorachi hops make the beer special. The alcohol is nicely hidden with the first sip, after that it get's more noticable.
Good beer.
475 characters
4.49
/5
rDev
+10%
look: 4.75 | smell: 4.5 | taste: 4.5 | feel: 4.25 | overall: 4.5
On tap at 't Arendsnest in Amsterdam.
Gloriously thick and gloopy, with a dense creamy deep-tan head.
Pitch black and syrupy.
Immensely fascinating nose, with the coconut blending in marvelously with the woody/bubblegummy/lemony freshness of the Sorachi Ace. All this layered with the warm, boozy tones of the stout, which is takes a bit of a back seat but is rewardingly rich, focusing on mild coffee/roast.
Flavours are a wild mix of mild coconut (think macaroons maybe, rather than a Bounty bar), with that odd nasal wonkyness of the Sorachi Ace, again firmly supported by a sturdy, masterfully brewed RIS.
It packs quite a punch but is remarkably drinkable. Not something to drink plenty of, but definitely something to have again.
739 characters
4.3
/5
rDev
+5.4%
look: 4 | smell: 4 | taste: 4.5 | feel: 4 | overall: 4.5
The first thing that impressed me was its deep dark color, nearly impenetrable to light, and a dark brownish foam which quickly dissipates leaving some lovely patterns. When I smelled it, it revealed some sweet chocolate mixed with espresso and I also vaguely traced some hints of cinnamon which I attributed to the Sorachi Ace hops this beer prides itself for. My curiosity was peaked so hastily I took a rather large sip, and it proved to be like nothing I had expected. It's rather hard to describe and doing it justice in the process. The chocolate and espresso taste was exquisitely rich and refined for a stout. Quite bitter but with a pleasant sweetness. However before I could analyzing it any further I was overwhelmed by a intense fruity bitterness. Initially I was startled by this very uncharacteristic aftertaste in such a solid stout, but sipping some further I found it not only very tasty but in a way quite fitting, as if it was always intended to be this way. This is one beautiful beer and drinking it proved to be a really pleasant surprise. Difficult to anticipate but in the end it seems to make sense.
1,124 characters
4.22
/5
rDev
+3.4%
look: 4 | smell: 4.5 | taste: 4.5 | feel: 3 | overall: 4
Got this at the local liquor shop down the road. Nice to see these guys become available locally.
From a bottle into a snifter
Best Before March 2015
EBU: 75
APPEARANCE: A thicker black pour yields a 1+ finger, medium looking, tan head with excellent retention. Head slowly fades to a splotchy wisp and sticks to the sides of the glass. Black body with higher levels of carbonation. A splotchy wisp and ring remain leaving decent lacing down the glass. A little too much carbonation and not quite thick enough to be great. Really close, however.
SMELL: Bold nose jumps out of the glass. Roasted and smoky, charred malts, dark chocolate and molasses on the nose. Light soy sauce as well. Quite bold, interesting and impressive. This is really good.
TASTE: Roasted malts, smoky notes and some dark, pure chocolate. This is quite hoppy as well. Flavor really comes out after the swallow, with lots of molasses, chocolate fudge brownies, cocoa powder and iced espresso. Bold and lingering finish of chocolate fudge, cocoa powder, sweet molasses and bitter chocolate cake and espresso. This is excellent.
PALATE: Medium body and medium carbonation. A little light on the palate, unfortunately, but very creamy smooth, goes down smooth and finishes slightly dry. No heat on this one. Could use more weight, but very creamy smooth and slick. A bit of a chalky finish.
OVERALL: Excellent stuff. The feel was a touch too light to really be supportive, but everything else this brew brough to the table was top class. I would love to see them thicken up the feel and really bring this to the next level. A top notch brew; of the six I sampled, this was probably my favorite. Would drink this daily if it weren't so expensive. Highly, highly recommended.
1,754 characters

4.15
/5
rDev
+1.7%
look: 4.5 | smell: 4.5 | taste: 4 | feel: 4 | overall: 4
On Tap at the Devil's Den in Philadelphia. Served in a 6 oz. goblet.
Appearance: Motor oil black with a thin espresso-colored head. Great lacing all the way down the glass.
Smell: I was expecting the usual from an imperial stout: smoke, coffee, chocolate, etc. All of those were there, but what struck me first was a unique spiciness, almost like hot peppers or even a mild hot sauce.
Taste: Same as the smell, but with even more pronounced spiciness, followed by some sweetness. A lot going on here - chocolate, espresso, pepper, spicy hops, grass - but it was fairly well balanced overall.
Mouthfeel: Not as thick as I was expecting, but not thin either. Very smooth. Just very drinkable, especially for the 11%.
Overall: A really great stout, and different from most other versions of the style I've had. I'd definitely drink it again.
845 characters

4.08
/5
rDev 0%
look: 4.5 | smell: 4 | taste: 4 | feel: 4.5 | overall: 4
Purchased at the De Bier Koning in Amsterdam.
A - Almost black in appearance with a 1/2 to 3/4" medium brown foam which dissapated to a thin line. The brew showed some signs of carbonation with slight lacing on the glass.
S - Malty, Molasses, slight bitter scent with a bit of chocolate. Overall a very inviting smell prior to tasting.
T - Very nice full taste of chocolate, coffee, malt, some hop bitters, with some carbonation and a kick of alcohol. The taste leaves a flavor of coffee, sizzle of hops and alcohol.
M - A full flavored imperial stout on most acounts. Some stouts leave out carbonation or hops but this beer includes both plus good combination of ingredients and balance.
O - When I go to Amsterdam again I will look for this beer brewed in this fashion. I enjoyed this beer.
797 characters
4
/5
rDev
-2%
look: 4 | smell: 4 | taste: 4 | feel: 4 | overall: 4
Opened and drank this bottle on 7 Jan 2013. Bottle was dated 03/15/2012...there was also an "A" notched near where the date was. It said on the bottle that this was the best before date, and having tried one of these about a year ago, I seem to remember it was better when it was fresher. The notes below are from the one I am drinking now....
A: Black with a brown head...nicely carbonated, probably about a two finger foamy head
S & T: Immedaite taste of burnt roast, almost to the taste of a rauchbier...it is good, but it is a thick, heavily burnt, roasted stout. Lots of deep flavors, so it is possible that the sorachi ace hops are starting to fade and ruin a bit in flavor at this age....it is good, but seems a bit off...almost a bit sour...i want to compare this to the Bruery Tart of Darkness, but it is not quite as sour as that!
M: Thick.
O: Really good. I don't want to knock this beer because I think I just waited a bit too long to drink it....I had one fresh and remember it being much better. Of all the White Label Emelisse Stouts however, this one ranked the lowest. The other RIS' aged in barrels by Emelisse are much better.
1,146 characters

3.97
/5
rDev
-2.7%
look: 3.5 | smell: 4 | taste: 4 | feel: 4 | overall: 4
A: Deep black beer with a minimal head.
S: Slight salty smell.
T: The taste of coffee, chocolate and some herbs.
M: Good mouthfeel and a nice bitter aftertaste.
O: Very good drinkable and a good balance.
The hops which are used is from the Japanese Sorachi hops.
277 characters

3.66
/5
rDev
-10.3%
look: 3.25 | smell: 3.5 | taste: 3.75 | feel: 3.75 | overall: 3.75
Does no one else appreciate the irony in this pitch-black Imperial Stout being part of Emelisse's "White Label" series?! The only place this beer isn't entirely opaque is along its trim... if held directly into the light... and at just the right angle. And even then it exposes all the little particles of sediment that look an awful lot like coffee grinds.
First thought: This isn't bourbon barrel-aged? Could have fooled me. The nose has plenty of oakiness as well as undertones of vanilla and, not so surprising for an 11% beer, alcohol vapors (the esters of which are reminiscent of dark, dried fruits). The hops are hard to appreciate amongst heavy burnt coffee aromas.
Single hop aside, this stout has all the classic RIS features such as bitter espresso, burnt grain, unrefined cocoa and traces of black licorice. Imagine melting a block of 72% dark chocolate into a heavy bowl of steel-cut oats, then sprinkling it with burnt breadcrumbs. It's OK, but the finish is astringently sooty; it starts to feel like I'm sucking back coffee grinds.
Some people have remarked Sorachi Ace hops lend a "buttery" component. I'd never noted that until now. This stout definitely has a browned butter flavour, especially on the finish. As for the hop's more common, notorious "lemony" characteristics, I don't get much of any. I do, however, note a long-steeped green tea-like quality in flavour and bitterness.
Emelisse Imperial Russian Stout (Sorachi Ace) is rare enough to make it memorable, which is good because its flavour, drinkability, and overall quality are fairly forgettable. For those of you who won't get to try this hard-to-find variation don't feel so bad - the beer's ratings are far more impressive than its actual content, and the Sorachi Ace goes largely unnoticed.
1,787 characters
3.64
/5
rDev
-10.8%
look: 3 | smell: 4 | taste: 3.5 | feel: 4 | overall: 3.5
Pours black with a small head.
Nose shows heavy roasted malt, liquorice, soft custard sorachi notes, herbal hops.
Full-on flavours, loads of roast, some spicy and piny hops, a little coffee and some hot booze.
209 characters

3.54
/5
rDev
-13.2%
look: 4 | smell: 3.75 | taste: 3.25 | feel: 4 | overall: 3.5
Review for a bottle that had almost two years in the cellar on it.
Chocolatey/smokey aroma, but it also certainly smells hoppier than their regular IRS. I find their regular IRS a bit too bitter, so the additional bitterness from the Sorachi Ace doesn't improve it, just IMO. Bottom of a cup of Turkish coffee-type bitterness. Nice creamy mouthfeel, though.
Edit: After drinking, I checked the bottle for BBD. It was 9 months past. I would think an 11% IS would still hold up, but maybe this isn't the fairest rating.
521 characters
Emelisse Imperial Russian Stout - Sorachi Ace Single Hop from Bierbrouwerij Grand-Café Emelisse
4.08
out of
5
based on
30
ratings.