Emelisse DIPA
| Bierbrouwerij Grand-Café Emelisse
BA SCORE
82
good
10
Reviews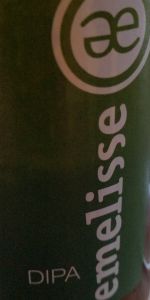 BEER INFO
Brewed by:
Bierbrouwerij Grand-Café Emelisse
Netherlands
emelisse.nl
Style:
American Double / Imperial IPA
Alcohol by volume (ABV):
7.90%
Availability:
Year-round
Notes / Commercial Description:
No notes at this time.
Added by Absumaster on 06-13-2012
Reviews: 10 | Ratings: 36

4.2
/5
rDev
+17%
look: 4 | smell: 4 | taste: 4.5 | feel: 4 | overall: 4
330ml bottle. ½ pt Tumbler glass. Enjoyed on agt´12. Orangish amber color. Yellowish froth creates a close, quite creamy, crown with good retention & spots on sides. Caramel malt, yeast & ripe fruits aromas, hints of pine & resins. Caramel malt, floral bitterness at fist sip & spicy touch. Medium body. Moderate carbonation. Oily texture. Fruity notes in the middle lingers into a long pleasant resinous finish & aftertaste. Delightful & easy drinkable.
456 characters
3.97
/5
rDev
+10.6%
look: 3.5 | smell: 4 | taste: 4 | feel: 4 | overall: 4
Got this at the local liquor store. Nice to see these guys become available locally.
From a bottle into a snifter
Best Before March 2014
Lot B
EBU: 65
APPEARANCE: Pours a one finger, medium looking, off-white head with good retention. Head fades to a faint wisp and a nice ring. Opaque burnt orange, almost maroon red, in color, with no carbonation evident. A ring and touches of wisp remain but leave no real lacing down the glass.
SMELL: Very English is style. Toffee, butterscotch, red fruits and some nutty aromas. Smells like a barleywine perhaps. Light floral notes with some melon as well, but mostly butterscotch and red fruits. Bold enough, complex, and much like a strong English IPA.
TASTE: Follows the nose with some extra hops. Toffee and butterscotch up front, with some bitter piney and floral hops at the swallow. Big and bitter aftertaste with lots of pine, floral flavors and hops lingers nicely. A light touch of toffee sweetness and sweet berries as balance, but this is very bitter after the swallow.
PALATE: Medium body and modest carbonation. Creamy enough on the palate with enough weight, goes down smooth and finishes slightly sticky. Good feel here.
OVERALL: A quality brew. This is definitely an English style IPA, but it's an English style IPA on steroids. Greatly enjoyed this and would have it on a regular basis if it weren't so expensive. Give it a shot if you see it.
1,413 characters
3.95
/5
rDev
+10%
look: 4 | smell: 4 | taste: 4 | feel: 3.5 | overall: 4
I had seen a number of Emelisse biers on the menu at In de Wildeman in Amsterdam, but they were quite pricey. Well, on 06Oct12, I found them at the Cafe Frape in Maastricht and the prices were much more reasonable. Started with the 7.90% DIPA, at €5.00 for a 0.33l bottle.
Poured a deep amber/chestnut color, with a little haze. Head was tan, frothy and rocky, lasted quite well and laced things up nicely. Nose had a good dose of rindy, pithy citrus. Body was maybe a little less than medium, with a bit of prickle upsetting the smoothness.
A hint of biscuity sweetness led off before the pithy, rindy grapefruit hit the palate. The sweetness being long gone, loads of bitterness filled the void. Very flavorful; a solid DIPA all the way. Prosit!
3.95/5 rDev +2.1%
look: 4 | smell: 4 | taste: 4 | feel: 3.5 | overall: 4
1525
831 characters

3.94
/5
rDev
+9.7%
look: 4 | smell: 4.25 | taste: 3.75 | feel: 3.75 | overall: 4
Hazy orange colour, not very attractive but alright. Good retention. Nice smell of apricot marmelade, mango and a bit of citrus - for me, this was the loveliest aspect of this beer.
I'm not a very big fan of Imperial IPA, so it was too sweet, too bitter and too full for me. Reminded me of full bodied orange IPA-s like Snake Dog or Double Dog, Hop Ottin' and Heelch o'Hops, Founders Cenntenial IPA, even Sierra Nevada Torpedo (but without pines).
Good but not excelent. I'd rather recommend Emelisse's (one of the best Dutch breweries!) dark ales, like Porter, Black IPA and White Label Maker's Mark Imperial Stout, even Rauchbier and Witbier. I've tried their TIPA and Red IPA and they are all OK, but not as exciting like the ones that I've mentioned.
755 characters
3.77
/5
rDev
+5%
look: 4 | smell: 3.75 | taste: 3.75 | feel: 3.75 | overall: 3.75
A: The beer is quite hazy orange amber in color and has a slight amount of visible carbonation along with some fine particulates floating in suspension. It poured with a finger high off white head that gradually died down and eventually left a wide collar around consisting of large bubbles around the edge of the glass.
S: Moderate aromas of pine resin hops are present in the nose along with some underlying hints of caramel hops, the latter of which becomes a little stronger as the beer warms up.
T: The taste mostly follows the smell and starts out with lots of piney hops and a moderate to high amount of associated bitterness; light notes of caramel malts and hints of grapefruit rinds are also present.
M: It feels medium-bodied and very crisp on the palate with a moderate amount of carbonation.
O: This beer is definitely a hop bomb and delivers a strong amount of bitterness. If you can get past all of the hops, the drinkability is not that bad because the alcohol is well masked from the taste.
1,007 characters
3.44
/5
rDev
-4.2%
look: 2 | smell: 3.5 | taste: 3.5 | feel: 3.75 | overall: 3.5
Dirty orange colour, with a small head that does not hold. No lace. Smell of resines, pine, hops. Medium body. Harsh palate. Taste of resines, malts, caramel. Bitter finish.
173 characters

3.38
/5
rDev
-5.8%
look: 3.25 | smell: 3.25 | taste: 3.5 | feel: 3.5 | overall: 3.25
33cl brown glass bottle with standard pry-off pressure cap acquired at the Strefe Piwa bottle shop in Krakow and served into a pilsner glass in me friend's gaff there. Reviewed live. Expectations are high given his recommendation.
Served cold. Side-poured with standard vigor as no carbonation issues are anticipated.
No bubble show forms as it's poured.
HEAD: 1 finger wide head. Off-white colour. Nice thickness and creaminess. Decent complexion and consistency. No lacing sticks to the sides of the glass as the head recedes. Retention is quite good - about 6-7 minutes.
BODY: Translucent copper of average vibrance. Fine yeast particles are plainly visible floating about. Appears well-carbonated. No hop sediment is visible.
It's a nice appearance for an Imperial IPA, but isn't unique or special.
AROMA: Faint bready malts and bread crust, some cream, pale malts, floral hop notes, a hint of nectar, some sweetbread, and some light herbal character.
A pleasant aroma of mild strength.
No yeast character, overt alcohol, or off-notes are detectable.
TASTE/TEXTURE: Plenty of caramalt and pils malts greet the drinker on the open, accompanied by a smooth creamy soft feel which is a great introduction to this brew. The second act bring the hops - floral hop notes, herbal hops, a dab of nectar.
Average depth, duration, and intensity of flavour. Has some nice complexity, and some decent subtlety. Not real intricate.
Well-carbonated. Medium-bodied.
Not oily, gushed, hot, boozy, astringent, harsh, rough, or scratchy.
It's not real interesting, but it's a nice imperial IPA for what it is, and it comes together well. Cohesive, but not gestalt.
OVERALL: Very drinkable and enjoyable. Hides its ABV well. It's a nice imperial IPA overall. I might not get it again because there are many superior beers in the style below this price range, but it's well worth trying and is nice to drink. A nice Dutch brew.
B-
1,929 characters
3.28
/5
rDev
-8.6%
look: 3.5 | smell: 3 | taste: 3.5 | feel: 3.5 | overall: 3
This beer is clearly differend in alcohol content than the Double IPA mentioned in the list.
A burgundy colored beer with a small head and very low carbonation.
A faint smell of US hops. Just not a lot going on in the nose. Some floral and light citric whiffs.
Taste is bitter with the addition of orangy and tangerine hops. The bitter is clean and a bit harsh. It strikes me as a combination of lots of biscuitmalt and bitterhops used as aromahops. The aromatic part of the hop is not even close to any IPA I ever tasted. I am a big fan of Emelisse, but this beer doesn't do it for me.
596 characters
2.87
/5
rDev
-20.1%
look: 3.75 | smell: 3.5 | taste: 2.5 | feel: 3 | overall: 2.5
Orangy brown amber. very cloudy with healthy carbonation.
smells equally yeasty and hoppy, in the direction of a tripel. honey.
Really bitter and tart, kind of like sour bark. There's no fruitiness or sweetness at all to balance it out. It's just very sour and bitter and I held back the yeast on the bottom.
Mouth feels just a tart recoil, otherwise smooth.
Very unbalanced. The ingredients seem high quality, but the delivery is poor.
441 characters
2.82
/5
rDev
-21.4%
look: 2.5 | smell: 3 | taste: 3 | feel: 2.5 | overall: 2.5
A: Orange colour, hazy with yeasty bits. White foam is stable but has some large bubbles.
S: Nice hoppy aroma, but could be more intense. Not very "clean", sort-off dairy-like.
T: Quite bitter, nice hop flavour. Bitterness is somewhat harsh.
M: Quite full bodied, yeast bits are noticeable (which is not pleasant). Soft carbonation.
O: Ok, not great.
351 characters
Emelisse DIPA from Bierbrouwerij Grand-Café Emelisse
3.59
out of
5
based on
36
ratings.