Emelisse Imperial Russian Stout - Wild Turkey Barrel Aged
| Bierbrouwerij Grand-Café Emelisse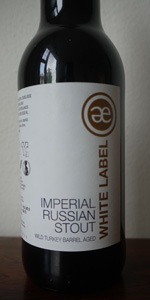 BEER INFO
Brewed by:
Bierbrouwerij Grand-Café Emelisse
Netherlands
emelisse.nl
Style:
Russian Imperial Stout
Alcohol by volume (ABV):
11.00%
Availability:
Limited (brewed once)
Notes / Commercial Description:
No notes at this time.
Added by metter98 on 04-15-2013
This beer is retired; no longer brewed.
Reviews: 7 | Ratings: 22

4.25
/5
rDev
+7.1%
Shared byygtbsm94. Thanks Brad!
The beer is black with a thin beige cap. Aromas of oak, vanilla, whiskey, chocolate. Great flavor. Certainly a European style RIS. Rich and dark. Soft on the palate. Heavy but yet easy drinking. I really enjoyed this. I would happily have this again.
283 characters
4.28
/5
rDev
+7.8%
look: 4.25 | smell: 4.25 | taste: 4.25 | feel: 4.5 | overall: 4.25
On tap at Frisco Taphouse and Grill Columbia Md. Black in appearance, small head by the time it got to the table but lattice f head left on glass. Oaky smell of bourbon aging. Excellent flavor, vanilla and rye like taste, bourbon aftertaste lingers. Very smooth mouthfeel.
272 characters
1.66
/5
rDev
-58.2%
look: 2.75 | smell: 1.75 | taste: 1.5 | feel: 1.75 | overall: 1.5
The bottle gushed upon opening, and poured a full glass of foam into a Founders tulip. It settled somewhat, revealing a dark reddish-brown liquid, with a small foamy head; minimal lacing. The aroma was bad, notes of obvious infection, woody malts, Band-aid phenols, and not much else. I took a cautious sip...and no more. Dark sweet malts and indistinct fruits, overlaid by solvent and medicinal off-flavors. I can't really comment on mouthfeel, because I could barely keep one sip down. The rest went down the drain.
I've had the base beer on tap, and looking back on my notes, while it was good, I did note some phenolic flavors there as well, though not nearly as rough as this one, which was downright awful.
713 characters

4.64
/5
rDev
+16.9%
look: 4.25 | smell: 4.5 | taste: 4.75 | feel: 5 | overall: 4.5
Picked this up at a great little beer store in Delft, Holland, Flink Gegist. Pitch black pour with a beautiful two finger caramel-colored head with great retention and crazy lacing. The nose is roasty and woody with the Wild Turkey really coming through nicely. Also getting hints of mocha, espresso, dark chocolate, and a touch of booze. The taste is amazingly rich and bold with tons of creamy milk chocolate, roasty malt, cocoa, dark chocolate, oak, and perfect bourbon notes. The mouthfeel is thick, creamy and velvety smooth with a mouth coating bitter finish. The balance is near perfect and it's incredibly drinkable considering the 11% ABV. Overall, this is an absolutely amazing beer! I could drink this all night. These guys blew me away at Borefts this year, and this beer is no different!
800 characters
4.22
/5
rDev
+6.3%
look: 4.25 | smell: 4 | taste: 4.25 | feel: 4.5 | overall: 4.25
12oz bottle into a cervoise. The brew appears black in color with a solid 3.5 finger cap of brown froth that displays solid retaining powers. As the cap fades, it leaves patches of lace sticking to the glass.
The aroma is boozy accented by bourbon. Some raw woodiness mingles with dark fruit like raisin/prune/plum/dates. As it warns up, the nose shifts towards more roasty and earthen character. Nothing bad to comment on, nicely done from the aromatic side.
The flavor is quite boozy with a solvent kick that shifts to more of a fruity alcohol note blended with bourbon. Some pleasant roast lies underneath with suggestions of coffee and tobacco. Raw oak is present mid-palate and a bit of chocolate is felt in the aftertaste with anise.
This is a medium bodied brew with modest carbonation. Of the Emelisse White labels I have had, this is the cleanest offering so to speak that is indicative of the style. A very enjoyable sipper that I took down 12oz of much faster than I should have. Most certainly would drink again.
1,027 characters
4.2
/5
rDev
+5.8%
look: 4 | smell: 4 | taste: 4.5 | feel: 4 | overall: 4
Got this one at De Bierkoning in Amsterdam. Excited to give it a go.
From a bottle into a snifter
25 plato
IBU 75
Side-by-side with De Molen H&V Wild Turkey batch 3.
APPEARANCE: A transparent black pour yields a two finger, medium looking, creamy tan head with great retention. Black body with higher levels of carbonation. Head slowly fades to a full wisp that remains the whole way, coating the sides of the glass with thick lacing. The carbonation is a touch wild at the beginning, but once it settles and a swirly wisp remains, this is great. Lacing down the glass is nice. The De Molen had a smaller, slightly darker head and was much calmer. Little lacing at all on that one.
SMELL: Roasted malts, some dark chocolate, oak, some bourbon and vanilla cream as well as caramel notes. Bold enough. Good roasted and chocolate base with some nice sweet cream as well. More vanilla cream notes, but De Molen shows bigger barrel and dark chocolate aromas.
TASTE: Roasted malts, dark chocolate and sweet cream up front, with lots of barrel flavors at ths swallow. Oak, vanilla, caramel, sweet cream and some bourbon booze notesas well. Sweet milk chocolate and bitter dark chocolate mingle with the oak, vanilla and cream over a base of boozy bourbon in the bold and lingering aftertaste. This is just as good as, or perhaps even more complex and chocolatey than, the De Molen brew. Fantastic.
PALATE: Medium body and a touch higher levels of carbonation. A little light on the palate, but very creamy, goes down alright and finishes mouth-coating. Some heat lingers. Fuller and creamier than the most recent De Molen batch.
OVERALL: This was great. Emelisse's white label stout series has been very impressive so far. I've enjoyed quite a few of the variants so far and this one is no exception. This one definitely measured up to the wonderful De Molen H&V Wild Turkey, which is saying a lot. In fact, besides the slightly lighter nose, this one might be a superior choice to the most recent De Molen batch. Good stuff. Highly recommended.
2,050 characters
4.14
/5
rDev
+4.3%
look: 4.25 | smell: 4 | taste: 4.25 | feel: 4.25 | overall: 4
On-tap at Bierproeflokaal in de Wildeman, Amsterdam, Netherlands
A: The beer is jet black in color. It poured with a 3/4 finger high tan head that slowly died down but and consistently left a thin layer of bubbles covering the surface and a collar around the edge of the glass.
S: Moderately strong aromas of bourbon are present in the nose.
T: The initial taste has flavors of dark malts, which is quickly followed by lots of bourbon and associated notes of vanilla. The bourbon lingers through the finish but is not overpowering.
M: It feels medium- to full-bodied and smooth on the palate and has a moderate amount of carbonation with some warming from the alcohol.
O: This is a nice and easy drinking Russian Imperial Stout. You can only really taste the alcohol associated with the bourbon, not that from the beer. I thought it would have been a bit better if you could have tasted a little more of the underlying stout.
930 characters
Emelisse Imperial Russian Stout - Wild Turkey Barrel Aged from Bierbrouwerij Grand-Café Emelisse
3.97
out of
5
based on
22
ratings.