Otter Creek Spring Ale: German-style Kölsch
| Otter Creek Brewing
BA SCORE
83
good
82
Reviews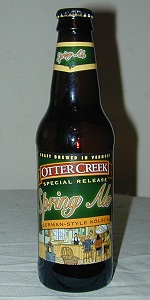 BEER INFO
Brewed by:
Otter Creek Brewing
Vermont
,
United States
ottercreekbrewing.com
Style:
Kölsch
Alcohol by volume (ABV):
4.85%
Availability:
Spring
Notes / Commercial Description:
No notes at this time.
Added by Bitterbill on 01-20-2008
This beer is retired; no longer brewed.
Reviews: 82 | Ratings: 95
4.1
/5
rDev
+12.6%
look: 4 | smell: 4 | taste: 4 | feel: 4 | overall: 4.5
Light honey color with a small, but dense white head. Aroma of lightly toasted grain and hint of hop spice. Flavor is light, crisp toasty bread with just a hint of earth hop. This is a Kolsch, which means light color, light body, light-hearted. As such I found it to be quite refreshing and tasty - fresh. However this does taste like most brew-pub's standard offering for craft beer amateurs - light and inoffensive, but relatively much more body and flavor than a macro. This is a great brunch/ lunch/ fishing, or just lurking about the river bank on a spring day.
566 characters

4
/5
rDev
+9.9%
look: 4 | smell: 4 | taste: 4 | feel: 4 | overall: 4
The beer pours a nice gold color with a 1/2" white head that slowly fades to lacing. The aroma is good. It has a grainy pale malt scent along with a bready yeast aroma. It's light, yet sweet smelling. The taste is good as well. It has a very smooth and malty flavor. It's not particularly heavy, but it's complex and quite enjoyable. It has a wonderful pale malt taste that goes down easy and finishes dry, yet malty. It's a bit grainy with some light breadlike notes. The mouthfeel is fine. It is a medium bodied beer with adequate carbonation. This is a highly drinkable spring ale; an excellent choice.
605 characters
3.72
/5
rDev
+2.2%
look: 3 | smell: 3.5 | taste: 4 | feel: 3 | overall: 4
Poured a sun colored yellow with a light white head that laced a bit down the sides of the glass. The aroma is of light malts and a bit fruity at the end. The taste is pretty good too. It starts with a nice light malty base with some fruity taste and some hop bitterness that rounded the flavor pretty good. The mouthfeel was average and the drinkability was pretty good. Worth a try.
384 characters

3.77
/5
rDev
+3.6%
look: 3.5 | smell: 4 | taste: 3.5 | feel: 4 | overall: 4
12 oz twist-off bottle> 16 oz SA glass.
This one is a clear pale golden color with sweeping and quick bubbles with a one-finger all-white bubbly and foamy head with slow dissipation that looks really good.
I was actually pretty impressed with the aroma of this stuff, a rich, wheatie but buttery malt scent...buttered toast to be exact with a mildly sweet scent too. wild mint, herbal and sweet scented berries comes to mind. all-spice...smells like a warm, wet spring time hay field.
This one has a very nice malt flavor, it's rich with a buttery toffee, wheat and grain flavors, very herbal and earthy hop that adds just the right amount of balance. It finishes with a sour-yeastie effect, much like a Pilsner.
Light to medium feel, smooth and lively with a dry finish. Pretty nice.
sometimes you just crave that highly quaffable brew that's really easy to drink but had good flavor...well that's this brew in a nutshell.
936 characters

4
/5
rDev
+9.9%
look: 4 | smell: 4 | taste: 4 | feel: 4 | overall: 4
Color: Pours a yellow color with a thin one-finger head.
Aroma: Clean and malty. Smooth. Like a kolsch.
Taste: Malty/bready upfront with a tiny bit of hop bitterness. Not much beyond that. Smooth.
Mouthfeel: Smooth and bready with a tiny bit of bitterness. Goes down very smooth.
Verdict: Drinkable. A good spring beer but I wonder if it would be better suited as a summer beer (I miss the ESB from last year).
I would choose this over a macro lager when it comes to a beer you drink after/while mowing the lawn or kicking back on a hot day.
548 characters
4
/5
rDev
+9.9%
look: 4 | smell: 4 | taste: 4 | feel: 4 | overall: 4
Aggressive pour into a pint glass. About a 2 finger white head which dissipates quickly but hangs around as a nice surface head. Some spot lacing sticks to the sides of the glass. Medium gold color, a bit darker than the BJCP guideline, but quite close. Very high clarity.
No real tell-tale aroma, but some faint cherry notes do come through.
The taste is pretty close to the classic examples (Reissdorf, Gaffel, etc.), with some bitterness in the finish, but not enough to "pucker" which is what the classic versions impart. Still quite nice. Drying.
Mouthfeel is also quite nice, rounded and nicely crispy.
This is a very good version of a beer style which is "protected" by an appellation, the Kolsch Konvention, and also generally misunderstood. It is also a style which is a challenge to brew. This style is a truly great (the best??) lawn mower beer. Hats off to Otter Creek for brewing a very good US version.
922 characters
3.17
/5
rDev
-12.9%
look: 2.5 | smell: 3 | taste: 3.5 | feel: 3 | overall: 3
pours a clear golden color with almost no head and very little lace with herbal aromas in the nose. slightly sweet bready malt taste with a slight metallic hop finish. mouthfeel light carbonation just passes. not something i would run out to buy just didn't have anything special going for it.
293 characters
Otter Creek Spring Ale: German-style Kölsch from Otter Creek Brewing
3.64
out of
5
based on
95
ratings.