Key Food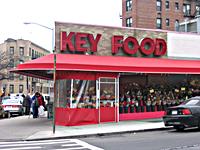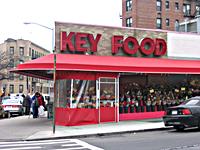 Store
22-15 31st St
Astoria
Queens
,
New York
, 11105
United States
(718) 721-4680 |
map
keyfoodstores.com
Notes:
Recent ratings and reviews.
Ratings by PEBKAC:
Reviewed by PEBKAC from North Carolina
3.1
/5
rDev 0%
Trotting along my old neighborhood, I had a list in my wallet & a camera in the other. I had to fill in my gaps. Queens is such a second rate borough. Such a diverse neigborhood, & you can count the number of decent shops on your pinkie.

Well, things are changing. A couple of new shops have opened up, & even everyday ordinary supermarkets are starting to listen. Sitting under the train in constant construction, here's where Key food stands as of 1/27:

Stone(ab, ipa, porter), Boulder Beer x2, Victory(HD, HW, PP, GM!), Delirium x3, Sierra Nevada x3, Shmaltz x2, Fullers, Harpoon, expensive BK sixers!, Bluepoint, Smuttynose x3, the Ommegang linup & assorted Duvel family labels, Allagash, Franziskaner, two cases of La Fin Du Monde spread out over the shelf :P, plus a few good ones I can't quite remember(I had a damn camera with me, doh!). The regular assorted big macs also take up space near the beginning & end of the coolers. Anything Belgian related besides the Unibroue is stocked on wire racks directly in the opposite direction.

No one really knows the prices, so don't ask, & just expect to pay around average for singles, & quite strangely, more then average for sixers. The best deal I saw was probably the Stone smoked porter for $3.49. The worst buy easily was $11 sixers of all the BK Brewery line.

Clean, well stocked, fresh, & location, location, location. An excellent spare tire when seeking out good beer.

Edit: the other local Key Food on Newton has practically the same stock & same prices, plus an extra bottle or three. I feel this review should be adequate enough to cover both locations.
Jan 28, 2007
More User Ratings:
Reviewed by ommegangpbr from New York
3.1
/5
rDev 0%
Buahahahaaaa!!
AHHH HAHAHAAA!!!
Ahem.
This Key Food was a pleasant find.
As far as BA treasure troves go this place does not quite qualify.
However
if this was my local grocery store I would be pretty confident in a steady supply of tasty brews.
Service is a downside here as no one working there seemed to know anything about the beer... including some of the prices.
However!
this can turn out to be a plus as I have pretty often been undercharged because things hadnt been entered into the system yet.
Beers I've seen and gotten include Tripel Karmeliet, Stone (Ruination, IPA, Arrogant Bastard), Ommegang (Abbey, Hennepin), Dogfish Head (Raison D'etre, Indian Brown Ale, 60 and 90 Minute IPA), Brooklyn (the usual line up as well as Post Road Pumpkin Ale), rotated offerings from various local and foreign breweries as well as all the macro swill you could want.
Prices tend to be a bit on the high side but nothing so outrageous that you wouldn't turn them away especially since they're right in front of you and the only good beers to be found within miles. Sales can be good as well.
Very solid for a grocery store in Queens.
Apr 12, 2006
Reviewed by scooter231 from New York
3.2
/5
rDev
+3.2%
I ran in to Key Food on my way home one day to pick up some... bread and cheese, I believe. These things happen to be right by the beer selection. I perused the cheese and bread, made my choices, turned to walk to the registers, and something caught my eye.

Beer. Good beer. I almost dropped my food in the excitement that overtook me. Now, this is a grocery store, so they don't have a whole huge impressive selection- but it's enough for me. Deliriums, La Fin du Monde, Arrogant Bastard, Mojo, to name a few of the large bottles. And as far as six packs go, a nice little selection there as well. Lots of Brooklyn Brews, Harpoon, and several Sam Adams selections, and Long Trail. Among others. Service wise- it's Key Food, you're not going to get much, if any. If they're out of something and I ask if there's more in the back, they're helpful- otherwise, forget it. But I forgive them.

This is a great place to go if you're on your way home from work, and didn't have time to stop at a real beer place. You'll find something to get you by. And the prices are about equal to what I've seen everywhere else, so it's a pretty fair deal all around. A helpful find.
Aug 02, 2005
Key Food in Queens, NY
Place rating:
3.1
out of
5
with
4
ratings