Dismiss Notice
Summits Wayside Tavern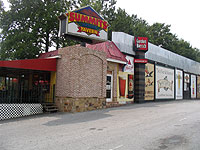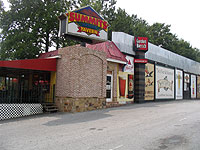 PLACE INFO
Type:
Bar, Eatery
5830 Roswell Rd.
Sandy Springs
,
Georgia
, 30328
United States
(404) 257-0735
// CLOSED //
Notes:
No notes at this time.
Added by BeerAdvocate
PLACE STATS
Reviews:

12

Ratings:

pDev:

6.79%
HISTOGRAM
Ratings: 12 | Reviews: 12
Reviews by rajendra82:
3.9
/5
rDev
-8.7%
vibe: 3.5 | quality: 4 | service: 3 | selection: 5 | food: 3.5
This is the second Summits I've visited. Compared to the Cumming location, this one is quite a bit more grungy, as it is located in a more rough and tumber neighborhood. Parking outside is ridiculous. I found the last parking spot, and when I went in there the place was only 1/3 full. The big screen TV is a bit faded, and service a tad bit slow. But the selection rocks.
Since I was not all that hungry when I visited, I only had an apetizer of Stuffed Jalapenos. They were quite well done and accompanied my Sweetwtaer IPA from the tap very nicely. The second beer I ordered was a Terrapin Rye. I think they gave me a Sweetwater IPA again. Since it is my favorite beer, i just drank it down and did not raise a fuss. I'd go back again.
741 characters
More User Reviews:
4.7
/5
rDev
+10.1%
vibe: 4 | quality: 4.5 | service: 5 | selection: 5 | food: 4.5
UPDATE - CLOSED!!: Since this was my hangout I got the shock of my life over the Christmas weekend. A friend of mine called to tell me that Summit's is closed. The sign outside the pub says it's closed for renovations but it will not be opened as a "Summit's". Word on the street is that the new owner will open it more as a Sports Bar/Club and it is unknown if he will keep the large beer selection. The loss hit me hard since I knew all the locals, heck who am I kidding, I was a local myself. The Atlanta area lost one of its few true beer BARs when Summit's in Sandy Springs closed. Alas my love, I will always have fond memories.
Tier 3 Memorial Member
667 characters
4.85
/5
rDev
+13.6%
vibe: 3.5 | quality: 5 | service: 5 | selection: 5 | food: 5
On a busy night, or during a major sports event, this place can get crowded and noisy, mainly because it is on the small side. However, the friendly and helpful waitstaff, the excellent food, and the amazing selection of beers both in bottles and on tap make this one of the best - if not the best - beer bars in Sandy Springs. If you are a beer connoisseur, you should join the Passport Club and sample different brews in order to earn first a personalized mug (100 draft beers), then a personalized chalice (150 different beers), then a stein (250 different beers) to show you are adventurous when it comes to brewskies!
Parking can be a pain; fortunately they have a valet, and you can get there by MARTA (Atlanta transit).
729 characters
3.78
/5
rDev
-11.5%
vibe: 1 | quality: 4 | service: 4 | selection: 4.5 | food: 3.5
I had been looking forward to checking Summits Wayside Tavern out for some months and today I finally got the opportunity. It is the holiday season and I had finished up my business and was ready for some good beer. They do have an impressive menu of beers, dozens and dozens on draft including a half dozen top quality Belgian brews. The bartender was knowledgeable and friendly and served us very quickly.
I hate to say it--the place is just such a dump that I just can't consider going back there.
503 characters

4.35
/5
rDev
+1.9%
vibe: 3 | quality: 4.5 | service: 4 | selection: 5 | food: 4.5
A favorite of mine for 10 years. Formerly a Taco Mac, Summits has the best selection of drafts in the city (over 120). These guys would have ample selections of Rogues, Anchors and Sierras before craft brews were all the rage and before that silly 6% law was abolished. Summit's is nothing fancy and does not claim to be. Quite the older "sports bar" with Several Germans & Belgians and tons of craft brew. Brooklyn's, Avery IPA, Heavy Seas Loose Cannon, Lagunitas, to name a few. Great selection of rare single malts and tequila. They have the Passport Club where drinking 100 beers lands you your own personalized 20 oz mug.
Summit's is located next to American Pie on Roswell Road in Sandy Springs, at I-285 & Roswell Road. American Pie has "Stripper Appreciation Night" every Sunday for all you enthusiasts out there.
I stopped in on Monday night and was treated to a delicious goblet of Samichlaus Bier from Austria. Owner Andy claimed he was been trying to get a keg for 12 years! Next was the Terrapin "Wake & Bake" Stout ended with a shorty of Old Crusty from "John's Private Locker." December is 'Rogue Month' at Summit's, where over 25 Rogue's are on tap. Integrity IPA, Black Brutal Bitter, Love n Hoppiness, Skull Splitter, I2PA, and on and on.
The food at Summit's is always good, some of the better "bar food" in the city. Best-Wings-Hands-Down-In-Atlanta. Calamari is killer too. The entire menu offers beer selections for each item.
Service is good and knowledgable, but some patience is required on packed nights. As a non-cigarette smoker, the smoke can be, at times, very annoying. Not thinking, my pregnant wife and I went up during the UGA/Tech game and every table in there was smoking, including 2 cigar smokers. It will only be a matter of time before every bar in Atlanta will be smoke-free. Free WI-FI with plenty of regional beer newspapers on hand.
1,897 characters

4.18
/5
rDev
-2.1%
vibe: 3 | quality: 4.5 | service: 4 | selection: 4.5 | food: 4
I have driven past this place countless times, but only yesterday did I actually stop in. I'll be back. Many times, most likely. My only two complaints, are 1) They allow smoking, which is entirely understandable, but I still don't like it. 2) On an incline on Roswell Rd. a few hundred yards from I-285 is their wee little entrance. Parking is a daunting task, indeed. Once you're inside, however, everything else is wonderful. 100+ draught selections with probably as many bottle selections. Very impressive. I had a Chimay Cinq Cents on draught (in the proper Chimay glassware, of course!). The cost for this was around $8 or so. Mushroom and Swiss burger was fantastic. Wife had hot wings of which I robbed a few. Probably the best wings I have had in a very long time; not greasy, slippery things, and not wrinkled, burned up, over done, either. Perfect, delicious hot wings. All total with my meal, my wife's meal, an appetizer (nice portion, to be an appetizer), and my goblet of Chimay, our total was $42,55.
A fabulous selection, wonderful food, and a great value. I'll return for sure.
1,097 characters
4.25
/5
rDev
-0.5%
vibe: 4.5 | quality: 4 | service: 4 | selection: 5 | food: 3.5
Summits (Sandy Springs) is the place for beer lovers in north Atlanta. The selection is amazing, and the servers know beer. This bar offers frequent patrons a Passport Club, encouraging them to experiement and try different beers. I think this is a holdover from when it was a Taco Mac, but I love the idea and am happy they are continuing it.
As mentioned, the selection is fantastic: 100 taps, 200+ bottles. If you're not happy with that, you're hopeless.
This is a sports bar with a great beer selection. Lots of do-dads hanging on the wall, lots of TVs and neon signs. It's not a bad thing. Consequently the crowd is a cross between the BudMillerCoors types and beer geeks. I walk the line between the two, so I can't pass judgement. But I will say that the BudMillerCoors-type women make for some pretty good times.
Another perk to being a member of this bar (register at their website) is the heads-up (via e-mail) to their special events. They are clearly directed towards beer-geeks. On second thought, maybe this is a beer bar with a sports theme? It's a very nice touch that give this bar a neighborhood feel, even if it is located next to an interstate.
That said, my biggest beef is the location. Location gets a '1.0.' Situated a half a block from I-285 on Roswell Road, it is a traffic nightmare. Parking during peak hours is valet. Good luck trying to make a left turn out of the place. A real downer. That said, just take a cab - let someone else worry about the traffic and enjoy this great bar!
1,524 characters

4.28
/5
rDev
+0.2%
vibe: 4 | quality: 4 | service: 4 | selection: 5
Summits is on Roswell just North of 285 and you really cannot miss it. You enter from the side and the night I was there the side had some construction debris.
As you walk in you get that beer vibe. I looked at the bar and saw tap handles in groups of 4 to 8 all over the place and rows of neatly hung 20 oz mugs in tiers. They you look at the back wall and see a row of taps there. Counting the printed beer list yeilds 93 taps, but I did see a neglected hand pull near the registers. I cannot see how anyone would say this selection was anything less than phenomenal, especially when you consider the long walls of beer coolers positioned near the bar.
The place seems to be a hangout for local regulars and some smokers were in the house the night of my visit. The smoke was handled well with only a few people lit up, but if it were crowded it could get ugly in a hurry.
The quality seemed fine, the bartender had to bleed off the first 1/2 pint or so into a pitcher to make way for fresh beer when asked for a pour and the beer seemed to be extrememly cold out of the tap, but with so many taps you have to find some way to manage the inventory. The service was decent, they ID everyone, so come with your ID or stay home.
All in all, Summits may be a destination in the North Atlanta area. I know if I am in the area again, I will return!
1,356 characters

4.1
/5
rDev
-4%
vibe: 3.5 | quality: 4.5 | service: 3.5 | selection: 4.5 | food: 4
The atmosphere here is almost pure sports bar. Lots of brewerania around and a nice desk outside. Other than that, TV's and more TV's. Which is OK by me as long as you know that up front. Just looks like a psuedo-grungy sports bar with a remarkably good draft selection.
Quality of food and brew was very good in my experience. The two beers I had tasted great and the food was good too.
Service was a bit slow but friendly and attentive. Waiter definitely knew when the drinks were getting low. Pretty knowledgable about the beers too.
Selection was very good. Unlike the Brick Store which has fewer taps but a more selcetive list, there are alot of beers on the draft list that I found undesirable. But what they did have made up for it. More Rogue than you can shake a stick at. I had a Terrapin Hoppy Monster first. They had Rogue Dry Hopped Amber and Rogue Yellow Snow on the list but both were out. Waiter suggested a Celebration which had just been tapped and that was very good. Lots of goood locals on tap as well.
During October, they were serving various German dishes for Oktoberfest. Damn good schnitzel and cabbage! Really impresed with their food. Very good place for beer and cuisine. (Ok, great cuisine for a beer/sports bar.)
1,255 characters
4.25
/5
rDev
-0.5%
vibe: 4 | quality: 4 | service: 4 | selection: 5 | food: 4
Stopped here after shopping at Jax right across the street. Huge selection, the biggest I've seen. Tons of draft and tons more in bottles. Very supportive of local breweries, ABC, Dogwood, and Sweetwater were all there. Bartender was very willing to answer questions. I will say that $5 for a pint is a bit much, but the selection can't be beat. I would say that they have just about everything they can legally sell here. Can't wait till the alcohol limit gets raised, they'll probably triple their selections. Seemed like typical pub grub, fries, burgers all that, prices seemed about average. A very nice bar, definitely something to go back to.
Edit:Since the alcohol laws have changed, this is the place to be. Old Crusty and Rogue's I2PA on draft are some highlights as are several belgians and promises of future selections including Bigfoot, Old Foghorn and many others. This is also one of the few places that Rogue sends a keg of their special releases to. Apparently, some guy that worked there works for Rogue now, so they get hooked up.
1,052 characters
4.2
/5
rDev
-1.6%
vibe: 3.5 | quality: 4 | service: 4.5 | selection: 4.5 | food: 4
Stopped here after the Great Atlanta Pub Crawl and the day after for the gathering. Not very impressive outside or inside. Lots of brewery logos etc on the inside. Large open area with tables and lots of TVs playing various sporting events. It has a rectangular bar area with rows of taps on the front and backside. Everything I had was fresh and the service was quick and courteous. An overwhelming tap selection mixing some locals with lots of imports an micros. Very good pub fare. Definitely worth a visit but still plays second fiddle to the Cumming location.
564 characters
4.45
/5
rDev
+4.2%
vibe: 4 | quality: 4.5 | service: 4 | selection: 5 | food: 4.5
Due to a combination of quality and proximity, this is my bar. I'm there every Thursday (pint night - order the featured beer and keep the logo pint) and a irregularly on Tuesdays. They've got 114 beers on tap and 400 in bottles (If you go to their Cumming location, you'll get over 250 on tap in addition to the 400 in bottles). The beer selection is excellent, although they'll goof on the names sometimes so you aren't quite sure what you're drinking (ex. Moling's Celtic Red doesn't exist, it should be Moling's Traditional Celtic or Molings Irish Red, same for the La Trappe Trappist Ale. Which one?). The food is excellent and I haven't had a single thing there that wasn't tasty. My only problem is the place is a little pricey, but I guess you have to put up with that for the selection.
795 characters
Summits Wayside Tavern in Sandy Springs, GA
Place rating:
4.27
out of
5
with
12
ratings