The Corner Pub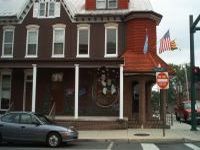 PLACE INFO
Type:
Bar, Eatery
158 S Mulberry St
Hagerstown
,
Maryland
, 21740-5740
United States
(301) 797-3532 |
map
cornerpub.net
Notes:
No notes at this time.
Added by chOAKbarrell on 08-02-2005
Ratings: 14 | Reviews: 11
Reviews by therica:

4.58
/5
rDev
+6.5%
vibe: 5 | quality: 4.5 | service: 4.5 | selection: 5 | food: 3.5
Fantastic place. Your eyes will pop out when you see the great and somewhat US-rare on-tap offerings, of German, UK and even a Belgian now and then.
Check the stand-up cooler next to the main door, too-- an amazing and frequently-changing selection of offerings in bottle. We bought a good selection of bottles to go, once, and the bartender who primarily handles the beer-ordering even gave us a substantial discount on the bottles.
The food was... okay... A very limited selection of sandwiches, fairly good in quality although the service was moderately slow on them during a slow mid-afternoon visit. They do offer a meat-cheese-squares basket for evening-nighttime snacking.
I understand that there's an upstairs, as well-- although the place is so crowded at night that trying to even make one's way to the stairs can be a challenge, one which we didn't attempt.
If you are a beer-fanatic, this is a MUST-VISIT for you, in Hagerstown-- a rare find in this area, and I know others who come from a good distance, driving 1-1/2 hours just to visit occasionally.
Yes, they can also order kegs for you.
1,118 characters
More User Reviews:

3.92
/5
rDev
-8.8%
vibe: 4 | quality: 3.75 | service: 4.25 | selection: 3.75

3.96
/5
rDev
-7.9%
vibe: 4.25 | quality: 3.75 | service: 4 | selection: 4.25 | food: 3.5

4.35
/5
rDev
+1.2%
vibe: 3.5 | quality: 4.5 | service: 5 | selection: 4 | food: 4
I stopped in to this place this week on business. It was in a residential dingy neighborhood, but I didn't really see a downtown business or commercial area in Hagerstown. There were two separate apartments down the street with drug busts going on as I drove to the Corner Pub. It didn't feel dangerous to me by any means, but I wouldn't walk through it, either. Once inside, it was a friendly, welcoming place with both customers and staff being very nice. The atmosphere is like a corner bar --- not high end and not a whole in the wall. A comfortable inviting place with great staff and well behaved, pleasant customers.
Most guests were ordering vodka drinks that were loaded up extremely strong (I mean it) and were cheap, like $7 or so. I was one of only 2 or 3 people drinking tap beer. The tap beer list was decent with mostly widely available craft beer. I remember the following on tap: Stella Artois, Troegs Perpectual IPA, Hop Hog IPA, Redhook Longhammer IPA, Shock Top, Sam Adams, Blue Moon, Bass, Newcastle, Heineken, Yuengling, Bud Light, Miller Lite. I'm a beer guy, so I was happy with the Troegs Perpetual IPA, which is solid and Hop Hog which is a step below but still acceptable. They do have a bunch of bottled beer including some very good stuff like Boulevard's Tank 7 Farmhouse and Stout but those two stood out from an otherwise average craft beer bottled selection. There's enough good beer here to keep me content, but that's about it. The prices on beer were very reasonable.
The food was very good bar food. Wings were crispy and well sauced and spicy like I asked for. The burger was large and tasted great. The prices on food were very reasonable.
The best this place has to offer is warm and friendly service in a comfortable setting and a lot of tap lines with a few good choices for craft beer lovers and a few really good bottles too. The worst part of this place was the neighborhood and the fact that there aren't very many choices of really good craft beer here, but for general beer lovers, a decent selection in a town otherwise devoid of good beer except for Always Ron's.
2,116 characters

3.93
/5
rDev
-8.6%
vibe: 4.5 | quality: 4 | service: 4 | selection: 3.5
Stopped by after a Suns game. A nice place on S. Mulberry Street.
As you walk in one of the entrances, there is a decent sized bar with ample seating. There is seating along the back wall as well. Another room has a pool table with another room for sitting. Overall, a good vibe, not stuffy or anything.
There is an ok selection of brews on tap. Roughly 20 taps that include some macro's and your standard Guiness, Harp, Bass, New Castle, Killians, Blue Moon, Stella Artois and Yeungling. They have some other craft beer, Sam Adams, Leffe, Flying Dog and some Hop Hog.
There is a cooler along the wall of the one entrance. Has a good selection of brews, German, Belgiums and some US craft beers.
Service was knowledgable and friendly.
Overall this is a nice place to stop in and visit. They have a decent selection of brews that will satisfy most craft beer drinkers for a night.
886 characters
4.22
/5
rDev
-1.9%
vibe: 4.5 | quality: 4.5 | service: 4 | selection: 4.5 | food: 3
The best bar in Hagerstown with selection and atmosphere in mind. I prefer to stay downstairs since the selection is better, but during busy times that might not always be possible. Daryl is always accommodating and knows the beers he offers on tap. The taps are always rotating so, you can always try new things. They often offer beer that is never available in this area, so that's definitely a plus.
Food is ok. Its pub food so, you shouldn't expect gourmet dining. The meat and cheese platter is always a hit though.
If you want carry-out service, the cooler next to the door offers a pretty good to great selection of European brews. They were the first to start carrying many of the "abbey" beers before the other stores caught on.
If the score seems high, you have to take into account the locale. In Hagerstown, many are just discovering beer outside of the watered down domestics. Happily, there is a burgeoning expansion of taste here, so hopefully there will be more places like Corner Pub.
1,005 characters
4.2
/5
rDev
-2.3%
vibe: 4 | quality: 4.5 | service: 4 | selection: 4 | food: 4.5
This is one of my favorite after work stop offs. I stop in several times a week for some food and a beer after a long day. The food is awesome. More than just your run of the mill pub food but they do have some of the old favorites. I personally love the fried pickels and the pub club. The service is good. The owner and his wife are the ones tending the bar most nights. The beer selection is respectable...better than what most bars in the area offer. The only downside is that the place is TINY. On a weekend the place can get over crowded to the point where it get hard to move without spilling your beer. The definitely won't stop me and my friends from going though. Recommend everyone that lives in the area swing by and check the place out sometime.
758 characters
4.35
/5
rDev
+1.2%
vibe: 4.5 | quality: 4.5 | service: 4 | selection: 5 | food: 3
First off I would like to state that I gave them a 5 on selection because they far surpass any other bar in Washington County when it comes to the variety of beers.  The best time to go, in my opinion, is after work.  It's not overly crowded at this time, but there is still a cool vibe in the place.  The whole bar is adorned with heavy, dark woodwork.  They have an ever-changing selection beers on tap, so people come back frequently to see what's new.  They have a lot of your standards, but also some hard to find beers.  I once drank a bottle of '93 Thomas Hardy Ale there.  If you have friends in Hagerstown and decide to visit, make sure they bring you here.
673 characters
4.35
/5
rDev
+1.2%
vibe: 5 | quality: 4.5 | service: 4.5 | selection: 4.5 | food: 2.5
The Corner Pub is the only place in washington county Maryland with a decent beer selection. A nice selection of tap beers seperated by region, seasonal, american scottish/english and german. They have a nice selection of bottled imports including some belgians. It is also rumored that the owner Deral has a nice selection of exotic beers in the basement of the pub, however I personaly have not yet been down there to browse. They also make very good martinis and mixed drinks and for what you get it is a great bargain. The crowd is very layed back. It does get a bit busy on the weekendsl. The food is very basic. Sanwiches and chips mostly. However, they are developing a new kitchen but it seems to be a very slow process for them.
737 characters
4.58
/5
rDev
+6.5%
vibe: 4 | quality: 5 | service: 5 | selection: 4.5 | food: 3
The Corner Pub is a must stop for any beer drinker in Hagerstown looking for a good beer bar. The owners, husband and wife, bartend the downstairs bar just about every night. They are very nice, look out for their customer's welfare, and happy to serve. Daryl will happily give you a sample of any of his beers and always serves you your beer in the correct glass.
On the weekends the upstairs is open, that bar is bottle only, and the bar gets very busy and packed. This place is great during the week or daytime.
The taps are aways changing as well as the many excellent choices of bottles in the cooler.
The meat and cheese basket, which comes with a great spicy brown mustard, is a great pair to their many great beer choices. Other then that, the food needs a bit of work, but they are currently building a bigger kitchen and the menu will hopefully grow a bit too.
874 characters
4
/5
rDev
-7%
vibe: 4 | quality: 4 | service: 4 | selection: 4
Got to this place and immediately eyeballed the bottled beer display as I entered. Several interesting choices. Taps were available with a for more, but most of the beers on tap, I have had before. That's not really a bad thing though as it is like that almost everywhere. The bottle selection was a great suprise and I spent the evening with two beers from draft, and several selesctions from the bottle. A friend of mine expressed interest in one of the beers from the display and the bartender was kind enough to go into the back and get other selections from the same brewer. I do this type of beer bar run often and at the end of the night was very pleased with what I had available and felt that this was a comfortable place for me to enjoy a few new beers. What maid it really nice was the check at the end of the night. After 2 drafts and 4 bottles of some of the more exotic choices the bill was half of what I expected. J.W. Lees 1996 Harvest Ale for $4, are you kiding me? Cantilion 750ml bottles for $12? AT THE BAR!! I would have paid that much at my local beer stores.
If you are in Hagerstown and are looking for more than BMC... this is the place to go. I wish it was a larger place, but for Hagerstown, this is the beer drinkers hangout.
1,255 characters
4.53
/5
rDev
+5.3%
vibe: 4 | quality: 4.5 | service: 4.5 | selection: 5 | food: 4
Well don't rely on the beer list online to be accurate as it is not updated that often. But their beer is rotated with seaon and is frequently changed even if the it is not sucking air. I had Rogue Chocolate stout on tap last weekend, good stuff man. THe also have about 40-50 beers in a fridge and the correct glassware for any beer they have in the house. The only food I have had there was some sausage and cheese platter that was good. Also the Miller and Killians taps are hidden all the way over in the far corner as if the are reluctant to even have them in the bar at all. A must stop when in H-town. The poeple in there can often suck though and in those cases head to Merlins.
686 characters
4.28
/5
rDev
-0.5%
vibe: 4 | quality: 4 | service: 4.5 | selection: 4.5
If you are looking for a bar in Hagerstown that has a selection of many quality beers, the Corner Pub is simply your best choice. They dont have hundreds of beers like a beer bar in a major city, but this is as good as you are going to get in a small town like Hagerstown.
Taps: there are 19 of them (the 2nd largest selection in town), which is only surpassed by Merlins Tavern (see seperate reviews), but the difference is that the Corner Pubs taps are mostly quality, craft beers, whereas Merlins taps serve mostly macro-filth. You can click on the direct link to Corner Pubs website to read their tap-list, but here is a quick review of the beers you will be interested in: Weihenstephaner Original Lager, Ayinger Brau-Weisse, Hacker-Pschorr Hefe-Weisse, Chimay Triple (White), Pilsner Urquell, Wild Goose Snowgoose Ale (local beer), Rogue American Amber, Swithwick's Ale, and Tetley's English Ale. Also featured are Ciderjack, Guinness, Bass, and Harp, as well as Yuengling Amber & Yuengling Porter, which is a pretty sizeable brewery, but mostly just east coast, based in Pennsylvania. And 3 more taps feature lousy swill, which shall not be mentioned.
Bottles: In addition to the 19 taps, there is also a large cooler/refridgerator by the front door, housing many more quality bottled beers. I would say at least 30 different choices. Off the top of my head, I remember them having: several different offerings from Rogue brewery, Smuttynose IPA, several brands of cider, and quite a few beers & breweries I have never seen or heard of before, in addition to many more bottles.
The same man is always bartending when I go in the Corner Pub, so I am going to venture a guess and say that hes the owner. He is always friendly and will let you sample beers if you are not sure what you want. Service gets big thumbs up.
Relaxing, dark atmosphere with good attention to detail & aesthetics. The Corner Pub features two floors, but it is a bit small, and gets very crowded on weekends. Great during the daytime or on weeknights, though.
Never tried the food, but you can view the menu from the link provided. Lots of sandwiches: roast beef, virginia ham, pork tenderloin, turkey, club, b.l.t., and the Corner Pub beef & cheese basket.
And finally, the Corner Pub features reasonable, small-town prices on all their beers.
High marks all around!
2,368 characters
The Corner Pub in Hagerstown, MD
4.3
out of
5
based on
14
ratings.