Regio
| Sierra Madre Brewing Co.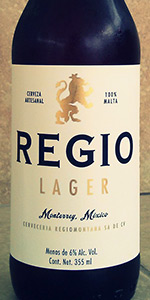 BEER INFO
Brewed by:
Sierra Madre Brewing Co.
Mexico
smbc.com.mx
Style:
Czech Pilsener
Alcohol by volume (ABV):
4.75%
Availability:
Year-round
Notes / Commercial Description:
No notes at this time.
Added by Pepeton on 08-05-2005
Reviews: 6 | Ratings: 11
2.74
/5
rDev
-13.8%
look: 3 | smell: 3.25 | taste: 2.5 | feel: 2.25 | overall: 2.75
L- Clear yellow body and small fizzy white head.
S- Fresh malt and citrus aroma.
T- Light malt flavor with a slight spicy and fizzy aftertaste.
F- Light, watery.
O- Very refreshing but doesn't feel much different than several good BMC beers you can get anywhere.
★
262 characters
2.77
/5
rDev
-12.9%
look: 2.5 | smell: 3 | taste: 3 | feel: 2 | overall: 2.5
The color is golden and amber; there are some caramel and malt in the smell; the flavor is regular to good, smooth and bitter, good carbonation and a sweet end; tasty with hamburgers or spicy food; its made with German Lawy of Purity of 1516; the mouthfeel is watery.
★
267 characters

3.95
/5
rDev
+24.2%
look: 4 | smell: 4 | taste: 4 | feel: 3.5 | overall: 4
It pours a clear ambar color with a generous white head and lots of lace; Smell is floral, saaz hops and yeast; Taste is some fruty; Mouthfeel is crisp, clean and well carbonated; Very drinkable and very refreshing.
Good Pils.
A good summer beer.
¡Salud!
★
262 characters
2.06
/5
rDev
-35.2%
look: 3 | smell: 2 | taste: 2 | feel: 1 | overall: 2.5
a beer from my birthplace, made by the Sierra madre brewing company, one of the first microbreweries of my country mexico, this people this making the things well it has a variety of more than fifteen beers between: dunkel, kolsch, pilsen,porter, red lager, pilsen light, and the seasonal, etc. good for this brewery.
★
317 characters
3.83
/5
rDev
+20.4%
look: 4 | smell: 3.5 | taste: 4 | feel: 3.5 | overall: 4
Almost the same than the OBispado one, not in flavor, but in comments. IT is a little darker, and tending to be a dark beer. NOt exactly a Pilsener I know, but the taste is close. Regio is a part of the name that people living in Moterrey receives and means another stuff. BUt this beer is the one for the brewery.
★
314 characters
4.05
/5
rDev
+27.4%
look: 4 | smell: 4 | taste: 4 | feel: 4.5 | overall: 4
This is the flagship beer of Sierra Madre Brewing Co. brewpub, and is the only one up to now that is bottled and sold in some local supermarkets.
The name Regio is short for how the people of this 4 million denizen city are called in Spanish: Regiomontano.
The beer comes in a 700 ml dark bottle with a cap with no inscription on it. Some bottles come with a best before date, that never exceeds but 3 months, plus the label warns you that the beer isn't pasteurized so you have to drink fresh.
Pours a golden amber brew, highly carbonated, good white head and decent lacing.
Smell is of a lager, but this one isn't your regular macro since you can perceive some a good maltiness and Saaz hops.
Taste is crisp, round, tangy due to the carbonation and hoppy.
Mouthfeel is fresh, not too dry and with a good bitterness and some residual sweet.
Drinkability is good, especially in the Summer when temperatures here in Monterrey reach, and exceed, 100°F.
★
972 characters
Regio from Sierra Madre Brewing Co.
3.18
out of
5
based on
11
ratings.