Vintage Bar & Grill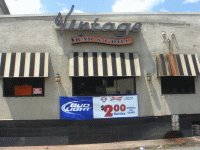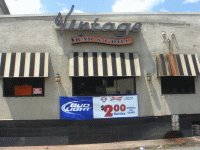 Bar, Eatery, Beer-to-go
1116 Old York Rd
Abington
,
Pennsylvania
, 19001-3715
United States
(215) 887-8500 |
map
vintagebarandgrillabington.com
Notes:
Reviews: 4 | Ratings: 8
Reviews by GnomeKing:
3.43
/5
rDev
-3.1%
vibe: 3 | quality: 4 | service: 3 | selection: 3.5 | food: 3
Vintage is rockin' the suburbs, serving up Heavyweight Lunacy, Victory Hop Devil, and a modest selection of other local crafts with a few Belgians mixed in.
My wings did the trick...not good enough to do the triple lindy kind of tricks, but good enough for a somersalt or too.
This is a small place...even the sidewalk on the way here is small. On a busy night you'll feel like you're in somebody's way no matter where you stand.
The service was solid. You shouldn't expect to get much advice on what's good, and I wouldn't expect you to swap stories about beer with the servers, but you'll get what you want and you'll get it quickly. My Lunacy was served in a Chimay glass, so they're not unknowledgeable here, it's just that they don't think of themselves as a beer bar.
In the land of the blind, the one-eyed man is king. In Abington and nearby Willow Grove, etc, the king is Vintage.
902 characters
More User Reviews:
4.44
/5
rDev
+25.4%
vibe: 4.5 | quality: 4.75 | service: 4 | selection: 4.25 | food: 5

3.64
/5
rDev
+2.8%
vibe: 3.75 | quality: 3.5 | service: 3.75 | selection: 3.5 | food: 4

3.45
/5
rDev
-2.5%
vibe: 4 | quality: 3 | service: 4 | selection: 3 | food: 4
Went here to meet up with some old friends and grab a brew. This has been a on and off spot for me for years. The atmosphere is that of a not so fancy and not so shitty bar that lays somewhere in the middle. All of your regular bar attractions are there, TV's to the right and left of you that are not so huge so vision may be altered depending where you sit. There's a jukebox and actually no videogames/pool tables etc. so that keeps out some of the younger crowd, thank god. The bar is quite beautiful with an odd shape that's curvy. There is a decent selection of beer here, about ten taps(four being craft) and a vast bottle selection that includes all three chimay's in big bottles. Always some locals on tap and a import or two. I had a Stoudt's DIPA and a Ommegang Hennepin. I think there may be an issue with their lines because, well i can just taste it, but whatever. The service is pretty good when sitting at the many tables surrounding the bar. The service is excellent at the bar when Tony's working. He is the best bartender in the biz in this area hands down. Give him a visit on Thursday nights, he knows how to work a bar! The food is pretty good, I never had an issue. They seem to love to dump a huge pile of chips on as a side. Besides the kinda dirty taps here, this place is good to go from time to time.
1,328 characters
2.93
/5
rDev
-17.2%
vibe: 3 | quality: 2 | service: 4 | selection: 2.5 | food: 4
Its location is easy to get to: Rt. 611 next to Susquhanna Rd., but it has a blink-and-you'll-miss it driveway that leads to the parking lot in the back. Inside, the bar area has a yuppie sports bar feel. The restaurant in the back has a more classy atmosphere with somewhat pricey but delicious entrees. Back to the bar: Very roomy. The actual bar is in the middle of the room with seating on all sides. Tables and stools are lined around the walls. There's plenty of TVs with all sort of sports games on, a great thing for people who hate to turn their head more than 20 degrees in either direction. The crowd is mostly neighborhood folks and the hospital crowd, (Abington Hospital being a block away.) It gets pretty smoky when it's busy.
The beer selection is very disapointing. I have come in lucky enough to find Lunacy on tap, but that's rare. They've had Victory Hop Devil every time I went in, and that seems to be the cream of the crop. Last time I went I had Sam Adams Summer Ale, and it cost 5 bucks. They had Chimay on tap, but only seem to serve it in a tiny 6 oz. glass, and make you pay twice what its worth. Even the bottle selection is mediocre. Judging by the crowd and what they drink on average, this place makes its money on Coors and Miller.
I don't recommend going to this place to drink at the bar, unless you live in the neighborhood and don't want to travel far for a drink. You're much better off going 5 minutes up the road to the Drake Tavern. But, the restaurant is worth taking the family to. Just don't expect anything phenominal on tap, it only seems to happen every once in a while.
I've edited this to add that I strongly suggest not to go there to drink unless a miracle happens and they have something phenomenal on tap. Went there last night and paid 5 bucks for a Flying Fish Farmhouse and it was served to me in a small glass. That's right, 5 bucks for less than a pint of domestic beer brewed right across the river. Forget this place for beer. It's way too pretentious to take their beer-loving customers seriously.
2,068 characters

3.68
/5
rDev
+4%
vibe: 3.5 | quality: 3.5 | service: 4 | selection: 3.5 | food: 4
Prior to being known as simply, Vintage Bar & Grill, this used to be Scoreboards which was formerly a loud smokey sports bar with cheap pitchers. Now, Vintage adds a little touch of class and comfort with its neon sign adored white wash exterior that butts up against a narrow two foot wide side walk that is sucking in a gut to make way for the bulging main section of Old York Road in Abington just a couple of blocks South from Abington Hospital and Abington Police Department. (Don't let the A.P.D. prevent you from enjoying Vintage. There is plenty of parking immediately across the street in the giant Wachovia Bank lot that you can easily enter and exit via perpendicular Susquehanna Road. The cops won't hassle ya unless they see you stumblin' so relax.)
Enter by walking up the driveway and make a mini-U turn to pop into this Mediteranean motif of tiles, brick archways, boats, and seafood meets Americano art-deco lights, 50's chrome & black backed diner stools and wall breweriana of Sam Adams mirrors and Budweiser neon. Always a mixed crowd of T-shirt local yokels at the 20 seat enclave tile toped, wood elbowed front and stainless steel Mung gutter rear backed bar melding with Dapper Dans donning suits at the 30 or so four-top tables. There is also a main restaurant area offering more privacy towards the back through another brick archway.
Amenities include a juke box, clean bathrooms, and a *blech!* cigarette machine. If you are quite serious about top shelf booze, Vintage only packs a speed rack of booze from what is visable and a small pillar behind the bar touts black & red Johnny Walker.
Service is, what can I say, satifactory. Usually, you won't sit long without a tip seeking gal probing with the blessed question.
Beer selection is bright but not brillant. A selection of eight taps offers at best $4.25 Vic'ry Hop De'bil, Sam Adams, Hackerschor and a-sordid macros. If you feel up for some bottles, a steady spectrum of 22 American, English, European and bottles from rotating Chimays (red, white or blue...Cinq Cent when I went) Vic'ry Golden Monkey from 2003! *suh-weet* New Castle, Yards IPA, Wychwood Hob Goblin, Peroni, Stella Ar-barf, and even two Mike's Lemonades for uh, I dunno ... somebody. The bottle selection hangs from the ceiling in a plexi-case so don't ask for a beer menu.
Foodwise, the chicken fingers were, well...not spectacular but if they were, would that matter much. The guy next to me did the nachos and evoked my jealousy because they looked suh-weet!
Basic prices that won't make Georgie cry, but there are cheaper dives if you are jonesin' for brewskie the day before payday. Also, Vintage definitely passes the "Could you bring your Mom here" test with flying colors. It is mostly a restaurant really, with a fine belly up bar for the beer geek looking to be, at best, occupied. Better beer joints abound with The Drake two miles South also on Old York Road, and Union Jacks a five minute drive in North Hills/Glenside.
Last call: Clean "Bar & Grill" motif restaurant that is a welcome relative newbie amongst TGIF, Benigans and Houlihans over-run suburbs. If you'd like to go and I'm in town, beermail me and the first round is on me. Worthy of being on the Beerfly list for the curious traveler, but not too likely to spark a revolution.
3,329 characters
Vintage Bar & Grill in Abington, PA
Place rating:
3.54
out of
5
with
8
ratings