Szalon Sor
| Pécsi Sörfözde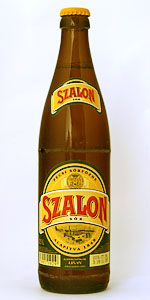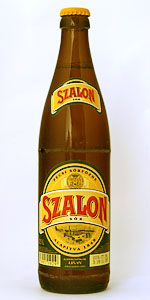 BEER INFO
Brewed by:
Pécsi Sörfözde
Hungary
pecsisor.hu
Style:
Euro Pale Lager
Alcohol by volume (ABV):
4.60%
Availability:
Year-round
Notes / Commercial Description:
No notes at this time.
Added by pootz on 08-05-2005
Ratings: 11 | Reviews: 6
Reviews by ccrida:

More User Reviews:
2.56
/5
rDev
-12%
look: 3 | smell: 2 | taste: 2.5 | feel: 3 | overall: 3
Bit of creamy pour, but metallic and bitter aftertaste. Foamy soapy pour, takes a while to dissipitate. Some hop and above average carbonation.Soapy nausey smell. Thinish mouthfeel. This took more than a year to get brewery on site from its limited and quick pick up at LCBO.
275 characters
3
/5
rDev
+3.1%
look: 2.5 | smell: 2.5 | taste: 3 | feel: 3.5 | overall: 3.5
Colour is very yellow; the white foam sinks quickly down to a thin lid/ring leaving som lacing.
The smell is quite neutral with some (slightly sour) malt and bread-y note. Maybe there are some hints of butter/diacetyl too.
The taste is a bit fresher than the smell: The malt dominates the taste with notes of white loaf with butter, some bitter herbs and maybe a flowery hint. The aftertaste is robust with a creamy, slightly bitter taste. Some herbs, some diacetyl (but not very much) and citric flavours are present. The finish includes some notes of barley flour.
The mouth feel is surprisingly creamy with soft carbonation (medium bubbles), making this beer a real quencher, although it is a very ordinary lager.
728 characters
4.34
/5
rDev
+49.1%
look: 4 | smell: 3.75 | taste: 4.75 | feel: 4.5 | overall: 4.25

2.46
/5
rDev
-15.5%
look: 3 | smell: 2 | taste: 2.5 | feel: 3 | overall: 2.5
Canned. Poured a crystal gold color with moderate white cap that laces lightly on the glass. Smells like wet cardboard with boiled vegetable water. On the sweet side, moderate carbonation. As it warms up this brew gets gnarly like thin rancid duck butter. Has some drying from saaz hops but the malt is a weird tasting dirty thing that seems to be permeated with raw potato tastes....weak finish where the veggie tastes take over...brrrr don't drink this unless it's ice cold
477 characters
2.56
/5
rDev
-12%
look: 3 | smell: 2 | taste: 2.5 | feel: 3 | overall: 3
.5L emptied into a Pokal.
A: Pours a pale gold with a fluffy 2-finger head which receeds quickly to a thin ring. No lacing.
S: Sour malt, pungent and not at all pleasant.
M: Light bodied with mild carbonation.
T: Sour barley malt comes to the fore, some hops to provide a bit of balance, but overall, not a nice combination. Aftertaste has some unsettling metallic undertones.
D: Goes down easy and is easily forgotten. Gets down to business and leaves no room for enjoyment.
480 characters


2.5
/5
rDev
-14.1%
look: 2 | smell: 2 | taste: 2.5 | feel: 3 | overall: 3
Pale straw colouring, head subsided almost immediately and made the beer appear quite flat once it had. Smell when cold is nearly non-existent. Reminded me of a lot of Lighter beers, tough to distinguish. Taste was almost sweet, very light maltings, with a touch of alcohol, very simple. I almost felt guilty for not being able to distinguish more from the taste, but it's a very generic-tasting beer. Soft feel in the mouth, as it was not very highly carbonated. I suppose that I could drink this if it was the only one around, but it is best when very cold, and with the low ABV, it goes down pretty easy. Not a first choice by any means.
640 characters
2.55
/5
rDev
-12.4%
look: 2.5 | smell: 2.5 | taste: 2.5 | feel: 3 | overall: 2.5
yet another euro lager. this one is pretty interesting, standard pour, clear with fading white head. flavor is very malty for a lager, more robust than i thought itd be, and more robust than its peers. its go a honey flavor in there somewhere, and definitely tastes like an extract brew. even so it is decent when its cold. feel is familiar, well carbonated and just a little more body to it than most of these. overall nothing memorable, but it gets the job done for the time being.
update: was going to describe he malt profile as similar to muller beer, then i saw its made by the same brewery... interesting...
615 characters
Szalon Sor from Pécsi Sörfözde
Beer rating:
9.1%
out of
100
with
11
ratings