Super Liquors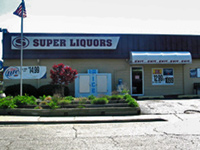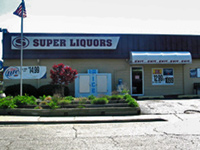 PLACE INFO
Type:
Store
818 E War Memorial Dr
Peoria
,
Illinois
, 61616-7654
United States
(309) 685-9222 |
map
Notes:
No notes at this time.
Added by mportsch on 08-04-2005
PLACE STATS
Reviews:

9

Ratings:

pDev:

8.4%
HISTOGRAM
Ratings: 14 | Reviews: 9
4.06
/5
rDev
+0.2%
vibe: 2.5 | quality: 3.5 | service: 4.5 | selection: 5
Excellent selection of craft beers in stock for those looking to get a more varied taste. Stockmen and floor workers are always helpful whenever I stop in, and it's a pleasure discussing some of the more exotic beers with one of their current managers, Paul. Another little man works there that mainly stocks wine, but seems to have little clue as to how the rest of the store functions. He seems to live in his own little world, even going so far to throw beer around when something upsets him. Upsets the energy of the store, otherwise they would be receiving high marks due to their overall friendliness of their staff, minus their wine guy. Definitely recommended to stop in. Might pay a little more for some of their stock, but compared with the Tuck, the staff here is much friendlier. Give 'em a chance!
810 characters

3.59
/5
rDev
-11.4%
vibe: 4 | quality: 4 | service: 3.5 | selection: 3



4.01
/5
rDev
-1%
vibe: 3 | quality: 4 | service: 4.5 | selection: 4
Completely unromantic setting and building. Not in the best location in Peoria (but FAR from the worst) but it looks like an average Midwest liquor store. Most of the clientele is there to get macros and lotto tickets, but there's plenty of craft goodness inside!
It's the "other" great beer store in Peoria. Excellent selection of all the brews available in the Central IL market, though not nearly as much as Friar Tuck. However, most (and more of the stuff you would want) are refrigerated. They have a small mix-a-six selection that has been getting better stocked of late, used to just break up the stuff that wouldn't sell. Rarities stick around here longer too, so if you strike out elsewhere it'll likely still be in stock here.
Always get asked if I need any help, though most of the staff is there to just run the registers. The wine and beer guys are very knowledgeable though.
890 characters
3.88
/5
rDev
-4.2%
vibe: 3 | quality: 4 | service: 4 | selection: 4
Super was an anticipated stop on my tour of Peoria today. In the parking lot I noticed a few odd characters coming and going. Above the entrance, an aging awning proclaimed "the party starts here!" Inside the beer was in the back, fairly cool and dim back there, which was good.
There was a good representation of Boulevard, and a case of Saison-Brett on the shelf. Noticed the White Winter meads here, but they were a few bucks cheaper at Friar Tucks. Coolers held an extensive selection, many craft sixers, full lines from Founders, Schlafly, several Dark Horse, and more. Imports were more obscure on the shelves, even one belgian from Shelton when they were still based in Miami. Mix a six was ok, passed after seeing 2-3 year old Schlafly dry hopped APA on this shelf.
There were staff around, I got an offer for help as I wandered the store aimlessly. A stock person seemed to avoid me in the beer aisle to retreat into the stockroom. At the register the older gentleman was very friendly and genuine. Overall it was a good shop with a good selection, i'd stop in again if I was in Peoria.
1,099 characters
4.35
/5
rDev
+7.4%
I think all of the prior reviews do a good job of summing up Super Liquors, but it should be noted that they recently greatly expanded their cooler to the point that the vast majority of the craft beer selection now sits in refrigerated goodness! While, Friar Tuck may have more of a selection, Super Liquors' offerings are nothing to sneer and this expanded cooler space gives them an advantage on that front.
Hmmm, I need 92 more characters to finish this review. Super Liquors also has sales on their craft offerings, typically a certain brand for a week or two, something I never see at Friar Tuck. Always nice to take the plunge on a new beer at a discounted price.
671 characters
3.9
/5
rDev
-3.7%
Super Liquors has become my go-to place in Peoria to pick up beer. They have a nice selection of Belgium and English beers, and an even larger German section of beers. They carry a lot of different American micros as well, including, Avery, Breckenridge, Fort Collins, New Belgium, Two Brothers, Goose Island, Schlafly, O'Fallon, Summit, Dogfish, Rogue, Founders, and Great Divide to name a couple.
Everything is nicely organized and appears to be a lot more fresh than the beers at Friar Tuck and UFS, the other two places to get beer in Peoria. The one caveat to this is their pick-six section, which has some outdated stuff in it. Also, Super Liquors has a nice selection of glassware for $3 a piece.
Overall, this is a good place to stop if you are looking to pick up some midwest beers. Friar Tuck has a larger selection; UFS has more odd-ball stuff that neither Friar Tuck or Super Liquors carry; but Super Liquors has a great selection with probably the freshest stuff out of the three places and a better selection that UFS.
1,036 characters
4.2
/5
rDev
+3.7%
Not exactly wall-to-wall beers, but plenty to choose from and they seem to add more every month.
There were more empty slots on the shelves that I would have liked, but at least the beer is fresh from such turn-around. Some beers were in the wrong place, making the price on the shelf *not* the price of the beer. Plenty of regional favorites to be found.
The staff is always willing to help. Sometimes they help so much that I often leave with more beer than I intended to.
Friar Tuck may have a larger selection, but Super Liqours have fresher stuff and the staff to help.
584 characters
3.4
/5
rDev
-16%
Visited both this store and its chief rival, Friar Tuck, during my recent Peoria visit. Both had their strong points, so I bought from both.
Good selection of Midwest micros, along with several from the West and East, that I am unable to buy in Georgia. The overall selection is somewhat smaller than Friar Tuck's, yet, as many have pointed out, the beer is fresher, as I did not see one beer past its "Best By" date, or covered with dust. Likewise, the Mix & Match section had a bigger selection than FT; however, FT's just appeared to be more picked over. At $7.99/sixer, I stocked up on several different beers from Michigan Brewing, Schell, Schlafly's, Great Lakes, etc. Not all were top-rated beers, but still worth the cost just to try different beers by different brewers.
My only issue was the service, where they didn't even care enough to try and help. I asked about a special pricing offer I saw, and was basically answered with a shrug by the clerk....who unfortunately had his picture on a poster in front as the owner. Likewis, a second trip in resulted in another "get lost" type response from a sales clerk. it was still worth shopping there, given the selection and price and my short time frame in town. But if I lived there, I might have to look elsewhere.
1,281 characters

4.3
/5
rDev
+6.2%
Am I really in Illinois....well yes. I can tell by the Founders, FFF, Goose Island, Great Divide, Rogue and other locals...Then on to the Delirium and Cantillon a plenty, Hefe Weizen heaven and many others...Nice to see Victory products out here. If you would like specifics, stop on in. I was impressed by this alone....then I saw the glassware. The have accumulated an impressive array of Tulips, Goblets and Pints (the most abundant of course)
I took a glance at the chees and misc other item but not really interested. It is funny, at some point in your life you realize that you think that home is the center of the universe and realize that maybe it is not. Travel for work brought me this way, Beerfly steered me in and hopefully I will make it back.
I took a sixer of Robert the Bruce for the trip home...maybe ill find soem Dreadnaught in Chicago...TBC
867 characters
4.35
/5
rDev
+7.4%
Super Liquors has a great selection of microbrews and imports, rivalled in Peoria only by Friar Tuck. Service has never been an issue for me, as I usually have a good idea of what I want, but they always ask if I need help as I browse the beer section. They have a decent "mix a six" selection for $8, but they don't otherwise have a lot of 12oz singles available. Their selection of Belgians is fantastic, and they carry most of the microbrews you'd expect for this area (Goose Island, Three Floyds, Bell's, Founders, Sprecher, Great Lakes, etc). The most pleasant surprise was that I recently noticed they carry Bear Republic - finally I have a local source for Hop Rod Rye and Big Bear Black Stout! Friar Tuck does not carry this as far as I know. (edit - now they do!)
Located next door (and connected to Super Liquors) is Wine Experience, a wine bar that has over 30 wines available by the glass. It's very classy, with good lighting and comfortable couches, but accordingly expensive. They also have light appetizers and desserts, and usually have low-key live music, so it makes for a very pleasant evening for those into fine wine (and willing to spend a few dollars).
Overall, Super Liquors and Friar Tuck are clearly the two best beer stores in Peoria; Friar Tuck probably gets the slight edge.
Edit: Super Liquors now has BA shelf talkers on almost all of their beers, and they have a nice selection of logoed glassware also (Orval, Sam Smith, Delirium Tremens, etc.).
1,484 characters
Super Liquors in Peoria, IL
Place rating:
4.05
out of
5
with
14
ratings