The Washington House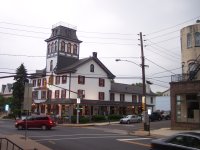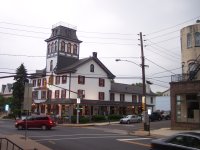 Bar, Eatery, Beer-to-go
136 North Main Street
Sellersville
,
Pennsylvania
, 18960
United States
(215) 257-3000 |
map
washingtonhouse.net
Notes:
Reviews by TheLongBeachBum:
TheLongBeachBum from California
4
/5
rDev
-3.6%
vibe: 4 | quality: 4 | service: 4 | selection: 4
A business trip to Mount Laurel NJ, via Philadelphia Airport, for an all day Friday meeting gave me the opportunity to hook up with fellow BA Erica on my return to PA. A suggestion to head out to Sellersville was eagerly taken up, after a long day I was ready for some rest and relaxation, oh and a few beers.
Driving out here, the Washington House was easily recognized from some distance. The original building dates from around 1742, officially a 3½ storey building, the exterior is extremely well presented and has a lovely warm welcoming feel, shuttered windows and deck area and the fact that it is situated on a corner all add to its attraction. It oozes personality, yet the addition of a tower in the mid 1850's adds a little "Bates Motel" feel to the skyline profile. The Washington House website has a great potted history so I won't repeat it all here, but it is certainly an interesting one.
We parked in the lot which is situated next to an adjacent Theater, which in turn often provides waves of patrons with the perfect opportunity for a pre and post show drink. During my visit it was thankfully quiet, lending me the opportunity to soak in the atmosphere with little distraction. The main bar area is paneled with dark woods, the actual bar runs to your right as you enter and is a 1933 vintage replica of one ripped out and chopped up during the dark days of prohibition. The 40ft bar contains only 5 taps all situated on a brass rotunda in the middle. Lots of dark woods in, on and behind the bar blend with glass and mirrors flanked by marble columns which are topped with decorative Ionic capitals. Period lighting, quality decor and reproduction fittings all add to the atmosphere here, it's been nicely restored for sure. Tables to the left seat punters who wish to eat, as in fact do several other rooms which run off from main bar in all directions. We elected to sit at the bar on one of the many high backed stools that neatly lined it, but beware that if sit near the taps, you will be regularly deafened by the cocktail mixer thingy situated right next to them.
Beer range is pretty good, but I wouldn't call it outstanding. Only 5 taps, one of which serves Yuengling Lager, but they did also have Stone Arrogant Bastard, Tröegs Wheat and a forgetful Oktoberfest (Stoudts maybe?), the latter two were forgetful. Bottled List, which you will have to ask for, is reasonable, a decent collection of local and nearby brews with a smattering of West Coast brews and Samuel Smiths throwing in a major portion of the overseas contingent. It took me a while to find something that I had not tried before, Magic Hat Hocus Pocus, again a so-so brew. Didn't see much food on the tables during my visit but the Menu looked inventive and the Wine, Liquor and Single Malt Whisky selection was equally up to the job. If I wasn't told about the Beer List here I wouldn't have known about, it certainly is not apparent if you don't ask for it. They should make more of their bottled list and leave copies on the Bar if they want to continue to promote their solid selection I feel. Service at the Bar was good and always attentive.
Arriving early gave me the opportunity to enjoy the quiet atmosphere here, it was very relaxing indeed, and is most certainly a big part of the enjoyment factor. We left just as many groups started to arrive for evening meals, many seemed like regulars, including the strange dude at the bar sat next to us who always had two drinks at any one time!? The interior décor and Victorian feel lend a nice supporting role to the 5 draft beers and around 80 bottle beer list. Well worth a visit if you're in the neighborhood, if I had been here a little later I would have opted for a table and eaten for sure. Next time maybe.
Last Visit: Friday 26th August, 2005.
Sep 03, 2005
More User Reviews:
cmpqse from Pennsylvania
4.08
/5
rDev
-1.7%
vibe: 4.25 | quality: 4.25 | service: 4.25 | selection: 3.75 | food: 3.75
Mar 29, 2015

jmdrpi from Pennsylvania
3.78
/5
rDev
-8.9%
vibe: 4 | quality: 3.75 | service: 3.75 | selection: 3.75
had a few beers here before seeing a show at the associated Sellersville Theater. It's a cool old historic building, with a nice wooden bar. decent selection of craft beer like the local Free Will.
Jun 24, 2014
Rifugium from North Dakota
4.08
/5
rDev
-1.7%
vibe: 4 | quality: 4.5 | service: 4 | selection: 3.5 | food: 4.5
Owned by and located adjacent to the Sellersville Theater. A small and often busy restaurant with an excellent (but not TOO extensive) rotating beer and wine menu, and very good food. Nice atmosphere with an old American feel. Definitely always worth hitting up early before going to a show next door. The bar is not huge, and tends to fill up quickly--seats around 10-15 people--but there is a good amount of tables. Prices are decent if you're just going for a little nosh, but entrees may get into serious coin, and of course if you drink a lot of their good beers, then you'll probably leave with a much lighter wallet. Service has always been exceptional when I've been there. This place was one of the first places I was truly exposed to craft beer back in the day (they used to serve Three Floyds ffs), so I always recommend it to newcomers and old-timers alike.
May 03, 2011

CraftAleRookie from Pennsylvania
3.93
/5
rDev
-5.3%
vibe: 4 | quality: 4 | service: 4 | selection: 3.5 | food: 4.5
This is a local stop that my wife and I really enjoy. I must caveat this review- that it's based on sitting in the 100+ year-old restored bar, in a booth (the booths are very old and original too). The atmosphere in the bar area is far different than the restuarant at large, which is quieter and caters to a more fine dining experience.
All that said, the atmosphere is very nice, darker ambiance for a bar, but the legacy bar and booth setup is very nice. If you have a large group (6-8) there is a very large booth that makes for a great gathering of close friends.
The overall service has always been good for us- all waitstaff and the bartender are always lively and vibrant personalities. you can tell then enjoy working there, even when it's busy.
selection is good, but not super extensive. This goes for beer as well as the menu. we like to sample appetizers and brews, and get a smaller main meal. many of the appetizer selections are excellent, unique, and very tasty. They have about (not sure exactly) 12 beers on tap, and about 35-40 bottle selections.
Average price is higher than the local pub. I would not call this a "beer bar", as they are not awash in choices, but you can be sure that a good selection of craft ales are available, and you won't be trapped by the standard fizzy yellow lager.
Dec 31, 2010

DaveHS from California
4.2
/5
rDev
+1.2%
vibe: 4 | quality: 4.5 | service: 4.5 | selection: 3.5 | food: 4.5
A beautiful old building, with lots of character and charm. Judging from the old photos, the bar appears to have been restored to look just as it did well over a hundred years ago.
The food is good, although sometimes it's a little inconsistent. The soups are especially good.
There are five or six taps. Usually two of these are reserved for Yuengling and some crap macro like Miller. The other three are usually American micros. Typically you'll see Sierra Nevada IPA or stuff from Yards, but lately I have been seeing a lot of Middle Ages stuff. The bottle selection isn't the best, but it's getting better, and because sellersville is my home town, I guess I have to give them props for trying. And they seem to be getting a little better all the time. So if you are up for an atmospheric drinking experience, I reccomend it.
UPDATE:
Went back last time I was homed for Thanksgiving. The beer selection has definitely improved. Lots of Sly Fox and Troeg's. The lunch menu is a little pricey, but you get alot for your money. Highly reccomended for an afternoon session.
Mar 28, 2008

woodychandler from Pennsylvania
4.43
/5
rDev
+6.7%
vibe: 5 | quality: 4.5 | service: 4.5 | selection: 4 | food: 4.5
John Franke, nee Frantz, was coming out here for an LNCBC beer tasting to include a meet 'n' greet with the locals and true to form, I bummed a ride.
As we approached, I was really glad that I made a (Beer) Pest out of myself, just from an architectural standpoint. LongBeachBum referenced The Bates Motel and I could certainly see that. The place was built in stages, starting in the late-1700's as a farmhouse with lodging for passers-through. It was the Pennsy (the Pennsylvania Railroad, or PRR, for non-rail buffs) that added the bay window in the front and the very interesting tower atop the building, with a wrought-iron railing around its perimeter. The tower was built just so that the Pennsy could lay claim to having the tallest building in town. LOL. That sounds like their type of machinations. I felt right at home, since I seem to be installing my own personal bay window and I like Hitchcock movies, plus I am big on preservationist uses of historic buildings. There is a central, spiral staircase leading to the tower, but there is no public access to the second floor or above, dammit! I was told that the staircase worked against them several years ago, when a fire broke out and it acted like a flue/stovepipe, wicking the flames right up to the tower. They have made all repairs since, or so I was told, since I just couldn't weasel my way into a look-see.
The primary entrance is on Temple Avenue, just up from the corner of Main Street and the bar is just to the left upon entering. Dating to 1894, the decor is appropriately Victorian, with brass and blown-glass light fixtures, a wood bar with a wooden foot rail, and a beautiful hand-carved back bar with six sectional mirrors, to give you an idea of its length and immenseness. The lighting is dim, soft, and comfortable. Zzzzz. Whoops! Okay, maybe not THAT comfortable, but you get the idea. There are five (5) booths directly opposite of the bar and four (4) separate dining rooms, each with its own particular designation and decor, reminiscent of Stoudt's. The lavatories are down a short passageway and off to the left and are no less than immaculate.
They feature five (5) taps on a vintage brass circular tower and on this particular occasion, the choices were: LNCBC Franklinfest (natch); Anchor Liberty; Yuengling Lager; Guinness; and Middle Ages Apricot. The bottle menu included twenty-one (21) micros and twenty (20) imports and impressive among them were FFF's Alpha King; Middle Ages Wailing Wench; Chimay Bleu; and La Chouffe. The others range from pedestrian to decent, but the ones that I mentioned were the standouts.
They also offer outdoor dining/drinking on their porch and the facility is connected with a former movie theatre transformed into a live music venue, just up a slight rise on Temple Avenue. I really recommend this place and suggest that if you go, ask for Elayne and tell her that Woody from Lancaster sent you. This is one of those rare instances where saying so will not get you escorted to the exit. ;=)
Jun 03, 2006

francisweizen from Alaska
4.5
/5
rDev
+8.4%
vibe: 4.5 | quality: 4.5 | service: 4.5 | selection: 4.5 | food: 4.5
The only "real beer bar" within 10 minutes of my place. I'm very glad that this place stepped it up and now carries an excellent range of brews for the area. The building itself is fantastic. An old victorian farm house that would not feel out of place in Portland or San Francisco. A long, dark wooden bar, that operated during prohibition graces the bar room. There are also many other beautiful rooms to dine in. This place is definately a feast for the eyes, and all of the other senses as well. The quality of the food and beer is top notch as are the food, wine, and beer selections. There are quite a lot of nice food options here, with the salmon sandwich being quite killer. The wine list is great, and they have a "cellar" room for their bottles as well. The beer range is fantastic with 4 of the 5 taps dedicated to locals or great imports. On my last visit the tap beers were Unibroue Currant Ephemere, Stone IPA, Troegs dreamweaver wheat, Troegs pils, and Yuengling lager. Bottle range is fantastic and carries some excellent ranges as well. They have close to 100 bottles i'd say now, all available as singles at the bar or six packs to go. Full ranges from Sam Smiths, Heavyweight, Anchor, Victory, etc, etc, with many rare odd-ball bottles rounding it out as well. Service is fast and friendly, and their are free music open jam nights on Tuesdays. Oh!, This place also does monthly beer tastings with local breweries such as troegs, and far-away breweries like stone. They also do wine tastings and beer/wine dinners as well! All-in-all this place is a fantastic beer bar in a small little town, just across the border from Perkasie. I'm so glad that this gem of local arhcitecture, history, and culture has once again become a focal point within this small community in Bucks County. We may be an hour away from Philadelphia, but hey we have got some culture here too! OH, and I almost fogot next door to this place is a theater which used to play movies, and some plays....Now it is a concert venue with many great bands passing through weekly. Yup, this place is truly fantastic, and it is definately worth a trip outside of the city just to visit it. Come and show them your support, it just keeps getting better and better!
Aug 09, 2005
The Washington House in Sellersville, PA
Place rating:
4.15
out of
5
with
10
ratings