Gunnison Brewery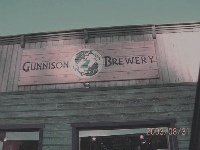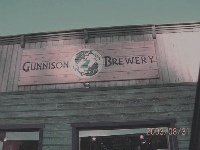 Brewery, Bar, Eatery, Beer-to-go
138 North Main Street
Gunnison
,
Colorado
, 81230
United States
(970) 641-2739 |
map
gunnisonbrewery.com
Notes:
Recent ratings and reviews.
| Log in to view more ratings + sorting options.
Ratings by warmstorage:

Reviewed by warmstorage from California
4.15
/5
rDev
+19.3%
vibe: 4.5 | quality: 3.5 | service: 5 | selection: 4 | food: 4
A nice little place with fantastic people and very good beer, located in the heart of downtown Gunnison.

Four house taps were on in two visits (Hopalicious IPA, Dunkel Weizen, ESB, and one I forget, and didn't have.) The IPA was solid, grassy, herbal, earthy hoppy. Not overwhelming with hop presence as the name might suggest, but very drinkable. (Especially at $2.75 during the 4p-6p happy hour; they are only $3.75 other times.) The ESB, which they call their "Pub Ale" was decent, if a little thin, and forgettable. The Dunkel Weizen was sweetish, a decent example of the style, but just not my speed. They also have a GREAT guest bottle list, which I didn't try any of, about 20 carefully chosen 12 ounce and 22 ounce bottles, with a clear emphasis on Colorado brews, and some Stone, Belgians, and other great micros thrown in. The solid selection score reflects an average house beer list, but augmented by a careful bottle list. (Though I did see one loser drinking a bud longneck, and another loser drinking a Dos Equis with lime. Ugh.)

The atmosphere is spare, but cozy, and pleasant. Maybe eight tables inside, and a long dar with lots of stools packed in. Also a back patio area that I only peeked at.

Great, tasty fresh food, very affordable. Had an excellent veggie burger once ($6.25) didn't eat the other time. General brewpub food (burgers, sandwiches, wraps, salads, etc) done tasty.

The staff are just fantastic: mellow, laid back, friendly, pleasant, helpful. Can't say enough good things about them. They're great with everyone from strangers, to regulars, to children, to snooty tourists.

The house beer isn't astonishing, but it's totally serviceable, and everything else about this place is great.
Aug 25, 2006
More User Ratings:
Rated by DenverHopster from Colorado
1
/5
rDev
-71.3%
vibe: 1 | quality: 1 | service: 1 | selection: 1 | food: 1
This Brewery has closed. Alpine Brewery across the street has a few nice beers and guest taps.
Mar 05, 2016
Reviewed by BingDings from Massachusetts
3.4
/5
rDev
-2.3%
vibe: 3.25 | quality: 3.5 | service: 3.75 | selection: 3
Limited beer selection, only 5 taps. The range was decent, from an amber, ipa, blonde, esb and a guest tap (lagunitas daytime). The inside looks nice, olde timey saloon kind of a feel to it. The back patio is a bit rundown looking which may be fitting for the old mountain town vibe, but could use some TLC. The servers are friendly and down to earth and culture a relaxing vibe. Overall, good spot to stop in for a beer but the atmosphere and limited beer selection stale quickly.
Jul 18, 2014
Reviewed by Patdonahue0719 from Colorado
3.38
/5
rDev
-2.9%
vibe: 3.75 | quality: 3.25 | service: 3.5 | selection: 3 | food: 4
so the have a wonderful concept going for them with trying to create a friendly brew pub in a mountain town. Yet they lack the number one thing a craft brewery should be good at, and that is the quality of their brews. i feel like that just rushed in and didnt take the time to figure out how to make outstanding brews. i have only had a few of their beers and i was not impressed at all for instance the APA lacks all hop character and flavor. if i where to make one suggestion that would be to focus on one style of beer and perfect it and shape it to be something unique and drawing people back through the doors every night after work or class. other than that the food and service is good but the one thing it does lack is some knowledge of their beers. i tried to ask the waiter what kind of hops where used in the APA and he just stated some kind from a local farm. i also asked about their brew process since they have a 2.5 bbl set up that is open fermentation. all in all its sad to see a brewery that cant pride themselves on unique beer.
Oct 09, 2013

Reviewed by ghostfacekilla69 from Virginia
3.68
/5
rDev
+5.7%
vibe: 4 | quality: 3.5 | service: 4 | selection: 3.5 | food: 3.5
a cross between a local joint and a joint for outdoor/extreme sports types. the inside has nice wood w/ a really nice bar and a nice patio outside. there are three home beers on tap and 2 guest brews as well as a big bottle selection. there is a very conscientious food selection i.e., free range chicken and organic potato fries. unfortunately they were out of the pub ale and only had a total of about 5 taps which is a little weak. food was ok, but a little ski-lodge/dinery. service was good and the people seem cool.
Oct 10, 2008
Reviewed by mentor from Colorado
3.75
/5
rDev
+7.8%
vibe: 4 | quality: 3.5 | service: 4.5 | selection: 3.5 | food: 3
Stopped in as I needed to eat on a long drive through the mountains. Gunnison Brewing is located a couple blocks north of Highway 50 in the main downtown portion of Gunnison. The decor in the interior is similar to the decor seen in the image above. Rustic wooden, like you'd expect in some old west town. Seating inside is limited and there were a number of seats at the bar. The inside is a bit dark, so we asked to be seated on the back patio, which was very nice. Clearly just a space between neighboring buildings, but with enough vegetation to keep it quaint.

In the late afternoon, we were the only customers on the patio, so we had great service. It was quiet and a great recharge for me before facing the last of my drive. The menu was limited to typical pub fare and the food was decent. Quite a few decent craft beers in bottles, but only four beers on tap. I chose an ESB, as I was looking for a low-alcohol quencher, and found it to be okay. Gunnison Brewing is definitely a place I will keep in mind as I continue to explore Colorado.
Aug 04, 2008
Reviewed by ColoradoBobs from Colorado
3.95
/5
rDev
+13.5%
vibe: 3.5 | quality: 4 | service: 4 | selection: 4 | food: 4
While on vacation in Gunnison, I checked beerfly and found this spot, so decided to give it a try.

Small spot with 7 tables, one booth, 12 seats at the bar, and a patio out back. Fourteen 12-ounce bottles available (mostly American craft beers and a couple of imports); and seven 22-ounce or larger bottles, similar assortment. Three in-house beers on tap and two guest taps.

Atmosphere is typical small pub -- nothing special, but I wasn't expecting anything special, as this is Gunnison, CO.

Attentive service. Asked about their in-house beers and immediately received free samples! Ordered their "Pub Ale" and "Peoples Porter" (reviews to follow).

Pretty good salads and pub grub -- Bleu Burger made with hormone-free local beef was really good. Prices were really good: $3.75 pints on tap, $2.75 from 4:00 to 6:00 p.m., which is when we were there.

If you're in Gunnison and are looking for a decent bite of food and some pretty good in-house beers, I recommend this place. Surprisingly good!
Jun 20, 2008
Reviewed by rowew from Colorado
4.06
/5
rDev
+16.7%
vibe: 4.5 | quality: 4 | service: 4 | selection: 4
Stopped in on the way through town to pick up a growler for camping. Small place, bar and a few tables, with a nice patio out back. The "kitchen" is just a grill and prep area back behind the bar, so if you are sitting there you are right in the middle of it. They had 4 house brews, 2 guest taps, and a great bottle selection. All of the house brews I tried were solid, with the Pub Ale being my favorite. Definitely worth a stop if you are in the area! We didn't try any food, but everything going out looked well made with fresh ingredients.
Sep 05, 2007
Reviewed by harpus from Alabama
4.08
/5
rDev
+17.2%
vibe: 4 | quality: 4 | service: 4 | selection: 4.5 | food: 3.5
I found this place while driving around on vacation in Colorado. We were just driving around the town and look over and see Gunnison Brewery. I went in because it was about lunch time to see what they had to eat, the food list was OK but I was suprised by the list of bottles offered. When we cam back for lunch they had 4 self brewed and 1 guest beer on tap. The beers were OK, nothing special but better then i expected in such a small town. If in Gunnison well worth the stop. The food is good but nothing special. I dont sugest the wraps.
Oct 05, 2006
Reviewed by benito from Oregon
3.05
/5
rDev
-12.4%
vibe: 3.5 | quality: 3.5 | service: 2.5 | selection: 2.5 | food: 4
Gunnison Brewery is an unexpected find on Main St. Gunnison. It's a small space, with only 5 tables, a small bar, one tv, and some patio seating out back. They've gone for understatement (that's an understatement) in terms of decoration, leaving the light wooden walls uncovered, save the large beer board on the west wall above the windows that look onto Main Street. The atmosphere then is cozy, and its plain-janeness actually works out just fine.

They had three of their own beers on tap (IPA, steam, and a Belgian golden that they were calling a dubbel), but the lack of selection in their own stuff was complimented by a very wide variety of bombers and bottles. I bet this is the only place in Gunnison where you can get La Folie!

The Iron Man (steam lager) was the best of their brews, as it combined the typical spritziness of a steam beer with a very defined peatiness, something I'd never seen before in a steam (and it works!). The Hopalicious IPA was done well too, and their Belgian style beer could have passed as a Belgian golden, but it is definitely not a dubbel. It's their weakest brew, as apple dominates the bouquet and flavors, thinning out what otherwise might be a refreshing-yet-strong brew.

My bleu burger was made with local beef and cooked just right. The menu is fairly slim in terms of what it offers, but I would be happy to have this burger any time.

For anyone passing through the area, this place is worth a stop.
Jun 18, 2006
Gunnison Brewery in Gunnison, CO
Brewery rating:
3.49
out of
5
with
19
ratings