Jean Chris Numero 2
| Microbrasserie Sainte-Hélène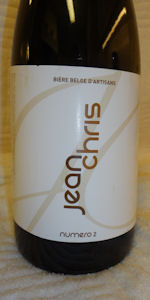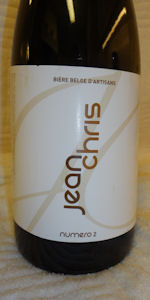 BEER INFO
Brewed by:
Microbrasserie Sainte-Hélène
Belgium
sainte-helene.be
Style:
Foreign / Export Stout
Alcohol by volume (ABV):
9.00%
Availability:
Year-round
Notes / Commercial Description:
No notes at this time.
Added by ggaughan on 01-24-2010
HISTOGRAM
Ratings: 9 | Reviews: 6
Reviews by ggaughan:

4.09
/5
rDev
-1%
look: 3.5 | smell: 4.5 | taste: 4 | feel: 4 | overall: 4
The second collaborative brew between Christoph Gillard from Mi-Orge Mi-Houblon and Jean Francois Vaux of Jean Le Chocolatier. This beer was brewed at Sainte Hélène in Belgium.
The beer poured a dense black body with a nearly 1 inch head, nice tan head, fluffy, and gives way to thick lacing on the edge of the glass. The nose was chocolatey, malty along with a slightly floral nose. Taste has strong notes of bakers chocolate, sweet but with a hop presence as well. There is also a peppery touch on the tongue. All in all a smooth and creamy taste, fully body.
567 characters
More User Reviews:
4
/5
rDev
-3.1%
look: 4 | smell: 4 | taste: 4 | feel: 4 | overall: 4
Thanks to bu11zeye for sharing this bottle.
The beer pours a hazy brownish-red color with a tan head. The aroma is brown sugar, toffee and some dark fruit. The flavor is slightly more complex. I get some iced tea notes, as well as some brown sugar, Belgian yeast, cherries and some earthy and piney hops notes. There is very little bitterness from the hops. Medium mouthfeel and medium carbonation.
400 characters
3.65
/5
rDev
-11.6%
look: 4 | smell: 4 | taste: 3.5 | feel: 3.5 | overall: 3.5
On tap at Delirium Cafe.
A-Black with a thick tan head that laces the chalice.
S-Roasted (not burnt) malt dominates everything. else.
T-Sweet with heavy toasted malt character, chocolately, moderate bitter aftertaste.
M-Not much carbonation, medium-heavy bodied.
D-Heavy stout, so limited.
O-A nice beer to try, nothing too extraordinary, but did enjoy this one.
368 characters

4.42
/5
rDev
+7%
look: 4 | smell: 4.5 | taste: 4.5 | feel: 4 | overall: 4.5
Thanks to Don and Jeff for the joined efforts on this one.
Poured from a 750ml bottle into a Westvleteren chalice.
A dark black pour leaves a fluffy head and lacing.
Chocolates and dark fruits on the nose. It's a solid stout.
Flavors are surpising. Loads of things I didn't ick up on the nose I found in the taste. Smoke and a punch of dark chocolate bitterness. A touch of anise.
A creamy and full body with a decent amount of carbonation.
If you ever run a across this one don't hesitate and buy it/ trade or steal it if you have to. A very surpising stout from a ver surprising source.
Thanks guys.
608 characters


4.11
/5
rDev
-0.5%
look: 5 | smell: 4 | taste: 4 | feel: 4.5 | overall: 4
Served from a 750 ml bottle into a goblet. I bought this at Miorge Mihoublon from the owner, Christoph. He is the "Chris" in the "Jean Chris" name of this beer.
A - The beer pours a deep brown color, just one notch shy of pure black. No light gets through to show any highlights. The head roils and writhes and slowly rises through the glass just like a well-poured Guinness. It is dark tan and made of tiny bubbles when poured, but then settles to a thick, rocky layer and permanent lacing on the glass.
S - The aroma is a classic Imperial Stout. There is coffee and oak and sweet-smelling alcohol that reminds me of Bourbon whiskey. The aroma hits in a solid wave, not as complex as some Dark Belgians or Imperial Stouts I've had.
T - The taste has a great mix of the classic Imperial Stout characteristics. It starts out with strong bitterness that seems to be more from roasted grains than strong hops. In mid-palate there are some coffee, plum and prune flavors, and even a hint of malted milk or chocolate milk. In the end the acrid, roasty bitterness returns with strong alcohol flavors. The roasty flavor that dominates is a bit too acrid for me, or I would rate this higher.
M - Heavy body, which is appropriate. The carbonation acts to smooth the beer out and combine with the body to give the impression of a milkshake. The hops and alcohol contribute some burning sensations which contrasts with the milkshake effect to make this a very interesting experience in your mouth.
O - This is (as categorized in BA) a Strong Dark Belgian, since that is where it was made, but I'm sure the brewer intended to make an Imperial Stout. I see it as a very well-made Imperial Stout, but not as complex as some others I've had. For my taste it is missing a bit of malt or fruitiness in mid-palate to balance the overly-acrid roast flavors.
1,845 characters
4.42
/5
rDev
+7%
look: 4 | smell: 4.5 | taste: 4.5 | feel: 4 | overall: 4.5
Luckily Digita473829 had nothing to do one day and decided to hunt some of this stuff down. You da man Don!
From a 750ml bottle into a snifter.
Brewed for Jean le Chocolatier and Chris, owner of Miorge Mihoublon in Arlon.
APPEARANCE: A clear brown pour yields a one finger, thicker looking tan head with great retention. Black body and zero carbonation evident. Head fades to a full wisp and clings to the sides of the glass. A ring remains until the end and leaves some dots of lacing down the glass. Another good looking beer.
SMELL: Big nose on this one. Roasted malts, chocolate and some coffee in there. A good dose of smoky leather as well, but the chocolate and roasted qualities are more prevalent. Very nice and well put together.
TASTE: Again, just as impressive as the nose. Quite flavorful. Roasted and caramel malts up front with lots of pure chocolate, coffee, anise, and smoky malts on the swallow. A big, bold and lingering aftertaste of sweet molasses, chocolate and smoky, roasted malts. Lots of flavor and very complex. Great stuff.
PALATE: Medium body and medium carbonation. Creamy on the palate and goes down very smooth, finishing slightly dry. Good feel for the style.
OVERALL: Another killer beer in the Jean Chris series. At 9% this one flirts with an imperial stout ABV, but the flavor profile is all export stout. This is like an export stout on steroids, if that makes sense. A real treat; perhaps the best brew I've ever had in this style. If you get the chance, give this one a go. Thanks again Don. Highly recommended.
1,565 characters

Jean Chris Numero 2 from Microbrasserie Sainte-Hélène
Beer rating:
4.13
out of
5
with
9
ratings