La Botteresse Brune
| Brasserie la Botteresse de Sur-les-Bois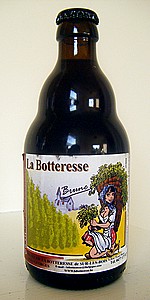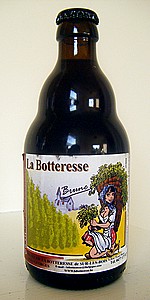 BEER INFO
Brewed by:
Brasserie la Botteresse de Sur-les-Bois
Belgium
labotteresse.be
Style:
Belgian Strong Dark Ale
Alcohol by volume (ABV):
9.50%
Availability:
Year-round
Notes / Commercial Description:
No notes at this time.
Added by wl0307 on 11-13-2008
HISTOGRAM
Ratings: 14 | Reviews: 13
Reviews by roblowther:

3.64
/5
rDev
-3.7%
look: 4 | smell: 5 | taste: 3 | feel: 4 | overall: 3
Belgian strong dark ale. Are those the best four words in the world? They might be. Pours cloudy extra dark chocolate brown with a thin light tan head. Smells of chocolate and banans. Tally me banana. Taste is cloves, cinnamon, and dry leather. Very spicy. Wow. The smell and taste are way, way different. How does that work? Mouthfeel is soft with nice carbonation. Overall a good beer but, like coffee, I can't help but wish it tasted like it smells.
452 characters
More User Reviews:
3.65
/5
rDev
-3.4%
look: 4 | smell: 4 | taste: 3.5 | feel: 3.5 | overall: 3.5
A: It poured clear dark amber in color with a finger sized creamy beige head that has good retention properties. A moderate amount of carbonation is visible.
S: Herbal aromas dominate the nose; sage and thyme stand out along with some hints of caramel and spices.
T: The taste has some complexity but is dominated by herbal flavors that resemble the smell.
M: It feels medium-bodied and very smooth on the palate.
D: The unique flavors of herbs and spices make this a beer that needs to be sipped.
497 characters
3.54
/5
rDev
-6.3%
look: 4.5 | smell: 3.5 | taste: 3.5 | feel: 3.25 | overall: 3.5
A: Dark brown with a cherry tinge, a finger of beige head that also has a light tone of cherry. The yeasty foam is pushing its way out of the bottle as it sits. Cloudy with a fair amount of sediment floating evenly within.
S: Balsamic vinegar, cherries, coffee, dark toasted malts, a light smokiness.
T: A good amount of tartness, with a fair amount of sweetness balancing it out. Think Flanders brown meets Belgian dubbel. Light coffee notes, a sort of strange sweetness that reminds me of artificial sweetners.
M: Medium light body, with a foamy powdery carbonation making it feel airy and light. Not dry but smooth, leaving a coating of sour malty goodness on the tongue.
O: I got this a Bruisin Ales in Asheville, NC where the guy working there said it's an example of a Flanders Brown Ale. Obviously not listed as this on BA, I think it should be. Certainly unique, pushing the boundaries of a style. Drank in China, Jan 24th 2015.
957 characters

3.67
/5
rDev
-2.9%
look: 3 | smell: 3.5 | taste: 4 | feel: 3.5 | overall: 3.5
From the bottle at the Bilbo Baggins Stilwater/12% Imports dinner on Friday November 12, 2010. Served in a wine glass.
First off, I love the artwork and the representative of 12% had a nice story behind it.
Pours a nice crimson brown color with a bit of plum coloring in there as well. Half-finger off-white head without any lacing. The nose is cherry with a little bit of light fruit. Some noticeable alcohol in there as well. There is a slight spice with a bit of what I picked out as juniper, though after being told could recognize it as slight pine and spruce.
The taste is really interesting with a bit of spicy spruce as well as light black licorice and a bit of caramel. Nice pine notes. The spice pervades the body, which is medium and pretty nice. Quite interesting and fairly tasty, but not something I'd want all that much of.
841 characters
3.3
/5
rDev
-12.7%
look: 4 | smell: 4 | taste: 3 | feel: 3 | overall: 3
La Botteresse
A: Pours a dark brown color with about a half finger head. Caramel color around the edge when held up to the light. Looks to be cloudy from what I can tell. Around the edge of the glass it looks like there are things floating in it, i'm guessing thats the yeast in it, so this one has a different appearance to it.
S: Smells of caramel and toasted malts. There is a hint of the alcohol present in it, and I'm unsure of the ABV, so it may be a little strong.
T: Almost has a little bit of a sour taste to it. Nothing to go so far as to classify it as a sour or geuse beer, but a sour taste up front. It has a green apple kind of taste to it, paired with some grapes it seems to me. Doesn't have any noticable alcohol taste to it.
M: Medium body and carbonation, Goes down Easy.
O: Not at all what I was expecting from a Strong Dark Ale. This tastes more sweet than anything, but some folks might like that. I'm not really among those folks as this isn't for me. I wont be buying this style again, but thats another one to cross off the list.
1,059 characters

4.4
/5
rDev
+16.4%
look: 4.5 | smell: 4.5 | taste: 4.5 | feel: 4.5 | overall: 4
A translucent reddish brown, I poured it from the bottle very slowly to prevent a runaway head. Eventually, the ample head dissipates to a fine layer of foam, leaving trace lacing.
Aromas are earthy, coffee, dark fruit, milk chocolate.
All these aromas come through in the taste, with sour prunes/cherries upfront, followed by coffee and milk chocolate, and eventually a dry bitter finish. A nice ride of taste.
Body is medium, with good carbonation, it has a creamy mouthfeel.
I consider this a good version of a belgian brune with a nice sour cherry profile and no off-tastes. Compared to Rodenbach, it is less sour and has more milk chocolate. The 10% alcohol is not very apparent, but it can gang up on you, so be prudent.
732 characters

3.65
/5
rDev
-3.4%
look: 4 | smell: 4 | taste: 4 | feel: 2.5 | overall: 3
11.2oz bottle
label states 10%
Pours a slightly hazy ruby brown color with a crop circle like formation in its small and vocal, tan head. Rum raison, butterscotch, licorice, caramel, figs, a gentle wave of alcohol and a fruity yeast note in the nose. Lots of carbonation here, this one explodes on the tongue with tiny aggressive bubbles. Candy sweet but not cloying with a slight cherry/vinegar sourness to it, carbonation dominates the sip, the initial flavor drops of remarkably quick with a slow appearing aftertaste of sweet malt. A very interesting brew.
561 characters

3.83
/5
rDev
+1.3%
look: 4 | smell: 3.5 | taste: 4 | feel: 3.5 | overall: 4
Pours a deep, dark chestnut brown color with dark golden ruby edges when held to a light source and a foamy bubbly off-white head that slowly fizzles away into a thin lasting cap and ring.
Spicy, estery aroma with a lot of dark fruit notes countered by slightly toasty malt notes. Hints of raisin, plum, fig and grape as well as some peppery zest. Slight alcohol heat and subtle earthy tones.
Softly carbonated and subtly spicy up front with a lot of estery dark fruit notes from the Belgian yeast and sweet caramel malts. Slightly peppery with slight corriander presence alongside a lot of dark fruit notes, especially raisin, plum, fig, grape and dark cherry. This is countered slightly by the dark malts but they also provide a sweetness that hides the high ABV, making this beer very drinkable. A bit too sweet for my liking but pretty solid overall.
856 characters

4.32
/5
rDev
+14.3%
look: 4 | smell: 4.5 | taste: 4.5 | feel: 4 | overall: 4
An aggressive pour gets you two solid fingers of dark brown microfoam, the surface very active, a sheet of popping bubbles, then gone, a few splotches of lacing here and there. Thick muddy brown liquid with a lot more yellow tint than orange, completely opaque, doesn't show any sedimentary chunk. Banana cream pie in the nose, ginger root, cinnamon and cumin spice, more peppery as it warms, spiced orange peel and orange pekoe tea, the milk chocolate and caramel notes get a little lost, fig, date, plum, black cherry fruit scents, excellent resonance and length. Medium-bodied, has a good deal of firmness, however, the carbonation keeps gently churning away and contributes to a pretty inner mouth perfume. Caramel, toffee, chocolate stronger here, pairs well with the ginger, anise, clove spice. The cherry, blackberry, fig, black raisin fruit sweet, stopping short of sugary. The orange, tangerine citrus brings a sour twist. Mossy earth weaves in and out. There's a lot going on here, more of a rollercoaster ride than well-oiled orchestra. Rollercoasters can be fun.
1,074 characters

4.17
/5
rDev
+10.3%
look: 3.5 | smell: 4 | taste: 4.5 | feel: 4 | overall: 4
33cl into a tulip. Pours a deep dark caramel, dense café au lait colored head recedes slowly to a long lasting surface cap, negligible lacing.
Aroma is of traditional dark fruits plus minor smoked spices.
The minor roasty smokiness carries through in the flavor, sits beneath the figgy dark fruit. Other notes include cherries, caramel and tiny anise. Nice phenolic kick begins the dry complex aftertaste. No sense of alcohol. Spiced as if a Noël brew. Light bodied creamy mouthfeel.
cheers
jd
497 characters

4
/5
rDev
+5.8%
look: 4 | smell: 4 | taste: 4 | feel: 4 | overall: 4
Poured from a short bottle into my Chimay challice. Medium brown with nice size head that leaves a ring. Smell is very sweet of fruit. Mild booze smell too.
Taste is pretty mild but high carbonation. Although taste is faint...it's a sweet flavor with raisons and plums. Pretty light and easy to drink.
301 characters
2.91
/5
rDev
-23%
look: 4 | smell: 3 | taste: 3 | feel: 2.5 | overall: 2.5
Coming in a 330ml short brown bottle, with a freshness date index on the label carelessly unmarked; served lightly chilled in Westmalle's broad-rimmed goblet.
A: pours a deep dark reddish-brown colour with a hissing foamy dark beige head that lasts actually pretty well; carbonation unknown.
S: pretty salty in the overall balance, with loads of preserved hawthorn-fruits (a Chinese fruit-snack) plus a predominating nutmeg+cinnamon-ish mixed spiciness; the dark malts and warmed + salted coca-cola sustain in the background. Overall the aroma is very spicy and yeasty, outright overpowering for the enjoyment.
T: very effervescent on the texture upfront, to the brink of overly fizziness, with lots of salty-sour, fat black (smoked) prunes and spicy yeastiness to follow, settling on a very quiet flavour of dark malts like a black bean soup with a touch of Turkish spiced coffee; the flavour stays the same for much of the drink, quite simplistic, until reaching a faintly chewy, bitter-sweet herbal finish.
M&D: normally this style of ale appeals to me a lot for a harmonious performance of rich and complex malty backbone with estery flavour dancing on it, but this bottle proves to be an anomaly, showing an overly quiet and messy flavour profile that is only fit to drink for the almost non-existent alc. content... The brewery just has to get the balance right, no matter how important the yeastiness is to the flavour of any Belgian ale!
1,451 characters
3.8
/5
rDev
+0.5%
look: 4 | smell: 4 | taste: 3.5 | feel: 4 | overall: 4
Bottle. Pours a deep, cloudy brown with a small, foamy tan head. Aroma of lots of spices (pepper, clove, and lots of others I can't recognize), water chestnut. Flavor is equally spicy upfront with a nice malty backbone. Pleasant and easy to drink. Another nice BSA from La Botteresse.
284 characters
La Botteresse Brune from Brasserie la Botteresse de Sur-les-Bois
Beer rating:
3.78
out of
5
with
14
ratings