Mettleman Copper Ale
| Howe Sound Inn & Brewing Company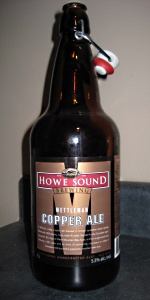 BEER INFO
Brewed by:
Howe Sound Inn & Brewing Company
British Columbia
,
Canada
howesound.com
Style:
American Amber / Red Ale
Alcohol by volume (ABV):
5.50%
Availability:
Spring
Notes / Commercial Description:
A delicious, malty, copper ale brewed in limited quantities every spring, it is made with 100% barley, hops, water & yeast. It is named for the Canadian epic, Squamish BC's Test of Metal Mountain Bike Race, a 67 km single-track race featuring 1,000 riders and an army of community volunteers to make it Canada's most successful grassroots mountain bike race.
16 IBU
Added by BDTyre on 06-10-2007
Ratings: 15 | Reviews: 11
4
/5
rDev
-1.5%
look: 4 | smell: 4 | taste: 4 | feel: 4 | overall: 4
Another big-ass 1L swing-top bottle - you gotta love seeing these bad boys on the shelves of your local store...
This beer pours a hazy medium amber colour, with two fingers of foamy off-white head, which renders a solid wall of lace around the glass as it slowly recedes. It smells of biscuit grain, and mild noble hops. The taste is biscuity, bready grain, a bit of lemon, and tangy, citrus, and spicy hops. The carbonation is moderate, the body light, but still substantial, and smooth, and it finishes off-dry, an echo of the sweet malt overridden by the remaining hops.
A very decent amber ale, with a nice edgy, but not genre-bending, hoppiness.
653 characters

3.57
/5
rDev
-12.1%
look: 3.75 | smell: 3.5 | taste: 3.5 | feel: 3.5 | overall: 3.75
Poured into a pint glass, the appearance was a ruddy amber color with a sly transparency about it. Finger's worth of white foamy head quickly dissipated. Left some stringy lace. The aroma had some nuts, toast, brown sugar and a touch of caramel malts. The flavor blended the prior noted aromas sweetly and then the toast and just a tad of roast. Semi-sweet malty aftertaste with a nutty finish. On the palate, this one sat about a light to medium on the body with a fair sessionability about it. Carbonation felt fine. ABV felt spot on. Overall, nice amber ale worthy of coming back to if I could get it again.
612 characters

4.1
/5
rDev
+1%
look: 4 | smell: 4 | taste: 4 | feel: 4 | overall: 4.5
1L pop top bottle poured into pint glass april18 2010
A almost crystal clear copper with a big 3 finger head that quickly fell to a 1/2in film that hung around for a while leaving some patches of lace
S lots of malt with some nuts and mild hops
T lots of malt with some mild chocolate and a little nut much like the smell, but even a little stronger
M well carbonated and it has good length, you could taste it for a bit after its in your tummy
D very well rounded beer and If there was a 4.25 option it would have gotten that once or twice, so in an effort to make up for that the 4.5 gets dropped here
I rather liked this beer and had no problem with the liter bottle. I hope Howe Sound keeps sending new products to the east because I've enjoyed everything I've gotten my hands on to date
797 characters
3.76
/5
rDev
-7.4%
look: 4 | smell: 3 | taste: 4 | feel: 4 | overall: 4
Having been pleased with all of Howe Sounds offerings that I've tried to date, I was really looking forward to seeing what this had to offer.
A - A slightly cloudy copper colour, pours a nice thumb of light bubbly head, leaving a small amount of lacing.
S - Was rather disappointed with the scent on this one, it was a little lighter than I would've expected. Scents of brown sugar, and fall leaves off the top, with a bready malt scent coming through on the finish.
T - Even though the scent was rather mild, the flavour on this was rather robust, sweet malts, toffee and caramel. A little bitter on the finish with citrus hops, making for a nice balance.
M - Light and bubbly, and goes down very smooth.
D - Not the flavour explosion I was hoping for and have grown accustomed to from Howe Sound, however, it is still a delicious ale worthy of trying.
858 characters



4.3
/5
rDev
+5.9%
look: 4 | smell: 4 | taste: 4.5 | feel: 4 | overall: 4.5
A spring seasonal from the boys from Squamish. Copper coloured (of course) with a monster head. Malty nose and a good malt orientated backbone. This is a incredibly drinakble ale that tastes like an amber ale crossed with a light Scottish beer. The maibock like flavours make this a real Spring seasonal that lives up to the title.
331 characters
4.13
/5
rDev
+1.7%
look: 4.5 | smell: 4 | taste: 4 | feel: 4 | overall: 4.5
A - a clear copper with 2 fingers of creamy white head that retained well and left a nice random lacing up the glass
S - biscuity and slightly smoky malt, with herbal and grassy malts very prominent, and just slight hints of citrus and spice
T - appetizing nutty and smoky malts up front, the herbal and grass notes are more subtle than the smells suggests, with some biscuity and herbal flavours lingering
M - highish carbonated feel, giving way to smooth full feel with some hop bitter and dry characteristics on finish
D - overall the well balanced mix of malt and hop flavours with a refreshing carbonation kick and hop dryness make this a very easy drinking beer, maybe even so much so that one 1L bottle tastes like another
729 characters
3.82
/5
rDev
-5.9%
look: 3.5 | smell: 4 | taste: 4 | feel: 3.5 | overall: 3.5
1L bottle with swing-top. Pours an slightly hazy dark copper color with a big tan head that quickly fades away and leaves no lacing. Aroma is very malty with some molasses. The taste is malt, chocolate, and some light bitterness from the earthy hops. Only downside is the mouthfeel is a little thin and watery. Still a nice beer, this is quite drinkable.
354 characters

3.77
/5
rDev
-7.1%
look: 4 | smell: 3.75 | taste: 3.75 | feel: 3.75 | overall: 3.75
Howe Sound Brewing 'Mettleman Copper Ale' @ 5.5% , served from a 1 L pot-stopper bottle purchased for $7.25
A-pour is dark amber from bottle to glass with a medium size off white head that is leaving a spotty lace along the stein
S-mild smell of barley , grassy hops & yeast
T-smooth and pleasant start with a delayed bitterness on the swallow
MF-mild medium carbonation , medium bodied
Ov-ok/good beer , I will look for it again next spring
prost LampertLand
465 characters
4.28
/5
rDev
+5.4%
look: 4.5 | smell: 4 | taste: 4 | feel: 4.5 | overall: 5
Apparently *not* the same as the Mettleman Hemp & Honey...different ABV and ingredients.
Rich red-copper colour with a thin, but full head. Aptly named as this is the colour of well-worn penny.
Odd malt smell. Not unpleasant, but it seems a bit different than most red ales I've had. Sort of a caramel/toffee tone, with a bit of a rusty nail, old penny scent.
Taste is bordering almost on a bitter. Malts with a definite hop profile. A little bit sweeter than a bitter should be, but very pleasant.
A great session ale, very smooth and easy to drink. Shame this is a limited bottling.
596 characters

4.13
/5
rDev
+1.7%
look: 4.5 | smell: 4 | taste: 4 | feel: 4 | overall: 4.5
It's baaack.
A: pours an attractive, as advertised, copper colour with the slightest bit of haze. Huge off-white, rocky head with excellent retention. leaves a thick, sticky lace on the glass.
S: sweet, bready, caramel malts a a touch of northwest hops with subtle aromas of coffee and chocolate as well - very nice.
T: malty throughout with the slightest touch of hops and a very grainy, bready, flavour on the lingering finish - quite dry as well. Reminds quite a bit of an English Pub Ale.
M: medium bodied, slightly watery, nice spicy, subtle carbonation and a crisp, dry finish. Again, quite Pub Ale like given the relatively low level of carbonation.
D: This is a very drinkable, highly enjoyable ale - much like and English pub ale - that has an intriguing aroma and satisfies the palate. Finishing this 1 Litre bottle should be no problem at all. It didn't blow my socks off but I would, and probably will, buy this beer again
939 characters
5
/5
rDev
+23.2%
look: 5 | smell: 5 | taste: 5 | feel: 5 | overall: 5
1 litre bottle with new artwork for 2009. Spring seasonal.
Appearance: Transparent coppery brown colour with three finger beige head when poured into tall half litre central European style glass tankard. Head recedes after a short while to a heavy ring and thin layer of froth, leaving modest lacing.
Aroma: Tempered malty sweetness and chocolate, but not as strongly chocolatey as, for example, some European beers that are reminiscent of chocolate mousse.
Taste: Restrained malty sweetness with gentle coffee and chocolate flavours, leading to a gentle hop bitterness that mingles with the malts and a finish that doesn't linger for very long. Extremely well balanced, rewarding, and rounded. Unlike some amber/copper/brown ales from the pacific northwest, this does not even begin to taste like cola or rootbeer.
Mouthfeel: Medium bodied with a slight silkiness. Minimal carbonation.
Drinkability: Very, very drinkable. Its easy finish does not detract from its wonderful flavour. Easily sessionable and capable of maintaining the appreciation. If you want a beer with a long, lingering finish, this beer is not for you. But you are missing out if you don't try this.
1,175 characters
Mettleman Copper Ale from Howe Sound Inn & Brewing Company
4.06
out of
5
based on
15
ratings.