4 Way Fruit Ale
| Howe Sound Inn & Brewing Company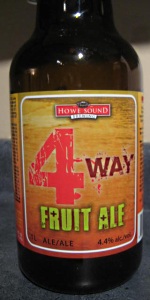 BEER INFO
Brewed by:
Howe Sound Inn & Brewing Company
British Columbia
,
Canada
howesound.com
Style:
Fruit / Vegetable Beer
Alcohol by volume (ABV):
4.40%
Availability:
Rotating
Notes / Commercial Description:
No notes at this time.
Added by DaftCaskBC on 05-05-2012
Reviews: 15 | Ratings: 44
3.41
/5
rDev
-13%
look: 3.5 | smell: 3.75 | taste: 3.25 | feel: 3 | overall: 3.5
Overall: A pleasant summer beer, more similar in taste to a kölsch or altbier than a fruit beer.
Appearance: Golden with visible sedimentation.
Smell: Pronounced mango nose.
Taste: Light and drinkable, though not fruit-forward at all.
Mouthfeel: Light and fizzy.
Misc: Despite Howe Sound's distinctive bottle, the recloseable wire, plastic, and rubber bottle clasp did nothing to prevent the beer from losing all carbonation within 24 hours.
443 characters
3.43
/5
rDev
-12.5%
look: 4 | smell: 3.5 | taste: 3.5 | feel: 2.5 | overall: 3.5
Had this for the first time tonight thinking it would be a nice refreshing brew for the nice day it was outside. The ABV in the description says 4.6%...it is actually 4.4% (according to the label).
Purchased in a 1L bottle with the resealable swing top.
Poured a cloudy straw color with a nice head that dissipated somewhat quickly (except for the very first pour of the bottle which lasted a good few minutes). No lacing.
Smelled of bread, with a slight sweet-tartness. Reminded me of the smell that Phillips Raspberry (if anyone reading has had that one) has.
Taste: Definitely improved as it warmed. When it was cold, I could mostly just taste tartness and alcohol. Once it warmed a bit, definite hints of fruit, especially raspberry. Also something that reminded me of guava at first, but thinking on it, probably closer to mango.
Mouthfeel: A lot to be desired here. When cold it has less than no body. Once warmed, still pretty watery, unfortunately, although, it did improve slightly.
Overall: I think this beer has a lot of potential. If it had more body, it would definitely be closer to a 4 or 4.5 for me. It is drinkable and would be good for a super hot day out in the sun. I might see if I can get it on tap somewhere since I find beer is never as good out of a bottle. Otherwise, I won't be purchasing this again.
1,333 characters

3.55
/5
rDev
-9.4%
look: 3.5 | smell: 3.5 | taste: 3.5 | feel: 4 | overall: 3.5
From a 1L brown swing-top bottle. Pours out a cloudy straw hue with a pink tinge to it--tall frothy white head that slowly settles.
Passionfruit is most dominant on the nose, with mango holding its own close behind it. Apricot/peach and some tart raspberry linger in the background with some soft wheat.
Passionfruit and raspberry play the dominant role in the flavour up front, mango is subdued in the middle, with some tart wheat pulling up the rear. Not really picking up on any pomegranate.
Medium-bodied mouthfeel, a fuller texture due to the wheat yet a slippery feel, medium carbonation.
Aside from the extra tartness from the raspberries/wheat this is a real pleasant fruit beer, and perfect for patio weather. Should be able to coax some non-beer drinkers to consume as well, very user-friendly.
808 characters
3.58
/5
rDev
-8.7%
look: 4 | smell: 3.5 | taste: 3.5 | feel: 4 | overall: 3.5
A - a hazy dirty blonde, tall white head dissipated leaving many random blobs of lacing
S - a very raw grainy aroma that isn't entirely appealing, quickly followed by pleasant tropical notes
T - cracked wheat and raw grain malt is in your face, the sweetness tropical fruit with the tartness of berries finishes rises through the finish
M - light and well carbonated, tart, sweet, and dry though the finish
O - i wasn't sure about this one after smelling it, but it turned out to be a refreshing summer treat, the wheat ale aspect outweighs the fruits but that is generally how it should be, a nice hot weather treat
616 characters

3.75
/5
rDev
-4.3%
look: 3.5 | smell: 3.5 | taste: 4 | feel: 4 | overall: 3.5
Pleasant summer beer that combines a number ( 4 of course) of fruit flavours on a wheat beer base. The sweetness is on the down low and the fruit notes add rather than detract from the beer. Count me in when it is on tap with a patio view. They should put this in cans like their lager.
286 characters
3.77
/5
rDev
-3.8%
look: 3.5 | smell: 4 | taste: 3.5 | feel: 4 | overall: 4
Basic fruit ales are so hit and miss, but this fruity session beer is remarkably well made and well-balanced. The color doesn't give away any of the mango, passionfruit, raspberry and pomegranate fruit its made with. It basically looks like an amber ale.
Even the nose is blissfully free of any off-putting, sickly sweet (confected) fruit aromas. It smells fresh and enticing. Hard to pin down any of the fruits its made with, but there's plenty of fruitiness nonetheless.
The taste mirrors the nose. The fruit is nicely integrated with the crisp, dry biscuity malt. Nothing sweet here at all. Quite refreshing and drinkable. A very good hot-weather session beer.
666 characters
3.88
/5
rDev
-1%
look: 4 | smell: 3.5 | taste: 4 | feel: 4 | overall: 4
1L swing-top bottle, @ 4.4% ABV, flying off the shelves (sort of) now that summer has pretty much settled in, here in Alberta. Nice PG definition of the various meanings of '4-way' delineated on the label.
This beer pours a cloudy, pink-tinged medium golden straw hue, with a teeming tower of puffy and foamy off-white head, which leaves a consistent array of fat chainlink fence lace around the glass as it quickly gets outta da way.
It smells pretty much like an unsweetened smoothie of the four ingredient fruits, with the raspberry surprisingly coming off the tamest, and the pomegranate a little less so - this is a tropical mango and passionfruit show, folks, with a slight grainy maltiness simmering in support of the beer in toto. The taste is more acidic mango, semi-sweet passionfruit, and still quite subtle raspberry - whose influence may be more plainly evident in the aforementioned acridity. Again, the underlying malt is perfunctory, a bit bready, somewhat astringent in its wheaty way, and seemingly content as such.
The bubbles are a tad frisky, but tease, surely, to the end, the body a bit more alluring - the fruitiness providing most of the weight, in the void of the wee wheaty malt, but it turns out mostly smooth. It finishes with a drying of the multifaceted fruit components, and a surprise cameo for some musty, earthy hops.
A big fruit beer (the fruit silly, not the booze), sans the cloying sweetness one might expect - and a suffering, but equally supportive wheaty, grainy backbone. And whither the eventually ethereal pomegranate? Meh, while I'm still pining for some Megadestroyer to make its way eastward, this will surely do in the interim.
1,681 characters
3.91
/5
rDev
-0.3%
look: 3.75 | smell: 4 | taste: 4 | feel: 3.75 | overall: 3.75
If most beer is considered "liquid beer" then this treat should be considered "liquid fruit salad". Strong notes and tastes of Mango and Passionfruit with a background of Raspberry and Pomegranate.
197 characters

3.92
/5
rDev 0%
look: 3.5 | smell: 4 | taste: 4 | feel: 3.5 | overall: 4
Although summer is gone, and we are in the middle of fall, Beer Revolution had this fruit beer on tap. I have seen the bottle before, but this was the first time I had the draft version.
"Description: This beer is a combination of mango, passionfruit, raspberry and pomegranate. Sybillia hops are used in the brewing process with 50% white wheat, and 50% barley. The use of only 100% fruit purées with no fruit essences or artificial flavours added makes for an authentic fruit flavour and aroma. Following in the trends of lighter fruit ales, the refreshing flavours and dryness of this ale make it an excellent summer offering and is the first Howe Sound fruit ale to be bottled and supplied in draft format."
This beer is slightly cloudy, golden color with a bright, white, puffy head.
Is there a pinkish hue? A pinkish hue? Yes, a rosy glow.
It has lots of sweet fruity smells. The mango is dominant, but I was hard pressed to pick out the other individual fruits. Slight grainy wheat malt as well.
Good malt base, then the sweet and tart fruitiness hit you. Very flavorful and refreshing. Not overly sugary or candy-like as I was expecting. Tart finish keeps it from being cloying or sticky.
Good carbonation, lots of bubbles, keep it clean, and low alcohol make for a great summer beer.
1,296 characters

3.97
/5
rDev
+1.3%
look: 3.5 | smell: 4 | taste: 4 | feel: 4 | overall: 4
Enjoyed on tap at the brewpub.
After trying and not loving one of their IPAs, this beer was a delight. I've had it before, but this was the first time this year. Ideally, I'd get to Squamish more often to enjoy this and others at the brewpub, but it's at least worth a trip to one of the private liquor stores.
A: This beer was golden and colour and looked like, well, a wheat beer. Not a whole lot of head. Fairly clear.
S: Wheat and fruit.
T: The fruit is definitely present. My Mom, who's not a beer drinker, tried a sip and liked it, but don't let that lead you to think this is one of those overly sweet, artificially flavoured fruit beers that doesn't taste much like beer. The fruit flavours are present, particularly mango, but this is definitely beer.
F: Crisp and refreshing.
788 characters

4.07
/5
rDev
+3.8%
look: 4 | smell: 4.5 | taste: 4 | feel: 3.5 | overall: 4
1L Howe Sound swinging pop top poured into tulip 5/6/12
A hazy golden peach with enough clarity too see some tiny bubbles streaming up the side, a finger of soapy foam leaves two distinct pencil thin rings of lace before it falls
S shes fruity alright, mango, passion fruit, and faint raspberry not sure about the pomegranate though, some wheaty dry cereal and fruit loops, slightly floral and some canned peaches
T not as sweet as I would guess from the smell but far from dry, more beer flavor (if that makes sense) and less of a tropical fruit bomb compared to the nose but still fruity as hell, some Jolly Rancher candy like flavors
M not as much carbonation as I could see and just a little bitter bite too it, grainy aftertaste with some lingering fruit
O easy too drink that for sure, low booze but big flavors, I'm not intimidated by the big ass bottle unlike some of these guys heavier offering
I'm not in love with fruit beers but this is a good example of one, nice tropical notes and the fruit tastes real unlike many brews from the style
1,059 characters
4.12
/5
rDev
+5.1%
look: 4 | smell: 4.5 | taste: 4 | feel: 4 | overall: 4
A: Poured a cloudy pech nectar colour with about 2-3 fingers of head which quickly dissipated into a thin rim.
S: Heavy passionfruit and guava together with citrus flower notes and hints of other tropical fruits including mangoes. Pick up some slight yeasty background.
T: Hoppy citrus with tart, dry raspberry. Some yeasty notes and finishes with a popped corn taste. Not nearly as sweet and the initial scent would indicate.
M: Medium mouthfeel and a low level of carbonation.
O: A very drinkable and refreshing beer. The scent is reminiscent of tropical juice but is not sweet. At 4.4% ABV a few of these could be drunk during summer bbq season.
652 characters
4.15
/5
rDev
+5.9%
look: 4 | smell: 4 | taste: 4.5 | feel: 3.5 | overall: 4
Appearance- Pours a cloudy apricot/nectar colour with a finger width of bubbly white head.
Smell- Mango, peaches, passionfruit, hint of raspberry. Sweet and tart orchard aromas.
Taste- Starts with mango then switches over to raspberry and passionfruit. Pleasant and light wheat flavour. Light bitterness at the end. This brew is not overly sweet considering the ingredients used in this beer.
Mouthfeel- Light to medium bodied with light carbonation. A little sticky.
Overall- A pleasant fruit ale by Howe Sound. I am not the biggest on fruit ales, but this one delivers a good punch of flavours. An excellent summer session brew. Worth a try to get your hands on.
668 characters
4.3
/5
rDev
+9.7%
look: 4 | smell: 4 | taste: 4.5 | feel: 4 | overall: 4.5
Appearance. Pours a hazy light peach with 1.5 fingers of thick, almost-white head.
Smell. Toasty light grains, sour apples, pears, tropical fruits and apricots with a little citrus.
Taste. Lightly sour fruits; apricots, apples and a bit of red berries. Toasty wheat, some bitter grassy hops that linger a while. Really nice.
Mouthfeel. Lighter body with medium carbonation.
Overall. Nice tasting, easy drinking summer beer. Liked that the hops were there and went really well with everything else going on. I'll be grabbing a few bottles of this while it's still around.
574 characters

4.54
/5
rDev
+15.8%
look: 4 | smell: 5 | taste: 4.5 | feel: 5 | overall: 4
On tap at St Augustines in Vancouver.
A: Slight white head over cloudy amber liquid with low carbonation.
S: Very fruity: passionfruit, mango, pomegranate and raspberries.
T: Passionfruit, mango and raspberries with a sweet cereal malt finish like Captain Crunch.
M: Medium to thick viscosity and a low level of carbonation.
O: Beautiful, extremely drinkable and fruity. Even better than the Menage-et-trois three fruit beer Howe Sound released a year ago.
461 characters
4 Way Fruit Ale from Howe Sound Inn & Brewing Company
3.92
out of
5
based on
44
ratings.